Talkdesk Office™ is a streamlined version of Talkdesk CX Cloud for non-agents who require a connection to your company's Customer Experience and Contact Center areas.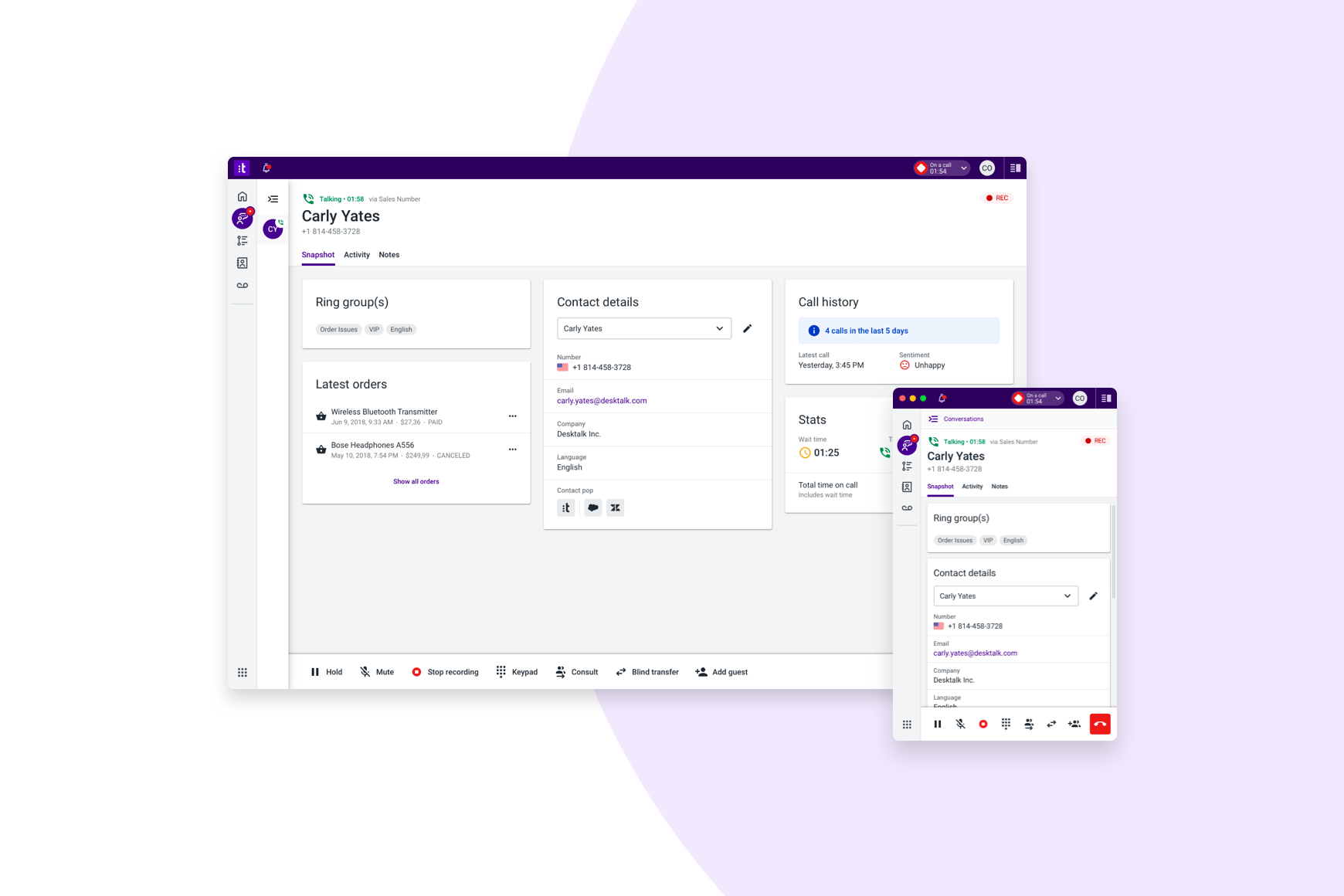 Available globally, Talkdesk Office is intended for Information and Departmental Workers and only features essential calling capabilities. It removes unnecessary agent workflows, for a simplified business communication interface.
Office user data can also be seen and used in Talkdesk Explore Reporting, Live Dashboards, and Call Recording by supervisors and admins.
Note: Talkdesk Office is available as an add-on to Talkdesk CX Cloud Edition (Essentials, Elevate, Elite, or Experience Cloud).
What is included
Talkdesk Office is based on the Conversations app, while also providing features from Activities, Contacts, and Voicemails (these are the four apps that comprise Agent Workspace).
Conversations allows users to handle inbound and outbound, voice, and digital customer conversations, from their desktop or web browser. With Talkdesk Office, users will enjoy the use of various features from this app, including:
Dedicated lines

Caller context

Unified contacts

Unified recording and reporting

Peer-to-Peer calling and Status available for agents and Office users

Classic IVR dedicated lines and/or Studio Routing
To get full information on Conversations features, please read the Conversations Features Guide.
How does it differ from Conversations?
Please note that Talkdesk Office users do not have access to these apps:
Important: Talkdesk Office differs from the CX roles in the following key ways:
No Ring Groups or Queues can be configured.

Office cannot be used for the Admin or Supervisor roles.

Office users cannot share a ring group with agents.

Office does not support SIP devices for business phone use cases.
If you would like to know more about Talkdesk Office, please contact your Customer Success Manager.