Make every agent your best agent with Agent Assist.
Talkdesk Agent Assist™ proactively delivers real-time next best actions and automated assistance to consistently achieve exceptional customer experience in voice and digital channels.
This tool uses AI to empower agents with a personalized assistant that listens, learns, and provides intelligent recommendations to help resolve complex customer issues faster, and reduce the need for supervisor help.
Agent Assist works with:
"Voice": Currently, Agent Assist Voice supports the following languages:

English (American), English (British), English (Australian), French (European), French (Canadian), German, Italian, Japanese, Korean, Chinese (Simplified), Portuguese (Brazilian), Spanish (American).
"Digital": Talkdesk Chat and SMS.
Agent Assist supports the connection of the following Knowledge Bases:
Talkdesk Knowledge Management™: The articles created in the Knowledge Management application are automatically indexed and ready to be used by Agent Assist. This native integration also offers the additional capability of

Quick Answers

.

Note:

To learn more about the Knowledge Management app and how to add content to it, please visit

this

article.

Zendesk Guide.

Confluence.

Salesforce.

C2Perform.

Intercom.

Oracle Service Cloud.

ServiceNow.

Remote File.
Accessing Agent Assist
Once Agent Assist has been installed, it can be accessed in two ways: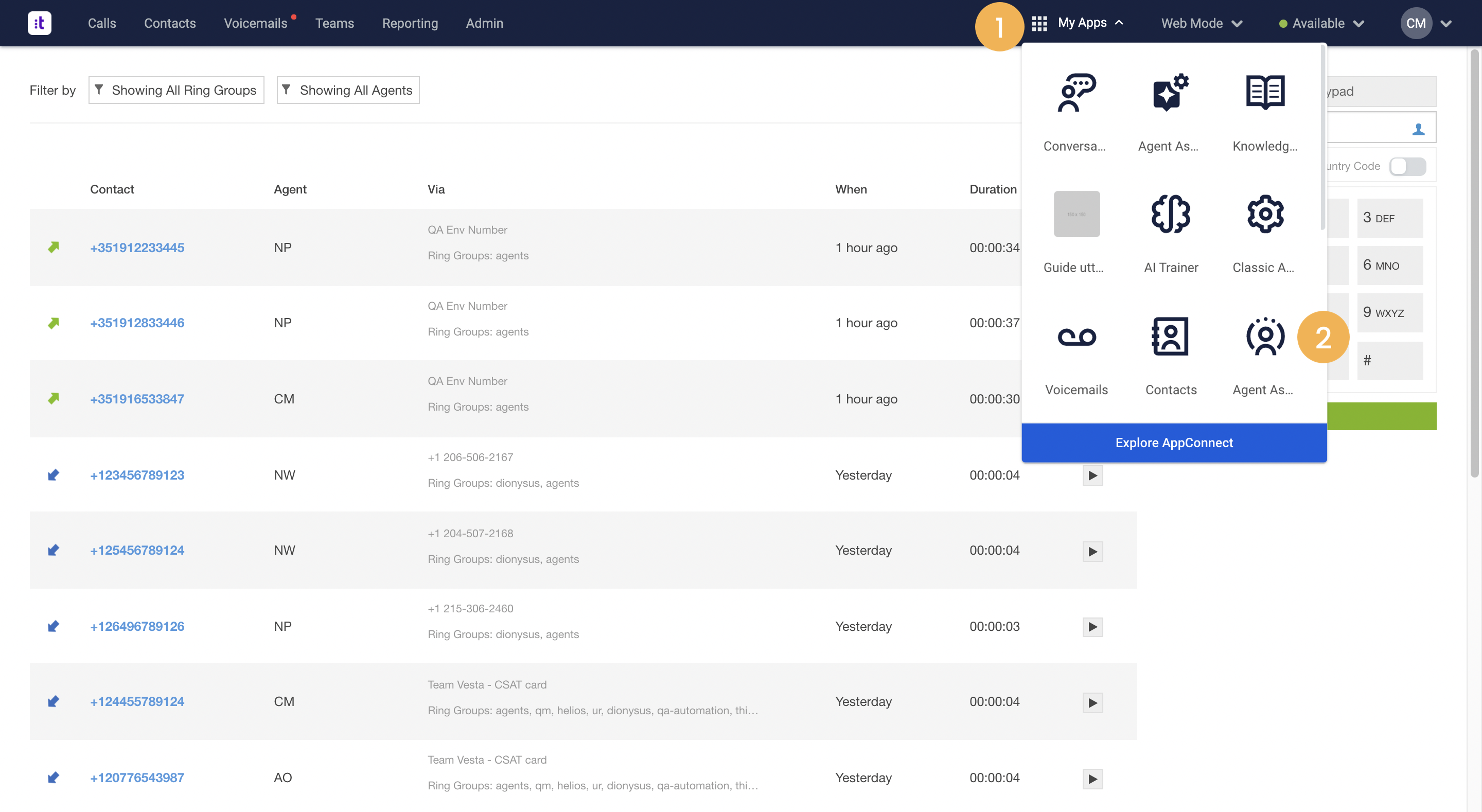 As a standalone app (for Agents using Callbar): Once logged in to Talkdesk, go to

My Apps [1]

and then click on the

Agent Assist [2]

icon. The application will open immediately and is ready to be used.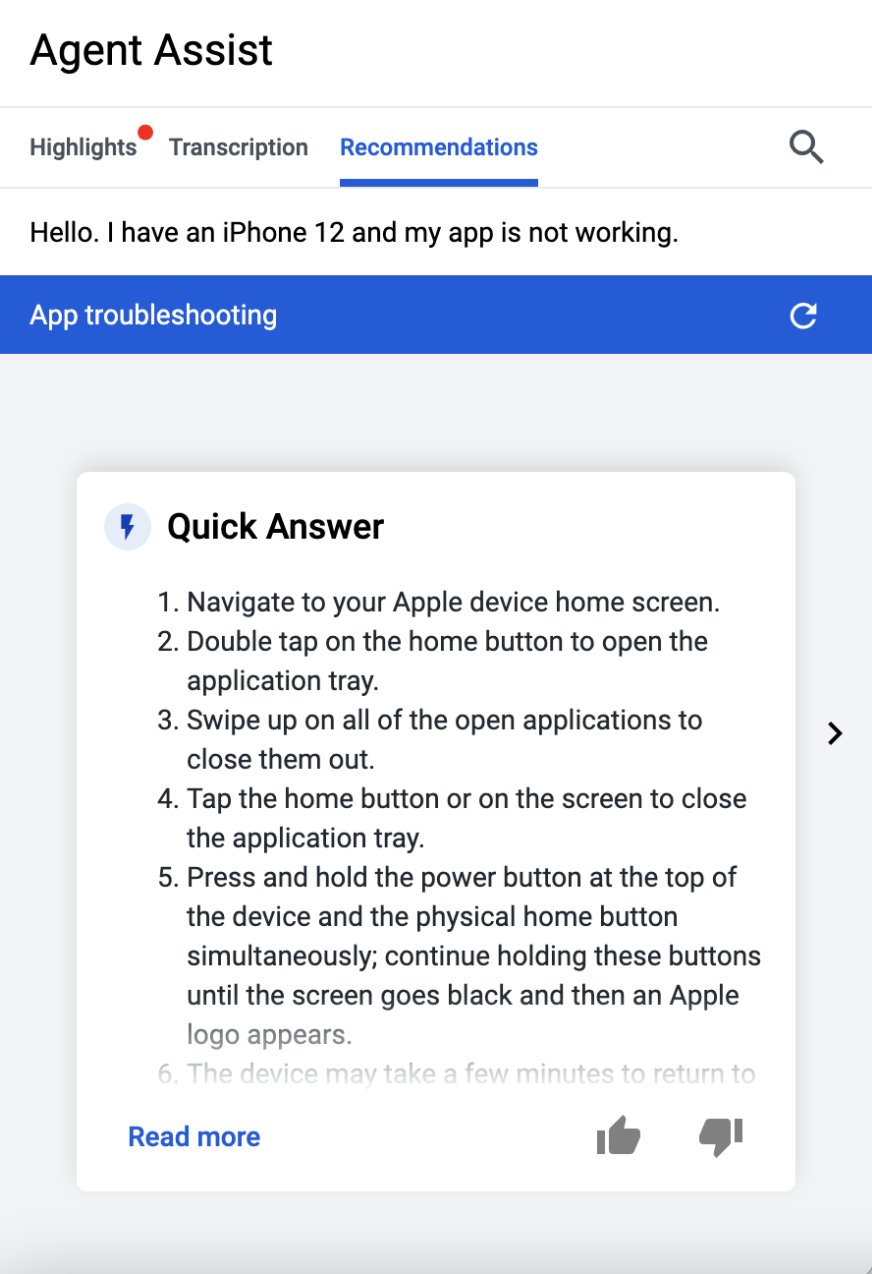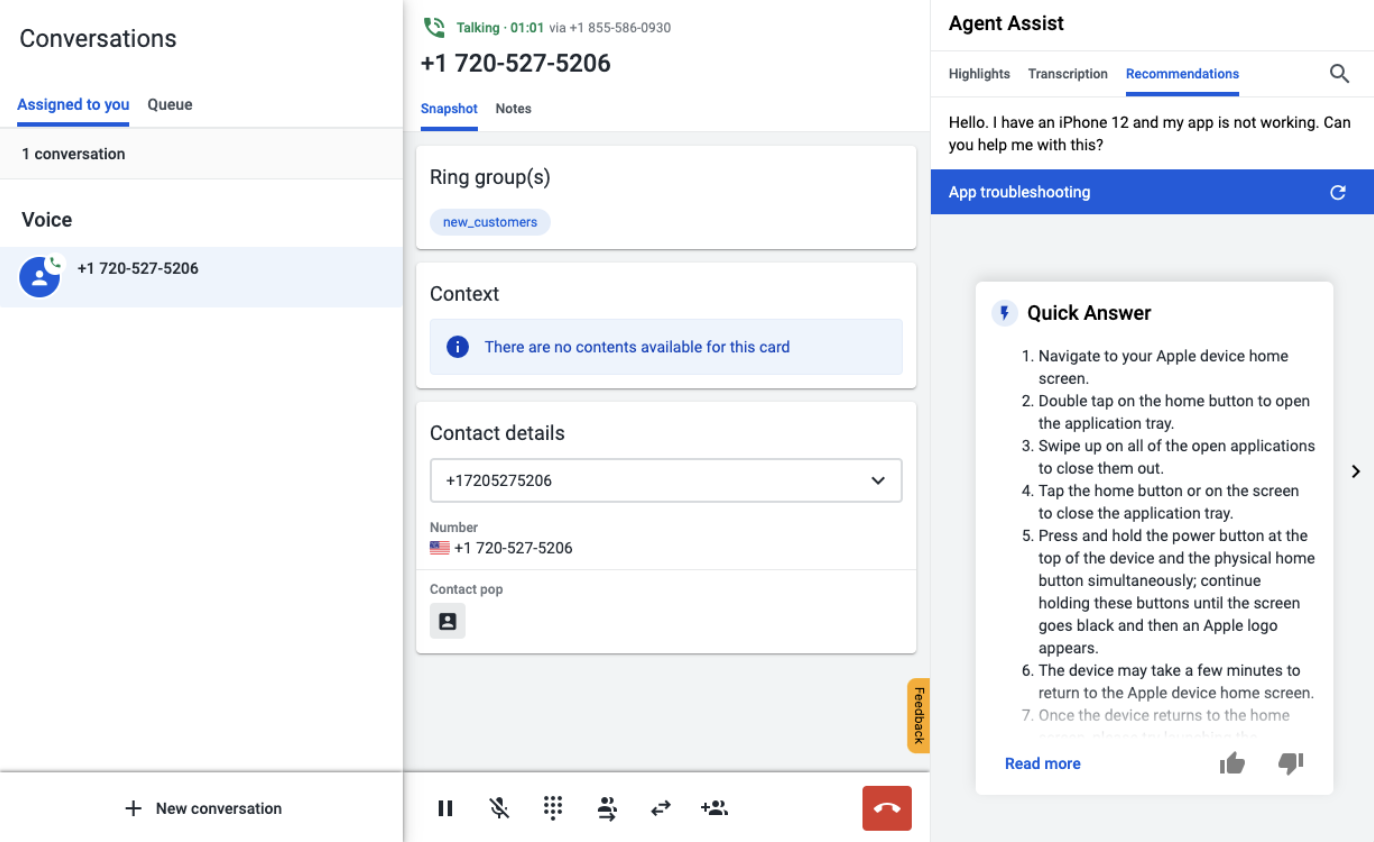 Depending on the preferred setup, you should install either the Agent Assist application or the Agent Assist Secondary Area app.
Using Agent Assist
Once the Agent Assist application is installed, all interactions in the supported channels above will be listened to and processed by the application.
For "Voice", Agent Assist transcribes the conversation in real-time. The agent can see the transcription, along with the recommendations that are being proactively generated as the conversation progresses.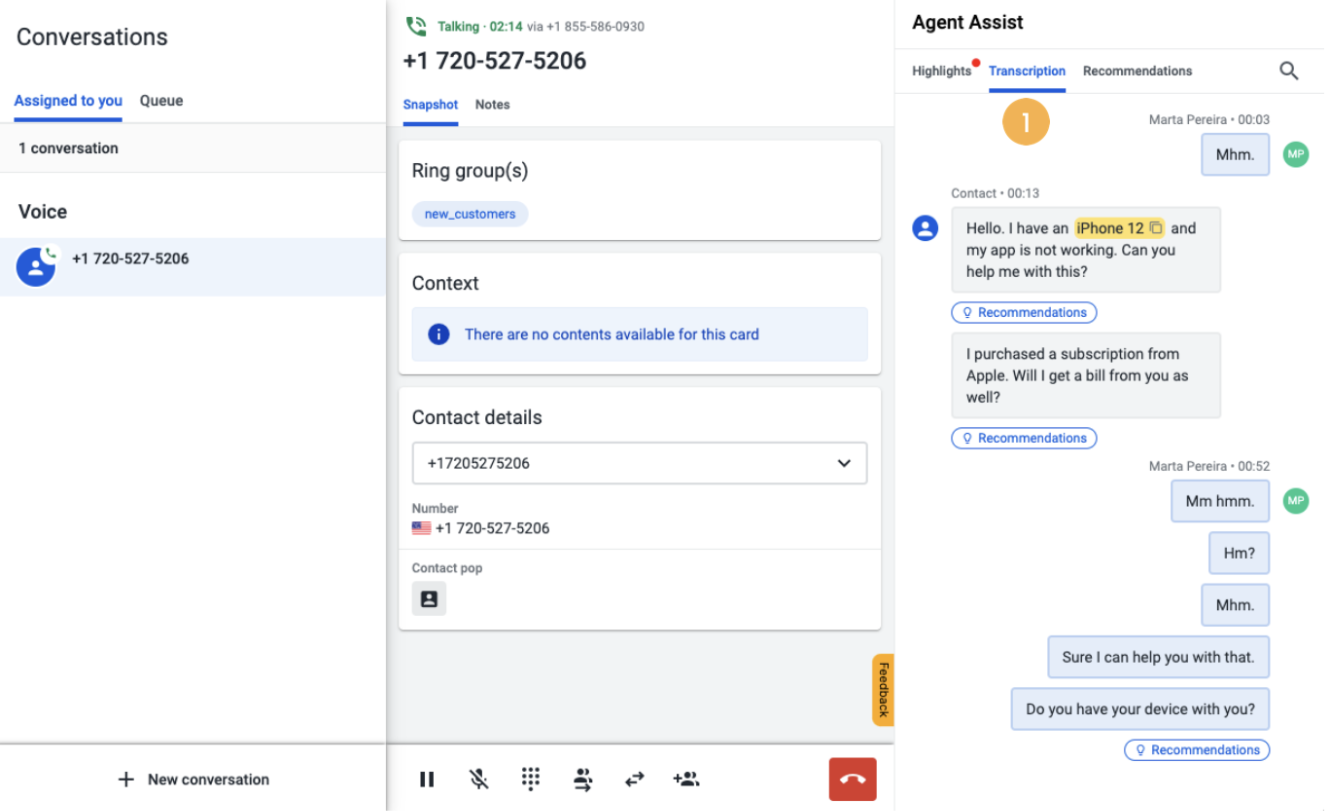 The "Transcription" accuracy [1] can be improved using Speech-to-Text model training via AI Trainer.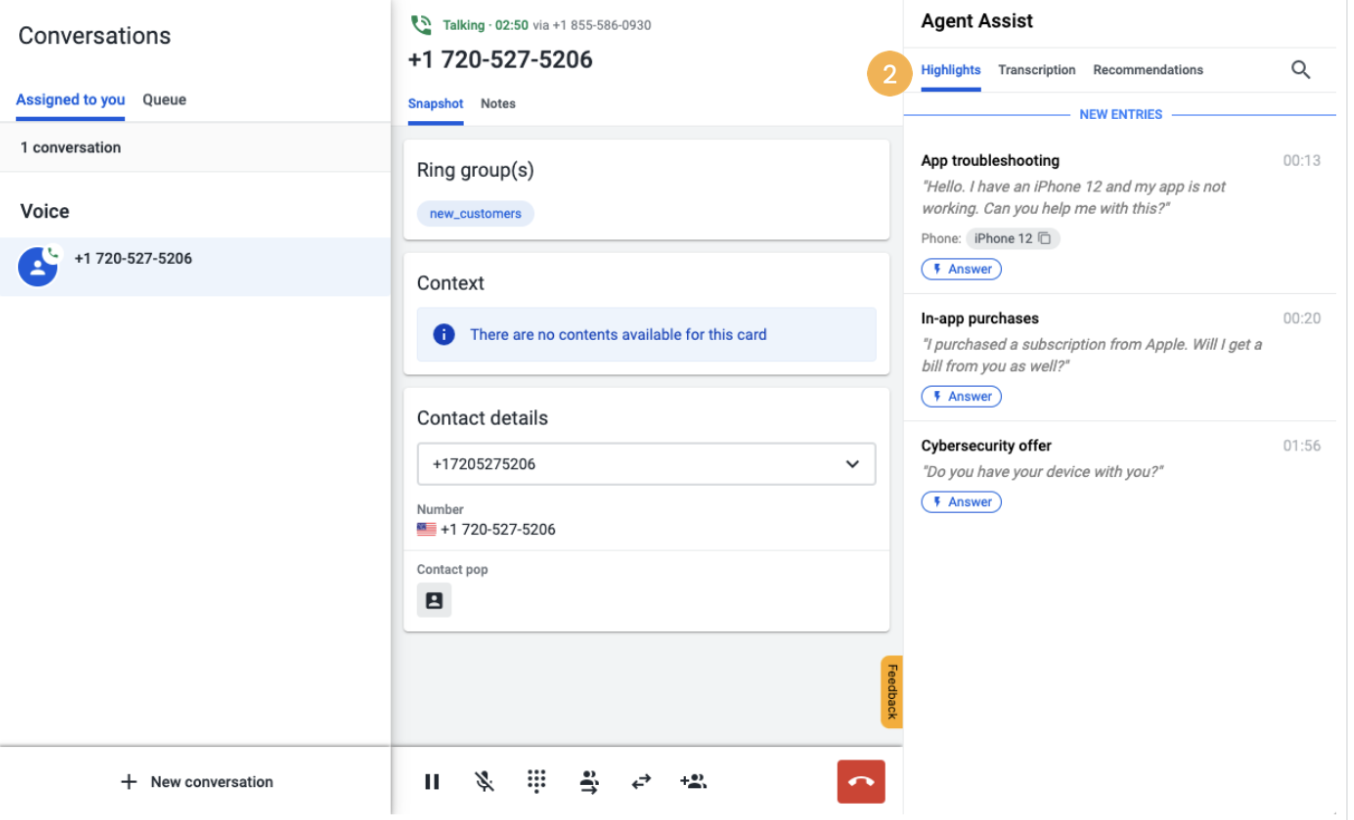 In the "Highlights" tab [2], the agent is able to see a summary of:
A sequence of customer's intents during the conversation, i.e. the topics discussed, as captured by

AI Intent models configured via AI Trainer

.

Key pieces of information shared during the conversations (these are called "entities" in the intent model).

Links to the recommendations being produced, either Answers, Articles, or Automations.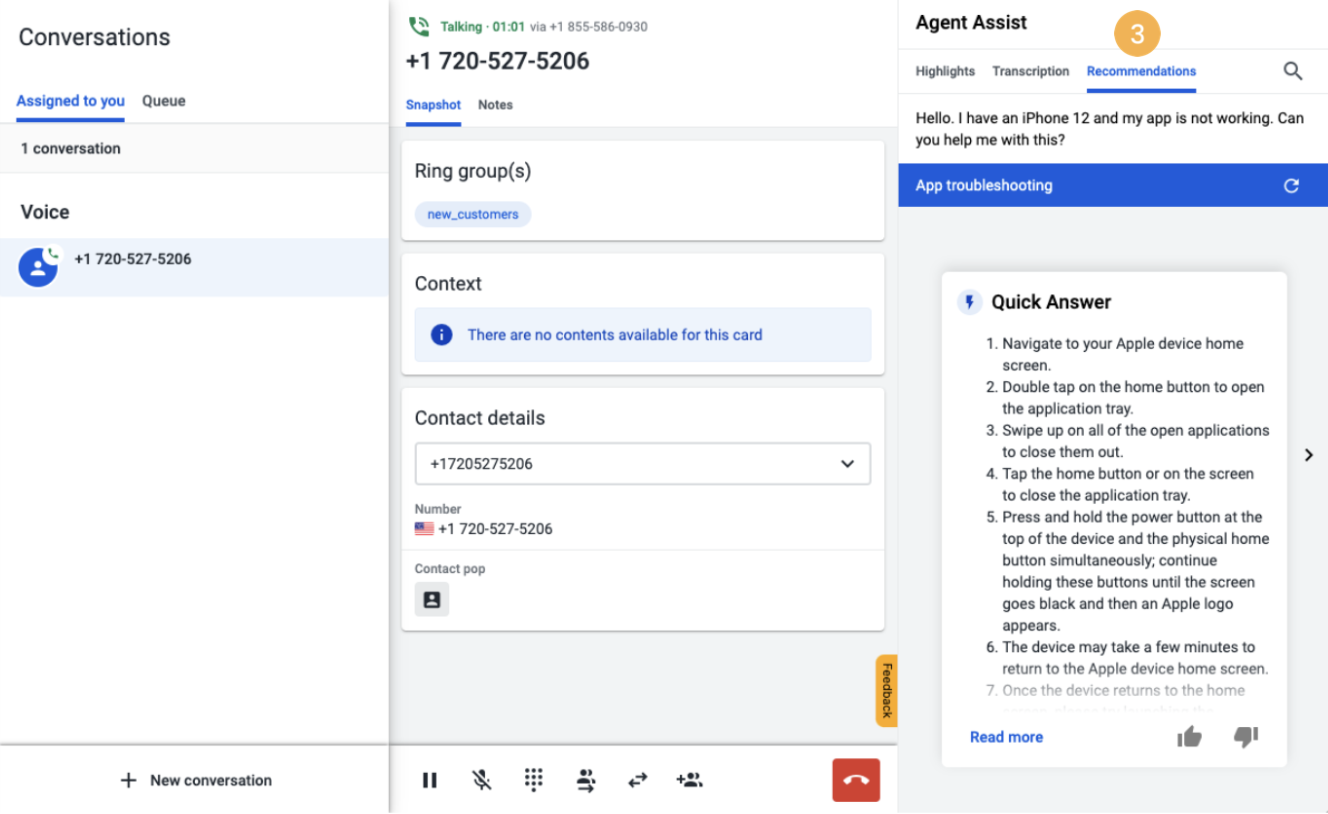 The "Recommendations" [3] are presented in the format of a card, as can be seen in the image above.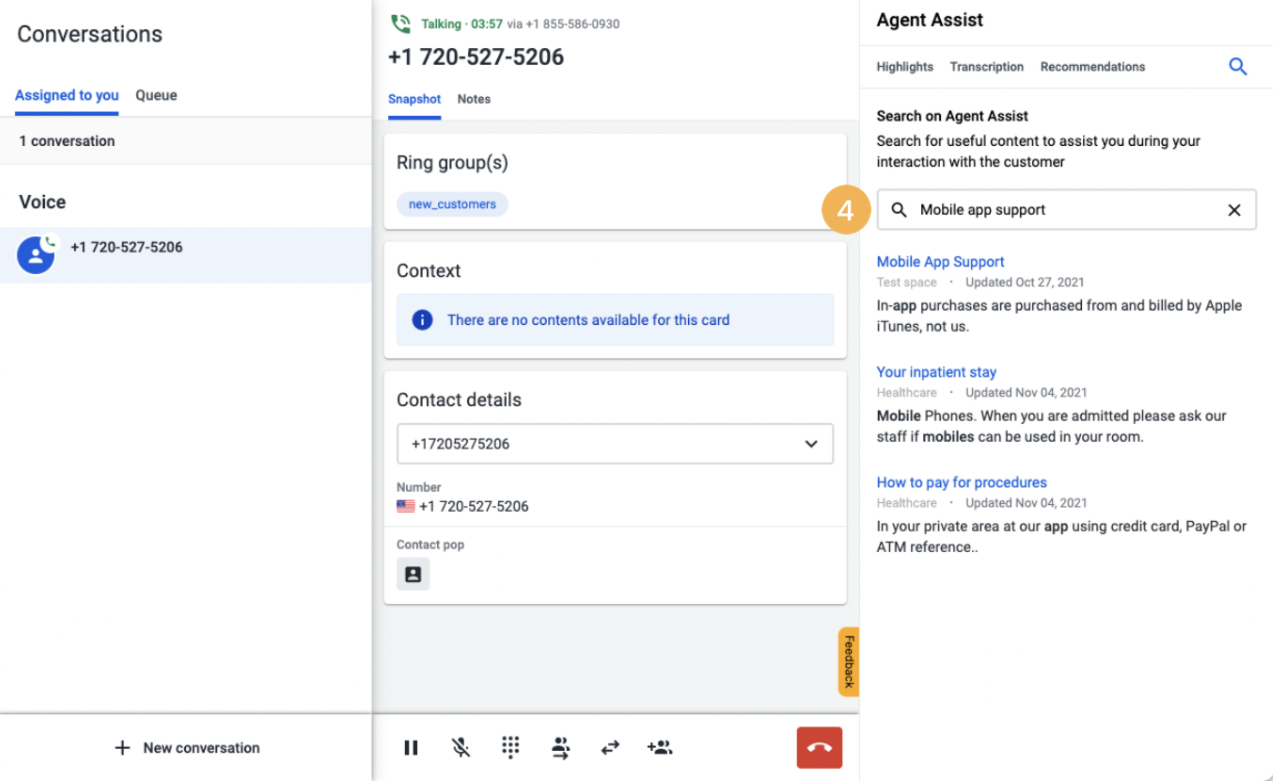 Agents can also directly perform searches for specific keywords or expressions, using the "Search" tool in Agent Assist [4].