As a way to fine-tune Talkdesk Agent Assist™ article recommendations and the speech-to-text (STT) functionality, you can set up a language selection step in Talkdesk Studio™ that will display the transcription and recommended content in the desired language.
Agent Assist real-time transcriptions use English (US) by default. If your account has Agent Assist Premium, you can set up this step in Studio to select different languages, as well as the situations in which these configurations apply, e.g, to define whether the same language is used by all the agents, or only by a specific ring group or number.
For this, you need to edit the Studio flow where you want to change the language. At the start of a call, it will be read by Agent Assist, and the appropriate STT service and model will be automatically selected before the call is routed to an agent.
Adding a Language Selection
To add a language selection step in a Studio flow, you will need to add two "Conditional Statement" components to the flow: One that selects the STT model provider, and another that selects the transcription language. To do so, proceed as follows:
1. Select the Studio flow, and then, open the Studio flow in which you want the language to be changed.
2. Select the STT Model Provider.

3. Add a "Conditional Statement" component, to configure the STT service used by Agent Assist, to send audio and receive transcriptions. We've named ours "STT Service".
4. In the Conditional Statement's Preferences tab, create a variable and name it "stt_service".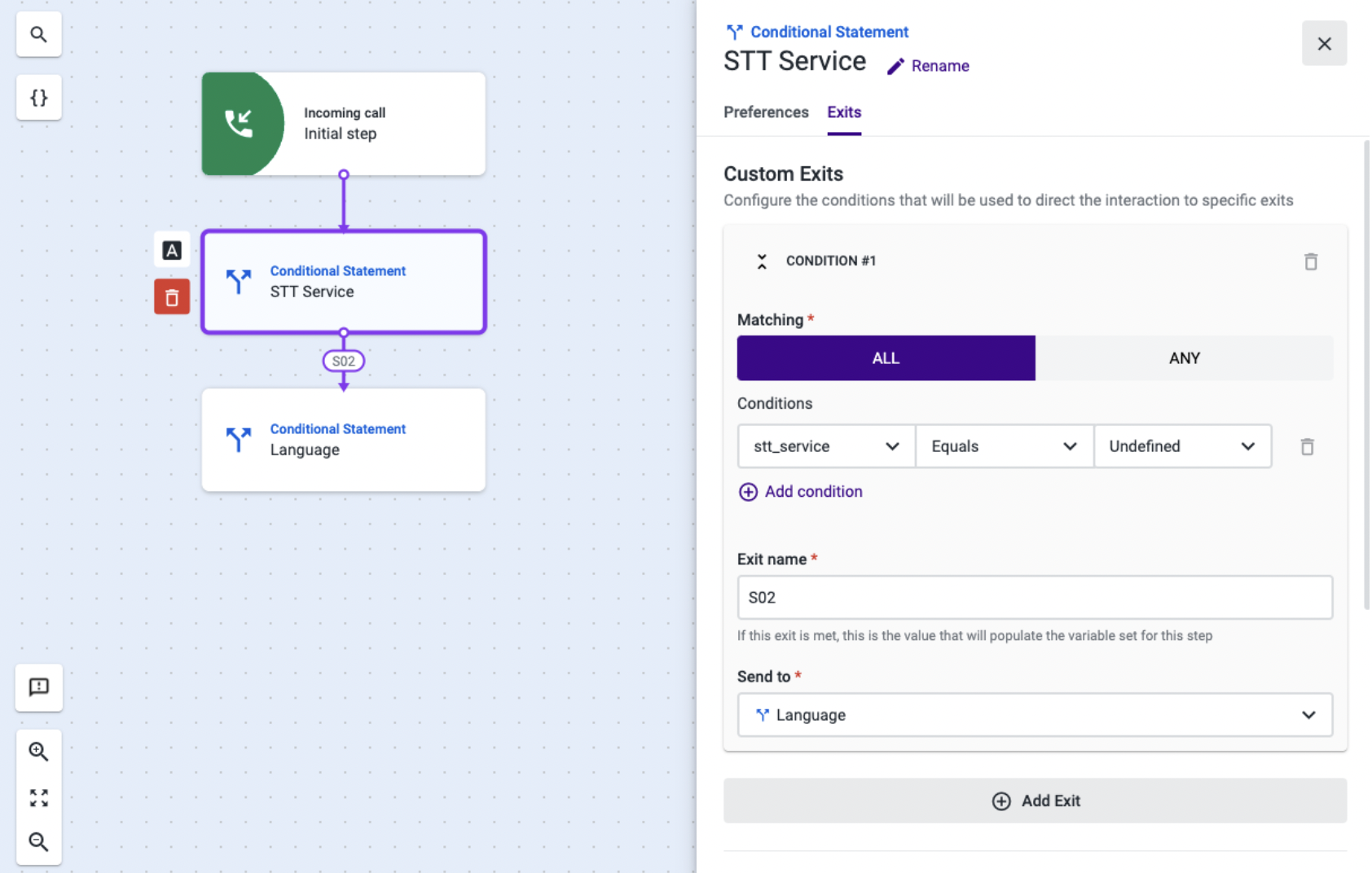 5. Open the Exits tab and set up the following condition:
"stt_service" "Equals" "Undefined"
6. Provide a name for the exit, which must correspond to the required STT service provider. In the table below, you can find which providers are linked to which languages. In this case, we have selected provider "S02" because we want to transcribe in French.
Please refer to the table below to find the correspondence between the code and the desired language:
Transcription Language

Provider S02 (stt_service)

Provider S03 (stt_service)

Transcription Language
ISO Code (language)

Chinese


S02

S03

zh-CN

Chinese
(Taiwan)


-

S03

zh-TW

Dutch


-

S03

nl-NL

English
(Australia)

S02

S03

en-AU

English
(India)

-

S03

en-IN

English
(New Zealand)

S02

S03

en-NZ

English
(United Kingdom)

S02

S03

en-GB

English
(United States)

S02

S03

en-US

French
(Canada)

S02

S03

fr-CA

French
(France)

S02

S03

fr-FR

German

S02

S03

de-DE

Hindi

-

S03

hi-HI

Hindi
(Roman Script)

-

S03

hi-LATIN

Indonesian

-

S03

id-ID

Italian

S02

S03

it-IT

Japanese


S02

S03

ja-JP

Korean

S02

S03

ko-KR

Polish

-

S03

pl-PL

Portuguese (Portugal)

S02

S03

pt-PT

Portuguese
(Brazil)

S02

S03

pt-BR

Russian

-

S03

ru-RU

Spanish

S02

S03

es-ES

Spanish
(United States)

S02

S03

es-US

Swedish

-

S03

sv-SV

Turkish

-

S03

tr-TR

Ukrainian

-

S03

uk-UK
7. In the "Send to" field, add a new "Conditional Statement" component, that will be used to define the transcription language. We've named ours "Language".
Selecting the Language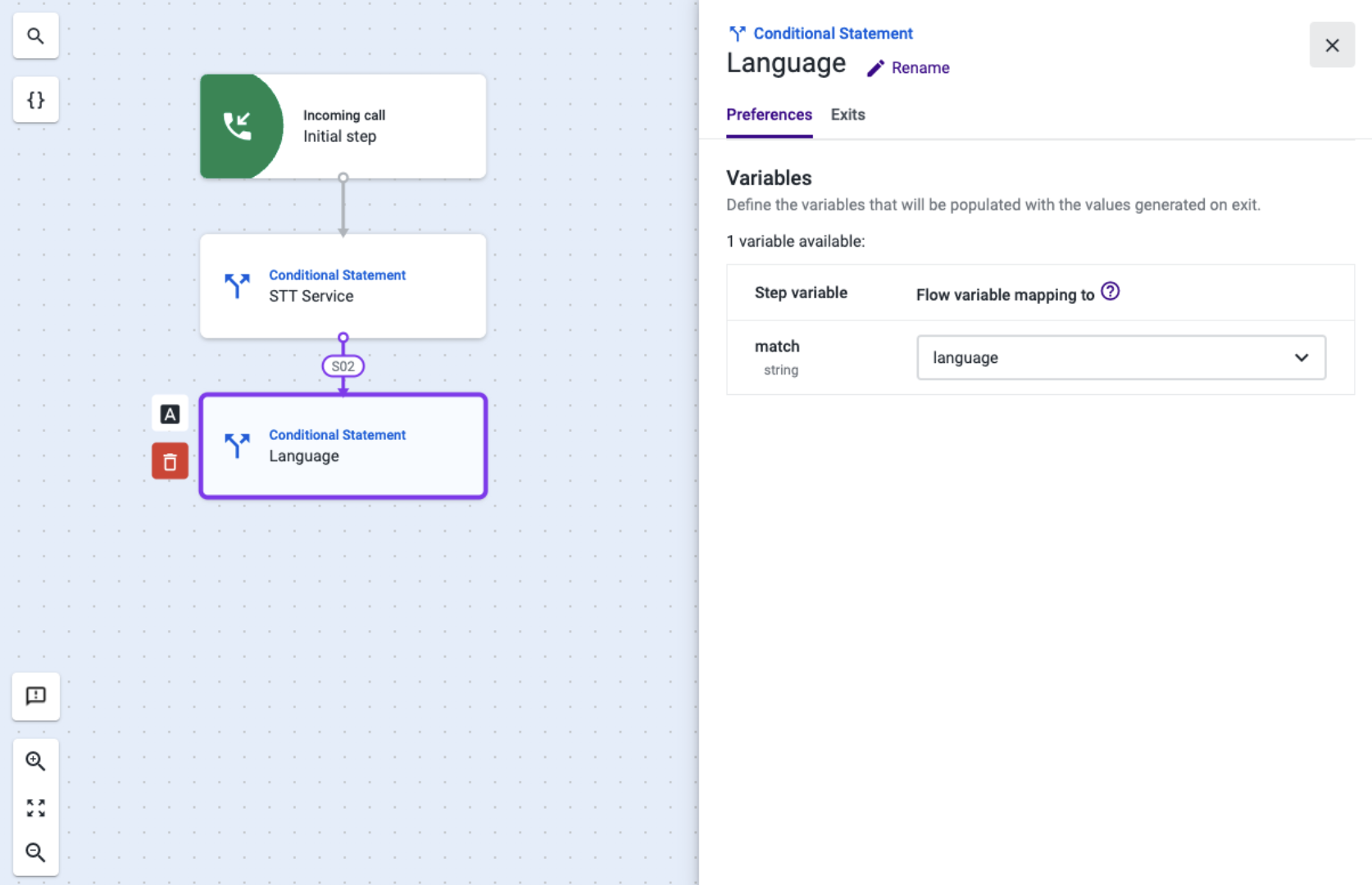 1. On the Preferences tab of the new "Language" Conditional Statement component, add the variable "language".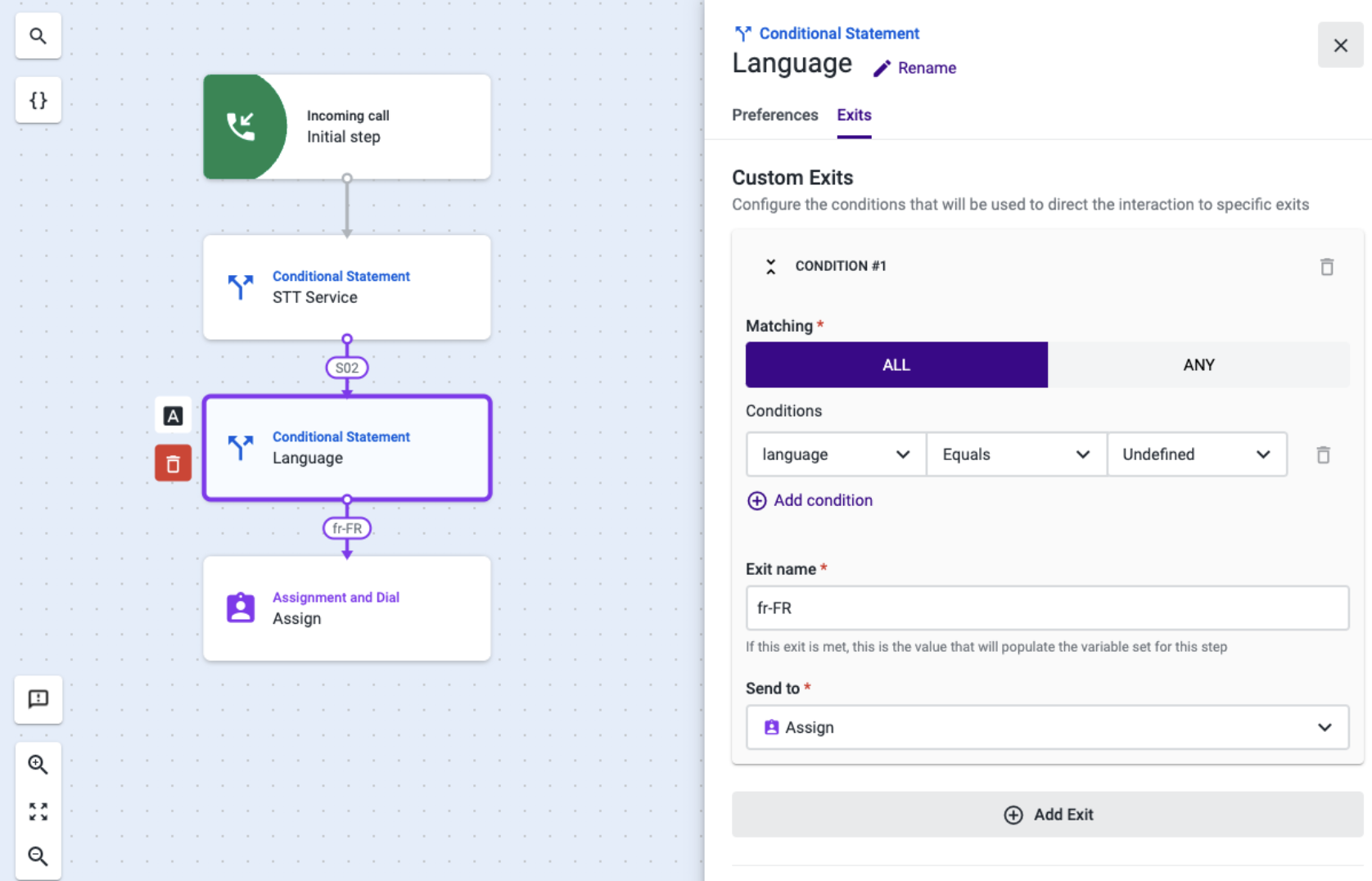 2. Open the Exits tab and set the condition to the new variable:
"language" "Equals" "Undefined"
3. In "Exit name", specify the language model available for the corresponding STT service code chosen below in step 6 We've selected "fr-FR".
4. In "Send to", add the next component to your Studio flow.
5. Publish the variables.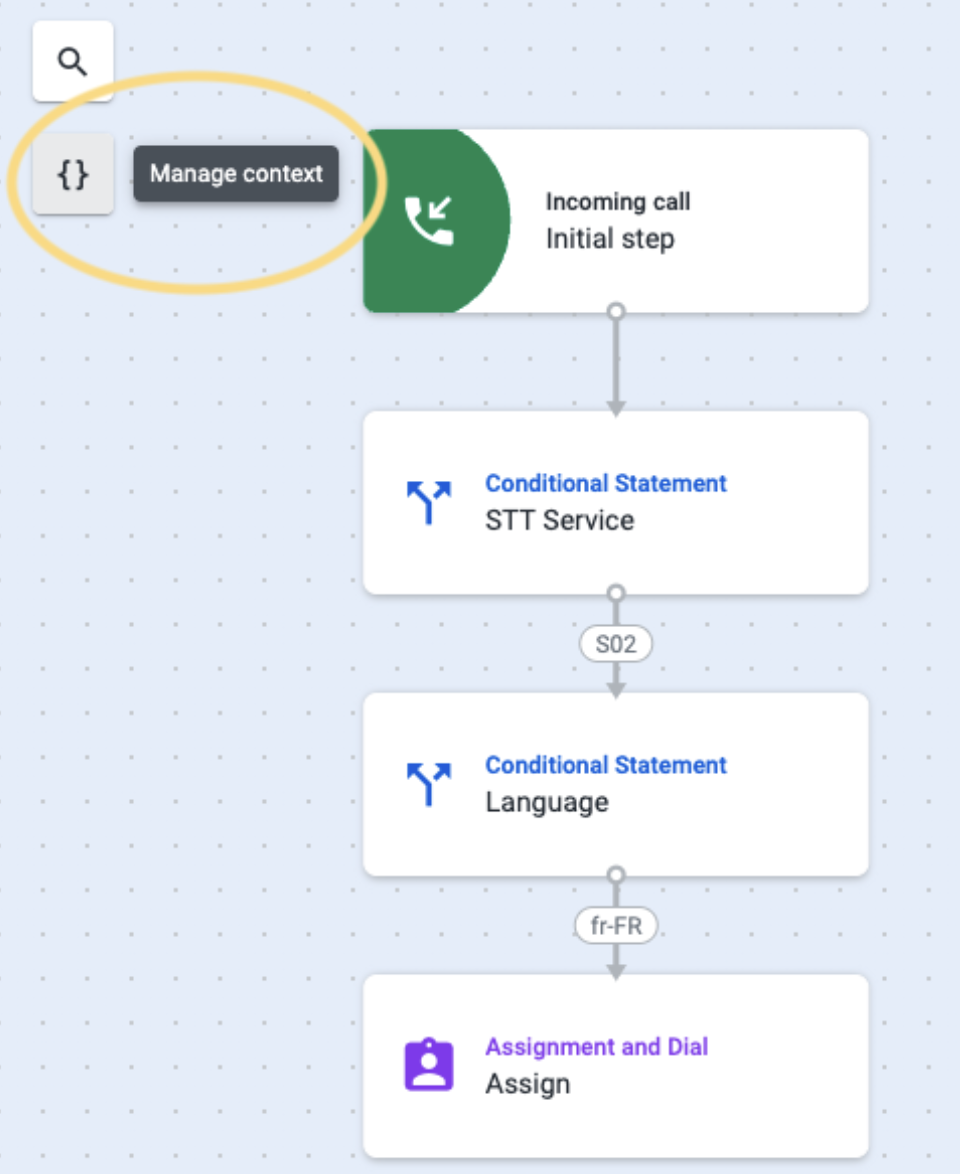 6. Click on Manage context and check all the newly created variables.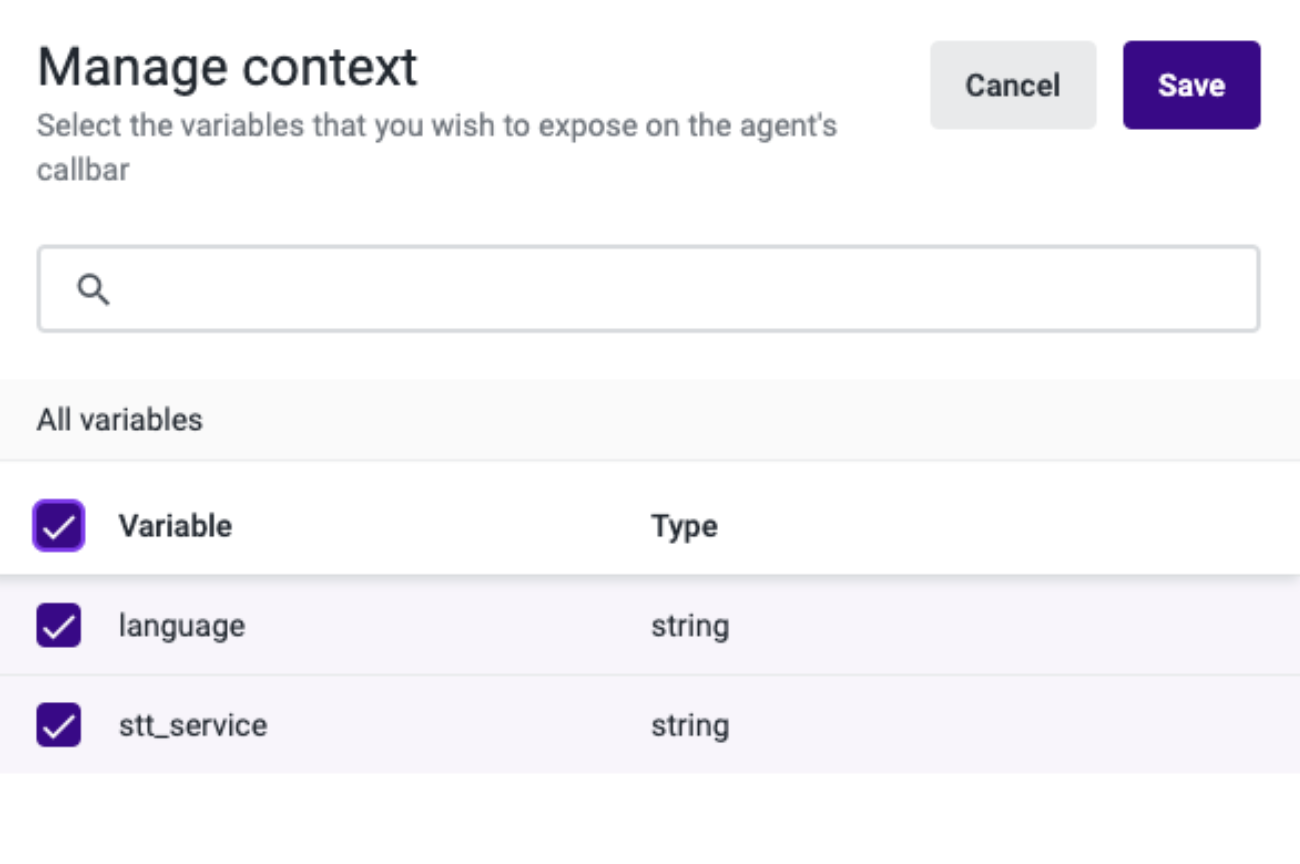 7. Save and publish your flow. All calls that go through this Studio flow will then be transcribed in the specified language and surface knowledge that is relevant to the interaction.
Note: Remember to assign the flow to a phone number so that all calls to that number use the flow to which the STT service and language model variables have been added.
For further information on how to configure a Studio flow, please refer to our Studio Advanced Documentation.