Talkdesk Feedback™ helps you listen to, analyze, and improve multichannel experiences that consumers are having with your brand.
This application allows you to deploy surveys across multiple channels, thus turning data into valuable insights. It also allows you to automate actions, so you can resolve issues in the customer journey and help improve agent performance.
SMS Surveys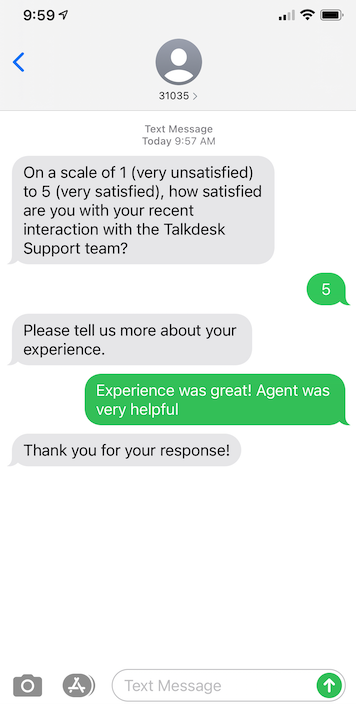 Formerly known as "Sentiment", this survey feature enables you to create SMS surveys using a Customer Satisfaction (CSAT) measure, with open text comments and expanded international Talkdesk number support. These capabilities have been replatformed in order to provide consistent reporting features and help improve product usability.
With open text comments, surveys can collect quantitative CSAT scores and qualitative comment data. These are key points in getting a better understanding and context of the customer experience.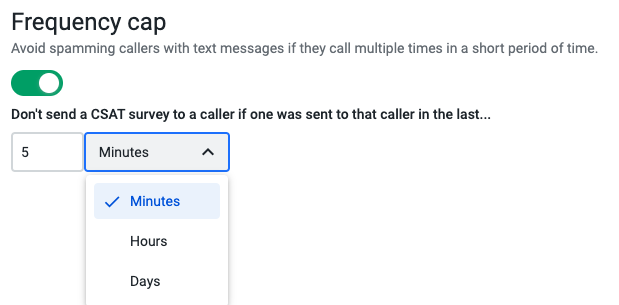 A frequency cap for SMS Surveys can be set to restrict surveying callers within a defined amount of time. This is configurable by number of minutes, hours, or days.
IVR Surveys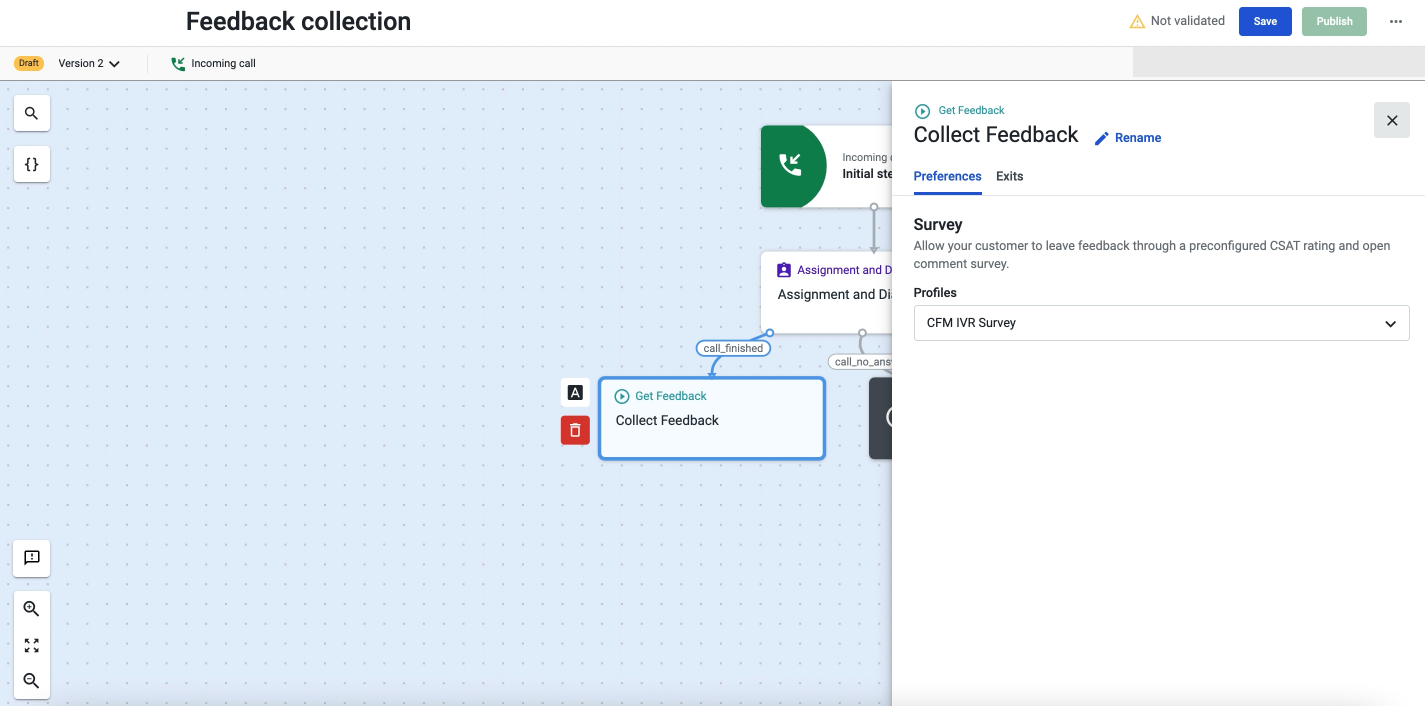 Using the new "Get Feedback" Studio component, you can create and add voice surveys to post-call flows.
Note: Post-call flows need to be placed after the "call_finished event", from the "Assign and Dial" > "Call Finished" exit.
The Interactive Voice Response (IVR) survey responses are registered and pushed to the Live Feedback Stream for real-time analysis. This provides a valuable and diverse overview of CSAT through the score provided by customers.
Notes:
At this time, surveys are only supported for Inbound calls.

Customer responses to the survey are collected and then transcribed into text. No keypad touch is necessary.
Live Feedback Stream
In order to assess the health of the customer's experience with your brand, the Live Feedback Stream provides a snapshot of the most relevant feedback points, such as the CSAT Score, open text comments, and the corresponding survey channel.
This tool provides a real-time view of CX (Customer Experience) and VOC (Voice of the Customer). You can see what customers have to say, with details regarding their satisfaction, and use filters to drill down even further into the data.
Feedback Report
While Live Stream provides access to actionable survey data, the Feedback Report allows access to all raw data and can be used to extract Feedback data from the Talkdesk system. For detailed information on the Feedback Report, including which filters are available, please visit our Data Dictionary.
The Feedback Report includes all the collected survey data over a period of time, with detailed information about the interaction and survey, such as Channel, Survey Response Information, Interaction ID, or Agent Name, among other data.
Installation and Activation
To install and/or activate Feedback, please get in touch with your Customer Success Manager.

As a rule, all Talkdesk CX Cloud features come pre-installed. To access Feedback, simply click on the icon [1] on the left-side dock.
If you'd like more information regarding options for manual installation and configuration of Talkdesk CX Cloud, please see our documentation here.