Now that you have a phone number in your account and Talkdesk integrated with the tools you use in your daily operations, agents can start making and receiving calls.
By default, Talkdesk rings all suitable agents at the same time. The first one to answer will handle the call. However, incoming calls can be routed to a single or multiple suitable agents at the same time, depending on your preferences. When routing an inbound call, the account's routing preferences will set the number of agents to dial simultaneously as well as how and when to do it.
Automatic Away
You can configure your account to automatically change the agent's status to Away when they miss a specified number of calls in sequence.
Number of Agents to Ring
To configure the number of agents to ring: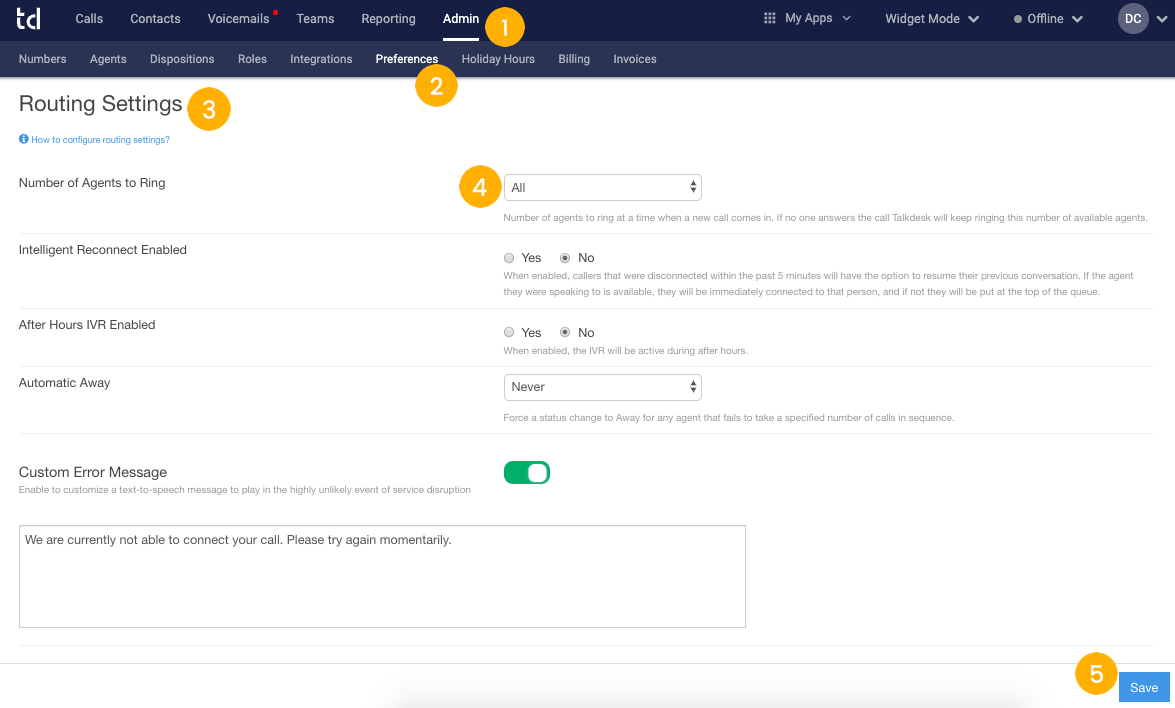 Log in to your Talkdesk account as an administrator.
Click the "Admin" section [1].
Select the "Preferences" tab [2].
Scroll down to "Routing Settings" [3].
Next to "Number of Agents to Ring", make your selection from the drop down menu [4]:
Note: While it is possible to ring all agents, we only recommend this for very small accounts (no more than 5 agents). Learn more about how many agents should be rung at a time.
Also note that there may be a delay of approximately 1 second for a call to start ringing each agent when the "Number of Agents to Ring" is set to more than one agent.
Ringing all Agents
If the setting is 'All', Talkdesk will ring all available agents at a time and the first one to answer takes the call.
Ringing N Agents
For any specified value, Talkdesk will ring that number of agents simultaneously, and will only dial another batch of agents (of the same size or with the remaining undialed agents) if every agent in the previous batch rejects the call (or becomes busy).  If no one answers the call Talkdesk will keep ringing this number of available agents.
In order to make sure that the most appropriate agent always gets the call, we use a skills based routing system to deliver messages to the right agents.
These settings can also be configured differently per phone number. To learn how to do this, please visit our numbers custom settings article.
As for choosing in which devices your agents will handle calls, read our Device Settings article to know more.