Note: This feature is available as of Callbar 1.26.
With the release of Callbar™ 1.26, Talkdesk now supports an Auto-Answer feature.
Auto-Answer provides your agents with a faster way to answer calls. When this feature is enabled and a call is routed to an agent, the agent will receive audible and visual cues and the call will automatically be answered within one second. The agent will no longer have to press the Accept button to answer the call. By enabling Auto-Answer, you will improve your agents' efficiency, lower your average wait time, and increase your service level.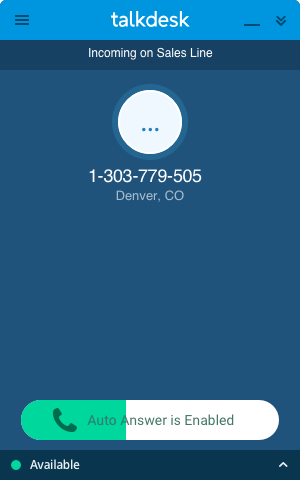 How can you configure Auto-Answer?
Phone numbers assigned to Studio flows
You will have to add the Auto-Answer component to your call flow(s) in Studio. This way you can choose which flows use the feature. To learn more about the Auto-Answer component, please visit our Studio Advanced Documentation.
Note: The Auto-Answer account-level setting (see below) does not affect your phone numbers assigned to Studio flows.
Phone numbers not assigned to Studio flows
Auto-Answer is configured at the account level under the Admin section. Once you enable it, the "Number of Agents to Ring" setting (Admin > Preferences) at both account and number level will be ignored and disabled. Only one agent is called because Auto-Answer and ringing multiple agents are mutually exclusive.
Once the configuration is complete, all agents in your account with these specific phone numbers will have their calls answered automatically (with the visual and audible notifications as stated above).

Talkdesk will keep improving this feature so that you can have a more granular configuration.