Intelligent Reconnect helps to prioritize customers whose calls drop while speaking to an agent, saving them from having to wait in the queue again. This feature allows callers to be intelligently routed to their previous agent (or the previous queue, if the agent is unavailable) if they call back within 5 minutes of being disconnected.
How to Enable
Log into Talkdesk as an Administrator:
Select the 'Admin' section [1] in the top navigation.
Click the 'Preferences' tab [2].
Scroll down to the 'Queue Settings' section [3].
Select option to 'Yes' for "Intelligent Reconnect Enabled" [4].
Press 'Save' [5] at the bottom of the page.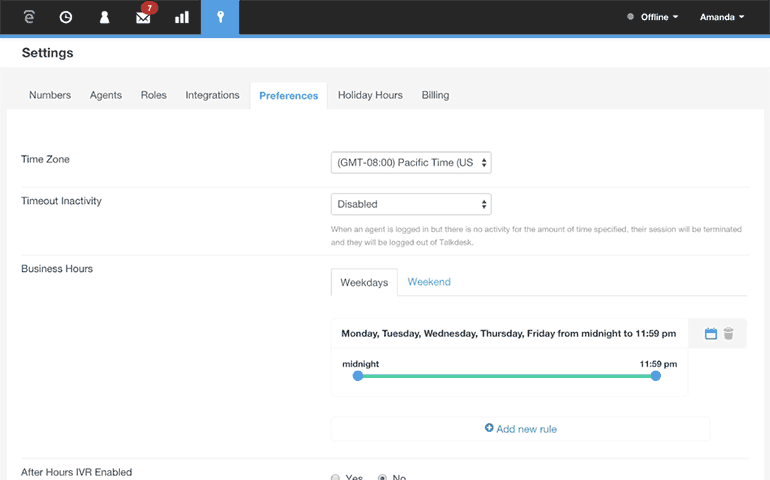 If you wish to limit the Intelligent Reconnect feature to callers who contact your company on certain phone numbers only (i.e., only callers who call the sales line), you can adjust the "Intelligent Reconnect Enabled" setting for a specific phone number only under that number's "Custom Settings".
When enabled, if while connected to an agent the call disconnects for any reason, the caller can call back within five minutes after the call dropped to trigger Intelligent Reconnect. When they do so, they will hear the Intelligent Reconnect message (by default, this is "We noticed you were just disconnected, so we're sending your call to the top of the queue. Press 1 to go to the main menu instead."). If the caller presses 1, they will be taken back to the IVR, as though they had just called in normally. If they do nothing, then we will first check to see if the agent they were speaking to when the call dropped is available: if so, we'll automatically direct the call to that agent. If not, we will place the call at the top of the queue where it was originally answered.
You can also record a custom message to be played in lieu of the above. If you choose to do so, remember that the default behavior is to send the caller to the top of the queue, and that they will need to press 1 to avoid this, so be sure to include this in your message.