After configuring your phone numbers, it's time to invite other team members and start collaborating with them. Agents are the team members who typically handle calls and other interactions in your contact center.
Notes:
In case you are using

Talkdesk for Salesforce

, be sure to always add new users who will be using Salesforce directly in Salesforce and not in Talkdesk, to avoid

Callbar errors

. Adding new users in Salesforce will automatically add the user to your Talkdesk account; however, the opposite is not true.

To learn how to configure User Provisioning directly from your Identity Provider, please read the

documentation on SCIM User Provisioning.
Adding Agents
To start adding new agents to your Talkdesk team, follow the steps below:
Note: If you are in Talkdesk Classic, you can access all the features described below by navigating to the "Admin" section > "Agents" tab.
1. Log in to your Talkdesk account.
2. In the "Admin" app, select the Agents tab [1].
3. Click on Add New Agent [2] (or click Add Call Center Agents if you are on the getting started screen, and accessing Talkdesk for the first time).
4. Fill out the mandatory fields (marked with *):
"Name"

[3]

and "Email"

[4]

.

New team members must be assigned to "Ring Groups"

[5]

. The

agent's

ring group is already added by default. It is through ring groups (e.g., skills, departments, languages, among others) that Talkdesk routes different types of calls to agents with the proper skills to handle them. To learn more about ring groups and how to set them up, please refer to our article on

Setting up Ring Groups

.

Configure any additional setting as you see fit, for example:
5. Set the "After Call Work Settings": Activate or deactivate "After Call Work" [10], select the desired "After Call Work Timeout" [11], and define whether the "Call Disposition Dialog" should appear after inbound calls only, outbound calls only, or both [12].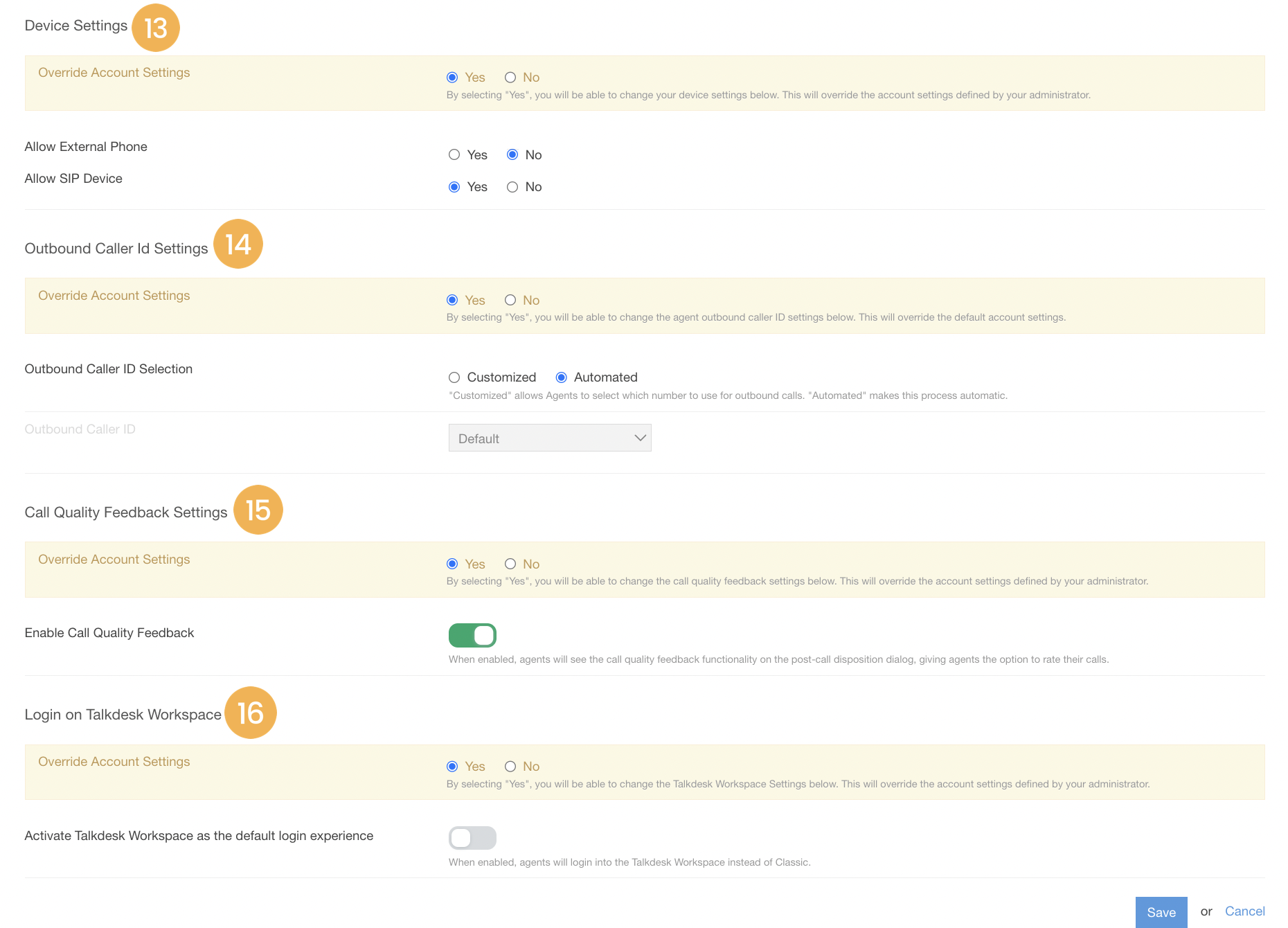 You can also override the account's settings for used devices [13], Outbound Caller ID [14], Call Quality Feedback [15], and Login on Talkdesk Workspace [16], by configuring different settings for the user that you are adding.
Depending on your account's setup, you may see additional settings that you can enable.
6. Click Save to finish the configuration. When you do this, the new team member will receive an invitation email. Once the invitation is confirmed, the agent is ready to start using Talkdesk.
Note: You can reopen the user's profile at any time and adjust the settings as needed.
If the user did not receive the invitation email, you can resend it by clicking the Resend Invitation link [17] under the email field.
Note: Accounts that have configured SSO-only by disabling the "Account Login Section" in "Login Settings in Login" will not receive an email invitation.