Agent Assist is a solution that transcribes call interactions in real time, using Natural Language Understanding (NLU) and Natural Language Processing (NLP). Agent Assist recognizes the intent, and automatically provides the agent with recommendations, improving speed to resolution and handling time. For more information, please visit our Agent Assist documentation.
September 27, 2023
On Wednesday, September 27th, 2023, we will release the following enhancements in Agent Assist:
New:
Support for Digital Interactions (Talkdesk Digital Engagement): Besides voice, Agent Assist will now work on top of digital interactions provided by Talkdesk Digital Engagement. All Agent Assist features are now available for the following channels: SMS, Live Chat, Email (GA), and Social Messaging (WhatsApp Business and Facebook Messenger - EA).
Agents interacting with customers through digital channels can now access contextual recommendations of knowledge base articles, along with recommended answer templates that they can click to copy to their message. Automated after-call work is also available, including automated disposition, summarization, and agent next steps.

Note: Customers who own a paid Agent Assist subscription (Standard or Premium) and use digital channels will automatically have access to the product's features for these channels.
March 2, 2023
On Thursday, March 2nd, 2023, we will release the following new feature in Talkdesk Agent Assist™.
New:
Smart Scripts:

Smart Scripts can be set up for Agent Assist customers using

Talkdesk AI Launchpad

, bringing contact center agents a unique scripting experience. Admins can now build scripts using Talkdesk Automation Designer. They will be displayed to agents in the Agent Assist User Interface (UI). Script content is presented step-by-step as the conversation progresses so that agents don't need to scan through complex diagrams.


Smart Scripts as an automation tool:

Using Automation Designer, admins can decide that, given specific agent input in the script, certain tasks will be executed. For example, once the agent verifies a payment, a C

ustomer

R

elationship

Management (CRM) record is automatically updated.


Personalized Smart Scripts:

Admins can use information collected through Studio flows to customize the text displayed to agents. For example, if you know the customer's name using a Studio data dip, you can include it in the greeting instruction as a variable rather than presenting generic text.
February 17, 2023
On Friday, February 17th, 2023, we will release the Agent Assist Recommendations default report in Explore.
This report allows Talkdesk customers using Agent Assist to understand which recommendations are being generated and shown to agents, their source, and which intent triggered them. The report also presents metrics for the percentage of opened recommendations and agent feedback through a thumbs-up and thumbs-down rating system.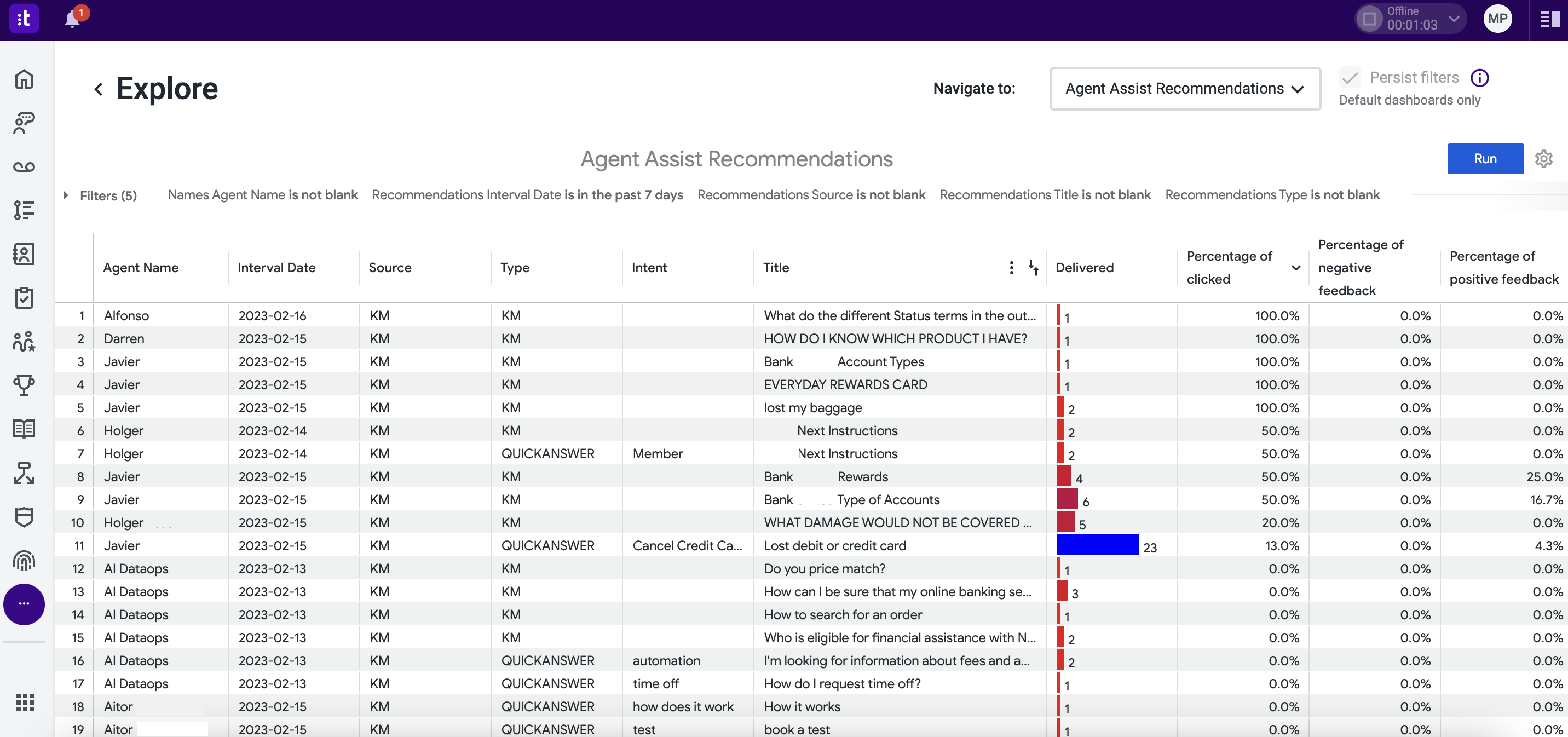 June 30, 2022
On Thursday, June 30th, 2022, we will release the following new features and an enhancement to Talkdesk Agent Assist™.
New:
Bookmarks:

Agents can now bookmark recommended answers and quickly access them at any time without the need to search.
Transfer Assistance:

By using Agent Assist

,

Agents will now have access to the full context of a transferred call, either from virtual or other human agents.
Once the transferred call is accepted, the agent will be able to see the main highlights of the previous conversation, as well as the full transcription and also any recommended content from the Talkdesk Knowledge Base that may be helpful to handle topics brought up before the transfer was made.
Enhancement:
Improved User Experience:

A new, research-based approach to the way Agents interact with Agent Assist, as it removes the need to navigate through different tabs. It keeps the focus of the user in real-time transcription, presents recommendations in a more seamless way, and highlights the search bar.
October 4, 2021
On Monday, October 4th, 2021, we will release a new feature to Talkdesk Agent Assist™.
New:
Timeline entity highlights:

Agent Assist can now display entity highlights on the timeline view. Entities are words or expressions detected in the conversation that are categorized by the AI model (examples of categories could be account

or order numbers, product names, and references or contact details). They are mapped via AI Trainer, where their designations are also customized. The goal of highlighting entities is to ease the cognitive load for agents when scanning through the information given by the customer and avoid the need to request customers to repeat themselves.

In the example below, a location entity ("Geo-city") is highlighted: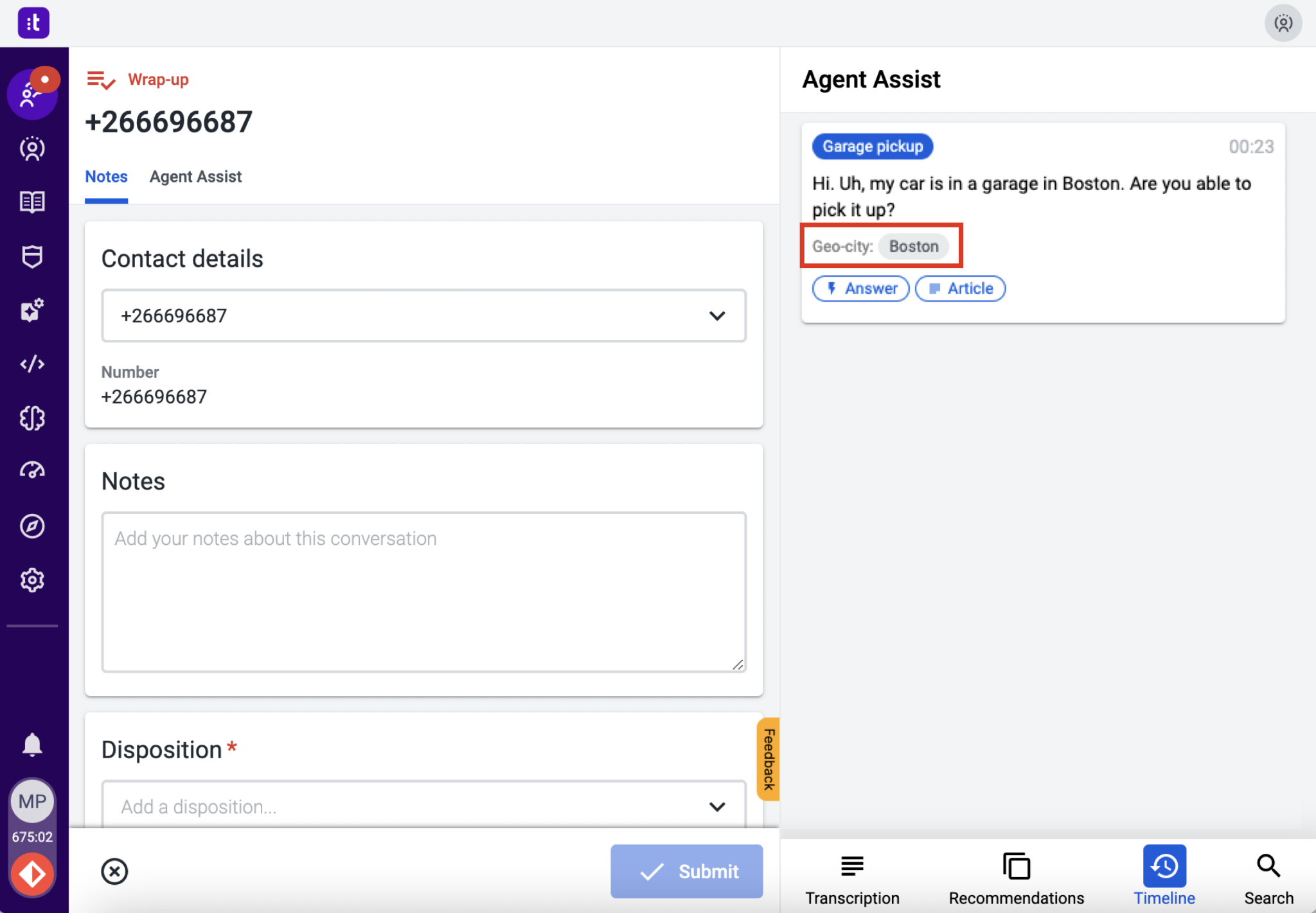 September 6, 2021
On Monday, September 6th, 2021, we will release the following new features and enhancements to Talkdesk Agent Assist™.
New:
Quick Answers: The ability to tag specific snippets of content in Talkdesk Guide™ with intent labels, so that they can be surfaced through Agent Assist during a conversation with a customer, whenever that same intent is detected.
Timeline view: A new way to navigate through the key moments of the conversation without having to read through the entire transcription. The "Conversation Timeline" highlights the intents detected throughout the call, along with the best recommendations for each intent.
Search view: Agents can now search for valuable content directly from Agent Assist, at any time. Agent Assist will look for articles across any knowledge base, or files connected to the system, and present them in the agent interface so that agents don't need to leave the application to check these recommendations.
Pin and copy messages: The ability to pin and copy specific parts of the transcription, so that agents can easily handle valuable call information.
Fast wrap-up: It's now possible to copy and/or export the transcription at the end of the call to facilitate the creation of call notes and summaries.
Enhancements:
Improved agent experience: The agent interface has been revamped, with recommendations being displayed on cards within the application for quick access to content.
Improved real-time speech-to-text transcription: The error rate is now three times lower.
New recommendation algorithm: We are introducing a new algorithm to look for the best recommendations at any given stage of the conversation, filtering results by confidence score and increasing the relevance of the recommended content.
March 18, 2021
On Thursday, March 18th, 2021, we will release Talkdesk Agent Assist™.
Agent Assist is a new product that blends into the phone interaction between agent and caller and transcribes it in real time. Agent Assist recognizes the intent, and automatically provides the agent with recommendations, improving speed to resolution and handling time.
Depending on the words uttered, Agent Assist may recommend actions, such as matching knowledge base articles and other relevant content, or automations, namely the scheduling of an appointment in Salesforce or the opening of a product catalog page with all needed context.
What's Included
The product consists of Agent Assist, an agent-facing application that provides agents with recommendations, and Agent Assist Configuration, a configuration app that enables Administrators to connect external knowledge bases to Agent Assist.
The release includes the following main features:
Suggestions of knowledge base articles and answers.
Automations and shortcuts.
Full real-time interaction transcript powered by automatic speech recognition.
Integration with the most popular knowledge base software.
How to Install
If you wish to start using Agent Assist, please contact your Account Executive or Customer Success Manager.
For more information, please read our Agent Assist documentation.