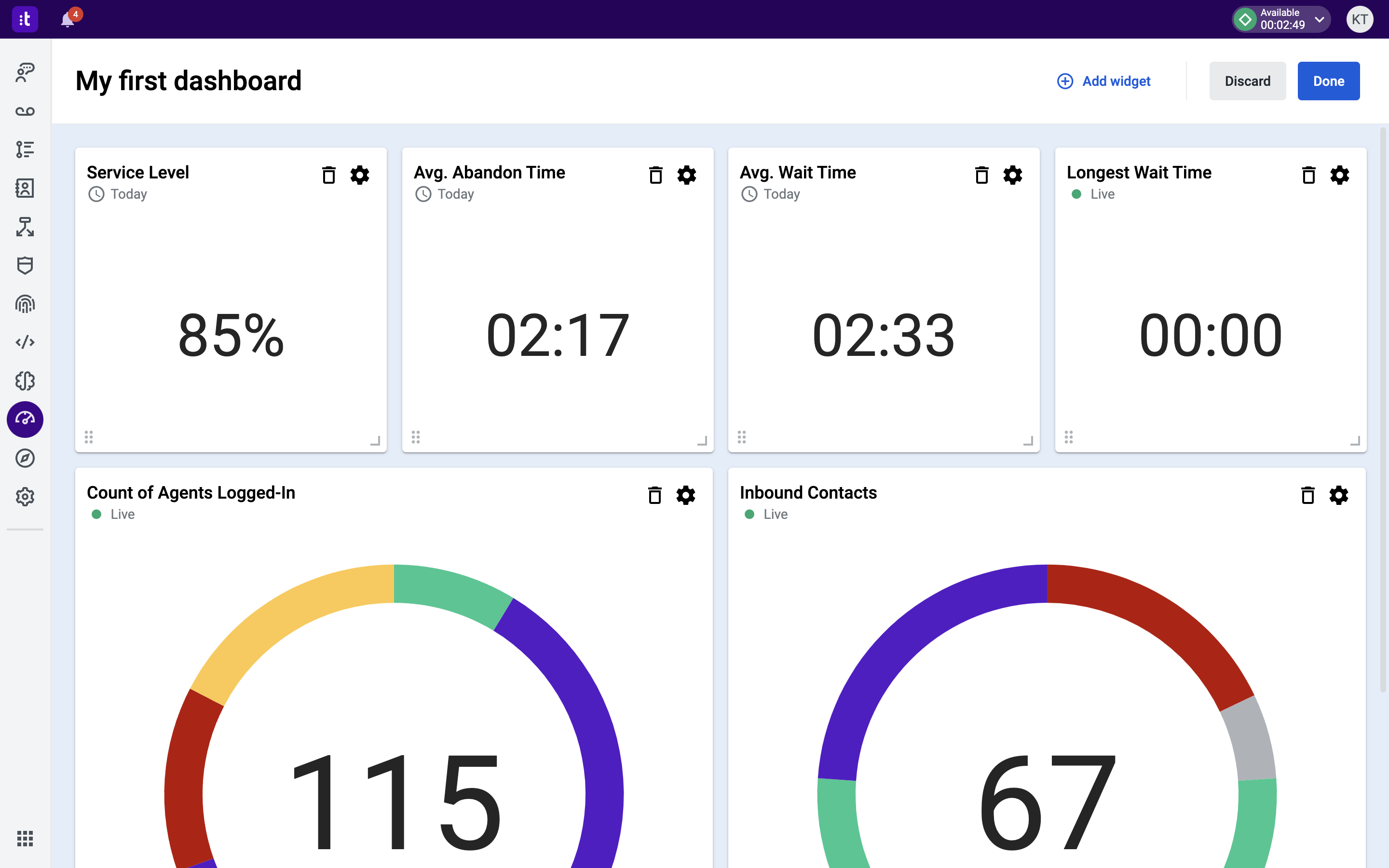 Talkdesk Live™ is a tool that enables real-time monitoring of your contact center's queue performance and agent contact handling, using configurable and filterable widgets.
Live's Key Performance Indicator (KPI) widgets and live contact monitoring capabilities allow users to easily manage queue and agent performance in real time, all in one view.
Live Widgets with Digital Channels data:
Alerts
Live provides custom threshold settings to alert admins and supervisors of items that need attention, allowing them to make intelligent, real-time, data-driven decisions. Additionally, agents can receive valuable, assistive feedback during the times they need it most, ensuring customers are continually provided the high level of service they expect at all times.
Widget Refresh Rates
All "Live" and "In Progress" metrics are marked with a green "Live" icon on the widget and display results for events occurring at that exact moment.
Metric widget results for "Today", "Last Hour", "Last 30 Minutes", and "Last 15 Minutes" are continually refreshed in real-time, meaning that all activity is captured, and the metric is always up-to-date.
By default, "Today" metrics start at the midnight hour (0:00 a.m.) of the timezone set on the account's Admin > Preferences page. However, users can set a different timezone for a dashboard in the Dashboard Settings, if desired.
Number Formats
All percentages are rounded to one decimal place. For example, a figure calculated as 36.65% will be displayed as 36.7%. A figure calculated as 36.64% will be displayed as 36.6%.
Note: Outbound tags (ring groups) for legacy are calculated as follows:
Intersection of IVR Tags with Agent ring groups for Legacy IVR Ring groups.
If the previous is not considered, then follows the intersection of phone ring groups with Agent ring groups.
If the second is not considered, then the report uses the Phone Number ring groups.
Additional Resources: