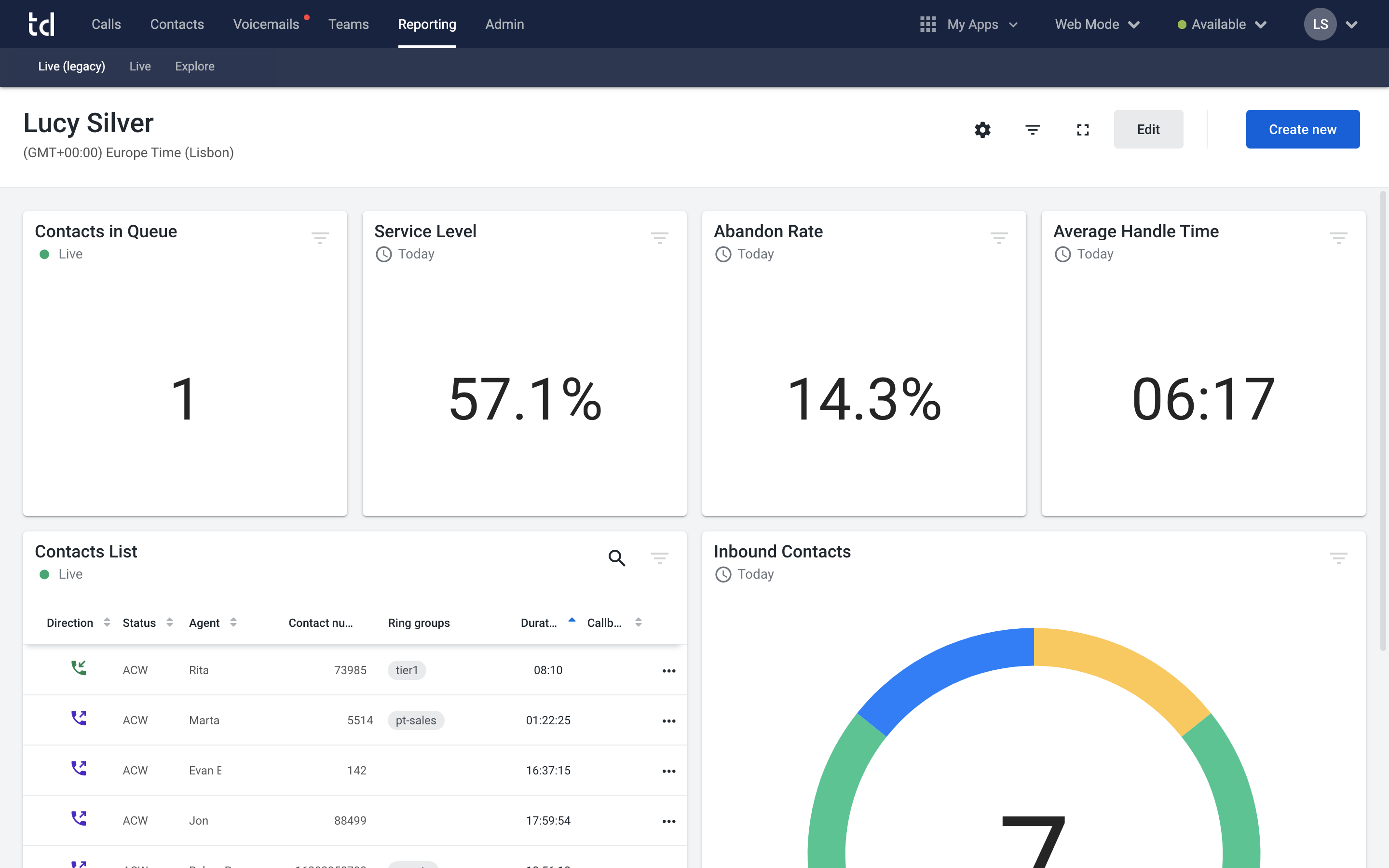 Talkdesk Live™ is a tool enabling real-time monitoring of your Talkdesk account activity.
By being able to access Key Performance Indicators (KPIs), such as wait times, abandonment rates, current contacts queues, and agent statuses, admins and supervisors can view their team's performance at any time, all through a single view.
Live also alerts admins and supervisors of items that need attention, allowing them to make intelligent, real-time, data-driven decisions via a customizable live dashboard tool. Additionally, agents can receive valuable, assistive feedback during the times they need it most, ensuring customers are continually provided the high level of service they expect at all times.
Some key features of Live include configurable and filterable widgets, detailed Online Agents, advanced data granularity, and superior usability with a flexible layout.
With Talkdesk Live you can filter by widget. All metric widgets listed as "now" (e.g., "Live" and "In Progress" metrics) display results for events occurring at that exact moment and show a green "Live" icon to indicate so.
Metric widget results for "Today", "Last Hour", "Last 30 Minutes" or "Last 15 Minutes" are continually refreshed in real-time, meaning that all activity is captured and the metric is always up-to-date. "Today" metrics are defined by the 0:00 a.m. hour of the timezone which is defined under Admin > Preferences.
All percentage figures calculated in Live have an increased granularity and are rounded up to one decimal place. For example, a figure calculated as 36.65% will be displayed as 36.7%. A figure calculated as 36.64% will be displayed as 36.6%.
Talkdesk Live allows admins and supervisors to:
View the whole page in Full-screen mode

: The Full-Screen option allows you to have a clearer view of what really matters on your dashboard.

Customize which KPIs to display: Click the Edit button and select a widget to configure. You can then specify which metric to display for this widget. See the Data Dictionary for the full list of available metrics.
Set alerts or targets for your widgets: Click the Edit button and select a widget to configure. You can specify a "Less than", "Greater than", and "Equal to" threshold for each of your widgets, and you can also choose "Between" amounts. Color and display indicators on the widget will be used to show how current metrics are performing against these thresholds.
Pick from three different layouts: Any changes to those layouts can be then used as a template.
See your filtered widgets:

In Live, you can see how a widget is filtered by clicking the filter icon in the widget. Instead of going to edit mode and check the Filters tab to consult which filters are being used, you can confirm that upfront and see the filters directly in the widget interface.

Watch Intraday metrics refreshed near-real-time: You can see what is happening right away.
Click here to access Talkdesk Live documentation.
Click here to access the Data Dictionary.