Talkdesk Explore™ is a Reporting tool that allows you more performance and flexibility to manage your historical data.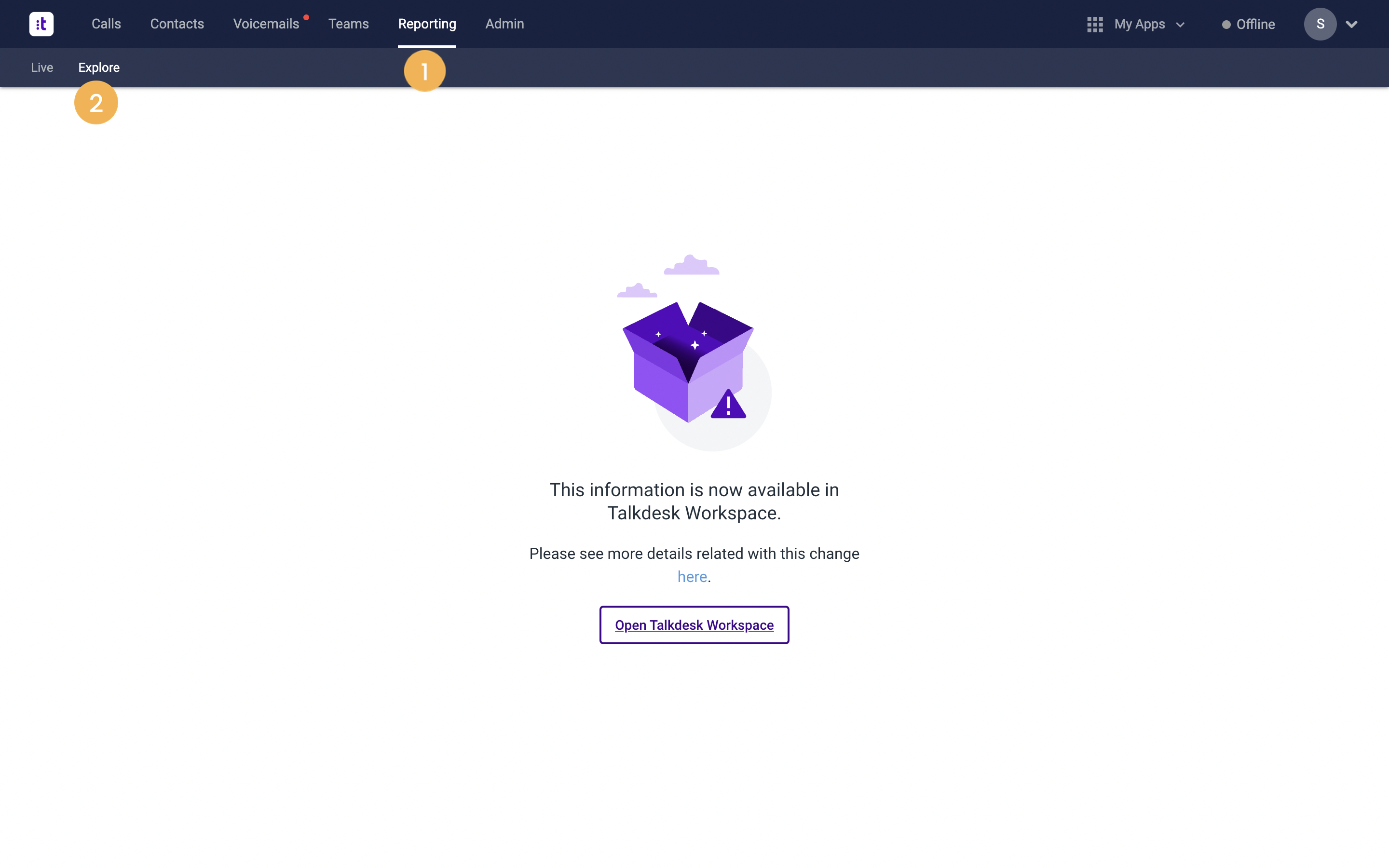 Explore is available within the Reporting section [1]. To access it, simply select the Explore tab [2].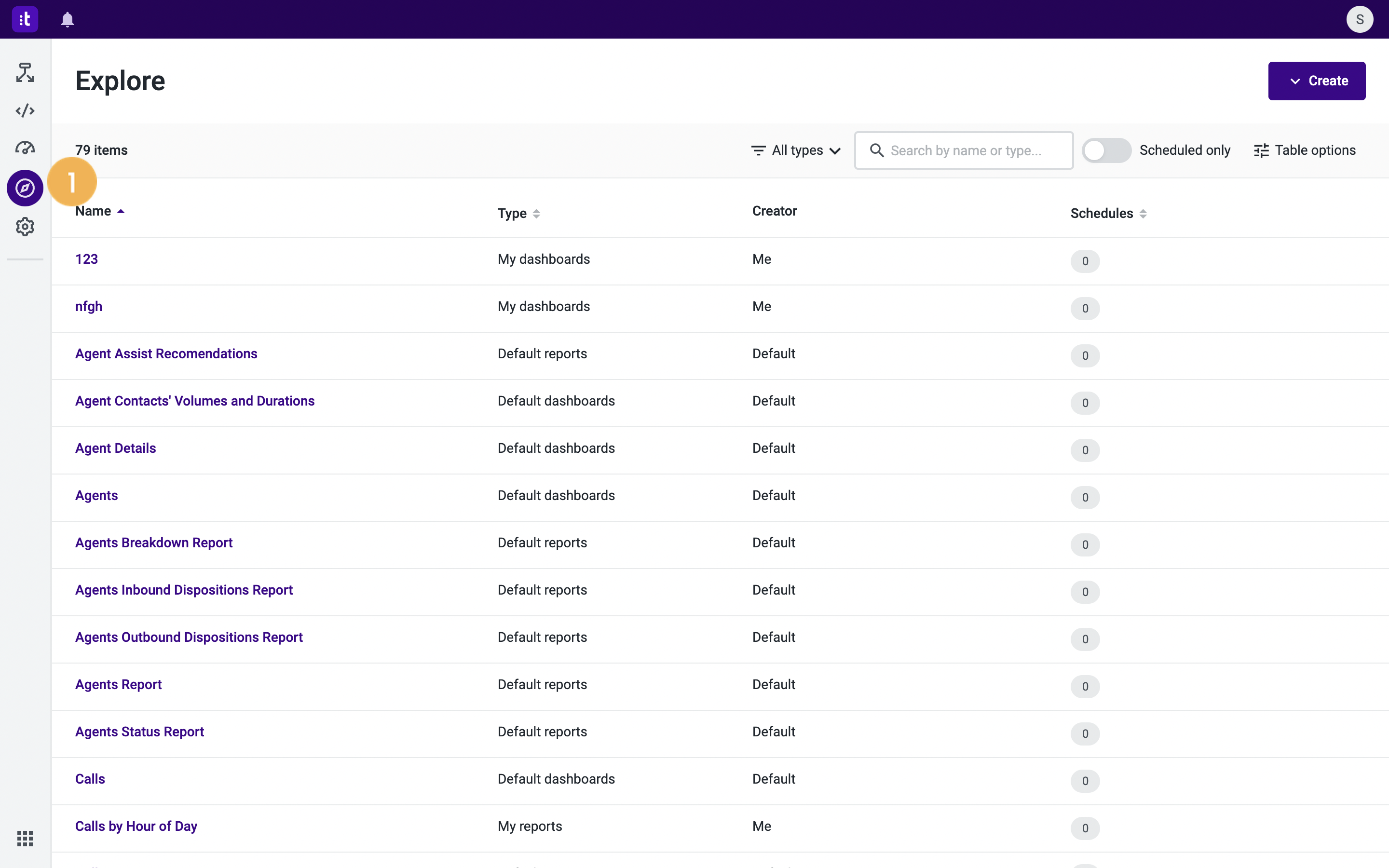 Alternatively, you can access the Explore app [3] directly in Talkdesk Workspace™.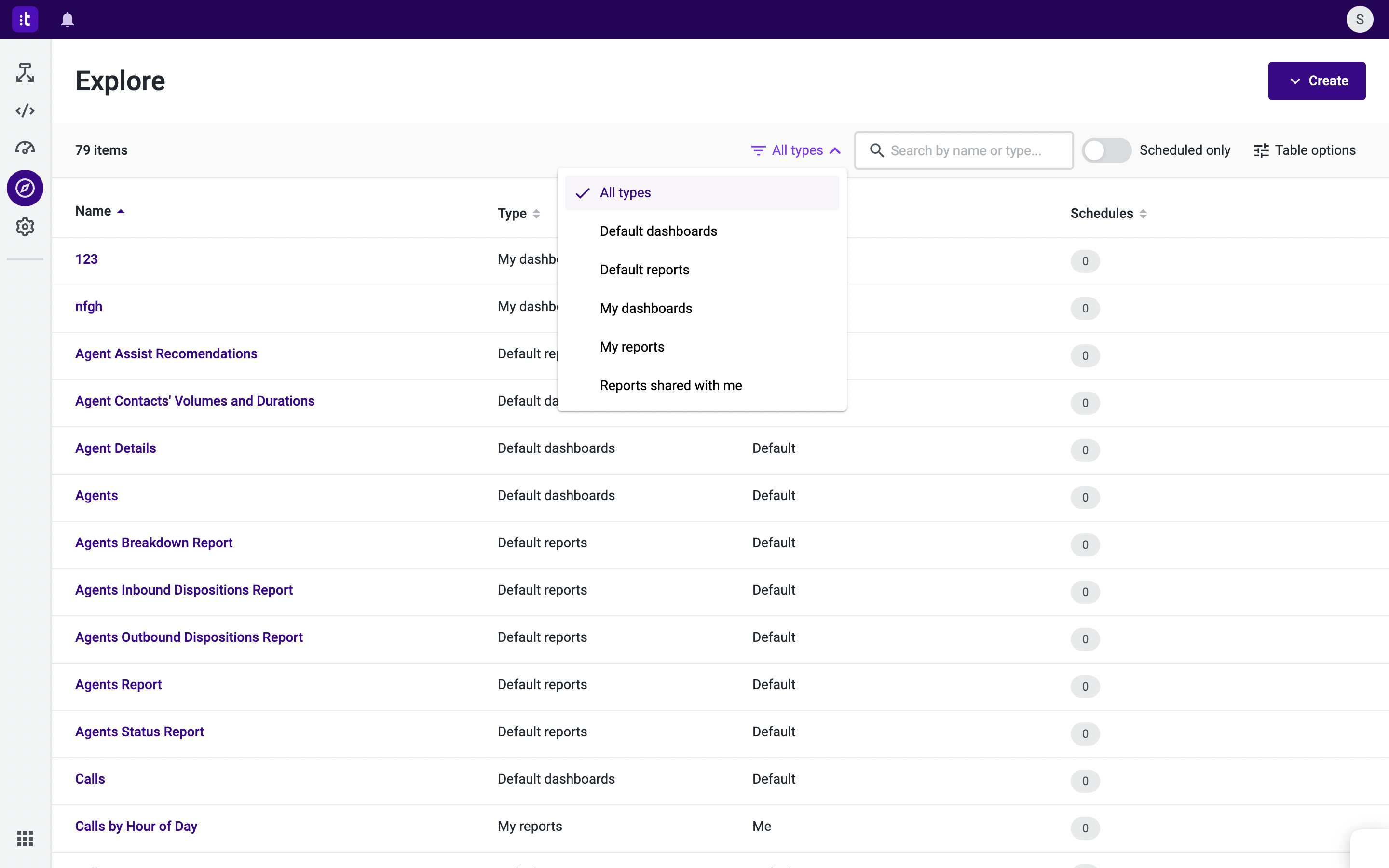 You will see several sets, of Reports and Dashboards. All reports and dashboards are available from the landing page of Explore.
Each one offers advanced filtering and search options so that you can quickly find the data that you are looking for:
Dashboards
A dashboard allows you to quickly check related metrics, based on the filters that you apply.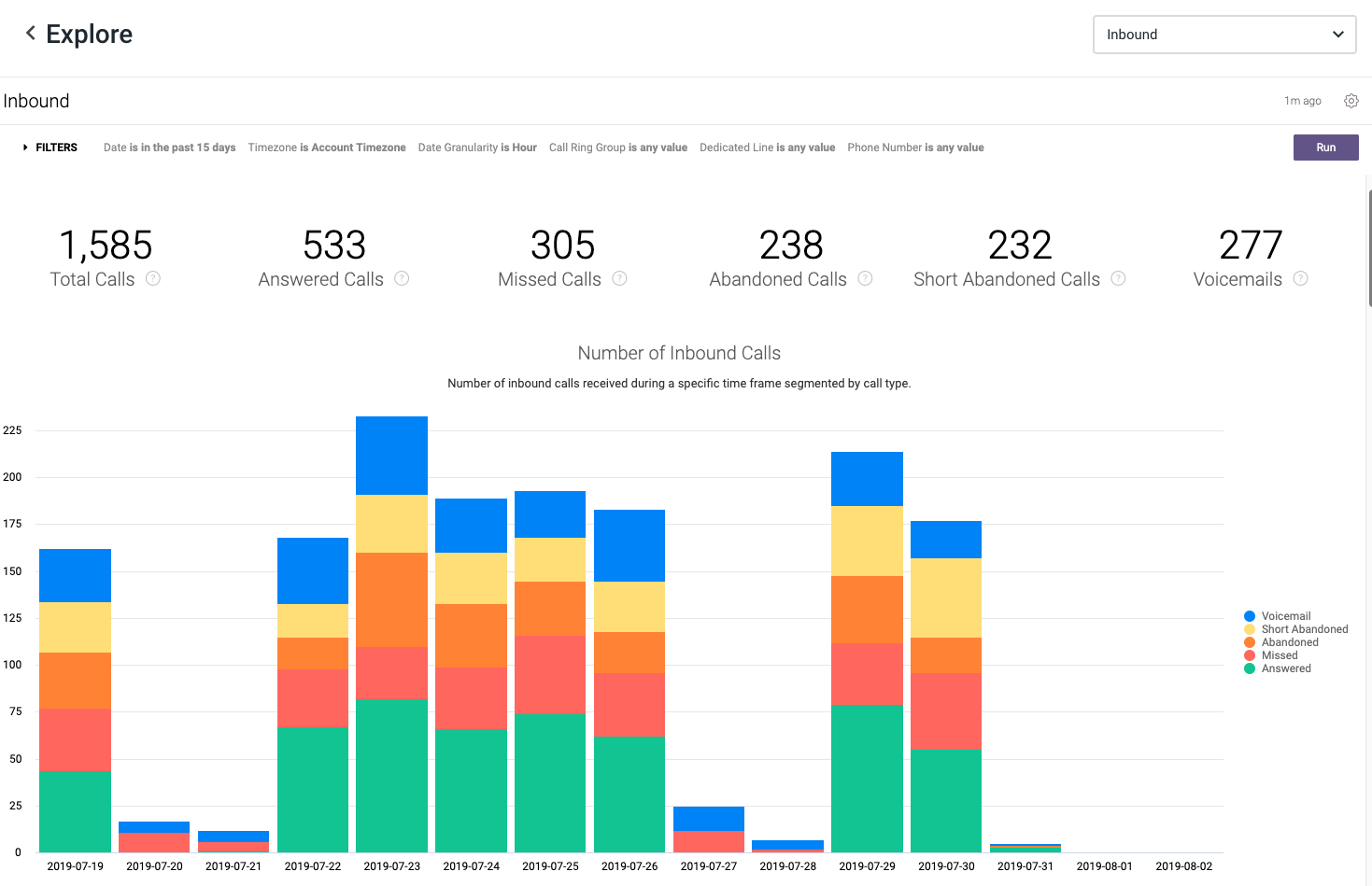 There are more than 15 default dashboards available in Explore:
Reports
A report displays the answer to a single data question, allowing you to view, export, and share more details about that data.

There are more than 30 default reports available in Explore:
Accounts Breakdown Report.
Activity Report.
Agents Breakdown Report.
Agents Inbound Dispositions Report.
Agents Outbound Dispositions Report.
Agents Report.
Agents Status Report.
Calls Report.
CSAT Messages Report.
Inbound Dispositions Report.
Numbers Breakdown Report.
Numbers Inbound Dispositions Report.
Numbers Outbound Dispositions Report.
Numbers Report.
Outbound Dispositions Report.
Studio Flow Execution Report.
Tags Breakdown Report.

Contacts' Ring Groups Summary.

Contacts' Volume by day of the week.

Contacts' Volume by hour of the day.

Ring Attempts Summary.

Teams' Contact Summary.

Users' Contact Summary.
Accessing Dashboards and Reports
To open a dashboard or a report, simply click on Default Dashboards or Default Reports. From the drop-down menu.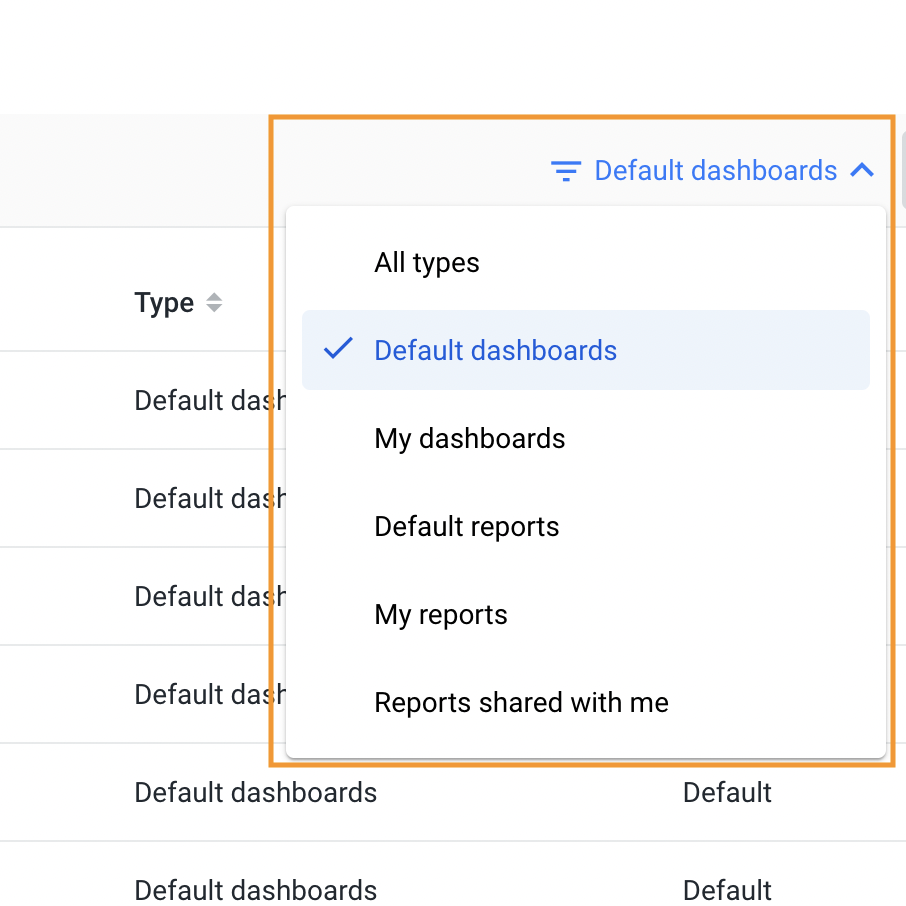 Besides this, you can quickly find dashboards and reports by:
Searching for keywords.
Selecting "Scheduled only" to view only reports and dashboards with a scheduled execution.
In the example below, we have narrowed down the visualization to show only the scheduled reports and Dashboards that contain the word "Calls":
Custom Dashboards and Reports
Besides the default dashboards and reports described before, customers on one of Talkdesk's select plans are also able to create their own reports and dashboards.
Note: If you wish to upgrade your account, please contact your Customer Success Manager.
A Create button will be visible next to the search field at the top of the page. Once created, the custom dashboards and reports will be automatically placed in their corresponding section: "My Dashboards" or "My Reports".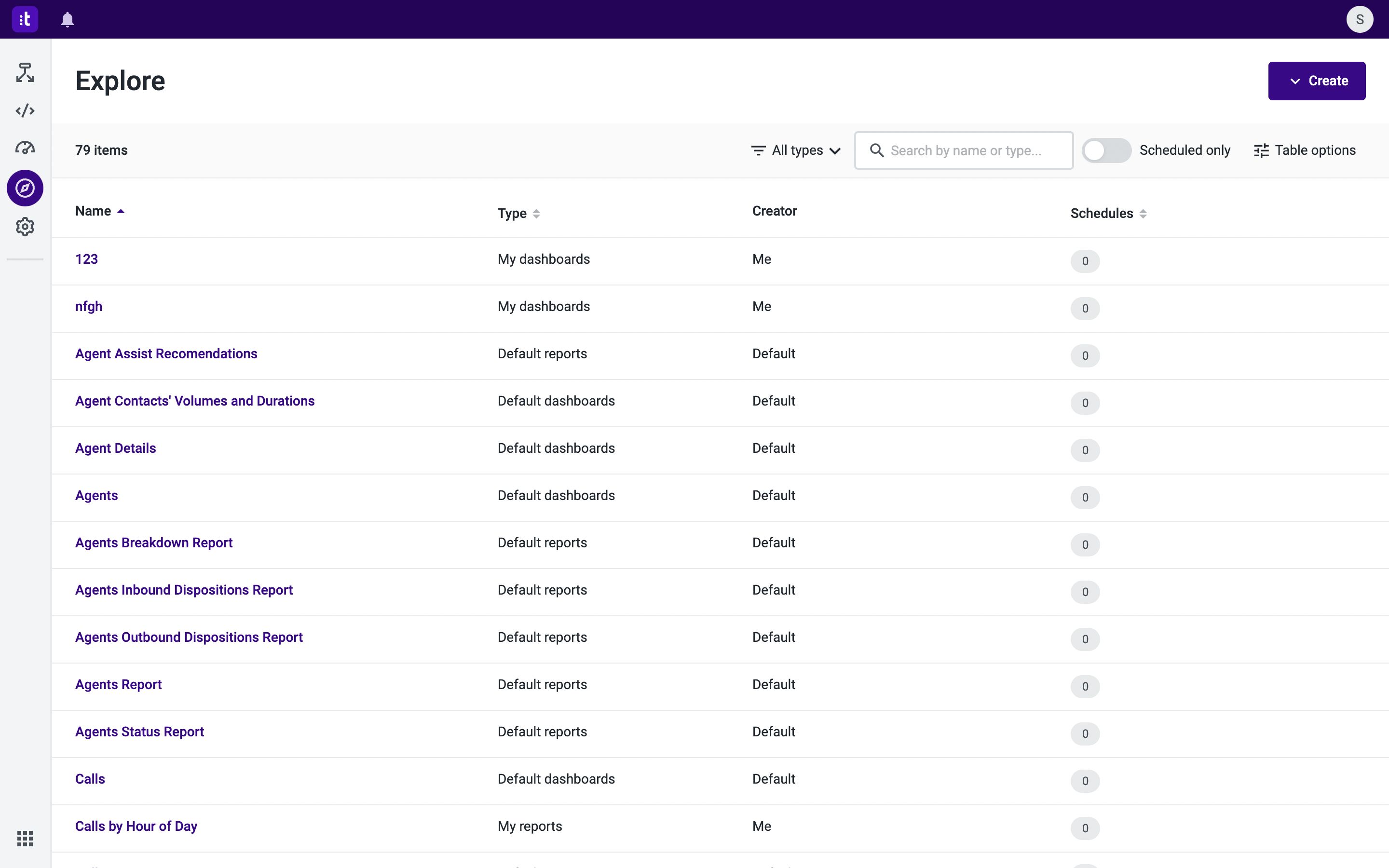 For more details, please check the articles Custom Create Reports and Custom Create Dashboards.
Permissions
By default, users with the Admin or Supervisor role will have access to Explore.
If you wish to give access to other roles, or adjust the default permissions, you can do this from the Roles and Permissions tab of the Admin section.
The available permissions for Explore are:
View: permission to view Reports or a specific Dashboard.
Manage: permission to create, edit, and delete Schedules.
For example, a custom or cloned role can be configured to have permission to see only specific dashboards.
To edit a role's permissions, do the following:
1. After choosing the type of role you want to edit, select the Edit permissions option from the settings menu.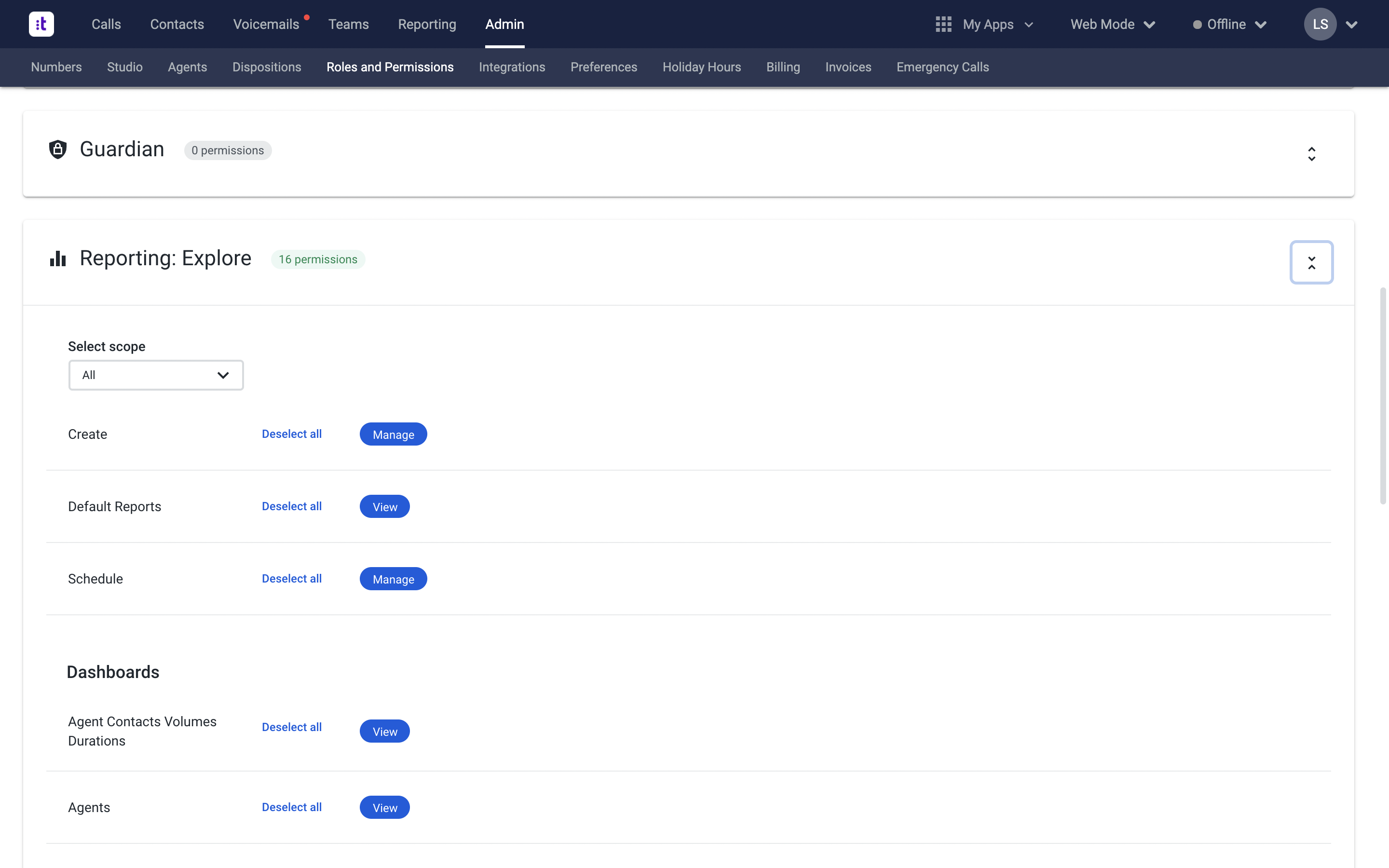 2. On the new window, you can select per "Ring Group" or "All", and decide if those users can "Manage" or "View".
3. When you're done, hit Save, at the top of the page.
Notes:
If you are the one who created a schedule, you will be the only user who can access the settings of that schedule. Conversely, you will not be able to configure the schedules that your colleagues set up.

In order to be able to schedule and manage the schedules you've created, you need to have the Schedule "Update" permission ticked.

Outbound tags (ring groups) for legacy are calculated as follows:
Intersection of IVR Tags with Agent ring groups for Legacy IVR Ring groups.
If the previous is not considered, then follows the intersection of phone ring groups with Agent ring groups.
If the second is not considered, then the report uses the Phone Number ring groups.
For more information on how to configure role permissions, please check the article Team Roles.