As an Admin, you can choose to deactivate agents instead of deleting them when they stop working at your company. If you wish to retain the agent's call and activity history or if, for instance, this is a seasonal agent that you wish to be able to reenable in the future, then you should deactivate instead of deleting the agent, since this last option is irreversible and will not retain that information. 
Talkdesk also saves the settings of deactivated agents so there is no need for reconfiguration once they are reactivated.
How to Deactivate an Agent
To deactivate an agent follow these steps: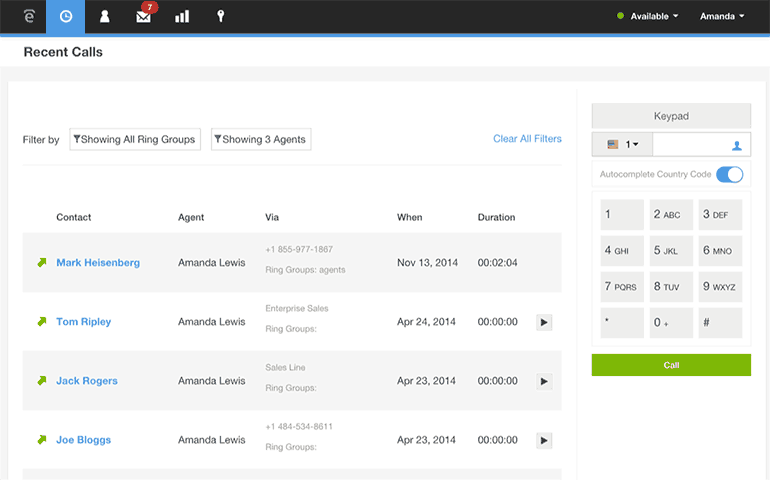 Log into your Talkdesk account as an Administrator.
Select the 'Admin' section from the navigation bar [1].
Select the 'Agents' tab [2].
Click the name of the agent you wish to deactivate [3].
Next to 'Agent Activation' check the 'Deactivated' [4] radio button.
You will see a 'Disable Agent' pop-up: click 'Close' [5] to confirm the deactivation.
Click 'Save' [6] at the bottom of the page .
Once an agent's status has been changed to Deactivated and saved, the following limitations apply: deactivated agents retain any associated call history (e.g., recent calls, past voicemail assignments, historical reporting) but new activity cannot be routed to deactivated agents (calls, voicemails, etc.). Deactivated agents do not count against account licenses for billing purposes.
Agent status can be toggled from Active to Deactivated, and vice versa at any time.
Bulk Deactivating Agents
You can also bulk reactivate and deactivate agents.
While on your Agents tab [1], simply select the agents you wish to reactivate or deactivate and from the 'Actions' [2] drop down menu on the top left corner, select 'Activation Settings' [3].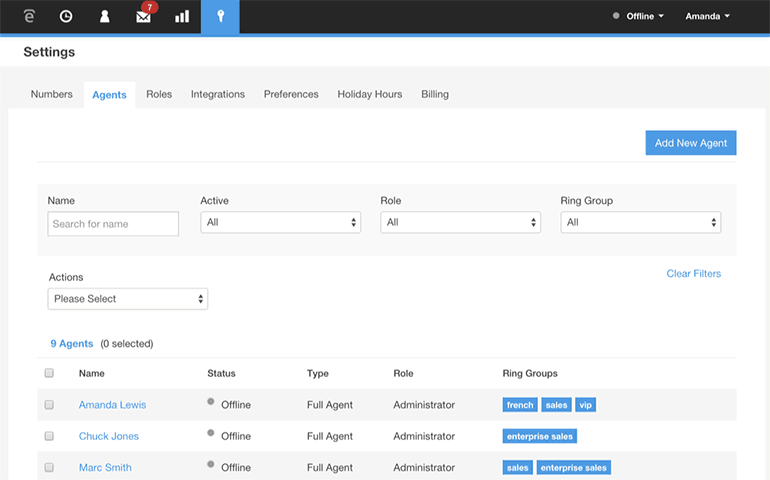 Select your desired Agent Status [4] and 'Save' [5].
The "Status" column on your Agents tab will show you whether an agent is Active or Deactivated. If Deactivated, this column will list a white dot with the label "Deactivated" next to the agent. If Active, it will instead show the availability status colors and labels.
Note: If an agent currently has a dedicated line or direct route through IVR menu, Admins will see a warning message: "Cannot deactivate because agent has dedicated line or direct call routing. Please check your number settings first". These settings will need to be changed prior to disabling the agent.