Note:
If you are using Talkdesk Studio™, these settings may not be applicable. Learn more here.
If you are in Talkdesk Workspace, you can access the Admin section and all features described below by navigating to the Admin app. For more information, please refer to this article.
Holiday hours behave like regular business hours, and modify the hours of operation for the day of the holiday to be closed for the entire day or to respect different/reduced hours for that day. As part of the holiday configuration, you can also include an optional holiday greeting that plays outside business hours on the day of the holiday.
You can schedule a holiday for your entire account and apply the holiday to only certain numbers by using our search filters by number, friendly name, country, or ring group. This will allow you to customize holiday hours for different offices.
Please note, setting up holiday hours is a two-step process. Don't forget about step 2!
Step 1: Configuring Holiday Hours
To configure your holiday hours:
Log into your Talkdesk account as an Administrator.
Click the 'Admin' section at the top of the page [1].
Select the 'Holiday Hours' tab [2].
Press the 'Add new holiday' button to define your holiday hours [3]: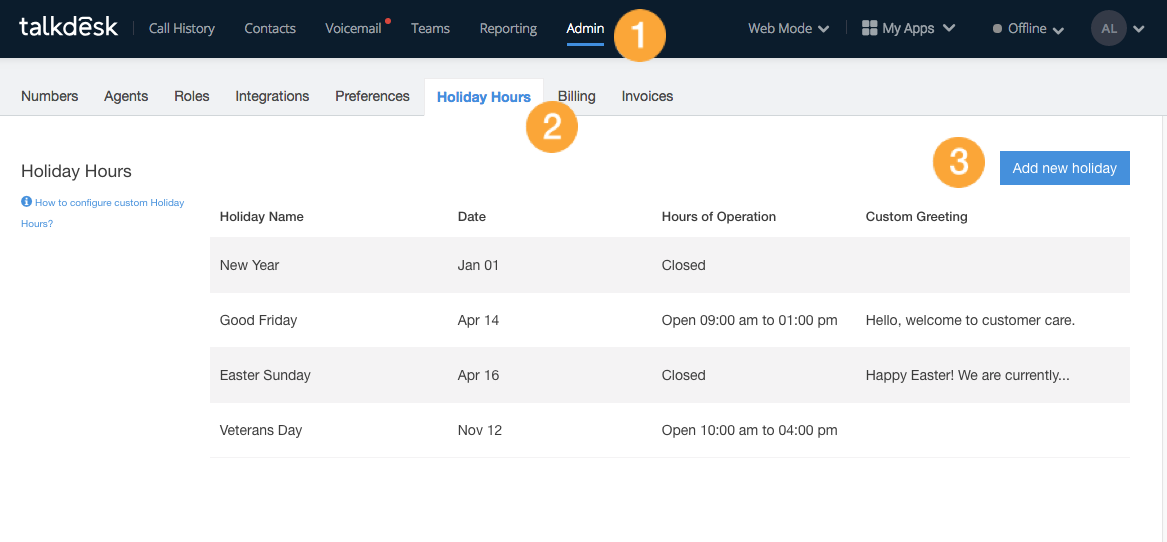 Type in the name of your scheduled holiday [4].
Select the day and month of the holiday, using the dropdown lists [5]. By default, the selected holiday will be repeated yearly.
By default 'Closed all day' [6] is applied to your holiday, but you can also select 'Add hours' to specify only a period of time during the holiday when you will be in operation (similar to setting regular business hours) [7].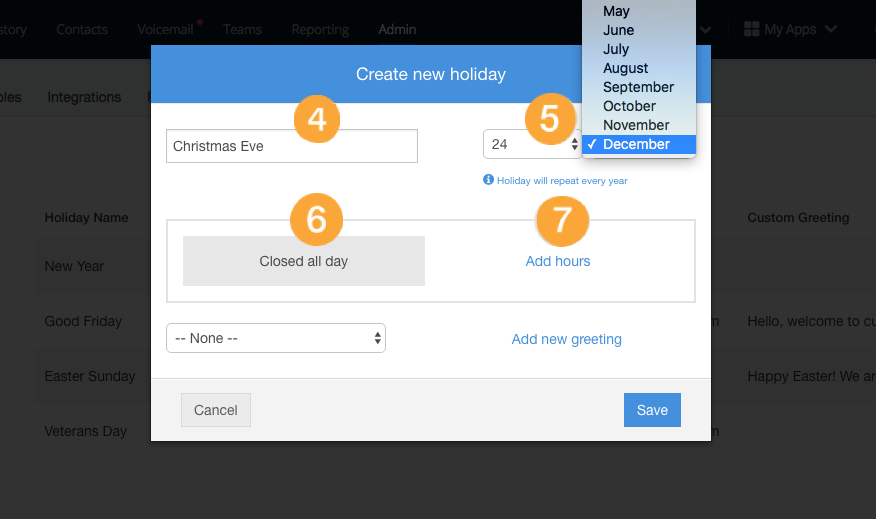 Adjust the slider to select your business hours for the selected day [8].
Click 'Add new greeting' [9] to include a custom holiday greeting to be played when customers call you outside these holiday hours on the day of the holiday, or select from your existing greetings [10].
If you are adding a new greeting, type a name for the greeting [11].
If you would like to type in a message to be converted to an audio voicemail message to play to callers, select 'Text to Speech' and type your message in the box [12].
Alternatively, if you have a pre-recorded message that you would like to play to callers, select 'Upload File' [13] and click the 'Choose File' button. Talkdesk currently supports mp3 and wav file types. If you have a file saved in another format, you can convert it to a format we support by using this tool.
When you are finished configuring holiday hours, click 'Save' [14].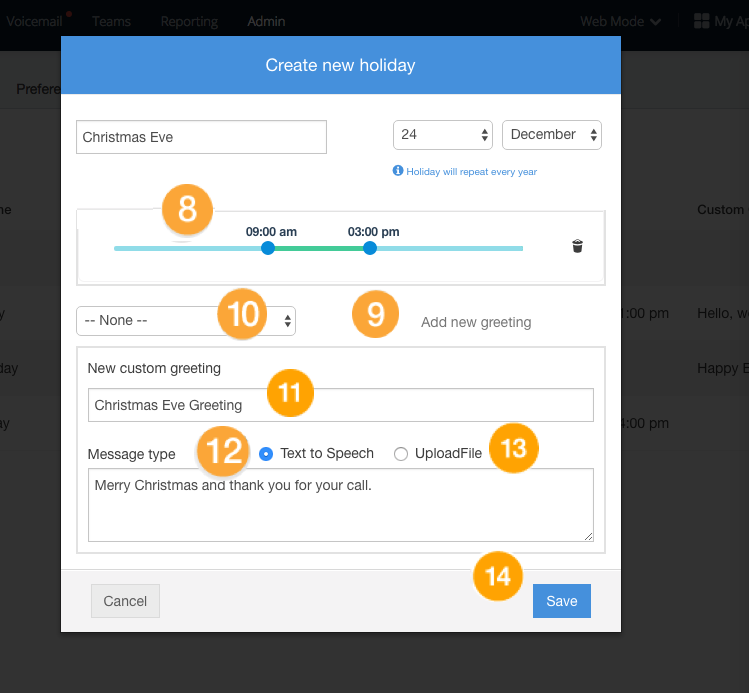 Your new holiday will be added to your 'Holiday Hours' tab [15].
You can add as many new holidays as you wish. You can also delete a holiday at any time by clicking on the trash icon [16]:
Notes:
The holiday greeting is optional, and your regular "Outside business hours" greeting will play if you leave it as "None".
If you have an IVR with the 'After Hours IVR' option enabled, you

need to

disable the 'After Hours IVR'. Disabling this option will ensure that the holiday greeting (or "Outside business hours" greeting) is played. Otherwise, even if you have set up Holiday Hours, the callers will hear the IVR and may think that there are agents available.
Step 2: Applying Holiday Hours
Now you will need to apply your holiday hours. To apply different holiday hours per location, number or all your phone numbers, follow these instructions:
Log into your Talkdesk account as an Administrator.
Select the 'Admin' section at the top of the page [1].
Click on the 'Numbers' tab [2].
Tick the 'Phone Numbers' box to select all numbers [3] or tick only the phone numbers for which you would like to configure holiday hours (you can also perform a search for a number, friendly name, or dedicated line, or filter by a specific country or ring group, and select a specific set of numbers).
Select the bulk action 'Add Holidays' [4].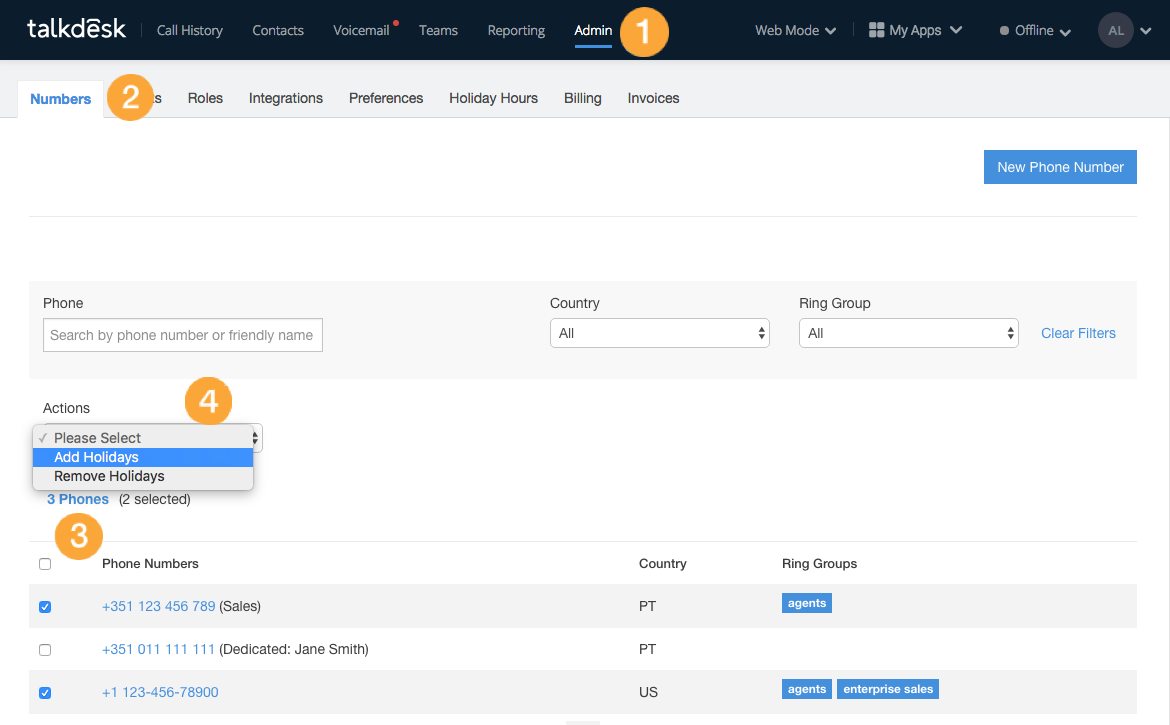 Choose one or more holidays, or search for a specific holiday by name [5].
Select your holiday(s) and save your changes [6]: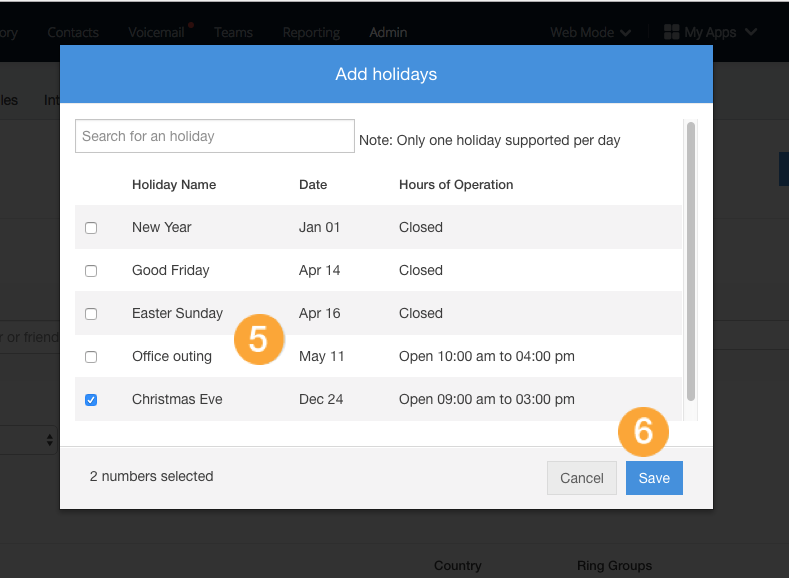 Note: You cannot add more than one holiday for a given day for a given phone number. You will not be able to select an existing or conflicting holiday.
After applying holidays, you can click on a phone number and see which holidays have been added to it.
To remove holidays, simply select the appropriate numbers [7] and then select the bulk action 'Remove Holidays' [8]. You can only remove holidays that have already been applied to the number: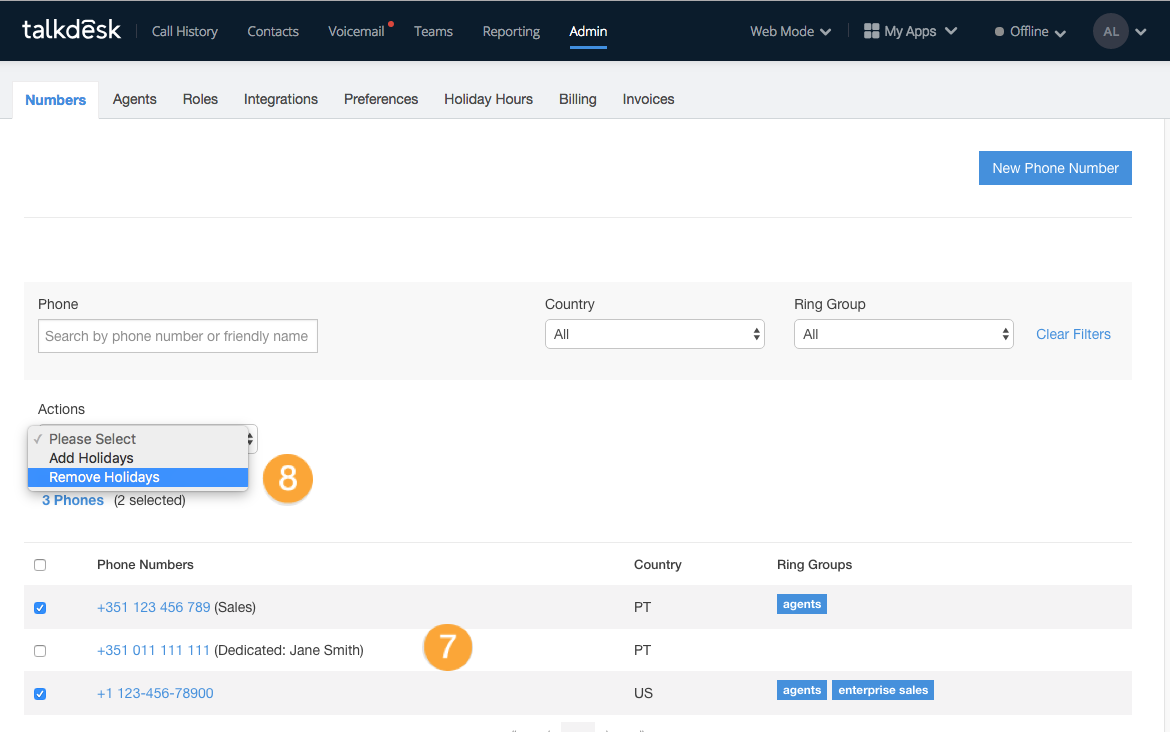 Note: holiday hours, like business hours, respect your routing settings. For example, if you are closed for New Year's but your routing setting is 'Only when status is set to available', then an agent's device will still ring on New Year's if an agent is available.
Also note that, currently, you cannot configure holiday hours for dedicated lines.
How it works: