Healthcare Experience Cloud for Providers™ is an end-to-end patient experience solution. It leverages Talkdesk's extensive contact center assets and adds comprehensive healthcare-specific functionalities to provide the best result for patients and providers.
This solution is available for healthcare provider organizations using Electronic Health Record (EHR) systems, offering integration solutions and custom integrations.
To enhance this experience and leverage a complete healthcare solution, our Healthcare Experience Cloud is composed by:
Note: To begin using Healthcare Experience Cloud for Providers, please contact your Customer Success Manager.
Main Capabilities
Main capabilities of Healthcare Experience Cloud for Providers:
Healthcare Provider Workspace - "Patient 360"
This solution leverages Talkdesk Conversations and adds healthcare-specific capabilities through the Patient 360 application.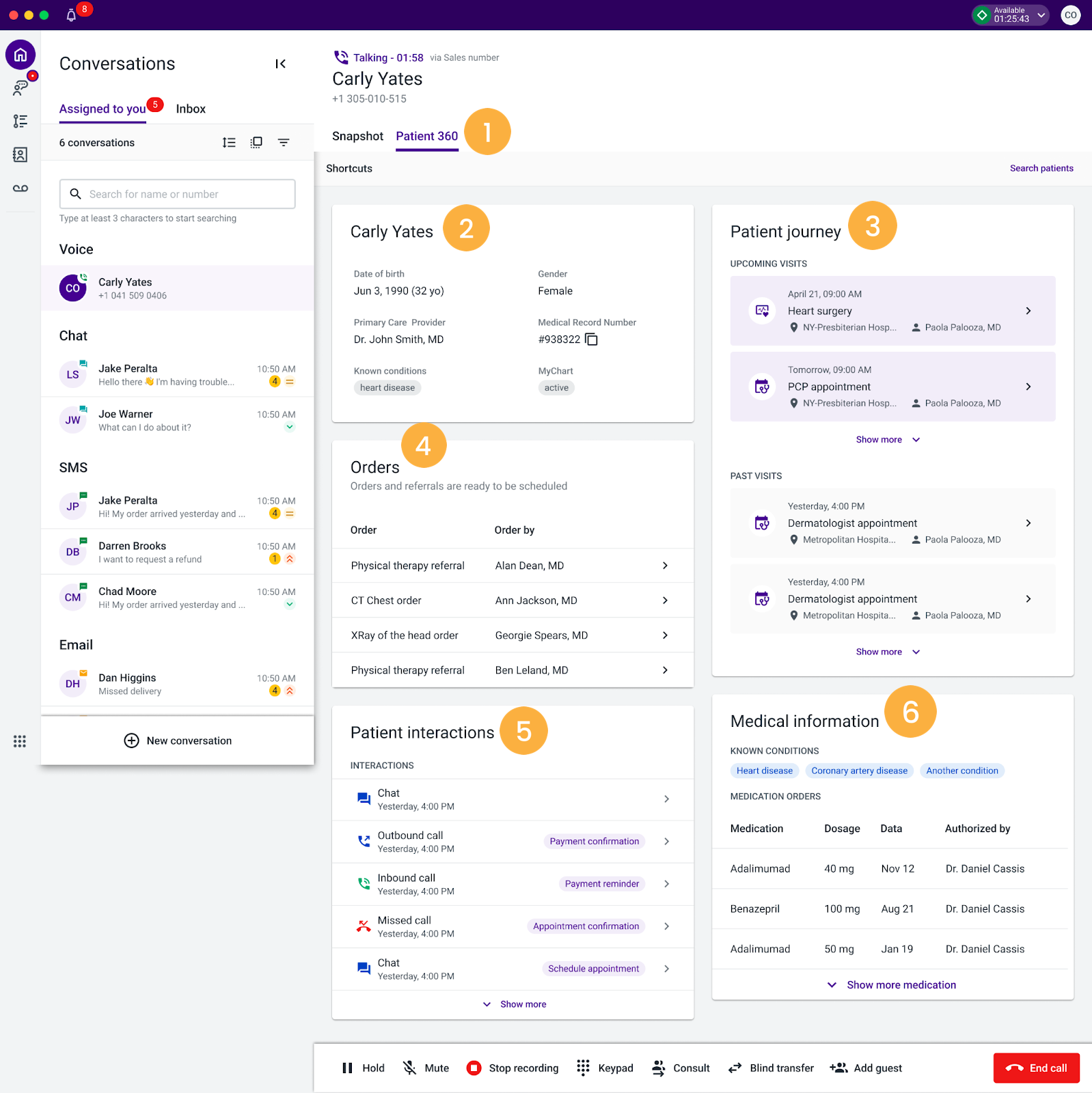 "Patient 360"

[1]:

bridges the data gap between individual patient interactions, providing agents with the patient's medical information, previous and scheduled interactions, and more. It does this through the following cards:

"Patient details"

[2]

: Contains the patient's information, from date of birth to gender, and private care provider contact details, among others.

"Patient journey"

[3]

:

Provides information about upcoming

and past visits such as appointments and surgeries.

"Orders" [4]: contains the patient's open orders and details like the order type, and the provider that created the order, among others.
"Patient Interactions" [5]: a centralized place where is possible to see all the patient interactions across all channels.

"Medical information"

[6]

: Lists the patient's conditions and medication.

"EHR shortcuts"(

only

available for

Epic

integration)

:

Time-saving screen-pop links directing to useful EHR areas.
In addition to the cards, the agent can search and find different patient records that are immediately populated in Patient 360.
Elevating the Data Protection and Customer Experience, the Patient 360 can be locked with a new layer of security. The "Related People" popup is an intuitive feature that empowers the agents to validate data access, ensuring it reaches only authorized individuals (only available for Cerner integration).
EHR Integrations
The Healthcare Experience Cloud integrates with all EHR systems as seamlessly as possible through integrations for Epic, Cerner, Athenahealth, and Ellkay. In addition to these options, it is also possible to create a custom integration. These integrations provide agents with access to patient information taken in real-time from EHR Systems.
This information includes medical details and future appointments. Furthermore, it empowers agents to alter appointments, finding available slots suited to each patient.
Virtual Agent for Healthcare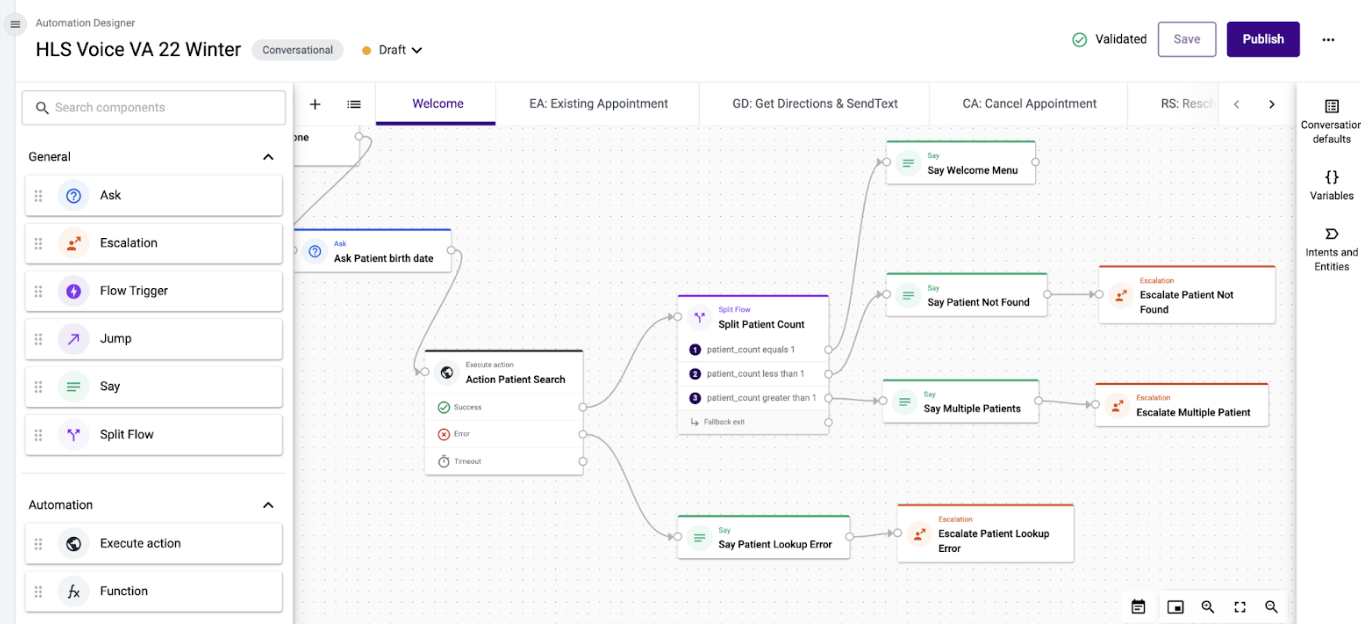 The Virtual Agent for Healthcare is a pre-built flow based on the most common healthcare use cases:
Patient Acess: to allow the patient to simply and autonomously schedule a new appointment, confirm attendance at an appointment, cancel an appointment, or reschedule an appointment, among others.
Patient Services: empower patients with seamless access to request a new prescription refill and effortlessly reset their MyChart passwords in a self-service way.
To provide an omnichannel experience, these virtual agents are available for Voice and Digital channels.
Patient Omnichannel Interactions Report
With this report, administrators in the Explore App can access the same information available in the Patient 360 workspace, to gain a deeper understanding of patients' communication habits. This includes details such as the number of phone numbers a patient has used to call and whether they have spoken on behalf of someone else. With this information, administrators can provide more personalized support to each patient, for an improved patient experience.
Automated Notifications
Automated Notifications is an application that gives the administrator the ability to configure their own messages by creating, editing, and deleting them in a seamless and autonomous way. These messages can be shared agentless in real time, based on the associated events.
Related articles:
Healthcare Provider Workspace: Overview