Healthcare Provider Workspace is one of the features of Healthcare Experience Cloud for Providers. Its main functionality is the Patient 360 app, which, as a part of the larger Conversations app, enables healthcare providers to effectively access a patient's history, medication, among others.
Note: If you wish to begin using Healthcare Experience Cloud for Providers, contact your Customer Success Manager. To learn how to set up the Patient 360 app, read our article Healthcare Provider Workspace Overview.
Once you've configured your account and organized the necessary Studio flow, you will have access to all the capabilities of the Healthcare Provider Workspace.
Using the Patient 360 app
During a call with a patient, you will gain access to the following display: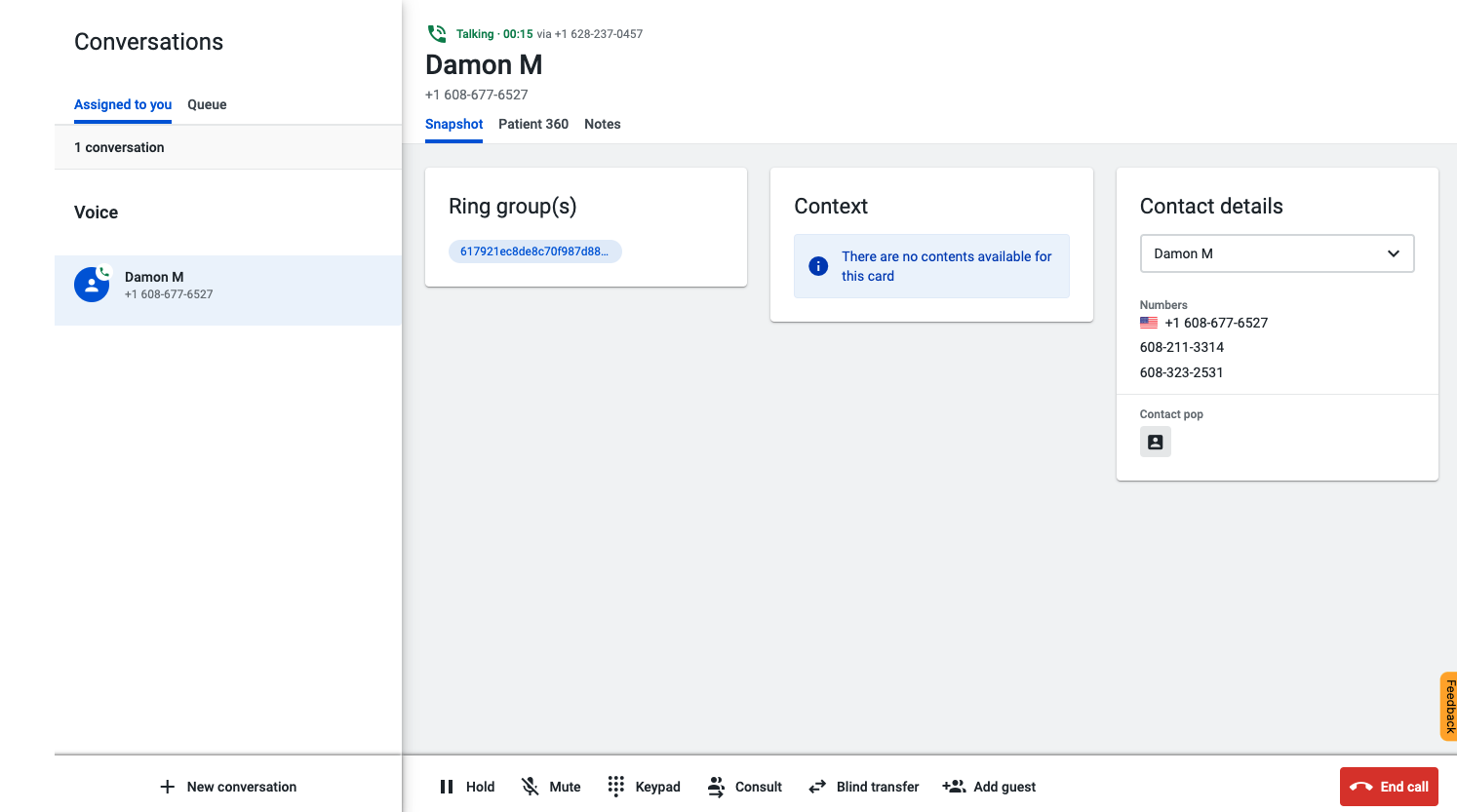 Here, you can switch between Snapshot, Patient 360, and Notes.
If you click on Patient 360, you'll see this screen: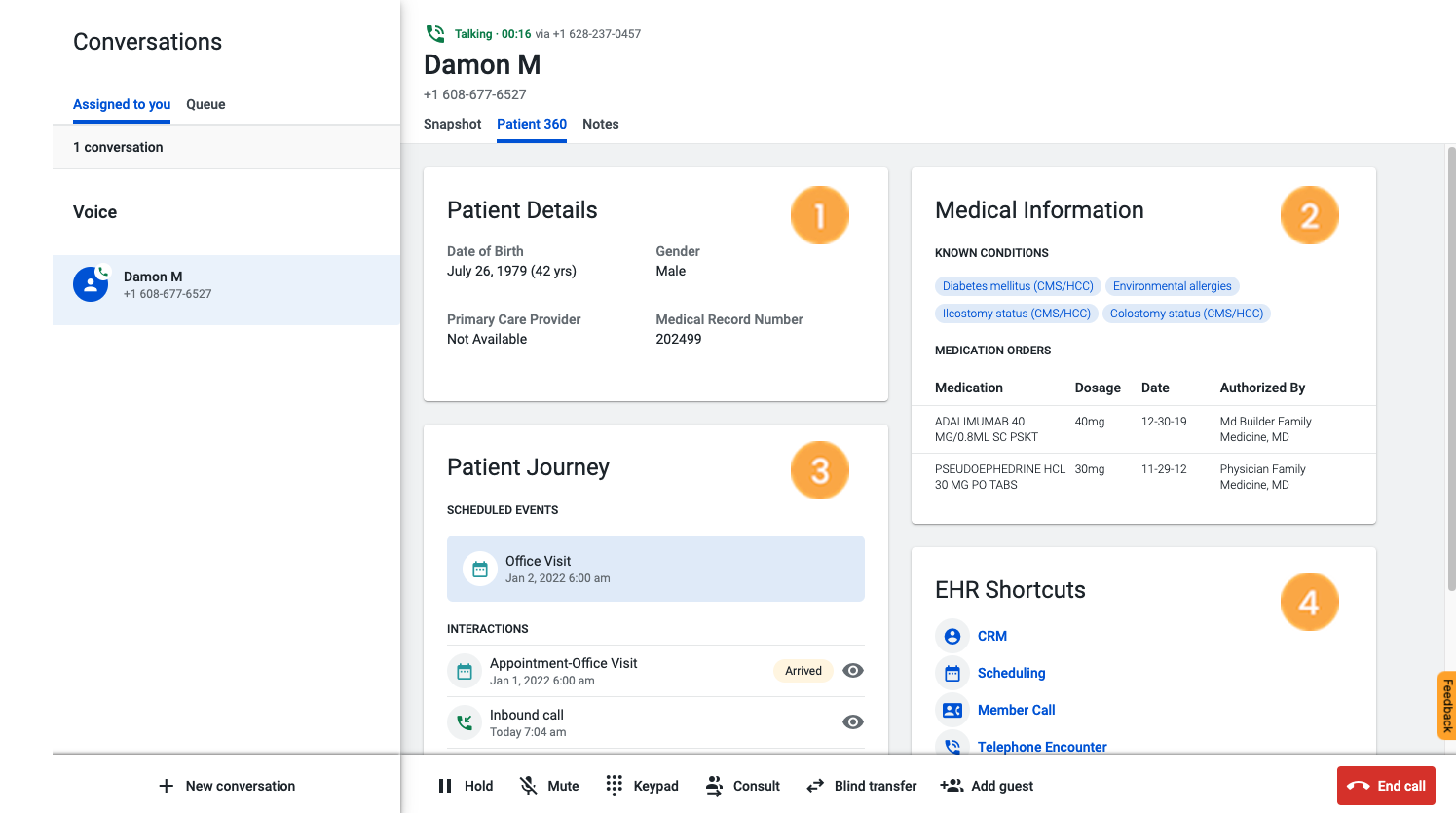 Here you have the four cards that compose the Patient 360 app:
"Patient Details"

[1]

: includes necessary patient information, such as date of birth, gender, primary care provider, and MRN.

"Medical Information"

[2]

: Gives you the patient's medication and conditions.

"Patient Journey"

[3]

: Shows the patient's upcoming appointments and recent interactions. This includes the patient's encounters, pulled from the EHR system, and past interactions in Talkdesk, such as calls.

"EHR Shortcuts"

[4]

: Provides quick-access connections to useful areas in Epic Hyperspace.
In addition, "Patient Journey" allows you to manage the patient's appointments. By clicking past or future appointments, a side panel appears with detailed information: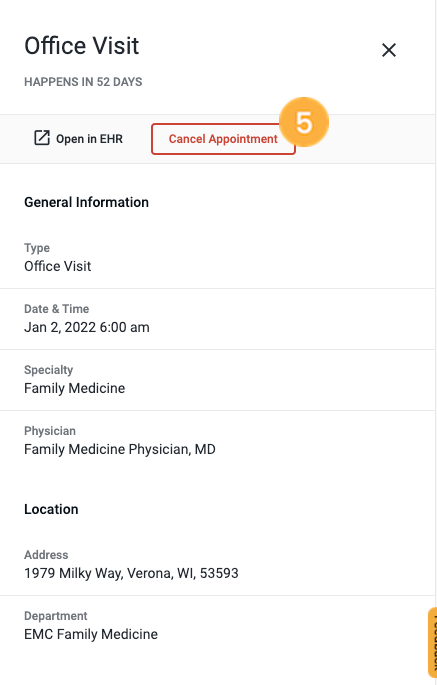 In this panel, you can also manage future appointments by clicking on Cancel Appointment [5].
To learn more about Healthcare Provider Workspace, read our Healthcare Provider Workspace: Overview documentation.