Conversations is an Agent Workspace app that allows users to handle inbound and outbound, voice, and digital customer conversations, from their desktop or web browser.
With Conversations, Agents can manage all inbound and outbound interactions using voice, SMS, Email, and live chat, all in one place. It provides visibility on what's happening in all channels in one single thread.
For more information on the available features for Conversations, please refer to our Conversations (Voice Channel): Features Guide. If you're looking for information related to troubleshooting and error warnings, please check our article on Conversations (Voice Channel): Troubleshooting.
Please use the index below to find our guidelines and learn more about: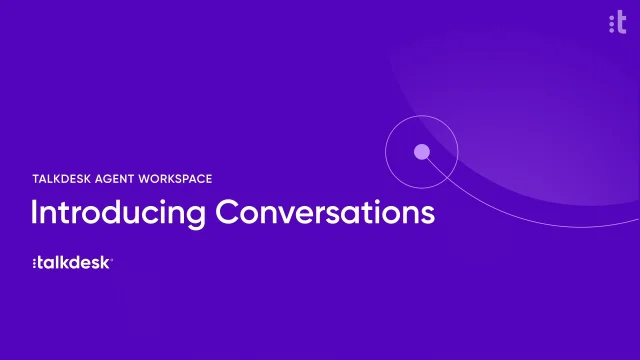 Accessing Conversations (Voice Channel)
Option 1 - Talkdesk web version via Talkdesk Main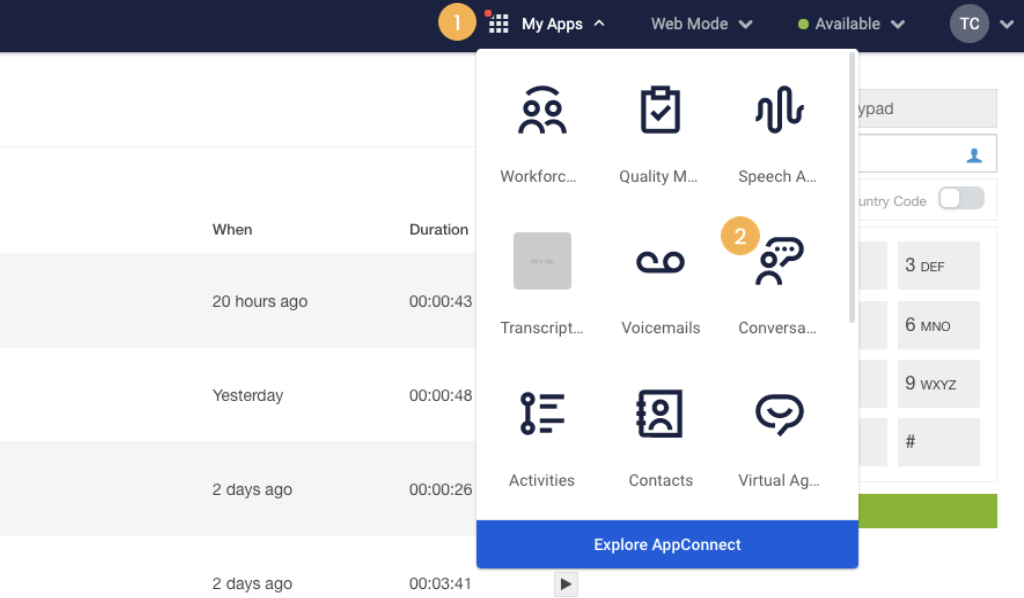 Simply log in to the main Talkdesk page and head to the My Apps drop-down [1], at the top of your screen.
Look for the "Conversations" [2] logo to enter the app.
Note: This option is only available for admins.
Option 2 - Talkdesk web version via URL
Open the browser portal and add "/atlas" at the end of the URL Link. For example: [your-account-name].mytalkdesk.com/atlas
Note: For an optimal experience, the supported and recommended browser is Google Chrome.
If a pop-up appears, confirm that you wish to leave the current site by clicking "Leave".
Option 3 - Talkdesk desktop version
If you have not installed the Talkdesk desktop application (for either macOS or Windows), then please refer to our installation guide here.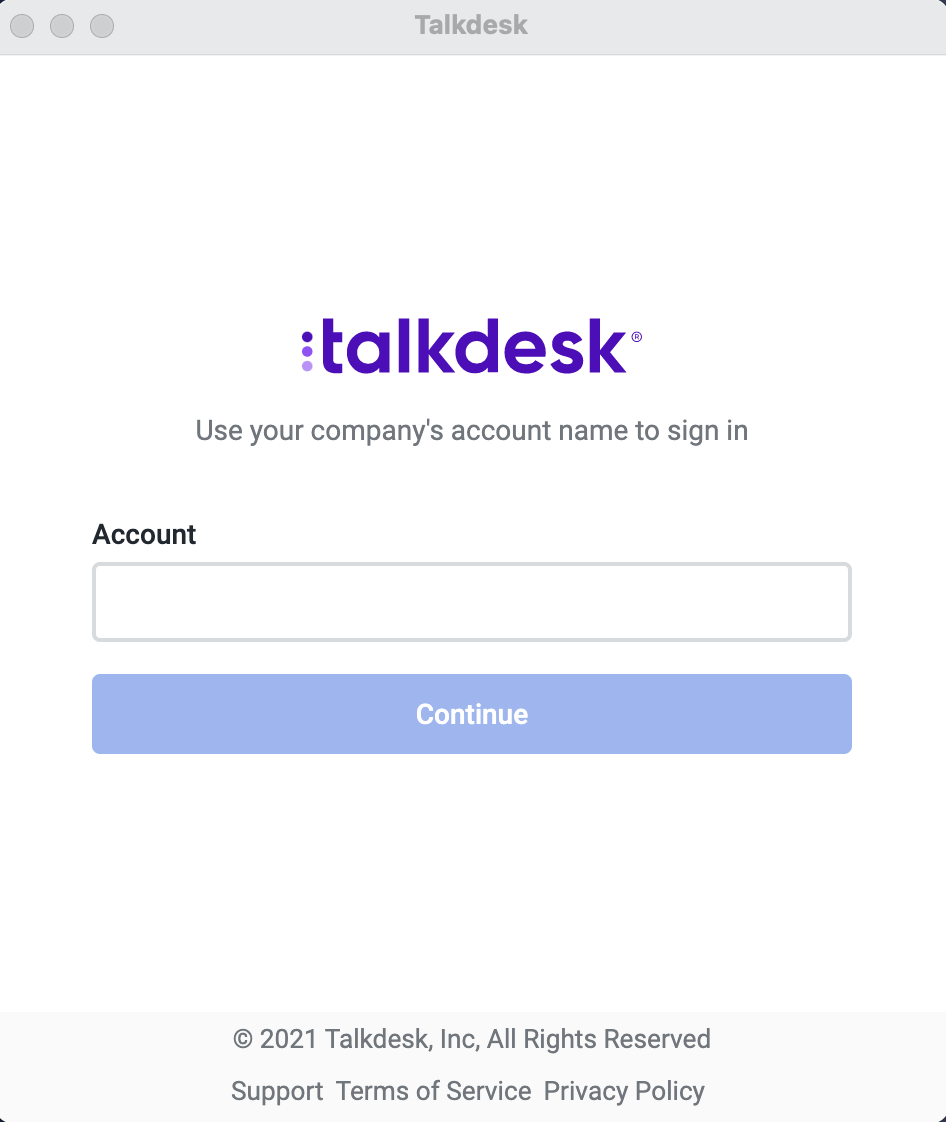 If you have the Talkdesk desktop application already installed, then simply log in to the application.
Notes:
Depending on your macOS system configurations, the operating system may not allow you to open an app that was not installed via the Apple Store. To grant permission, go to

Security Settings > System Preferences > Security And Privacy > General tab.
If you wish to set the Talkdesk CX Cloud Experience as the default experience for all or specific agents, then please refer to our guide here.

This option is exclusive to Admins.
Additional Resources
Making Calls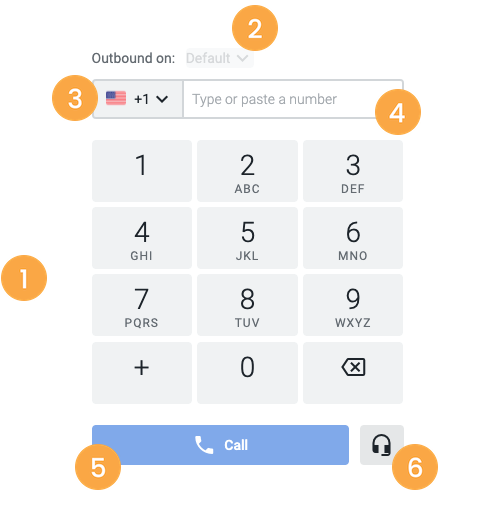 The initial screen when opening Conversations will display the Dial Pad [1].
From here, you will be able to:
Choose the Outbound Caller ID

[2]

to perform the call (if this option is enabled by a Team Manager or Administrator).

Choose a country code

[3]

. To learn more about this option, please read the

Default Prefix

article

.

Type in a phone number manually or copy/paste it into the field

[4]

. While dialing, you can see the information on the customer's name and/or number, as well as the number being used to perform the outbound call.

Initiate a call to an external number by hitting the

Call [5]

button.

Perform a call to another agent, by using the Call an Agent button [6]

.
By clicking on this button, a right-side panel will open, listing the agents that can be called. Browse the list of all available agents, and simply click a name from the directory that appears, in order to initiate an internal call.
Agents will be able to call other agents in green and yellow statuses. To know more about the meaning of each status, please read our full documentation on it.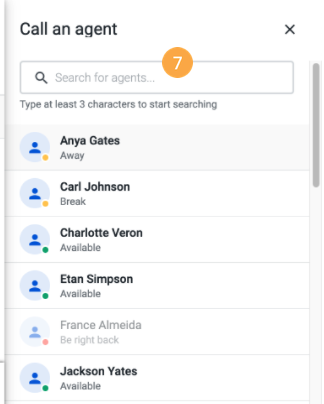 It is also possible to search for an agent by inserting at least 3 characters in the search bar [7].
Additional Resources
Receiving Calls
When receiving calls, you will be able to see the ring groups associated with the call and the number being used by the customer while calling. A "Context" card may also be visible, containing relevant customer information extracted from Studio.
Badges, pertaining to Contacts and any integration on the Contact Details card, are also displayed. Clicking them will pop open the contact's profile in Contacts or the selected integration.
Note: When you have an open tab from your default CRM integration and click on "Contact pop" badges, the open tab refreshes and will display the selected contact.
For any other integration (or in case the default integration is not open), clicking on the contact pop icon will open a new tab.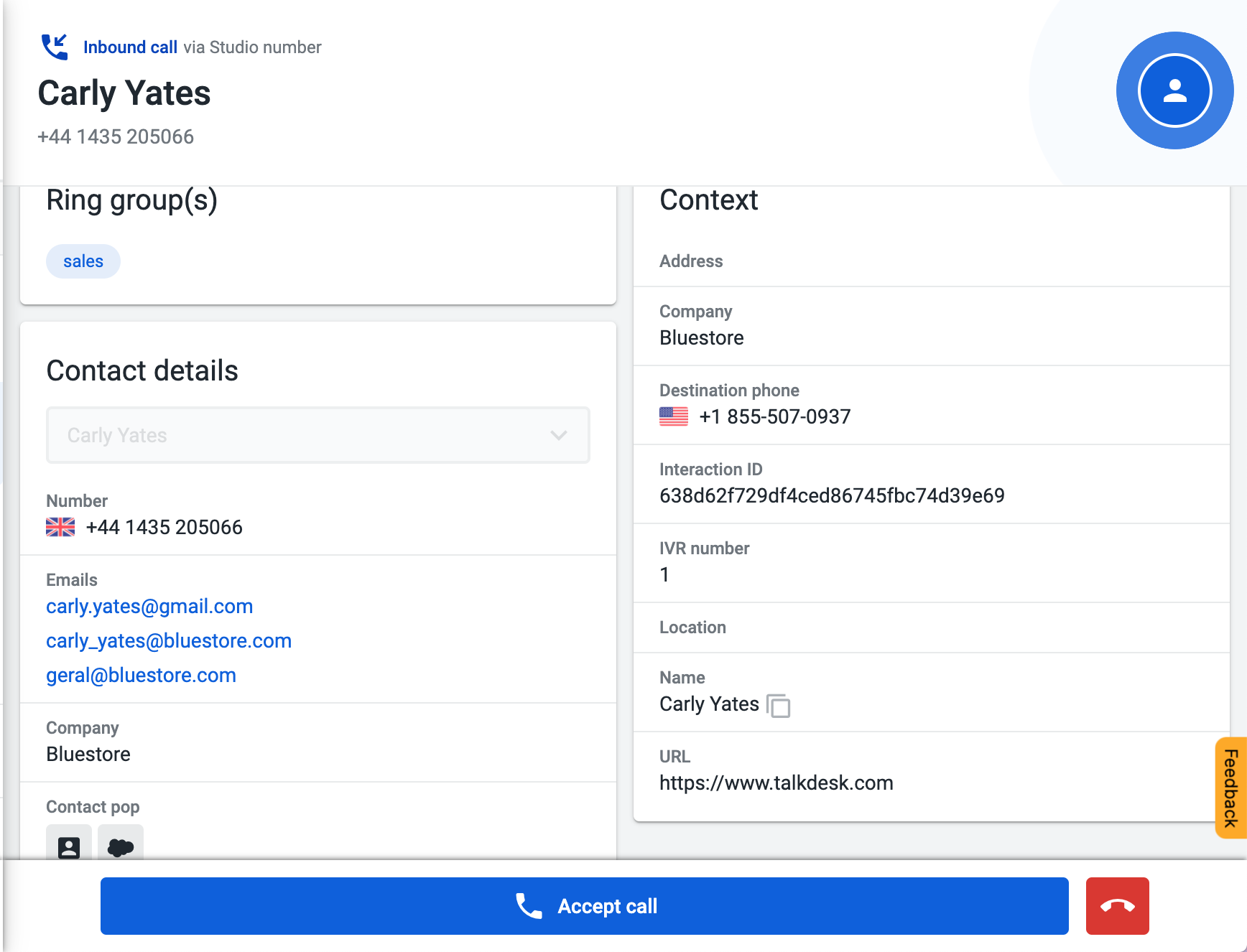 To accept the call, press the Accept call button at the bottom of the page.
Additional Resources
Setting your Availability

You can change your status at any time, in the top right corner, when you click to open the status widget [1].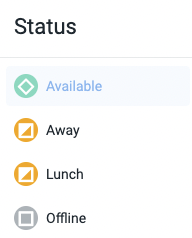 Talkdesk will change your status automatically when you are on a call if Automatic Away is enabled, or after a call if you have after-call work enabled.
When you log out, please note that your status will change to "Offline".
Below the icon with your initials is a Status Timer, that displays how long you have been in a given status. After changing your status, the timer will be reset to "00:00".
Note: It's not possible to change your status while on the wrap-up screen. When you finish a call and go to the wrap-up screen, your status is automatically changed to "After-Call Work" and cannot be manually changed.
Call Screen Tabs
Agents have access to 3 tabs on the call screen. These tabs may or may not be available depending on which phase of the call the agent is in:

Snapshot tab -

This tab gives the agent an overview of the contact person who is calling/being called. It is divided into 3 cards: Ring Groups (only appears in case of an inbound call), Contact Details, and Context (available when agents have

context configured via Studio

). The Snapshot tab is available during the ringing, dialing, and on-call stages. Learn more

here

.

Notes tab -

This tab allows the agent to take notes and associate Dispositions to the call. The Notes tab is available during the on-call stage. Learn more

here

.

Identity tab -

This tab is shown automatically to all agents during all inbound calls (during ringing, dialing, and on-call stages). It includes an upsell teaser - for customers with access to Identity Starter - or Voice Biometrics and Phone Validations cards - for customers with access to Identity (Standard). Agents can see real-time information regarding the authentication of callers with voice biometrics and fraud-related insights concerning the caller's phone number. For more information, please refer to our

Talkdesk Identity documentation

.

Note: During the wrap-up stage, agents also have access to the Contact Details, Disposition, and Notes cards.