By default, Talkdesk accounts always enable callers to leave voicemails.
Callers will hear a default voicemail message whenever the call is sent to voicemail — "Please leave a message after the beep" — after which they are able to record a message with a maximum duration of 10 minutes.
As an Administrator, you can customize this voicemail message and edit other voicemail settings by following these instructions:
1. Log in to your Talkdesk account as an Administrator and click on Admin [1].
2. Click on Preferences [2].
3. Scroll to "Voicemail Settings" [3]: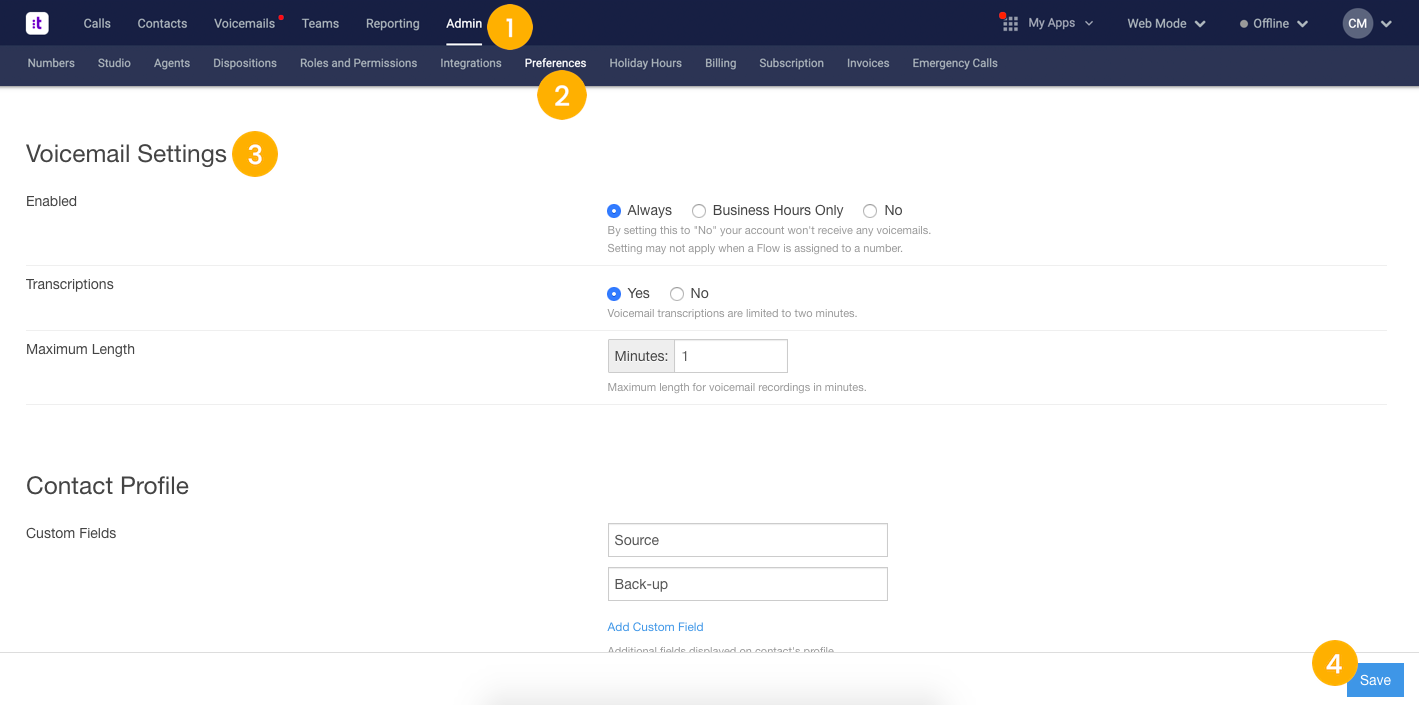 4. Adjust the settings in the "Enabled" subsection according to your business needs:
5. Enable or disable Voicemail Transcriptions.
6. Adjust the "Maximum Length" of each voicemail.
7. Click Save [4].
You can also send email notifications to the recipients of your choice when a voicemail is received.
These account-wide settings can be overwritten for specific phone numbers.
Permission to Access Voicemail Recordings
Once voicemails are enabled, by default all Roles can listen to all voicemail recordings in the "Voicemails and Reporting" sections. If you wish to edit a Role's permission to access the Voicemail section and to listen to voicemail recordings, please follow these instructions: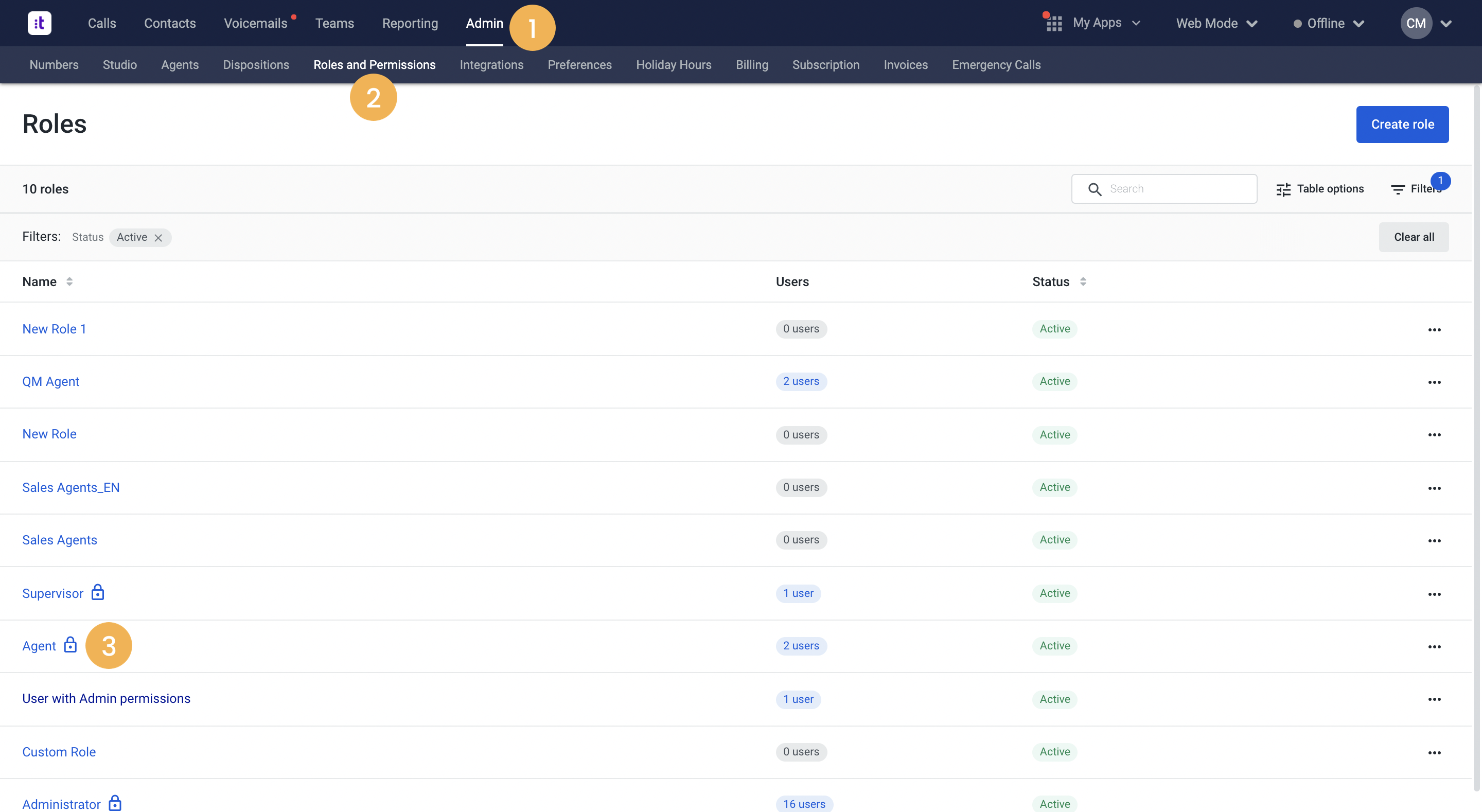 1. Log in to your Talkdesk account as an Administrator and select the Admin [1] section.
2. Click on Roles and Permissions [2].
3. Click on the relevant role [3].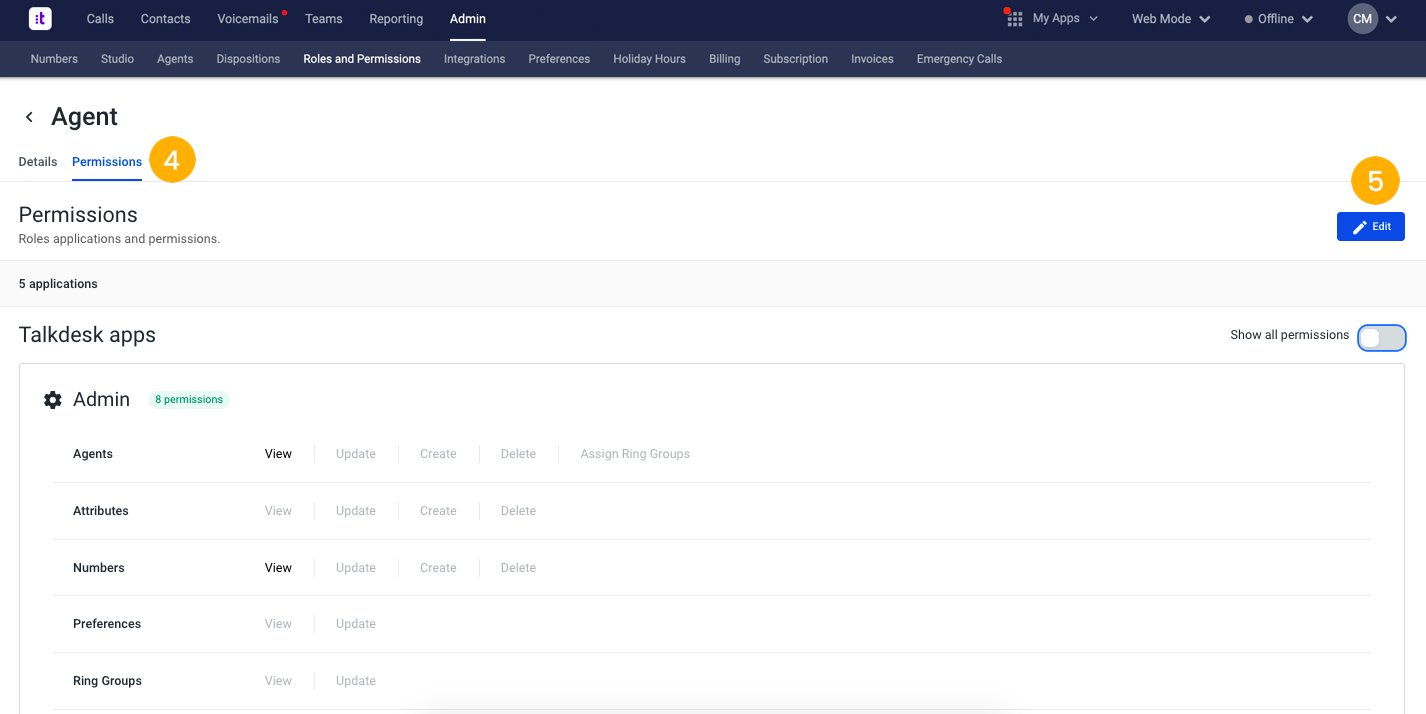 4. Select the Permissions tab [4] and then click Edit [5].
5. Scroll down to the Voicemails section.
6. Click the arrow to open the card and select the type of permission that you would like to grant to the role - View, Assign, or Listen to Recording [6].
7. Configure the level of access to the "Voicemails" section in the "Select scope" drop-down [7]:
Select

All

if you want the Role to have access to all voicemails in the account.

Alternatively, select

Ring Group

or

Agent

to allow access to only the voicemails handled by the Role's ring groups or by the agent, respectively.
Note: Make sure that the Listen to Recording option is selected to allow the role to listen to the voicemail recordings within the scope defined in step 6.
8. Click Save.
Note: Any Role that has permission to play voicemail recordings in the Voicemails section can also do it in the Calls Dashboard and the Calls Report in Explore if they have permission to access those areas.
Retention of Voicemail Recordings
By default, voicemail recordings are deleted after 6 months. Please read the article Call and Voicemail Recording Retention Policy to learn how to configure their retention policy.