If you are using Talkdesk Quality Management™, you can purchase the Talkdesk® Screen Recording™ add-on. Please contact your Customer Success Manager for more information.
Note: Please note that when Screen Recording is enabled, there is no notification to the agents/users. They will not know unless you inform them. For more information, please refer to the SLA.
Similar to Quality Management, Talkdesk's routing system and call recording must be configured in order to use Screen Recording.
Enabling agents for Screen Recording
Once Screen Recording is enabled for your account, you can choose which users will have their screen recorded by going to the app's settings:

Then click on the Users tab to select users to enable screen recording, and save changes: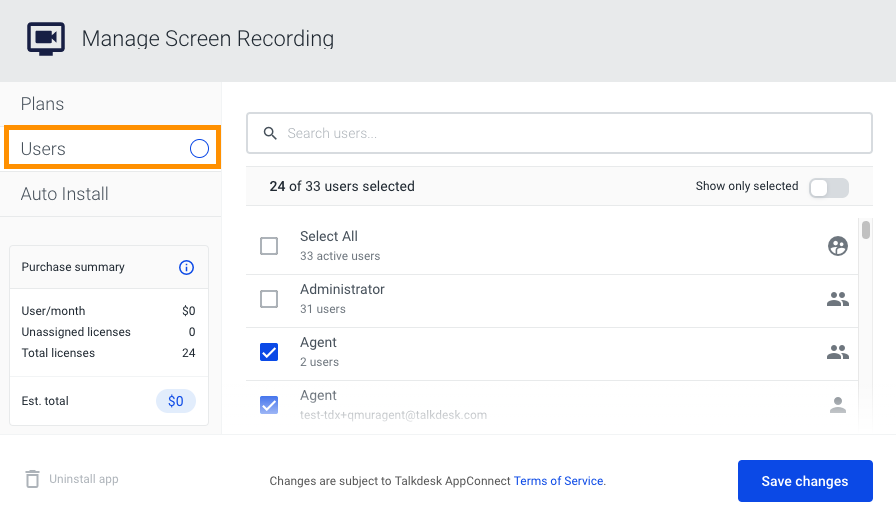 Note: If you don't see all the users that you want to enable for Screen Recording, please ensure they are first selected/enabled in the Quality Management application using the same steps.
How Screen Recording works
Screen Recording will be embedded in Callbar.
When agents are enabled in the Screen Recording application, and they are on a phone call that is being recorded, their screens will also be recorded.
Note: Clicking pause/resume call recording will pause/resume the screen recording as well.
When agents have multiple monitors, the monitor in which the agent is actively working will be detected based on agent mouse movements/clicks, and we will record it, then switch (behind the scenes) as the agent switches from working in one monitor to another (one video is captured).
The screen recording finishes when the call ends. However, if After Call Work is enabled for the agents using Screen Recording, the screen recording will resume and continue until the "After Call Work" status is changed to another status, or until the After Call Work Timeout is reached, depending on what happens first. The video, without audio, will be added to the interaction and will be visible on the "Advanced Player" when accessing the related call.
Evaluating calls with Screen Recording
You will be able to provide feedback related to a screen recording, by adding it to the timeline when evaluating a call: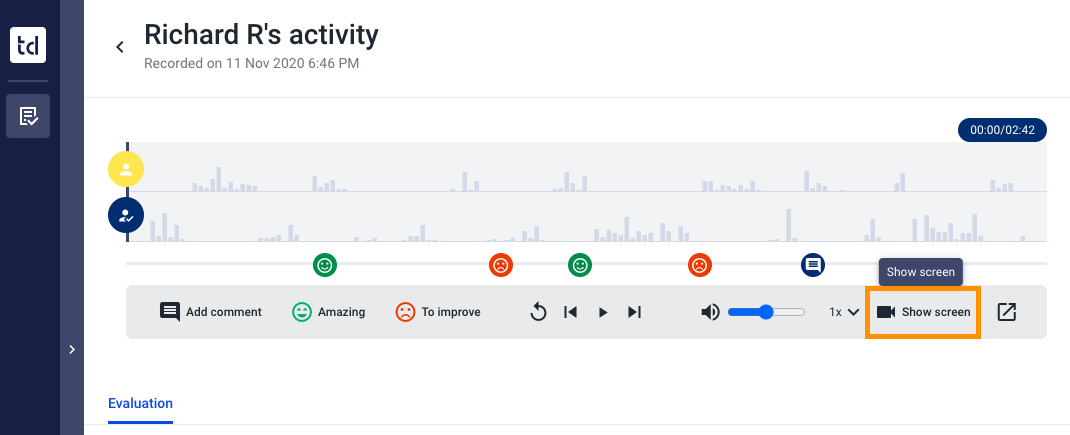 Play audio in sync with screen recordings by clicking on the Show screen button.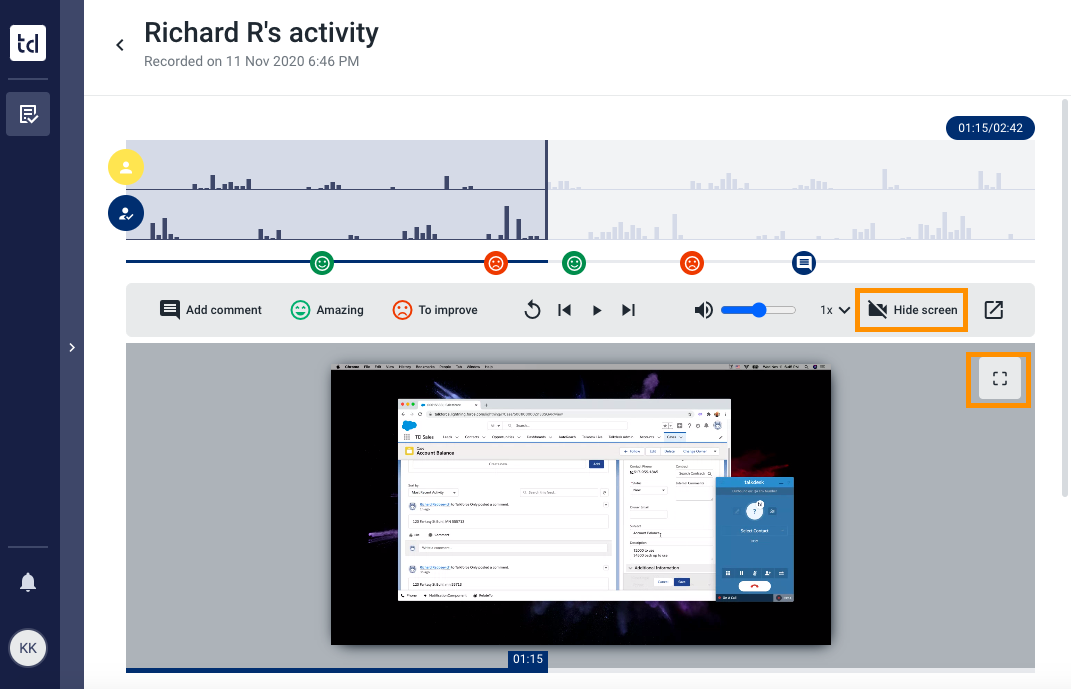 This button then changes to Hide screen.
Click on the expand icon on the player to make the screen view larger. This button then changes to a shrink icon to go back to the previous thumbnail view.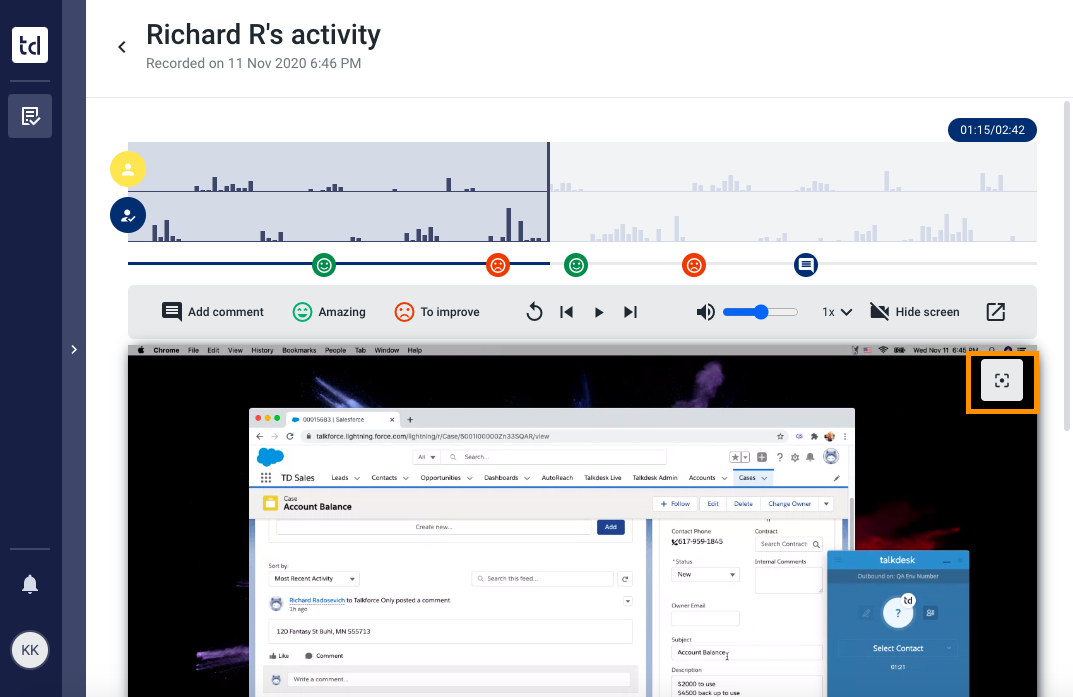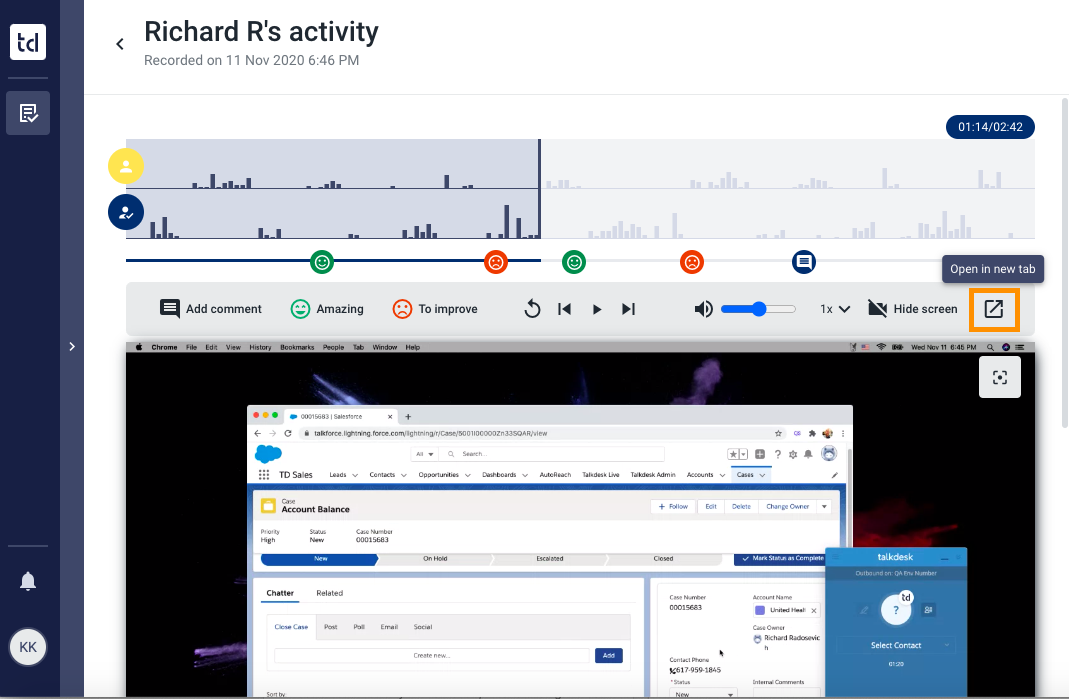 Click on the detach icon ("Open in new tab") on the player, to open the screen recording playback in a new tab.
This tab can then be moved to a second monitor so that the call recording can be played and evaluated on the first monitor, and the screen recording can be viewed in full-screen mode on the second monitor.
To close the screen recording, simply select Hide screen.
For more information about evaluations, please refer to the article Performing Evaluations in QM.