The Dispositions Dashboard allows you to view disposition metrics so that you can keep track of relevant performance metrics and call data. For example, you can see exactly how many (and the percentage of) calls resulted in a sale, answering machine, dropped call, busy signal, return, exchange, escalation to manager, transfer to tech support, etc.
This data can then be used in a variety of ways, including identifying product or service issues, analyzing a team's performance, tracking feature requests, and identifying geographic regions for company expansion. These metrics can also provide significant insights into a call center, team, and business as a whole.
To analyze your dispositions' metrics: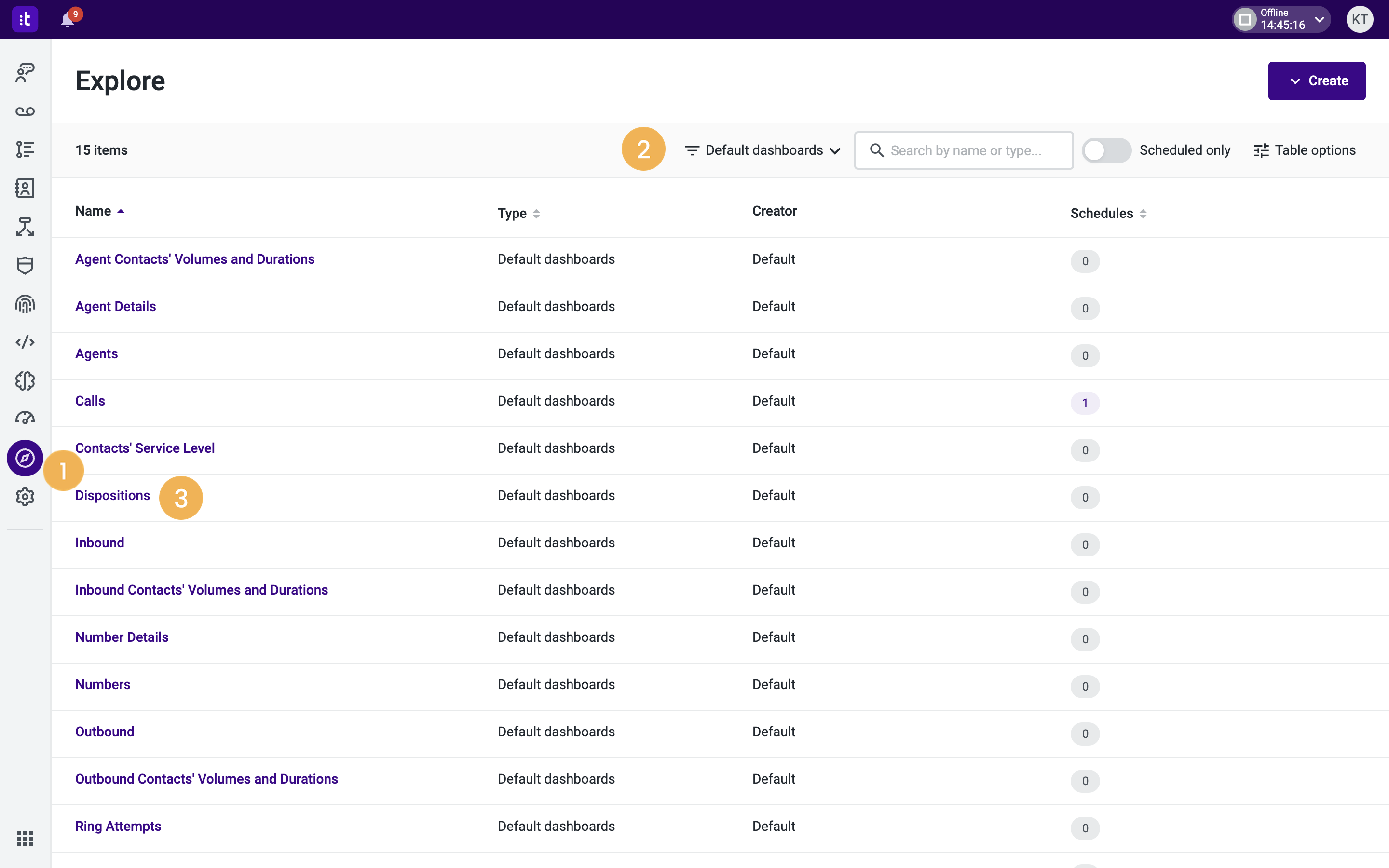 Start by clicking the

Explore

tab

[1]

.

Click the

Explore

tab

[2]

.

Select the Dispositions

dashboard

[3]

.

4. Configure the filters you wish to apply [4].
5. Press Run[5].
These are the available filters in the Dispositions Dashboard:
Date: Choose the desired time period for your analysis.
Timezone : By default, the dashboard is using your account Timezone, but you can adjust to a Timezone that better reflects your needs.
Call Ring Group: It might be useful for you to only see calls handled by specific ring groups.
Dedicated Line: With this filter, you can opt to keep or remove from the dashboard the calls handled on dedicated lines.
Phone Number: Narrow down your analysis to check the activity for a specific phone number of your Talkdesk account.
Call Disposition: By default, the Dispositions' dashboard shows the figures for all the Dispositions, unfiltered, but if you want to focus your attention in a specific Disposition, this is the field you'll use to narrow your search.
For more information, please check the article Filtering Dashboards and Reports.
Once the filters are applied, you will see the metrics for your inbound and/or outbound dispositions:

If you have permission to do so, you can also download this dashboard for a more detailed analysis according to your needs. To do this, simply click the gear icon and chose the option. You can also request the report to be sent to specific e-mail addresses and set a schedule. For more information, please check the articles Downloading and Sending Dashboards and Creating Schedules.