Call disposition codes are descriptions of the final outcome of the call.
These codes are a simple way for agents to label inbound and outbound calls and help keep your entire team on the same page. The code will be applied to the call log in the contact's profile.
With a quick glance, anyone accessing that call's information will know if the issue was resolved, the sale was completed, the customer called to complain, the number is disconnected or if the interaction requires follow up and further attention.
As an administrator, you can create as many disposition codes as you wish. These will be loaded into a dropdown menu for agents to choose from: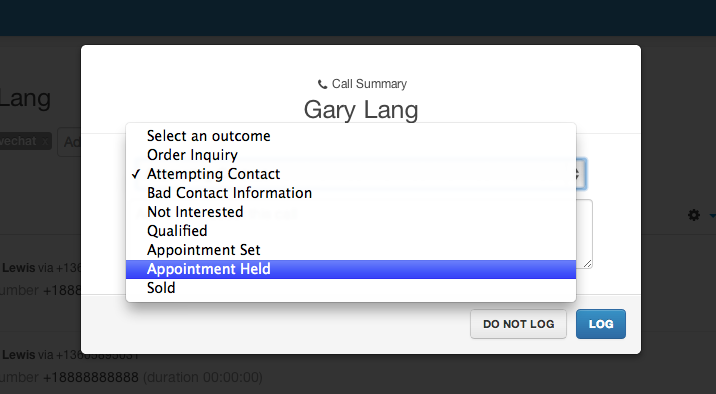 Agents will then be able to assign disposition codes based on the call outcome (e.g. sale completed, issue resolved, call transferred, etc.), purpose of the call (e.g. complaint, refund, cancellation, tech support, etc.) the quality of the phone number (e.g. disconnected, busy, fax machine, etc.), quality of the call (e.g. bad signal, dropped call, etc.), events that happened during the call (e.g. billing code, sales receipt, order number, account number), etc.
Adding Disposition Codes
To add new Disposition Codes, follow these steps:
Log into your Talkdesk account as an Administrator.
Click the "Admin" section [1] at the top of the page.
Select the "Preferences" tab [2].
Scroll down to 'Call Dispositions' [3].
Press the 'Add Disposition Code' [4] under Inbound Disposition Codes to create a new code to be shown after agent's inbound calls, or under Outbound Disposition Codes for Outbound calls.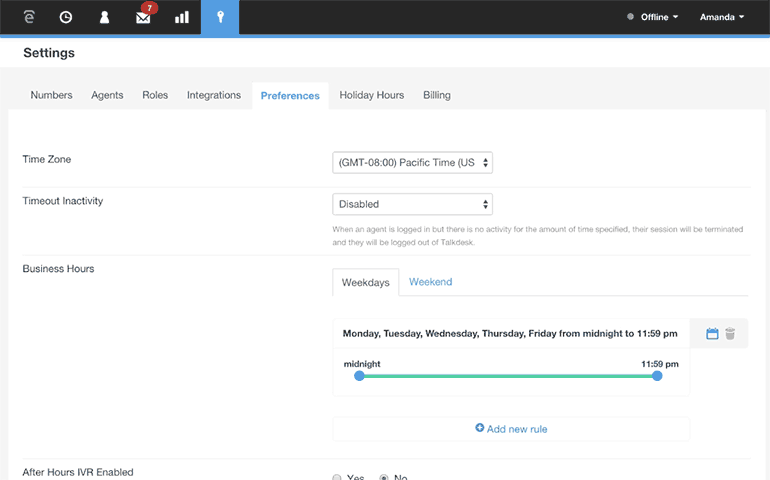 "Save" your changes at the bottom of the page [5].
You will then need to select whether you wish agents to be shown the disposition codes drop-down menu for Inbound calls only, Outbound only or both. To do so, simply follow the instructions here.
Editing and Deleting Disposition Codes
You can edit disposition codes at any time, however, we recommend editing disposition codes only if you want to correct a typo or similar issues. 
Don't forget to "Save" your changes by clicking on the button at the bottom of the page [5].
Note: If a disposition code is edited, all past history will be renamed to the new disposition.
You can also delete disposition codes:
Just click on the X to the right of the disposition code to remove the code from the list.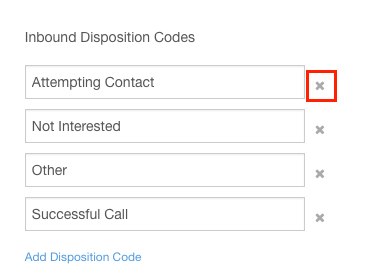 Note: If a disposition code is deleted, the past history will remain intact and will not be removed.