Important: Conversations is replacing the Main Dialer (sometimes also referred to as "Keypad").
The features described below are now available in Conversations, and will also remain available in Callbar until we reach its End of Life, as announced here.
If you're using Talkdesk Phone, you can also add and manage SIP phones. For more information, please check this article.
Please refer to the general Conversations documentation here.
For additional support, please reach out to your Customer Success Manager.
Note: Talkdesk can only provide best-efforts support and is not responsible for configuring your specific SIP devices. Since there are so many permutations and models, we are unable to provide guidelines that work seamlessly with all devices. We are also unable to configure or provide details that are specific to your network. However, if you need a more detailed SIP setup, we will be happy to assist you and provide all the required information to your network team. Learn more about SIP clients: Networking Details.
SIP phones can be a part of your Talkdesk solution. However, please bear in mind that features and functionalities are limited at this time, once calls are forwarded to a SIP endpoint.
SIP will need to be activated for your account by contacting Talkdesk Support.
Once SIP has been enabled and a SIP phone has been configured, you can allow SIP as a device through your account's Device Settings.
Obtaining Agent's SIP Credentials for use with SIP Phone
Each agent has their own set of SIP credentials. These will need to be provided by an account Admin by following these steps: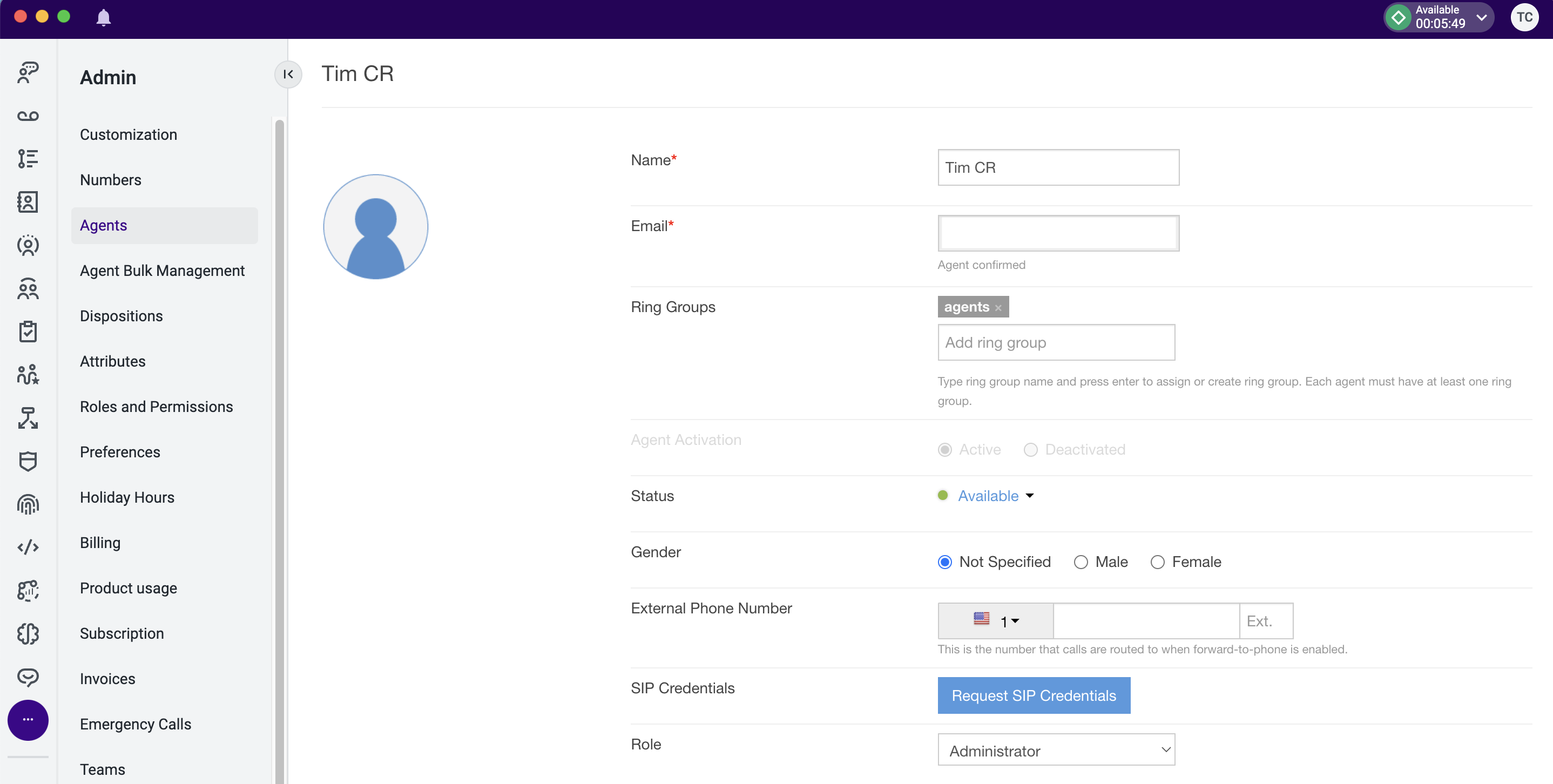 Click on the Admin icon, access the Agents

tab, and select the required agent.

Upon entering the agent's page, click the Request SIP Credentials button, next to the "SIP Credentials" option

.

Press Save, at the bottom of the page.
An email will be sent to the Admin with a link providing access to the agent's SIP credentials.
Keep this information open to configure the SIP software: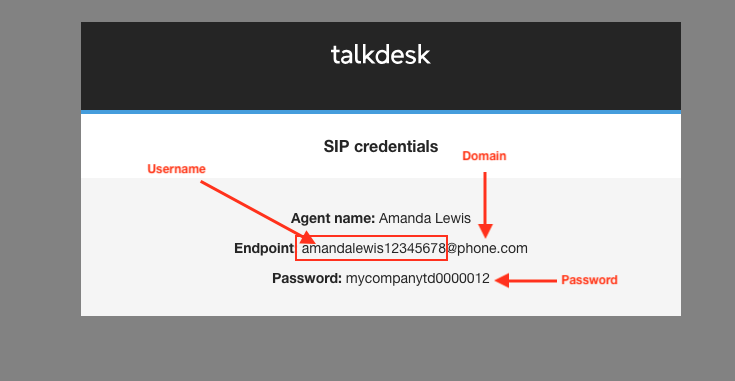 In some SIP phone configurations, you might be asked for the Auth ID or the User ID, which in the above image is the username that comes before the @ character.
The SIP Domain is also required, in which case it should be specified as "phone.plivo.com" (the text that comes after the @ character).
General SIP Phone Settings
While we can't provide a guide to all SIP Phones, there is a set of settings that are normally available across all phones, which is recommended to configure in order to ensure great call quality.
| | |
| --- | --- |
| RTP Packet Size | 0.020 |
| SIP Transport | TCP (If TCP doesn't work, you can try UDP) |
| Extension Settings | |
| Preferred Codec | G711u (ensure this is top of the list) |
| Second Preferred Codec | Unspecified |
| Third Preferred Codec | Unspecified |
| Use Remote Pref Codec | Yes |
| Set all codecs | no |
| User ID | <username> |
| Auth ID | <username> |
| Use Auth ID | Yes |
Using the SIP Phone
Once the SIP software has been configured with the Agent's SIP endpoints, they can start receiving calls. To do so, they must have the SIP software opened and be logged in to their Talkdesk account, with the status set to "Available."
When an incoming call comes through, Talkdesk notifies the agents that they need to answer the call on their SIP phone.
Their SIP hardware or software phone will start ringing at the same time.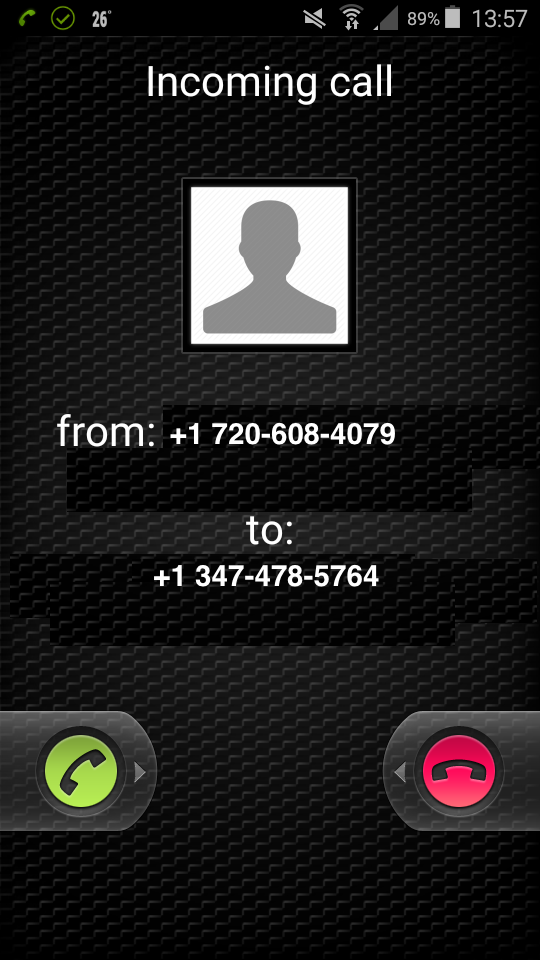 SIP Limitations
SIP functionality is available to Callbar and Conversations. It is not available with our CTI Widgets.
Caller ID will only display the phone number of the caller, not a caller's name.
Also note that, for inbound calls, when using the SIP endpoint ID in more than one device (SIP, Bria, among others.), the system will randomly pick a device to ring.
It is not possible to initiate an outbound call from a SIP phone from within Talkdesk. This means agents cannot initiate the call in Talkdesk and have the SIP device make that call, since the call button that appears in the contacts list will not work.
Once the call has been connected on the SIP phone, agents will see the call information in Talkdesk's Callbar. They can then mute the call, put it on hold, transfer, or add a guest using the browser.
Ending SIP calls must be done directly in the SIP phone, not in Talkdesk: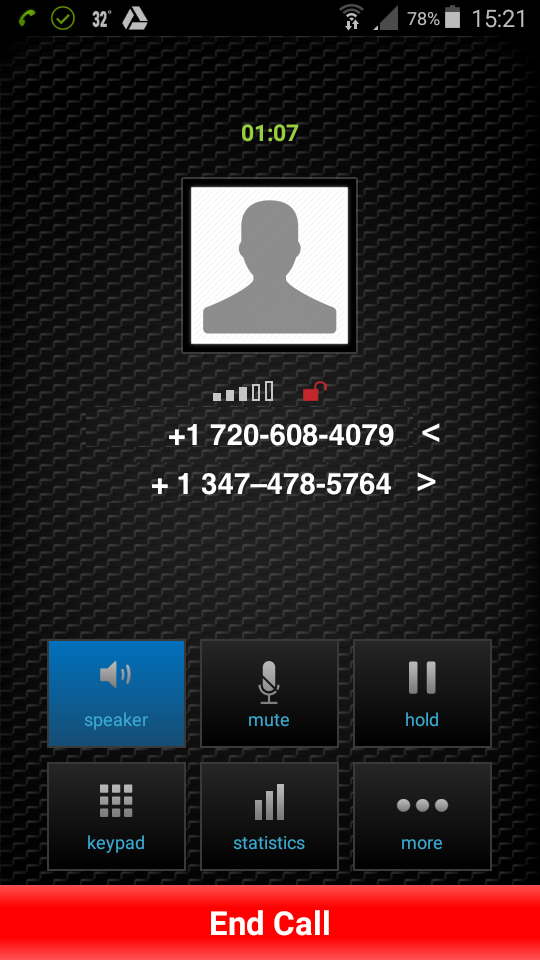 It is not possible to transfer SIP calls from your SIP device. This can only be done if you are logged in to Talkdesk in the browser.
If the call summary window is not closed incoming calls may not come through.