Talkdesk Phone™ can be used for making and receiving calls as a softphone application inside Workspace, and also be extended to SIP devices to allow for easy integration with existing telephony deployments. As an admin, you may check the SIP Devices Setup Guide to know what devices are supported and how they can be configured. In the Phone Admin app of the Talkdesk Phone™ system, you will find the Devices tab, where you can create and manage SIP phones on your account, and assign them to users or keep them as common area phones.
Overview
To find the Devices tab, please follow these steps: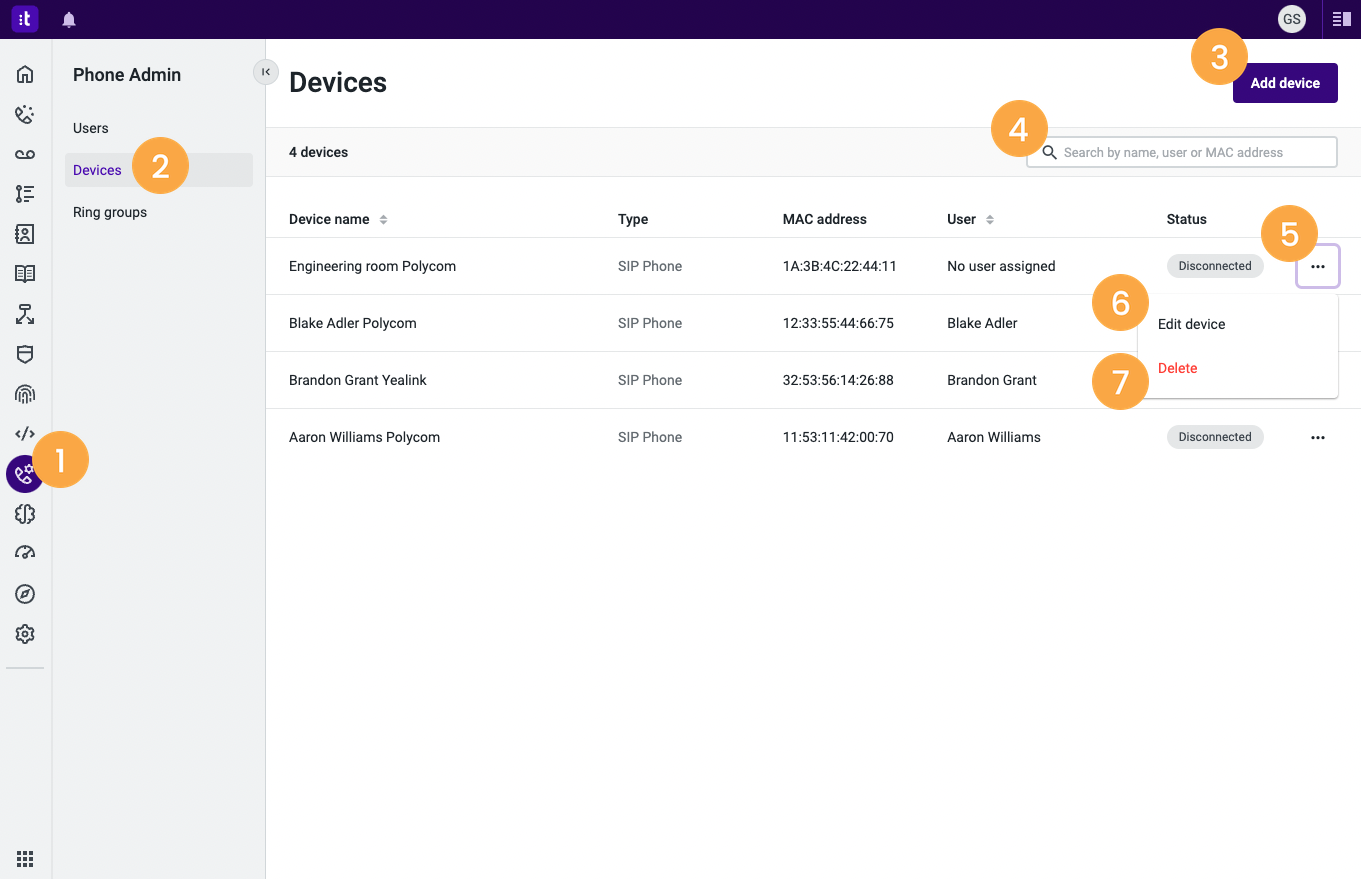 Go to "Phone Admin" [1]

, then

Devices [2]

.
On this page, you can see:
The list of devices on your account, featuring:

The number of devices.

Device name.

Type of device.

MAC address.

The user each device is assigned to.

The device's status (connected or disconnected).

The

Add device [3]

functionality.

The search bar [4] can be used to find individual devices by name, assigned user or MAC address.

The "

...

" more options button

[5]

through which you can access the

Edit device [6]

and

Delete [7]

functions.
Adding devices
When you click on the Add device button, the following side panel appears: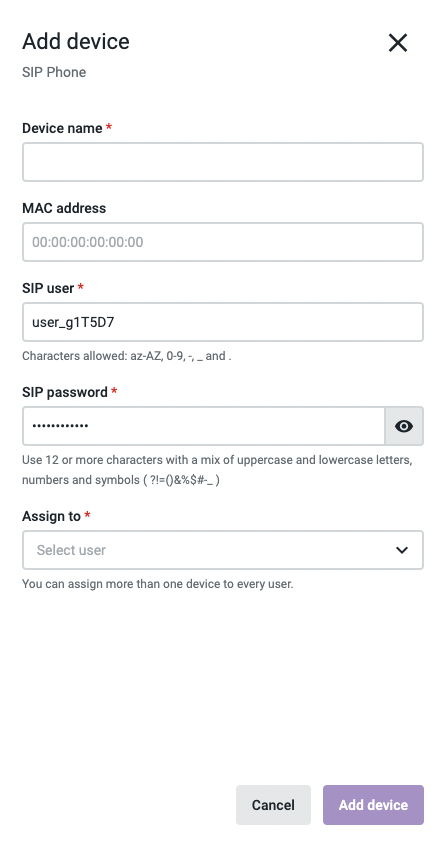 Sequentially, field by field, you should:
Define the "Device name".

Enter the "MAC [Media Access Control] address" (optional).

Define the "SIP user" (or opt for the system suggestion).

Define the "SIP password" (or opt for the system suggestion).

Assign a user to the device or indicate the device should have "No user assigned" (you can also assign a user in the device's editing page or via the Users tab at any later time).
Note: We are now able to add devices in bulk, by request. For that purpose, please contact Support with the list of devices in accordance with the attached template (devices_csv_example.csv) please note that only the device name field is mandatory.


Editing devices
By clicking on Edit device, you gain access to the device editing interface: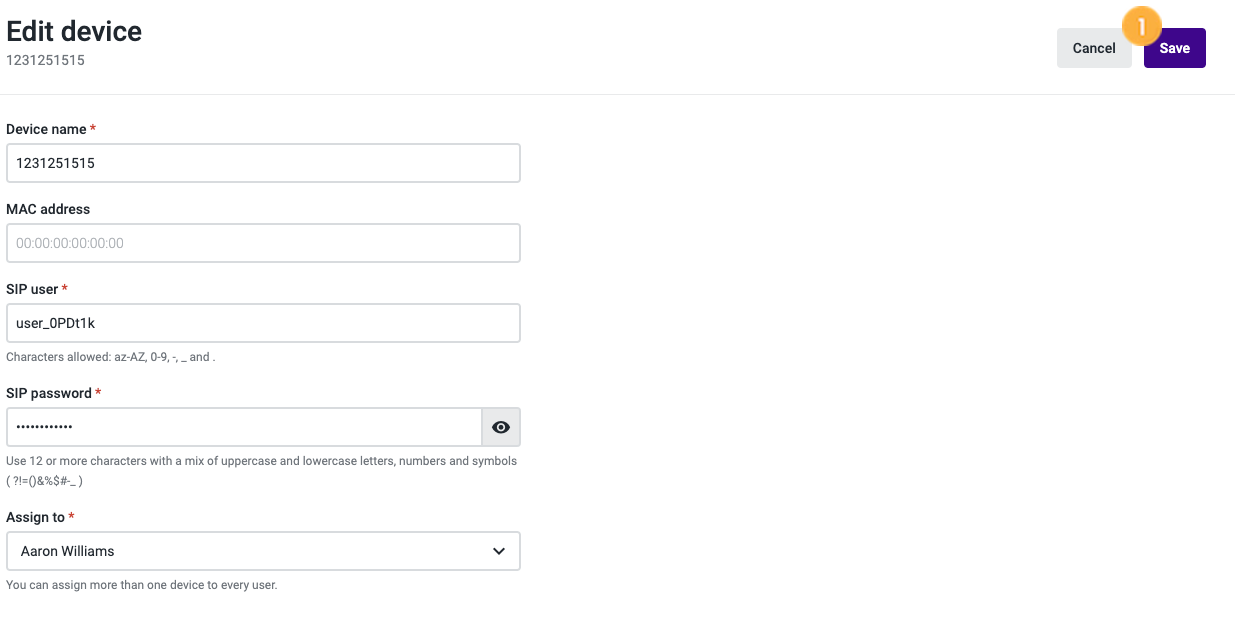 In this page, you can alter the same fields you fill in during device creation. When you're done editing, click on Save [1].
Deleting devices
To delete a device, click on Delete. The following prompt will appear asking you to confirm the instruction: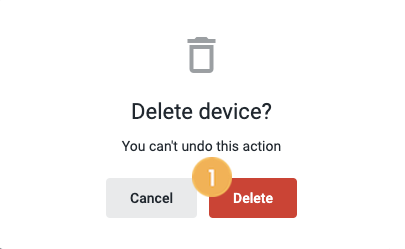 Click on Delete [1] to confirm.
Emergency Services for SIP Devices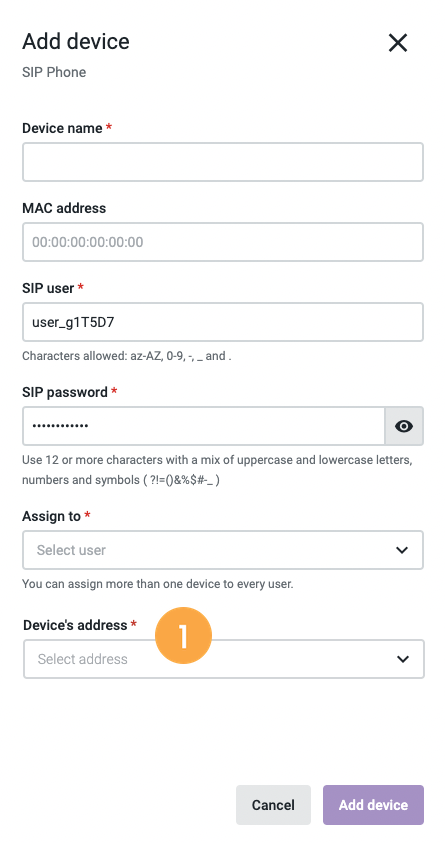 If emergency services have been enabled for your account and there is no user associated with a newly-added device, an additional field [1] will allow you to indicate the device's emergency address. This field is available in both the Add device and Edit displays.
For more information about enabling emergency services, please read the article E911 Overview and Enablement.