With Talkdesk, there are different applications at your disposal to make and receive calls. This article details those options and the features available with each when you receive a call.
IMPORTANT: On February 21, 2022, we announced the End of Life of the Main Dialer (sometimes also referred to as "Keypad").
Conversations is replacing the Main Dialer. The Main Dialer features previously described in this article are now available in Conversations, and remain available in Callbar until we reach its End of Life.
Jump to Conversations documentation.
Access Talkdesk Agent Workspace documentation here.
Conversations
Conversations is an Agent Workspace app that allows users to handle inbound and outbound, voice and digital customer conversations, from their desktop or web browser.
You can learn more about Conversations, including how to access it, here.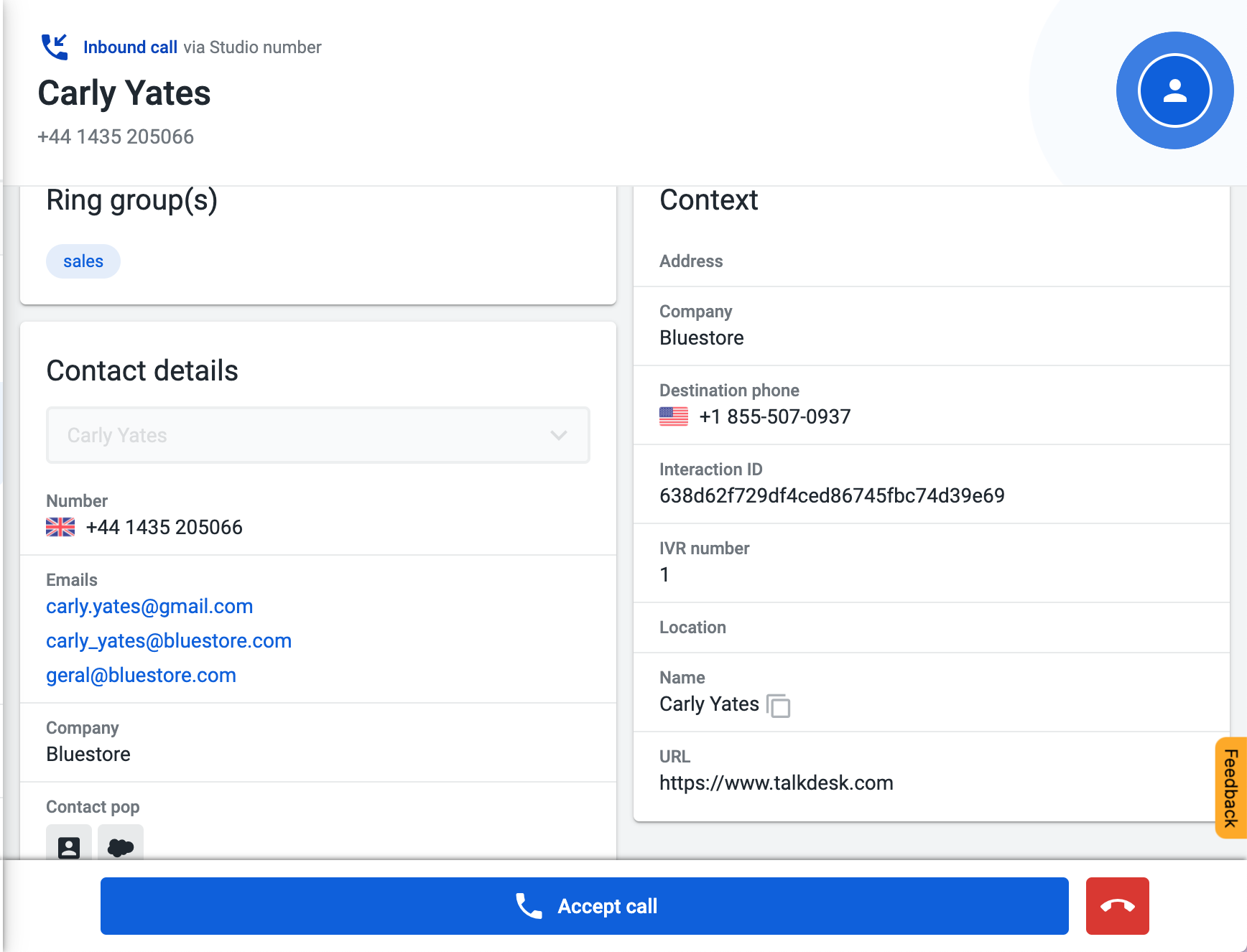 To accept a call in Conversations, press the Accept call button [1] at the bottom of the page.
When you receive a call, you will be able to see the ring groups associated with the caller and the number the customer is using. A "Context" card may also be visible, containing relevant customer information extracted from Studio.
Badges pertaining to Contacts plus any integration on the Contact Details card are also displayed. Clicking them will pop open the contact's profile in Contacts or the selected integration.
Phone
Talkdesk Phone™ is a cloud telephony system for the modern workforce that enables the unification of your business telephony and contact center communications in a single application designed to break down organizational silos.
When you receive a call, the following elements are displayed: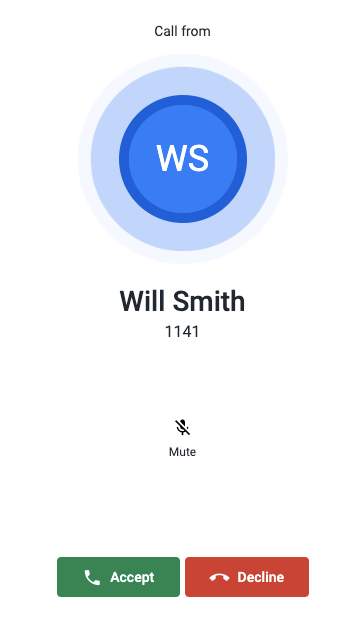 The call description.

The caller's avatar, with either the caller's initials if they are part of the account, or a default icon if the caller is unknown.

The caller's description, including all the information available, depending on the caller: name and surname, long number, and extension.

The

Mute button

.

The

Accept

and

Decline buttons

.
Callbar (Legacy)
Note: With Talkdesk Agent Workspace generally available, we announced — on February 21, 2022 — the End of Life to Talkdesk Callbar. Access the full Announcement here. You may continue to use Callbar until the EoL date. However, upon the End of Support date, Talkdesk will no longer provide fixes or enhancements to the products, so we recommend upgrading to Talkdesk Agent Workspace to start leveraging Conversations.
When receiving calls from a known contact using Callbar, you can see the contact's name and phone number, as well as the Talkdesk number that's receiving the call (at the top). If the contact is stored with a company name, this will be displayed too.
You will also see the associated ring groups and, if there is badge with the Talkdesk logo or any integration logo (such as Salesforce, Zendesk, or Desk), clicking it will summon the contact's page in Talkdesk or in the integrated platform: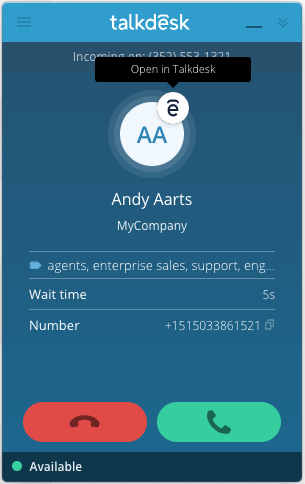 You can learn more about using Callbar by following this link.