Receiving a call from a new contact
In order to be able to receive calls, your agent status needs to be set to Available (you can select your current status in the right upper corner of Talkdesk) [1].
When a call is coming in, in addition to hearing the phone ring, you can see which customer is calling on the right sidebar [2]. In case of a new customer, the phone number is displayed.
If you have Desktop Notifications enabled, you will also see a pop-up notification letting you know that you have an incoming call.
Call controls show on Talkdesk's right bar of the Agent Dashboard, and this is where you can accept, decline and control a call that is in progress.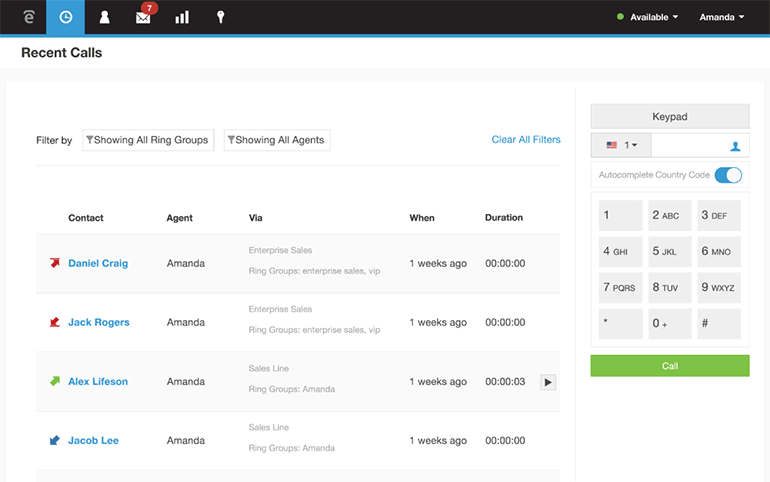 If you wish to take the call, click the Accept button [3] on the right hand sidebar. If you're busy and cannot take the call, click the Reject button [4].
If you decline the call, depending on your Routing settings, the call might be diverted to another agent, your voicemail or an external phone number, depending on how your administrator configures these settings.
Once the call is completed, Talkdesk automatically adds the call details to the corresponding call log.
In case the call is sent to voicemail, the voicemail recording is also added to the caller's call activity tab within their profile.
Receiving a call from a known contact
Even before answering a call, you can click the caller's name to see all the information related with that contact [5]. This information includes identification data and a list of all previous interactions (including incoming calls, missed calls, calls made, voicemails, notes and records).
Receiving a call from a new contact using Callbar
If your Widget Mode option is on and you are logged in to Callbar, follow the instructions on how to set your status to available and receive calls with Callbar instead.
Receiving a call from a known contact in Callbar
When receiving calls from a known contact using Callbar, you can see the contact's name and number, as well as the Talkdesk number that received the call (at the top). If the contact is stored with a company name, this will be displayed too.
You will also see the associated ring groups and, if there is badge with the Talkdesk logo or any integration logo (such as Salesforce, Zendesk or Desk), clicking it will screen pop the contact's page in Talkdesk or in the integrated platform: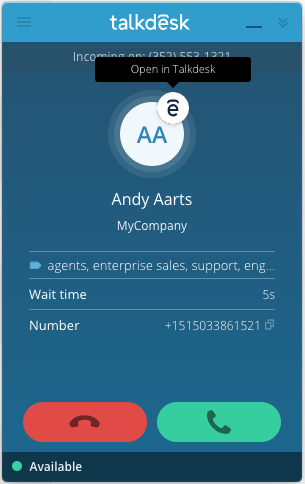 Learn more about using Callbar.