If you are getting the error "Unable to access microphone, please check system settings." while using Workspace, this is because certain permissions were not given on the browser or your headset is not properly plugged in or recognized on your machine.
There are several configuration steps that we recommend following on your browser or machine to prevent this error message from appearing:
Permissions
You must allow your browser to access your microphone and speakers before being able to accept or make a call in Talkdesk.
Please do the following in Google Chrome to ensure that the permissions are properly enabled: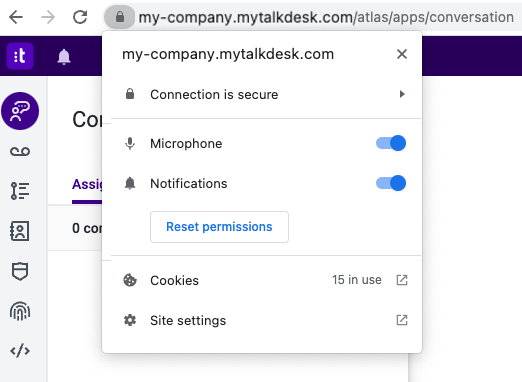 Click on the padlock icon next to the URL and then make sure you click the toggle in the microphone settings to the ON position, to enable Talkdesk to access your microphone.
Headset
Make sure your headset is plugged in and that you are able to hear other sounds on your computer.
Advanced Microphone Permissions Troubleshooting
In case the above did not fix your issue:
Make sure that Google Chrome is accessing the right microphone (i.e. USB vs. built-in mic) on your computer.
To do this:
Open your Google Chrome Settings page: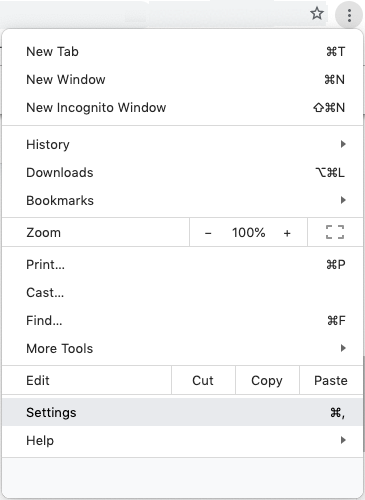 Type in "Microphone" on the "Search settings" box at the top of the screen and click Site Settings: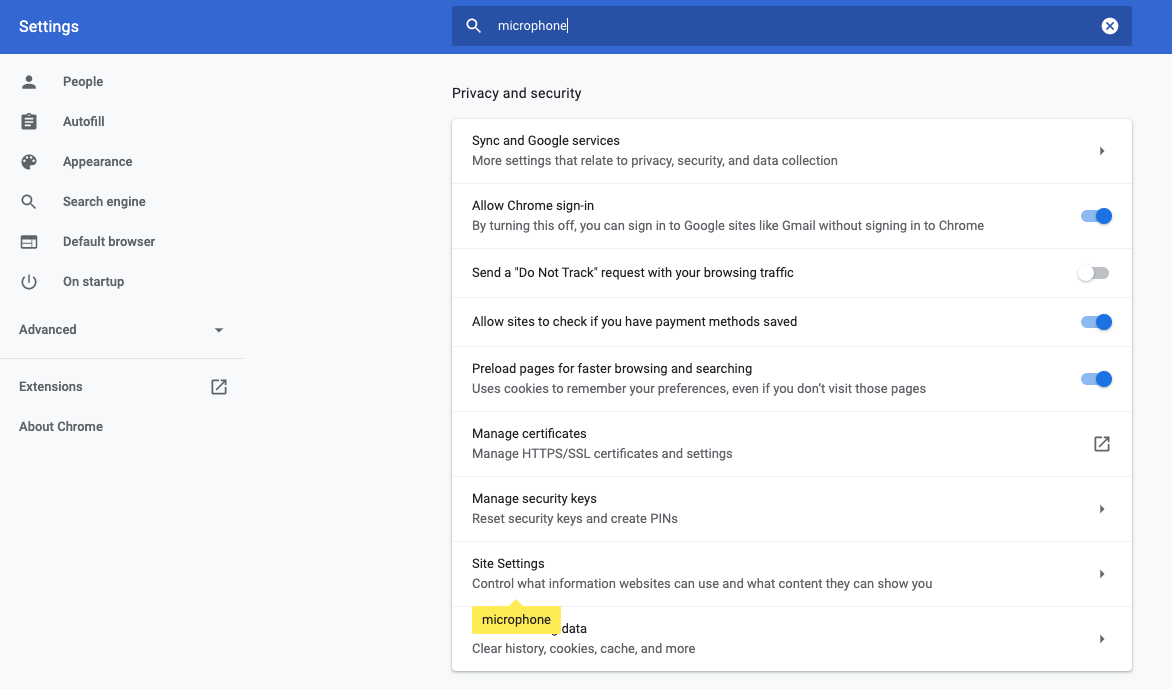 Under the "Microphone" section, choose the microphone device you would like to use from the dropdown menu. Google Chrome will now access the microphone you selected by default:

Windows Audio Settings
Exclusive Microphone Access
If you are using a Windows OS, confirm that you are not giving exclusive microphone access to another application like Skype:
Unplug your headset from the computer.
Quit Skype and log out of Talkdesk.
Plug your headset back into your computer.
Log back in to Talkdesk.
Microphone Privacy Settings
Check if the applications can access your microphone:

Go to Start → Settings → Privacy → Microphone.
Click Change to enable microphone access for the device in use.
Under "Allow apps to access your microphone", switch the toggle to the right to allow applications to use the microphone.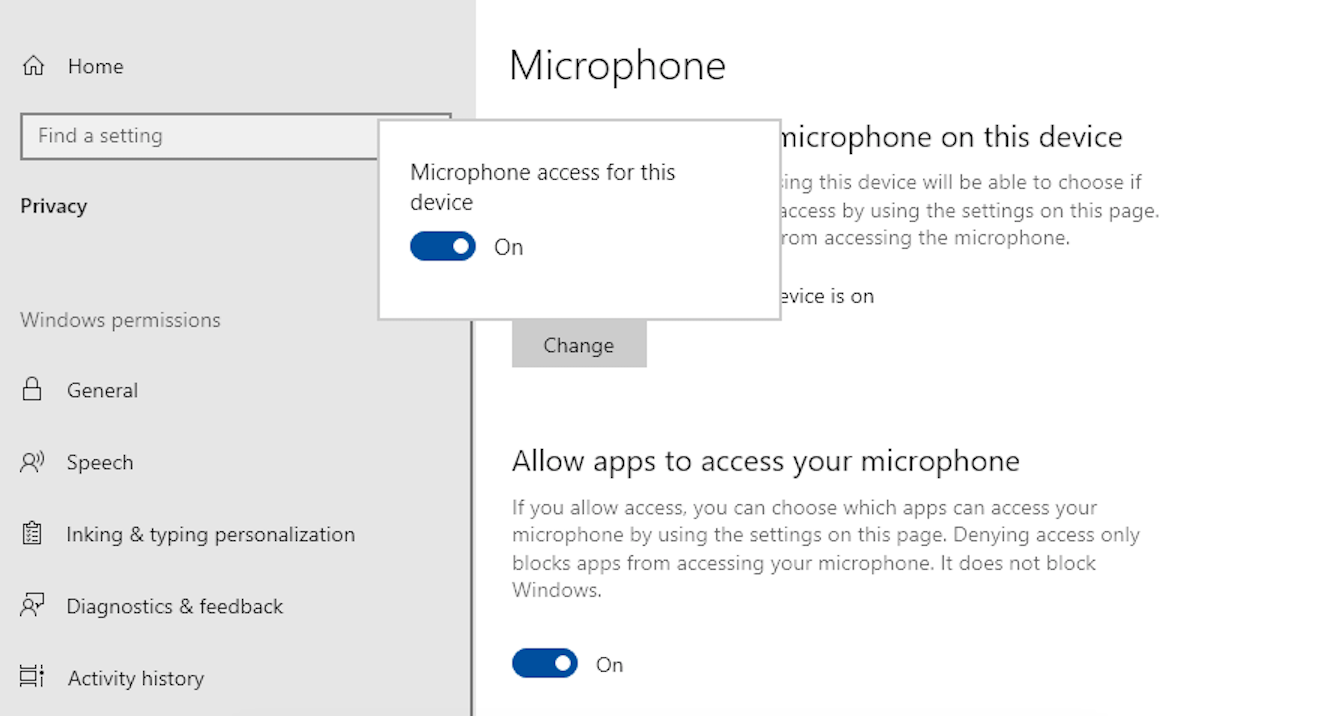 If the previous steps have solved the issue, you must adjust your computer settings to prevent this from happening again:

Open your "File Explorer" and click on Control Panel. Next, click on Hardware and Sound and then click on Sound.
Click on the Recording tab, select your microphone (i.e. "Headset mic", "Internal mic", etc.), and click Properties.
Click the Advanced tab. Click on the checkmark in the box next to "Allow applications to take exclusive control of this device" to remove the checkmark from the box. Then click Apply.
Access the sound settings from the Control Panel. The location of this setting varies depending on your Windows version: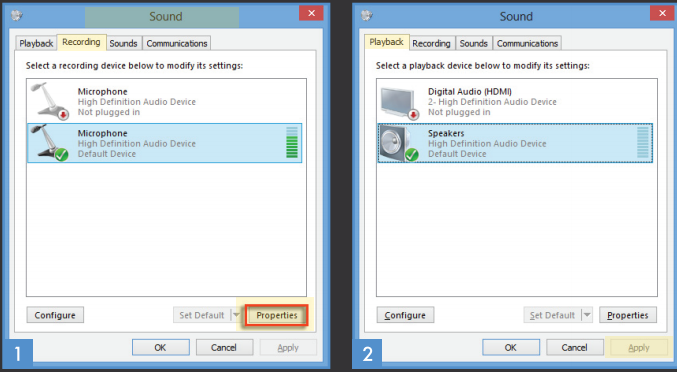 Mac Audio Settings
If your computer is running a Mac OS, check to make sure your headsets are compatible with Apple products. Macs use a different type of microphone input technology compared to other operating systems. This means that, even if you are using a headset with a built-in microphone, your Mac may not detect it and instead use the computer's internal microphone.
An easy way to check if your headset is Mac-compatible is to plug it in and go to System Preferences → Sound → Input tab. If your computer is picking up the microphone from your headset, it should read "External Microphone":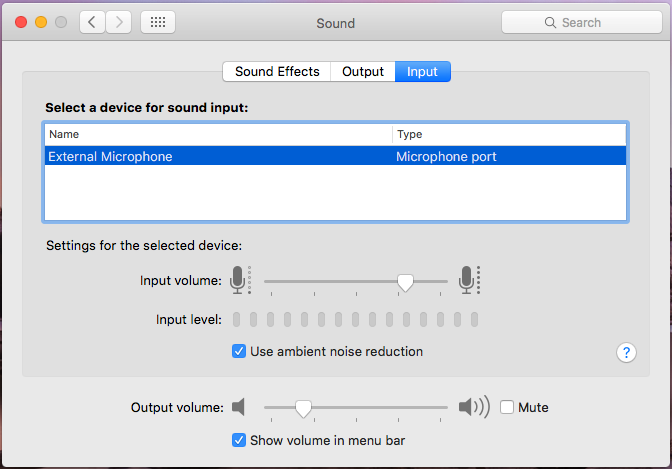 Audio Settings