After Talkdesk Cases™ is installed, Administrators can manage authorized users and edit automatic case creation and update rules in your account.
Besides, both Administrators and Agents can change the display language of Talkdesk Cases for the localization of their choice.
Note: Enablement and setup of Talkdesk Cases are performed with the support of Talkdesk. If you wish to start using Talkdesk Cases, contact your Customer Success Manager.
Managing the Talkdesk Cases App
To manage users, Administrators need to perform the following steps: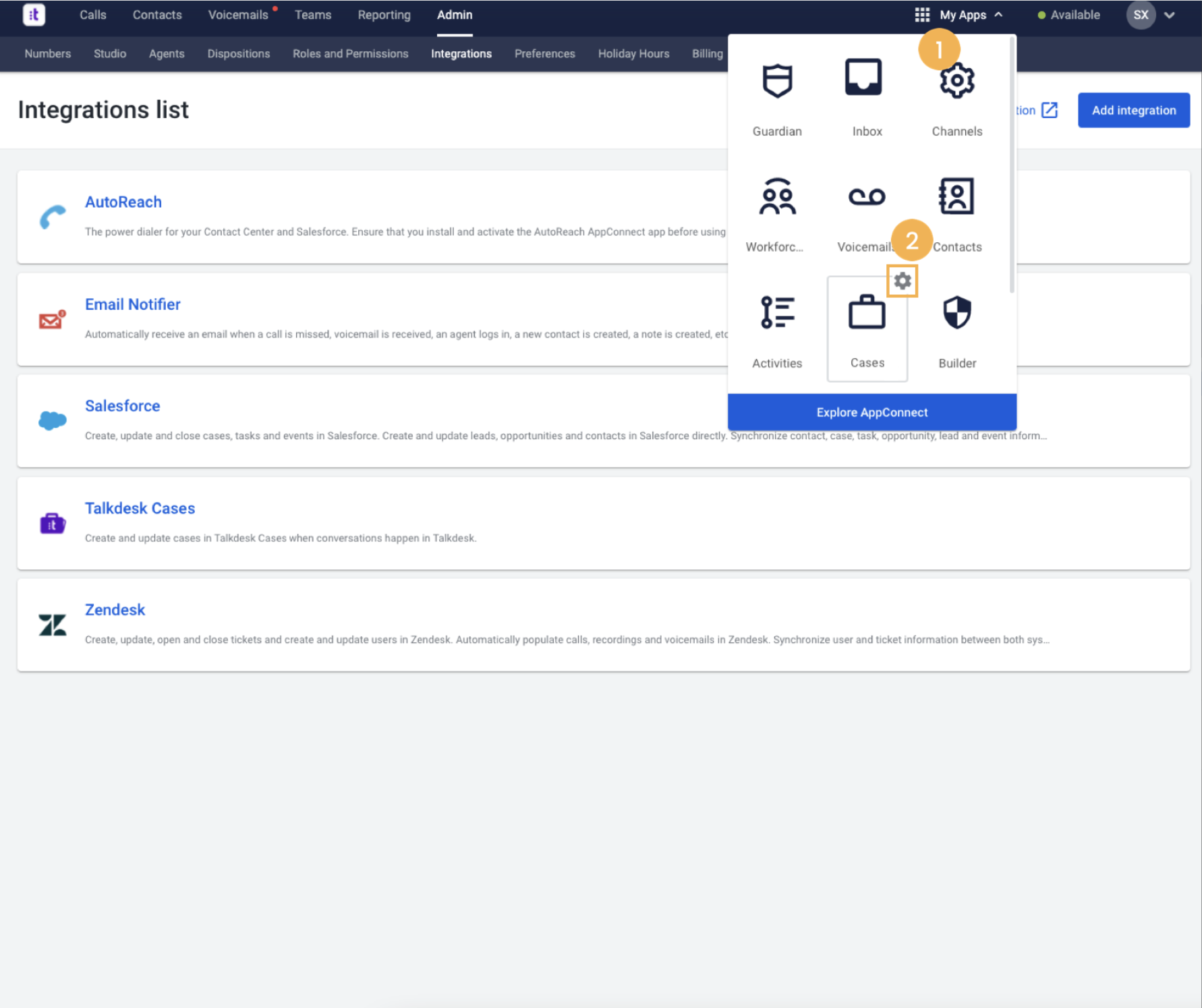 Log in to your Talkdesk account, go to

My Apps [1], and then click the gear icon in Talkdesk Cases

[2].
In the dialog box, click

Users [3]. Select the user you want to grant access to the app

[4].
Click

Save changes [5].
Editing Automated Tasks
With Voice Integration, Administrators can configure automated tasks for voice conversations to control case behaviors.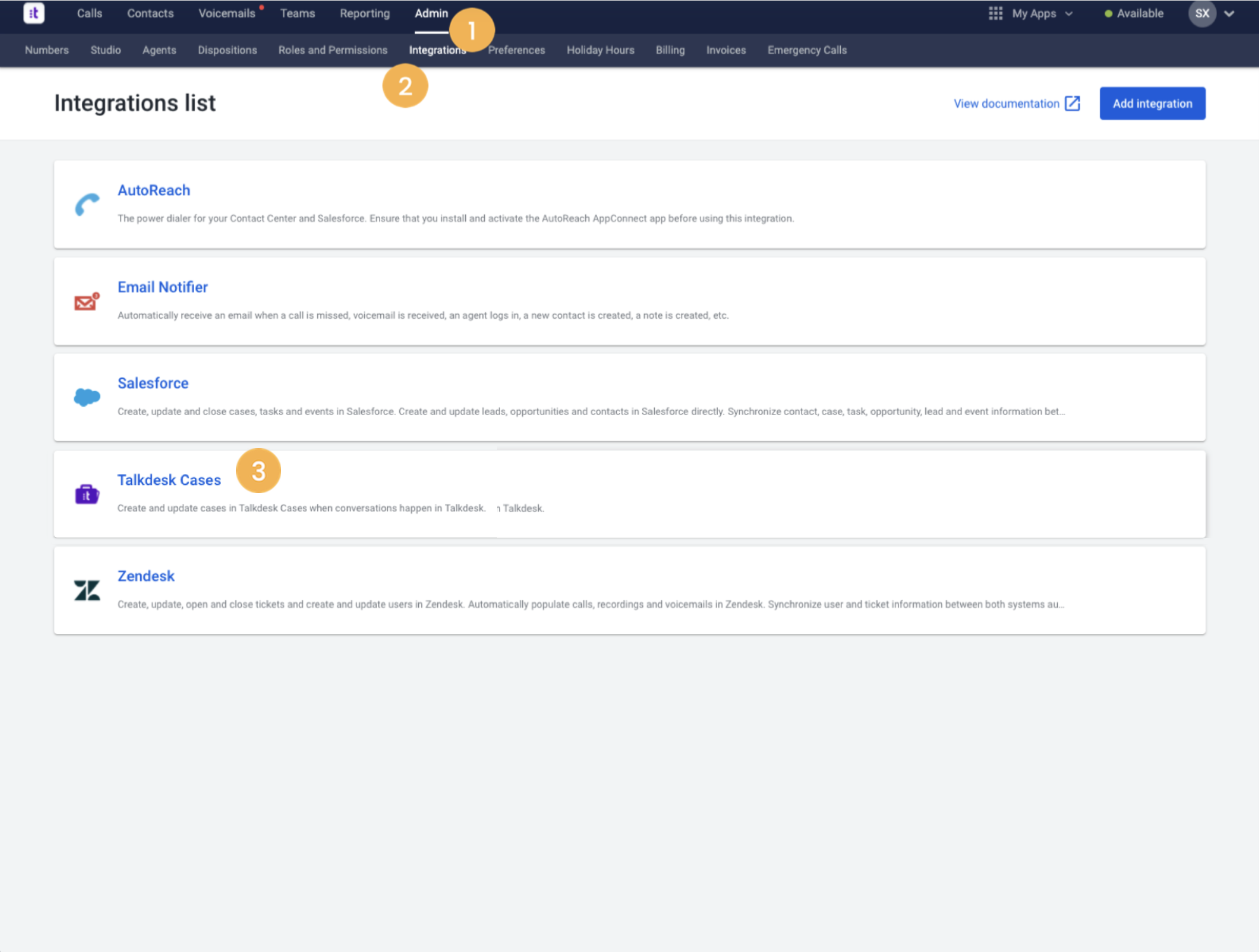 Log in to your Talkdesk account, click Admin [1], select Integrations [2], and then click Talkdesk Cases [3].

Note: If Talkdesk Cases is not on the list, click Add integration, navigate to Talkdesk Cases, and then add the integration to your account.

Under "Automated Tasks", you can see 8 built-in automated tasks for Talkdesk Cases. By default, these are disabled. They control whether cases will be automatically created or updated when certain conditions are met, such as "When an inbound call starts, create a case in Talkdesk Case Management". Each task has an attached label ("enabled" or "disabled"), indicating its current availability.

To edit a task, click the gear icon and select Edit [4]. You can also clone or delete the automated task.

On the detail page, the event and the action determine the corresponding case behavior in certain situations. Under "Define action", you can specify different fields of a case for the action. It means the fields will be set or updated based on the values specified on this page once the action is taken. You can drag fields on the left side into the boxes on the right side to change values. For more information, see Automation Tools and Automated Tasks Fields.

Note: The field "Pop case in Talkdesk Cases" allows you to set the automatic case popping feature for Agents. It defaults to Yes, which means cases can be popped open to Agents at creation. For more information, see Popping a Case.

Use the toggle [5] to enable or disable the task.

Click Save [6].
Note: Talkdesk Cases automations don't support every event. Here you have the list of supported events:
For Voice channel:
an inbound/outbound call starts
an inbound/outbound call ends
an inbound/outbound disposition code is set
For Email channel:
a messaging conversation starts
a messaging conversation ends
a messaging conversation assigned
Changing the Display Language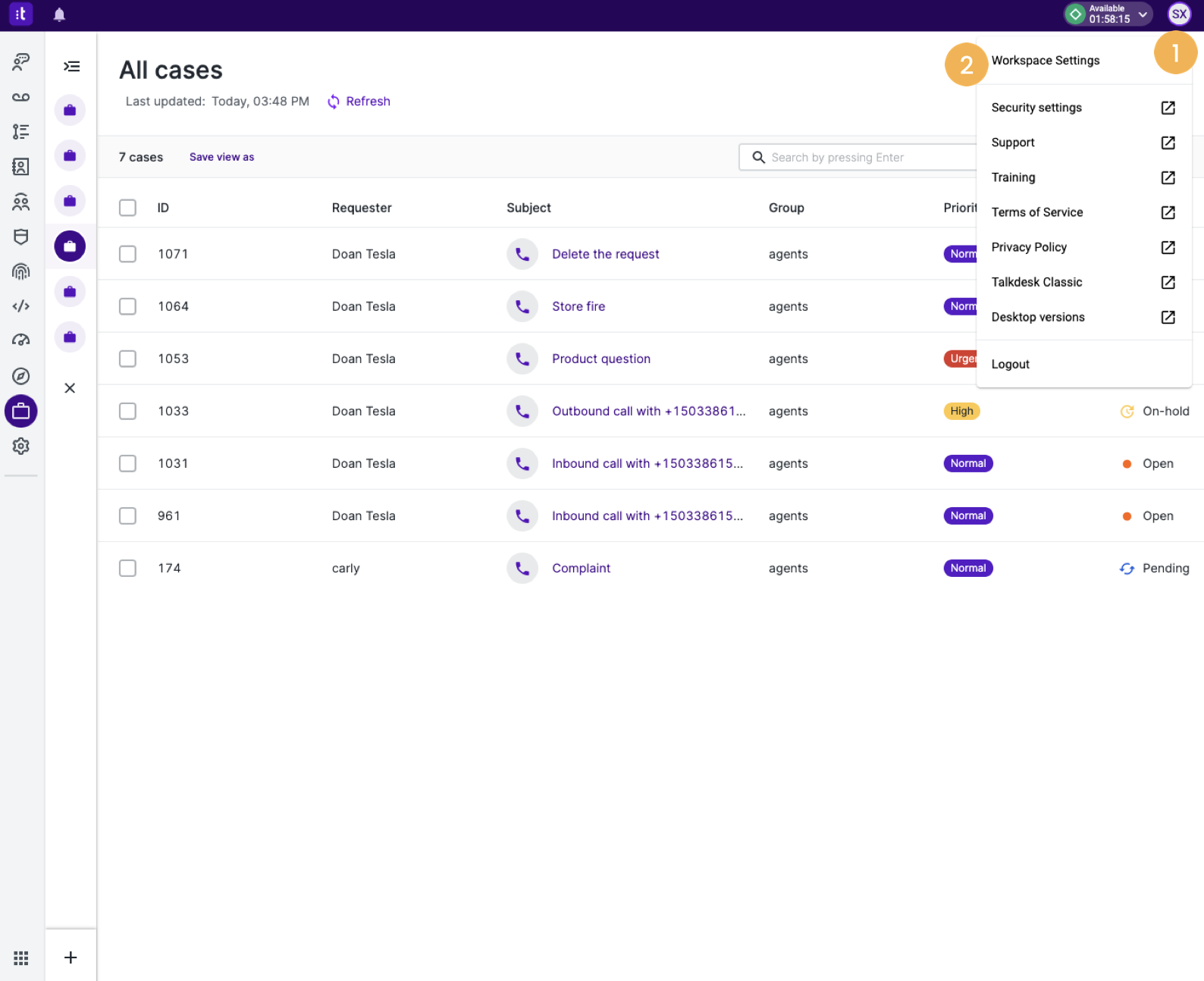 In the Talkdesk Cases app, click your initials

[1]

in the upper-right corner.
Select

Workspace Settings [2].
Under "Languages", select a localization

[3]. The following languages are currently available for Talkdesk Cases. More localizations may be provided in the future.

German (GE)
English (US)
Spanish (ES)
French (CA)
French (FR)
Italian (IT)
Portuguese (BR)
Portuguese (PT)

Click

Save [4].