Talkdesk Performance Management™ is an application that inspires agents to perform with data-driven goals. Performance Management (PM) focuses on employee engagement and improving individual performance, using productivity metrics and quality measures. This app intersects and interacts with other Talkdesk applications, such as Quality Management and Interaction Analytics (among others), to collect data.
If you wish to install this app, please contact your Customer Success Manager (CSM).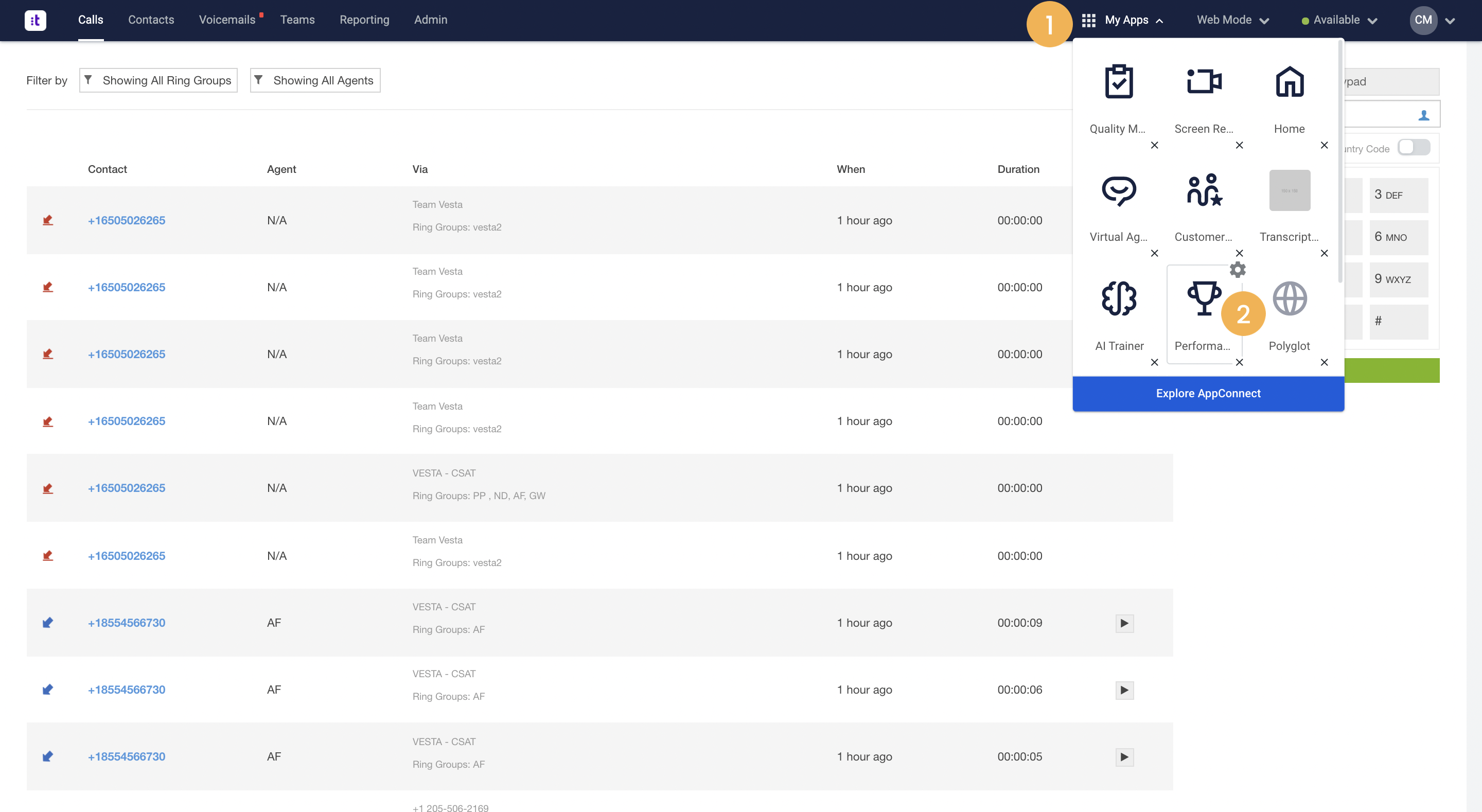 Once the app has been installed, you can access PM by going to My Apps [1] and selecting Performance Management [2].
Prerequisites
Before accessing the Performance Management app, please make sure that your CSM or Solutions Consultant has enabled the app and has granted you access to it.
Access and Permissions
To manage which team members have access to PM, please follow these steps: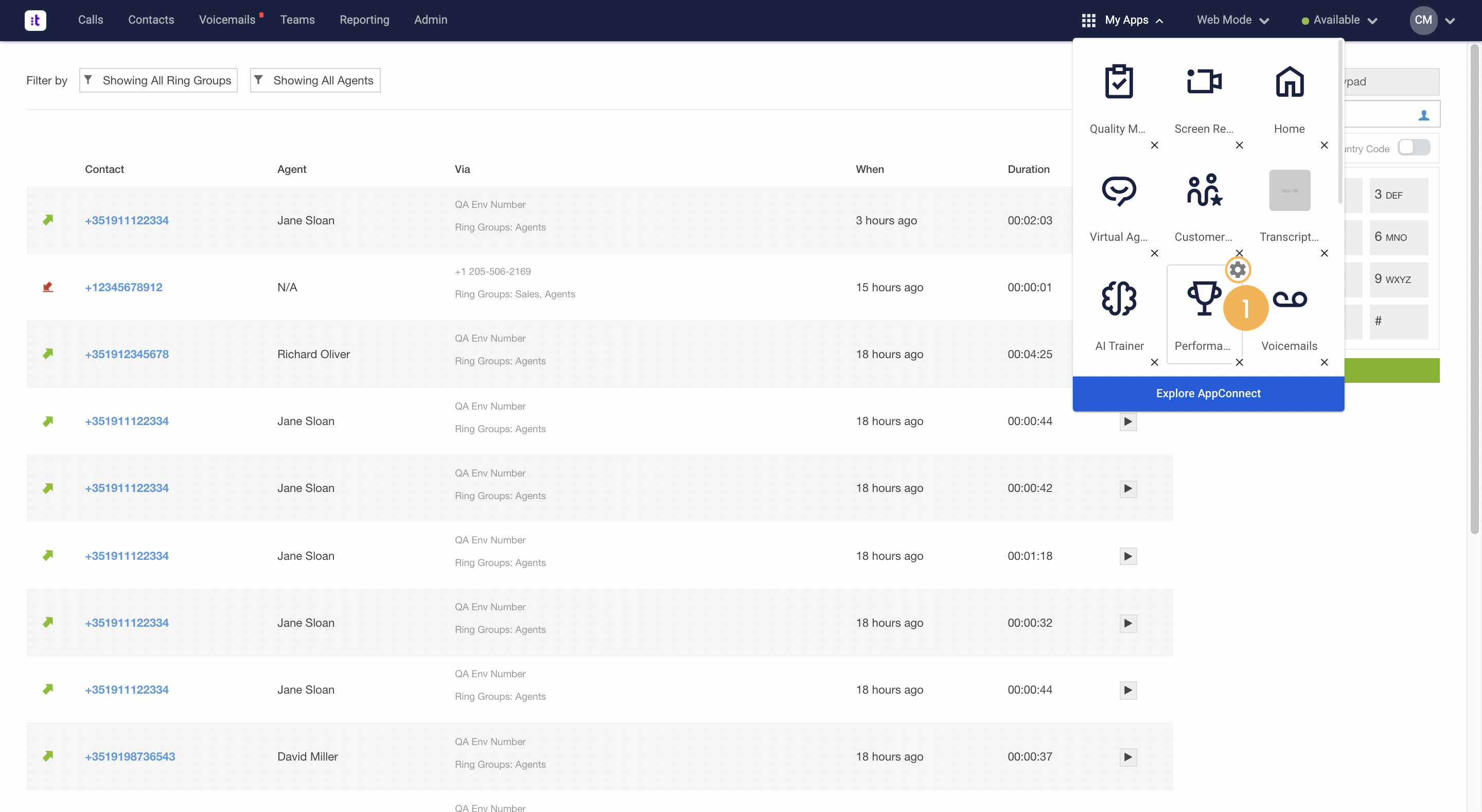 1. Open the app's settings [1].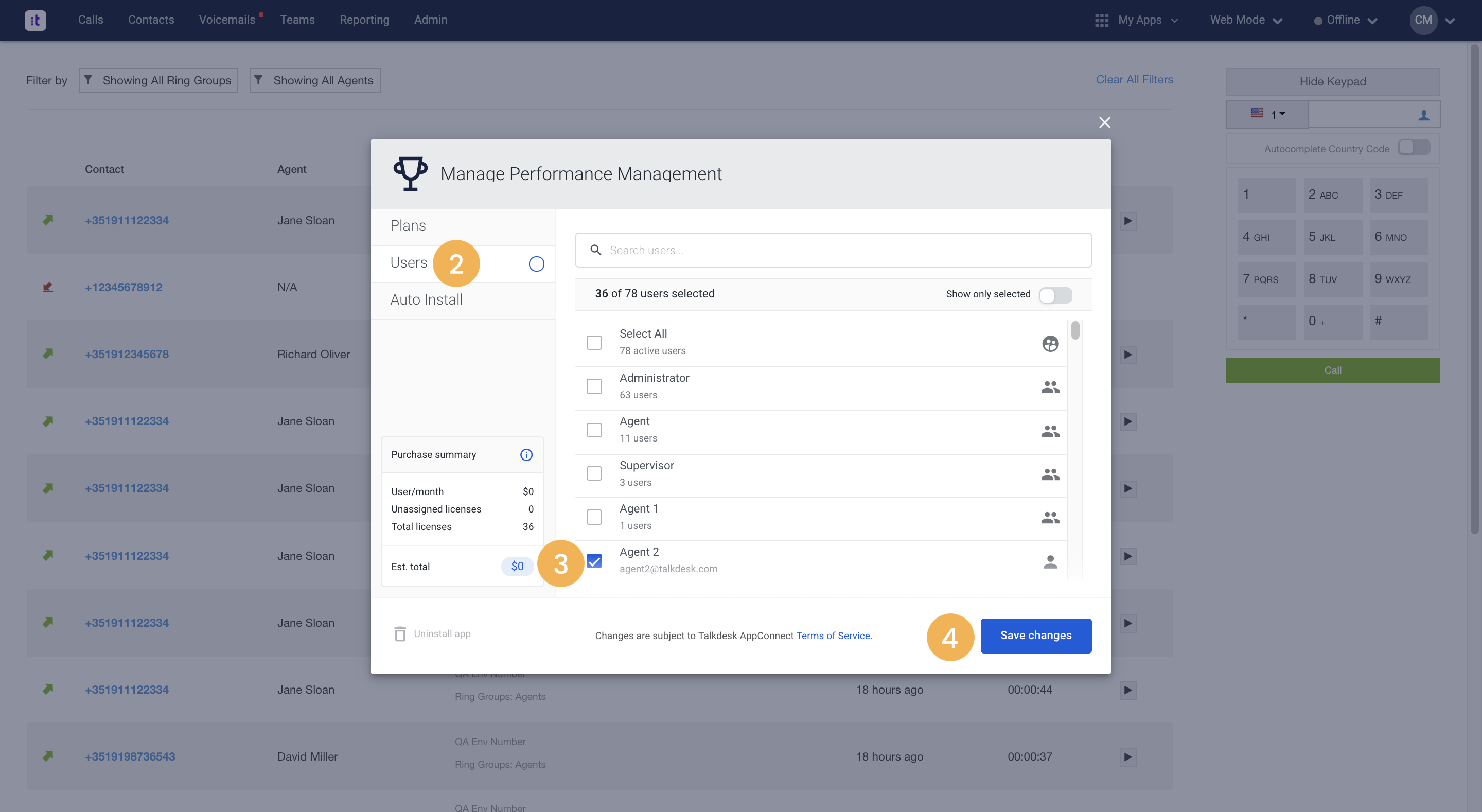 2. On the Users tab [2] select the desired users [3]. You can select them by name or role. If you need more information about roles, please visit the article Roles and Permissions.
3. Click Save changes [4].
Measures, Coaching, and Leaderboards Permissions
To configure the user permissions, follow the steps below: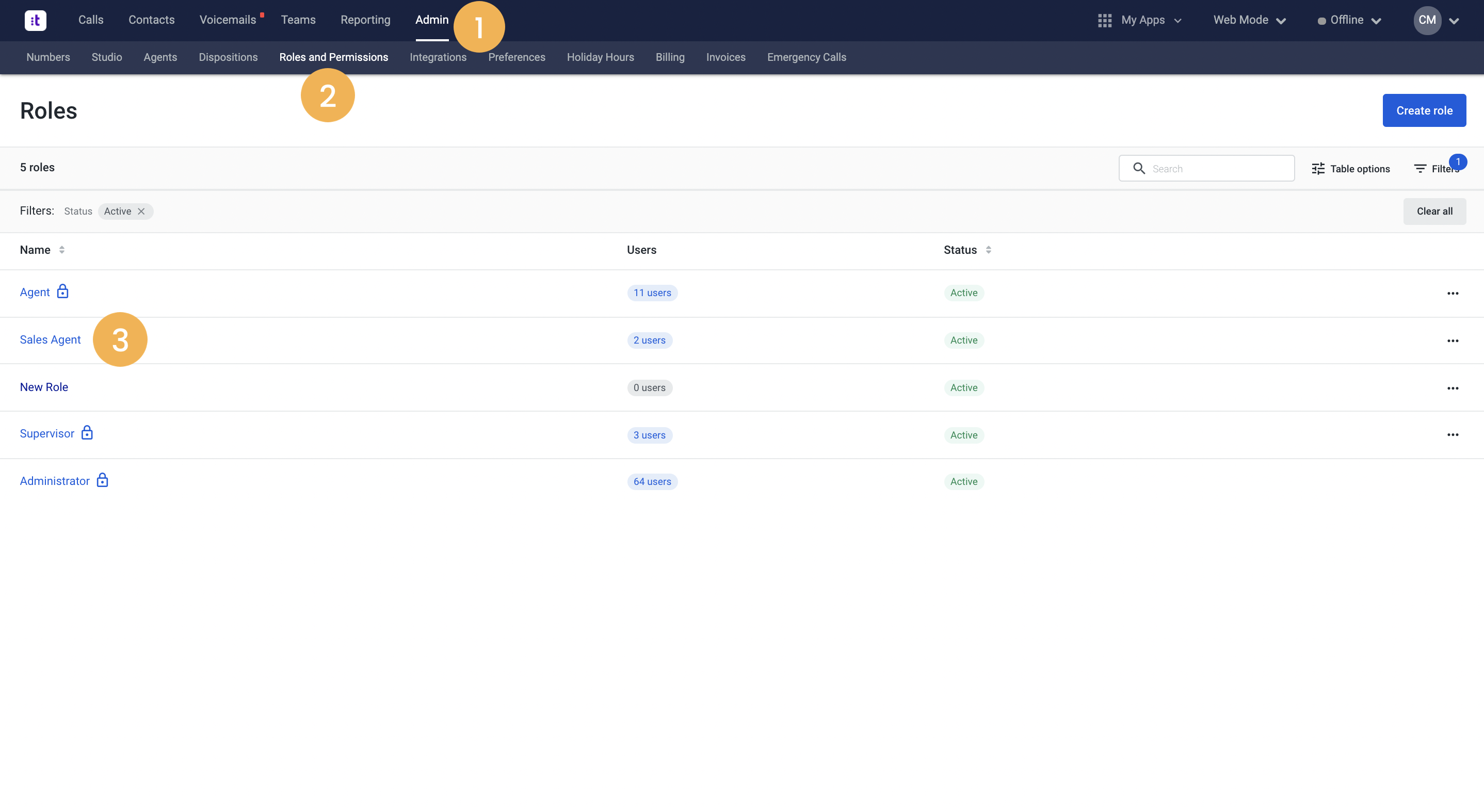 1. Select the Admin section at the top of the page [1].
2. Click the Roles and Permissions tab [2].
3. Choose the role that you would like to change [3].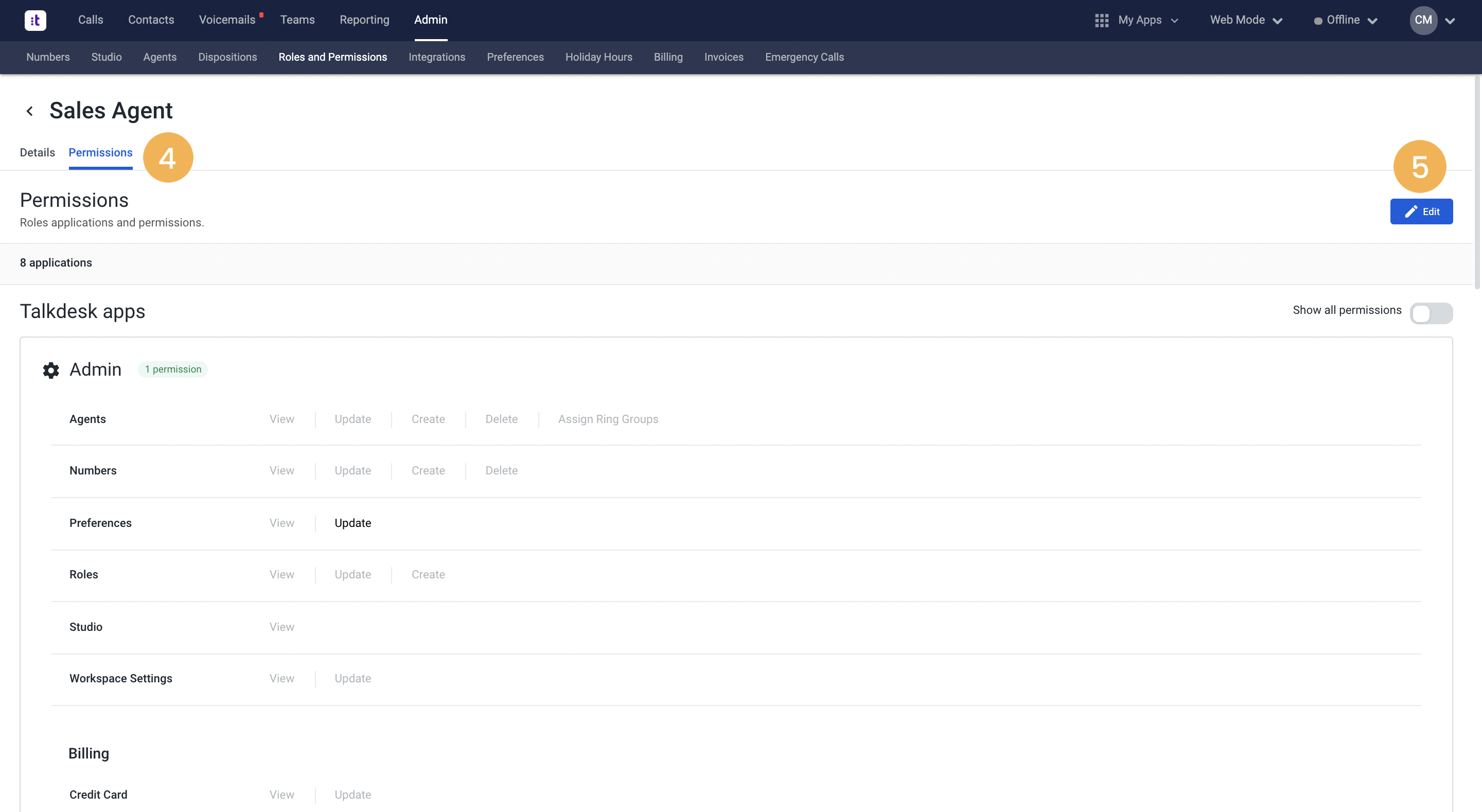 4. Once within the role's page, click on Permissions [4], and then, Edit [5].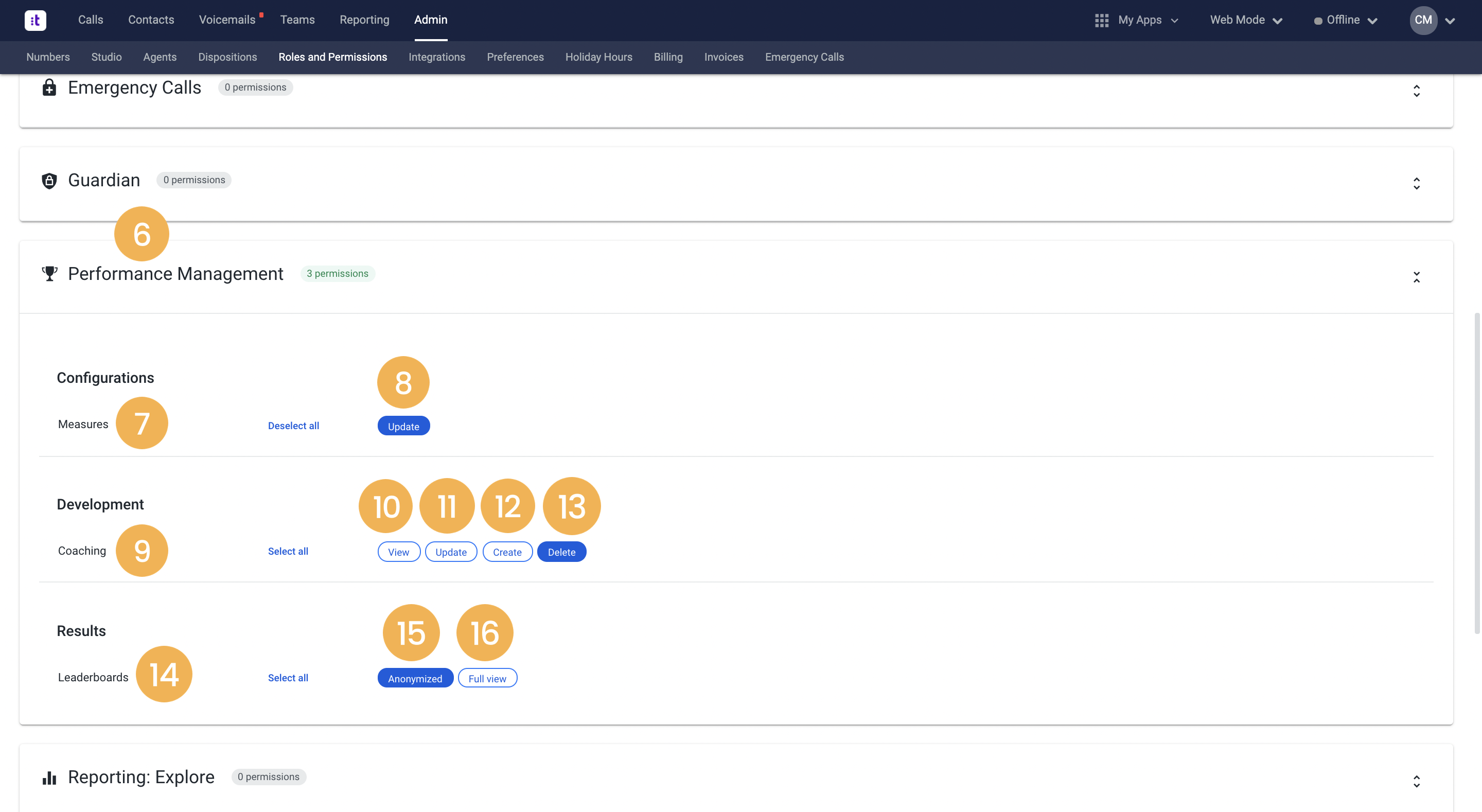 5. Scroll down to the Performance Management section [6] and expand it. Here, you can grant or remove the permissions available by selecting or deselecting the following buttons:
To allow users to create new measures:

Select the "Measures" section

[7]

and select the "Update" permission option

[8]

.

To allow users to view, update, create and/or delete coaching sessions:

Select the "Coaching" section

[9]

and select the "View"

[10]

, "Update"

[11]

, "Create"

[12]

and/or "Delete"

[13]

permission options.

To allow users to view their results in the "Leaderboard" with their full names or in an anonymized way:

Select the "Leaderboards" section

[14]

and select the "Anonymized"

[15]

and/or "Full view"

[16]

.
Note: Once you've configured the permissions, don't forget to scroll up and click Save in the top-right corner of the screen to apply the changes.
For additional support, please contact your Customer Success Manager.