Auto-Fail Form Option
Auto-fail is an optional feature available to all Quality Management (QM) customers. It allows configuring certain answers as the reason for an assessment to have an entire section or evaluation fail, in case the answer option is selected.
Configuring the Auto-Fail Options
While building or editing a form, you can use the auto-fail feature. To link certain answer options in the forms to either fail the section they are in or fail the entire form, please follow these steps: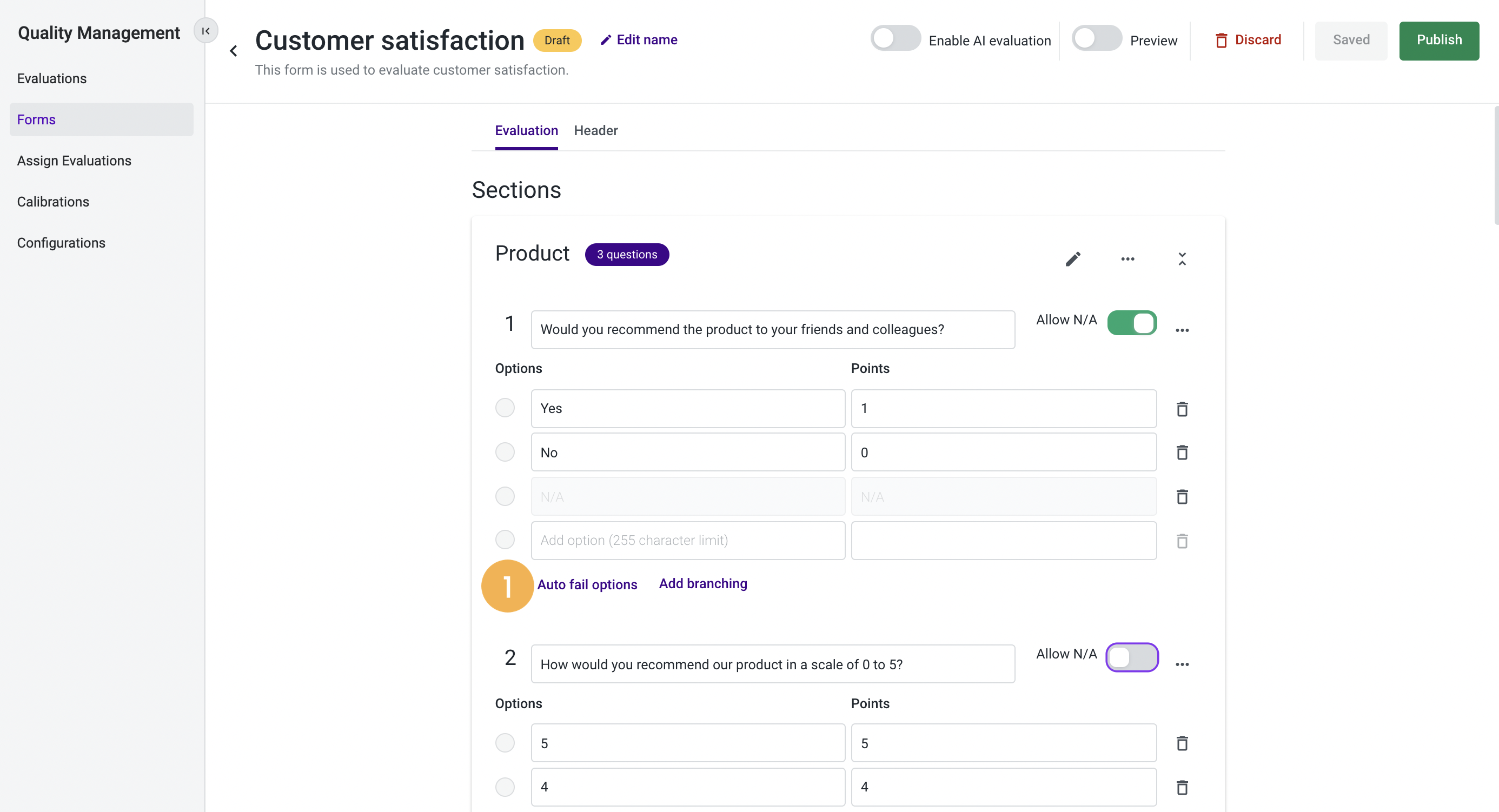 1. Click on the Auto fail options [1].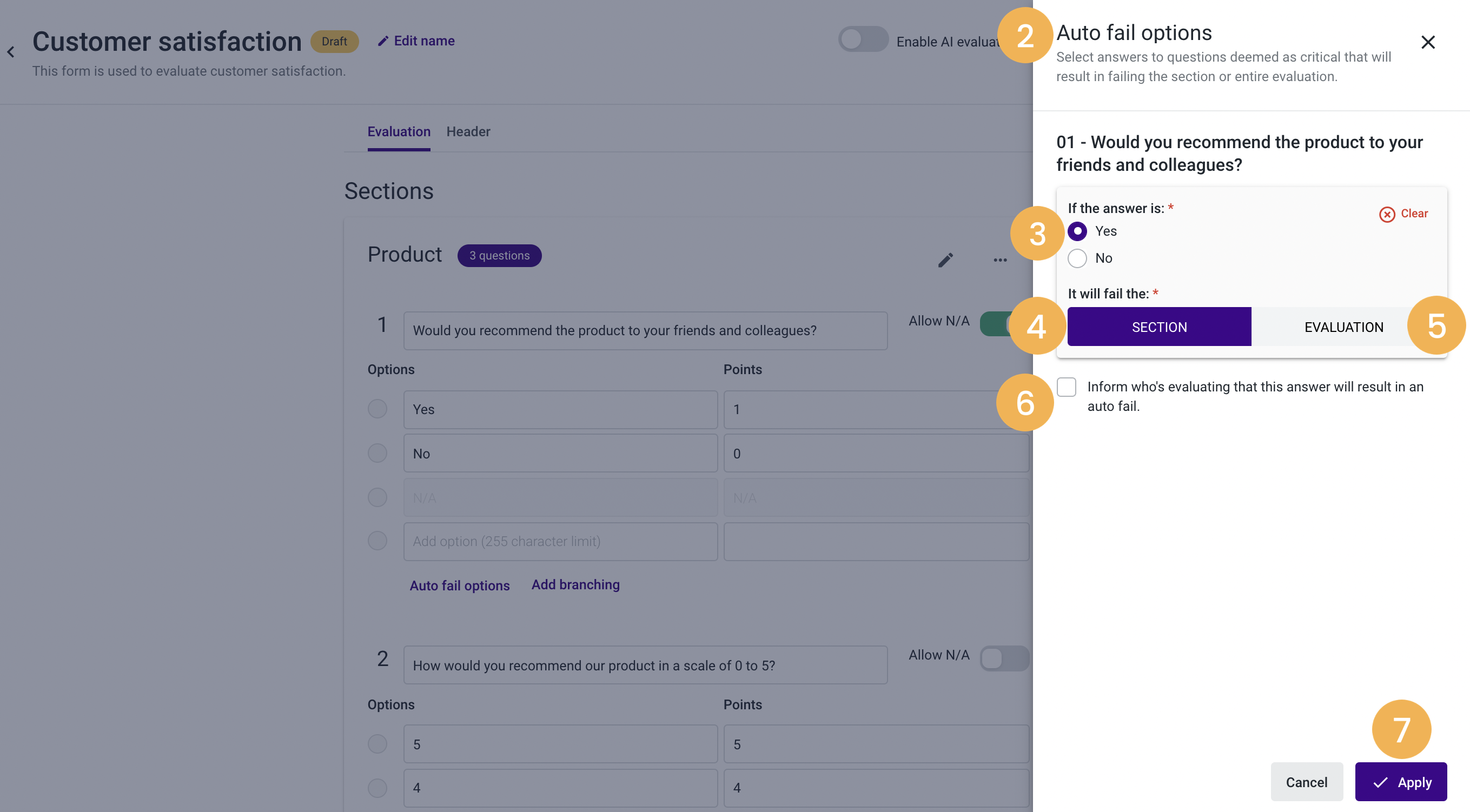 2. After clicking the Auto fail options, a drawer will appear [2] where you can select answers to questions deemed as critical that result in failing the section or the entire evaluation.
3. Select an answer option [3], and then choose if you wish to auto-fail the Section [4] or the Evaluation [5].
You can also "

Inform who's evaluating that this answer will result in an auto fail"

[6]

. In case you enable this option, you will see a note below the answer option when performing an evaluation.
4. Click on the Apply button [7].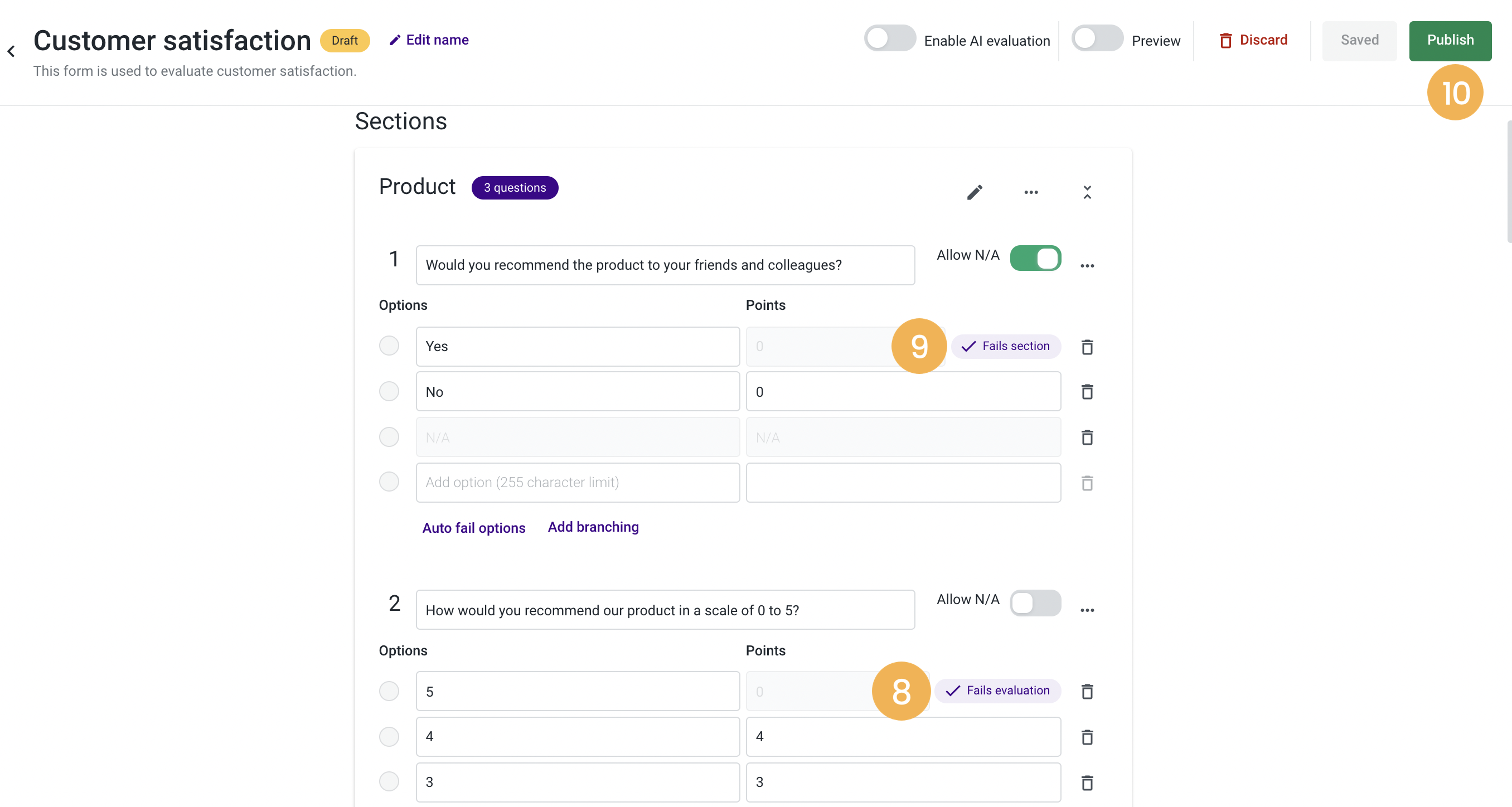 5. After choosing the answer options, a "Fails evaluation" [8] or "Fails section" [9] label will be displayed next to the answer option configured as an "Auto-fail".
6. After building the form and configuring the auto-failing options, click on Publish [10].
How the Auto-fail Feature Works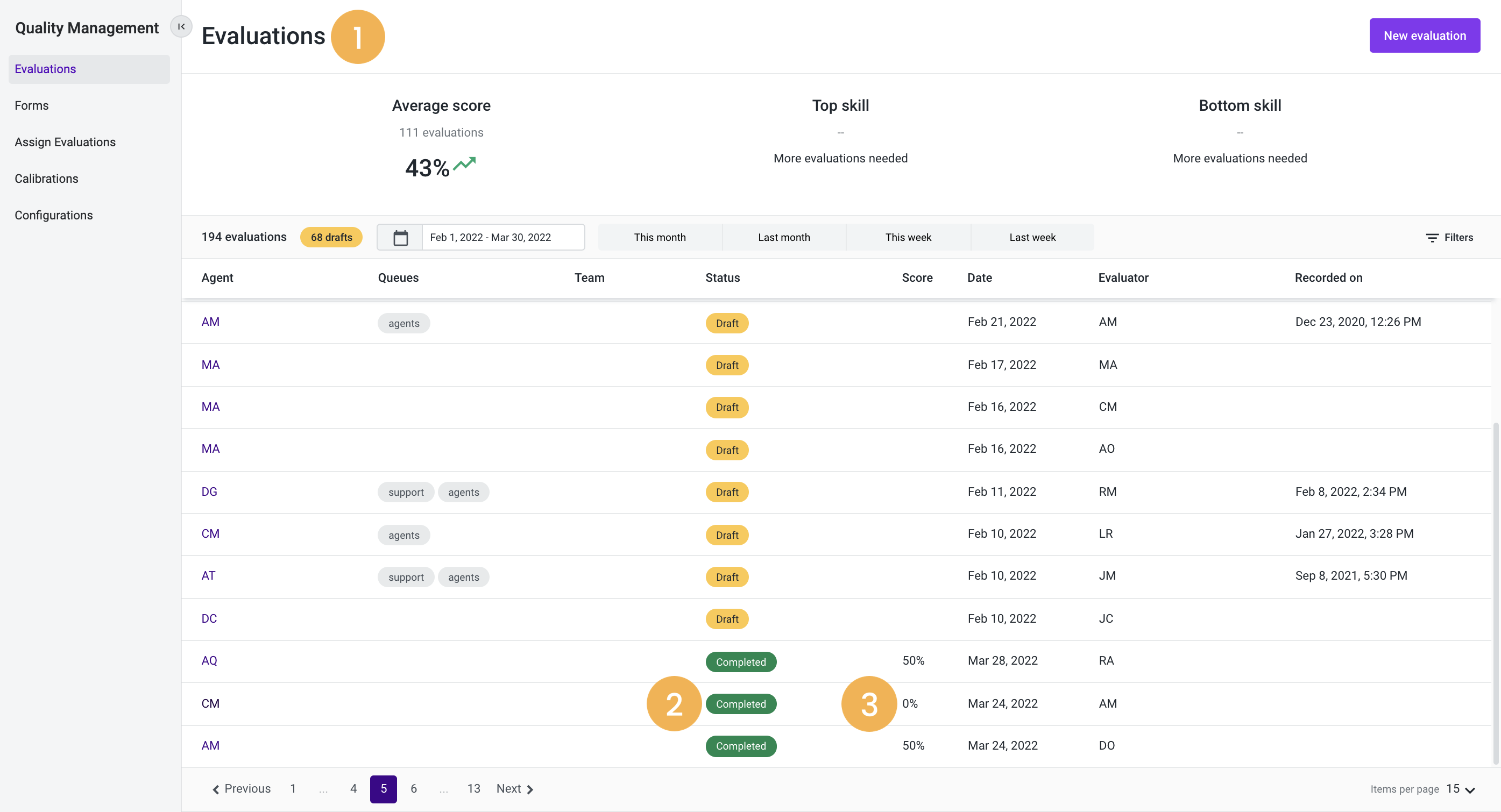 When performing an evaluation using the Auto-fail feature, on the "Evaluations" page [1], the evaluation appears as "Completed" [2], and if it is a failed evaluation, the whole evaluation gets an overall total score of 0% [3].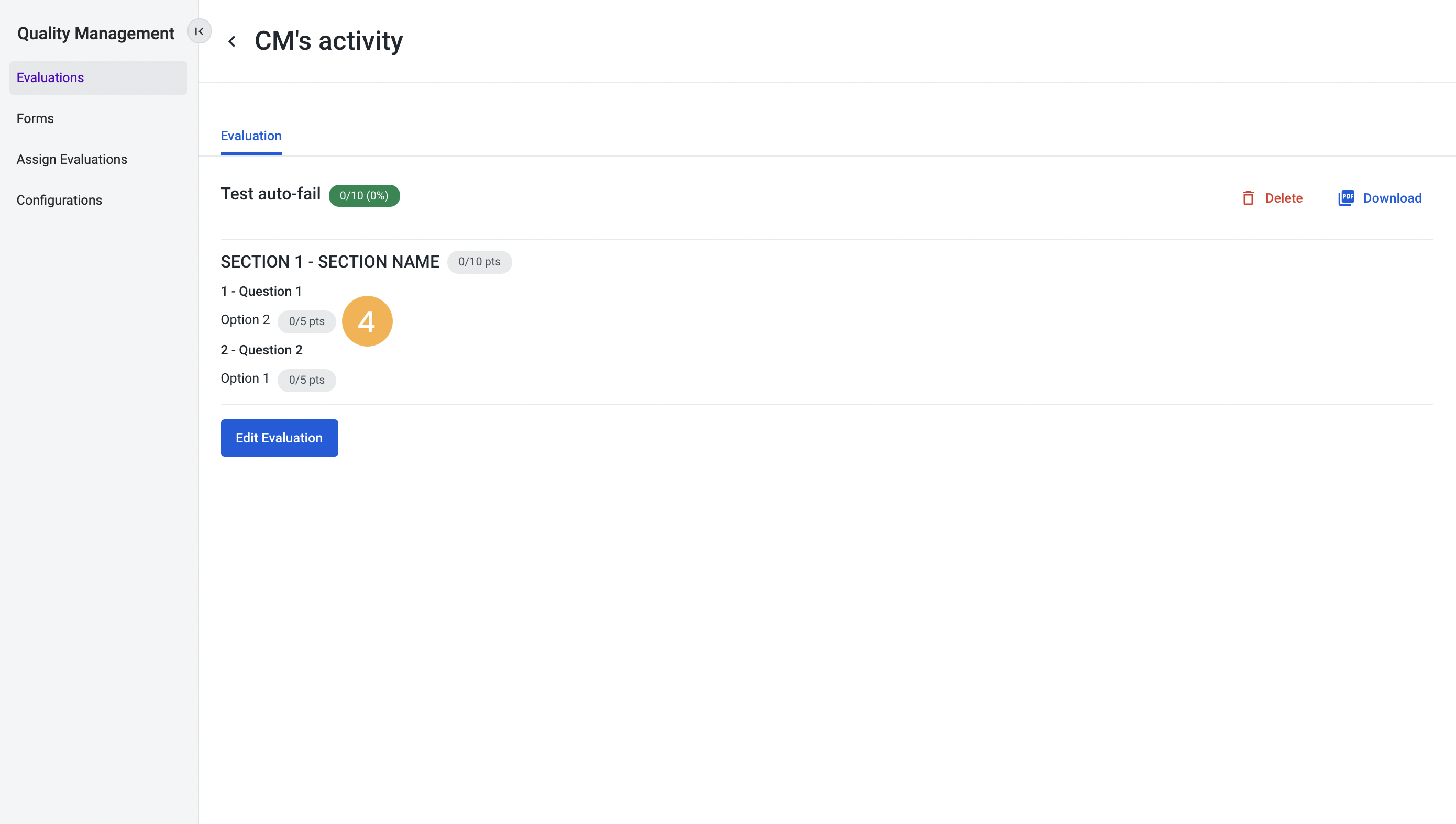 However, in case it is a failed section, only the section will be scored with 0 points [4].
Notes:
Auto-fail does not appear as an option for responses to questions that are not deemed "critical".

It is possible to choose "auto-fail section" on a question and "auto-fail evaluation" on another question, even if both questions belong to the same section.

It is possible to have multiple questions deemed critical in a specific section. Depending on how the question is answered, one or more of those questions can result in auto-failing a section or the evaluation.