Prerequisites
In order to use Talkdesk Conversations Mobile App on an Apple Watch, you'll need the following:
An Apple iPhone running iOS 13 (or iPadOS) or a later version, with Conversations Mobile App installed and running, more details here.
An Apple Watch with WatchOS 6+.
Conversations Mobile App feature to be enabled in Talkdesk main web application.
Using the App
The following sections describe how to use Conversations Mobile App using an Apple Watch and its capabilities.
Getting Started
Go to the App Store on your Apple device and search for "Talkdesk".
Install or update the latest Conversations Mobile App.
Set the watch up:
a. Open the Watch App on your iPhone.
b. Select My Watch.
c. Tap Install on the Talkdesk App list entry.
d. On the Apple Watch, tap the Digital Crown and locate the app.
e. Tap the Talkdesk icon, and it's ready for use.
Logging In
On your Apple Watch, tap on The Talkdesk icon. If you are not already logged into Conversations Mobile App on your iPhone, you will be prompted to do so.



When successful, you will land on the Menu screen.

Changing Status
The Watch allows Agents to quickly change their status without needing to touch the iPhone. Following a change in status, a confirmation message is displayed.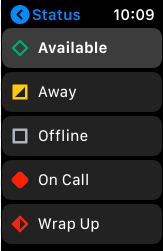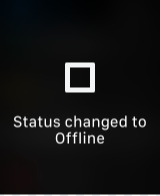 Dialing Numbers
Agents can initiate a call by simply entering a number and tapping on Call with iPhone.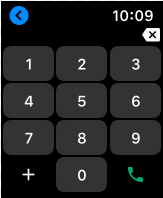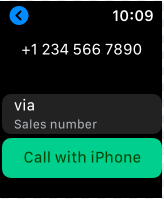 Activity and Quick Calling
Agents can tap on Activity in the menu to see a list of all calls made, received, and missed. From here, they can tap on an entry to call that number.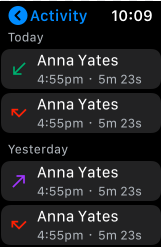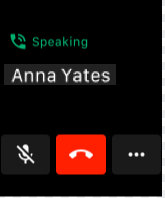 Wrapping Up a Call
Agents are reminded to wrap-up a call on the iPhone after a call is completed, and notified again when the wrap-up is submitted.