Salesforce Power Dialer is a widget that allows agents to automatically dial down a list of Salesforce records.
The dialer can be used from any list view of contacts, accounts, leads, opportunities or cases. The instructions below explain the power dialer's use and advanced features.
Note: For guidance on how to enable the power dialer, please see the article Setting up Salesforce Power Dialer.




1. Navigate to a non-default list view. As an example, we'll use Leads [1]. This must be for an object for which the power dialer was enabled.




2. Select the records you want to dial [2]. Filters or other tools may be available to help you select the desired records.
3. To begin dialing the number associated with these records, click Dialer [3].




4. Click Stop dialing [4] to prevent the power dialer from initiating additional calls. This setting does not interfere with in-progress calls.



5. In "Call Status" [5], you can see the statuses used by the power dialer to reflect the outcome of your calls.
Pending. The number is enqueued for dialing.
Dialing. The number is being dialed.
Finished. The call successfully connected.
Invalid number. Callbar couldn't reconcile the number.
Failed. Callbar couldn't reach the far end associated with the number.
Not dialed. The power dialer didn't attempt to call this number.
Do not call. The contact associated with the record is marked as "Do not call"=TRUE.
Note: Users with the Standard User profile will not be able to see call status updates. To do this, you must manually assign them PushTopic Read permissions.



Additional Features



Delay between calls: Defines how quickly the power dialer will initiate the next call.
Call starts action: Defines events that execute automatically after dialing a number:


"Open record on this page" Automatically directs you to the record associated with the number when the call starts.
"Do not call" - "Do not call" is a contact field that, when checked, causes the power dialer to skip over that contact. Agents may update the "Do Not Call" field at any time (even during a call).


To provide specific profiles edit access to the "Do not call" field, follow the instructions below: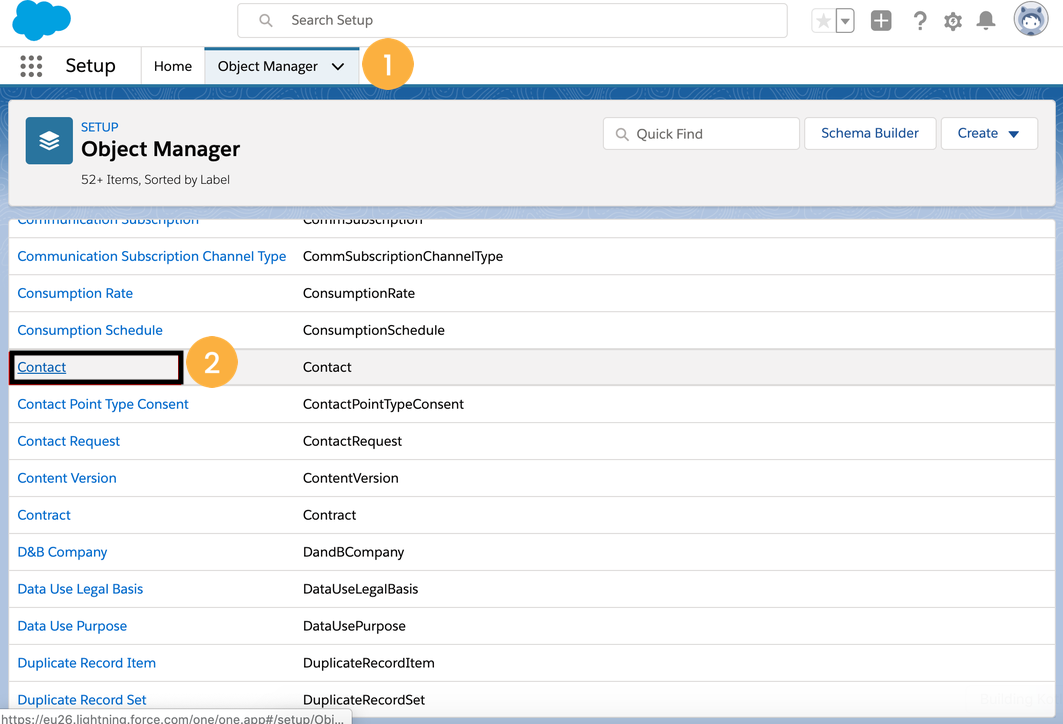 1. As an admin, navigate to your Salesforce organization's Object Manager [1].For more comprehensive instructions, see Salesforce's documentation for Classic and Lightning.
2. Select Contact [2].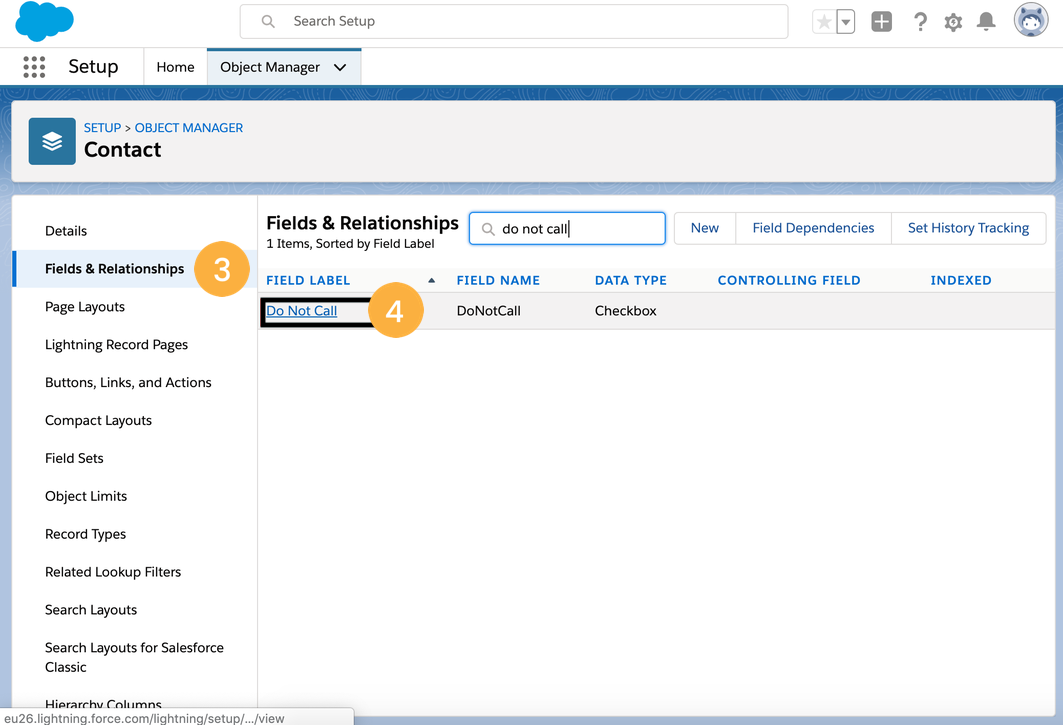 3. Navigate to Fields and Relationships [3] and select Do Not Call [4].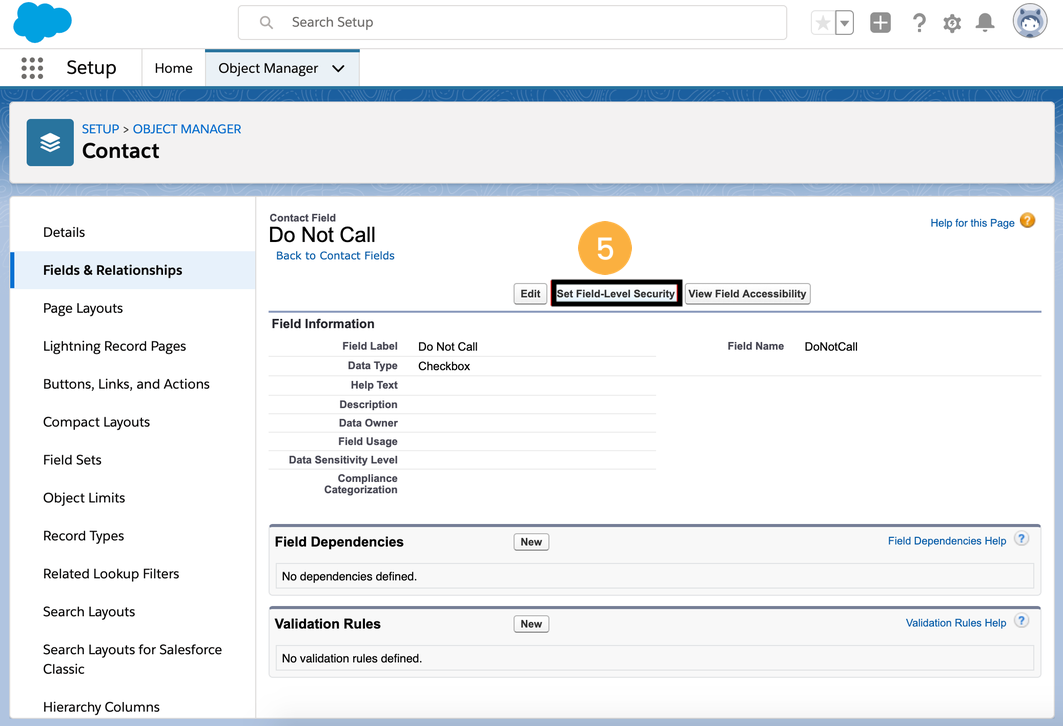 4. Select Set Field-Level Security [5].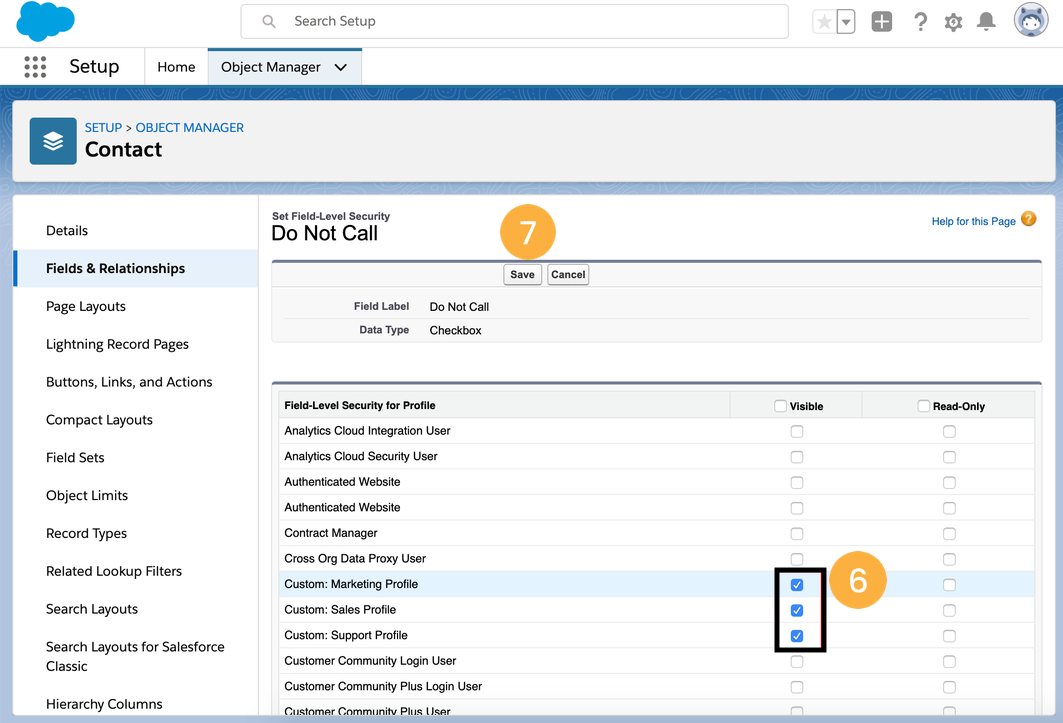 5. Select the "Visible" boxes [6] next to the profiles which will access "Do not call".
6. Click Save [7] to finalize these updates.