Talkdesk Teams offers a way to formally group, organize and filter your agents in Talkdesk.
With Teams, admins and supervisors can create groups of agents, which can represent skills, departments, languages, among others.
As an admin, you can define, edit, and assign agents to specific teams. Then, you can filter some of the metrics by team, in Talkdesk Live.
It is through ring groups that Talkdesk routes different types of calls to agents with the proper skills to handle them. To learn more about ring groups, please visit Setting up Teams: Ring Groups. Depending on the metric, you can use the team filter in combination with the ring group filter to see a subset of results (e.g., ring group sales, team Portugal).
Additionally, Teams' field is included in the Calls and Agents Status scheduled reports and Reporting API.
By default, all Admin users are set to include the "Create" role permission and have the ability to view, create, and edit the Teams section. Agents will not be able to view this section. However, as an admin, you can decide to restrict these permissions only to a selected group of people (e.g., you can configure your supervisor role to edit and see the Teams section). Learn how to define and edit permissions for Talkdesk Teams.
Creating a new team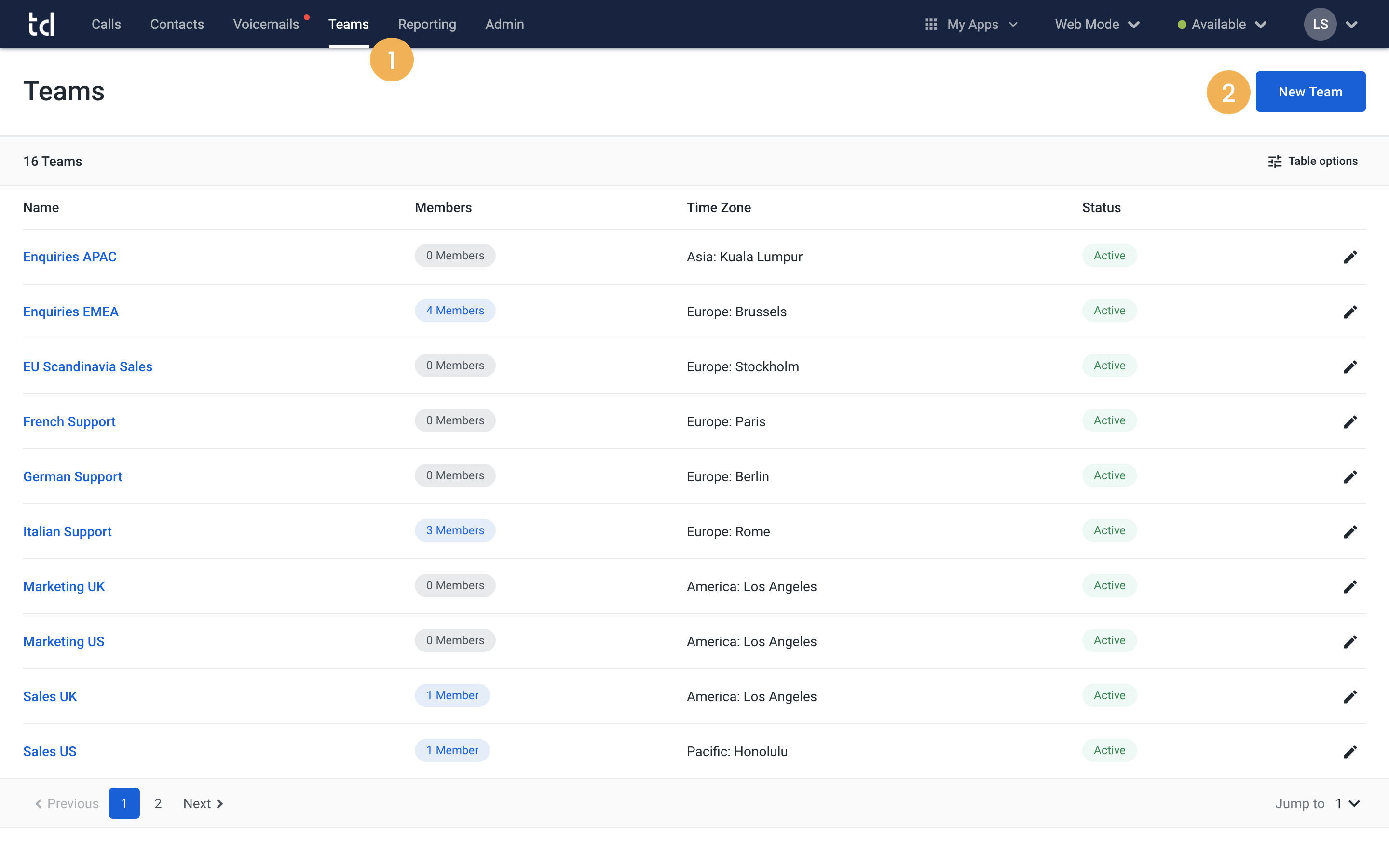 1. Log in to your Talkdesk account as an Admin.
2. Access Teams [1].
3. Click New Team [2].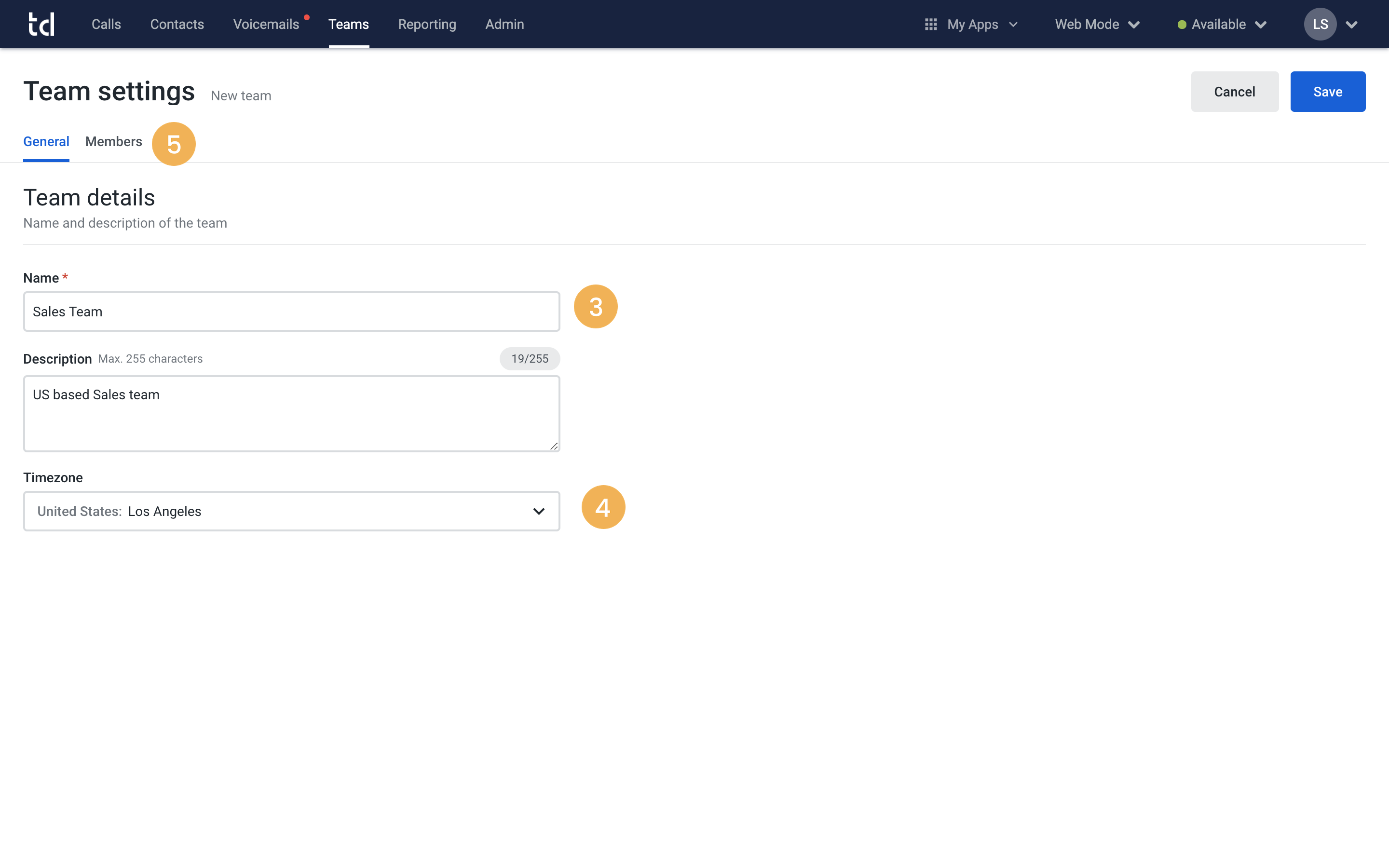 4. Type in your "Team details": Name and if necessary, Description [3].
5. Select your team's "Timezone" [4] for information purposes only, so you can visualize the team's location.
6. Select Members [5].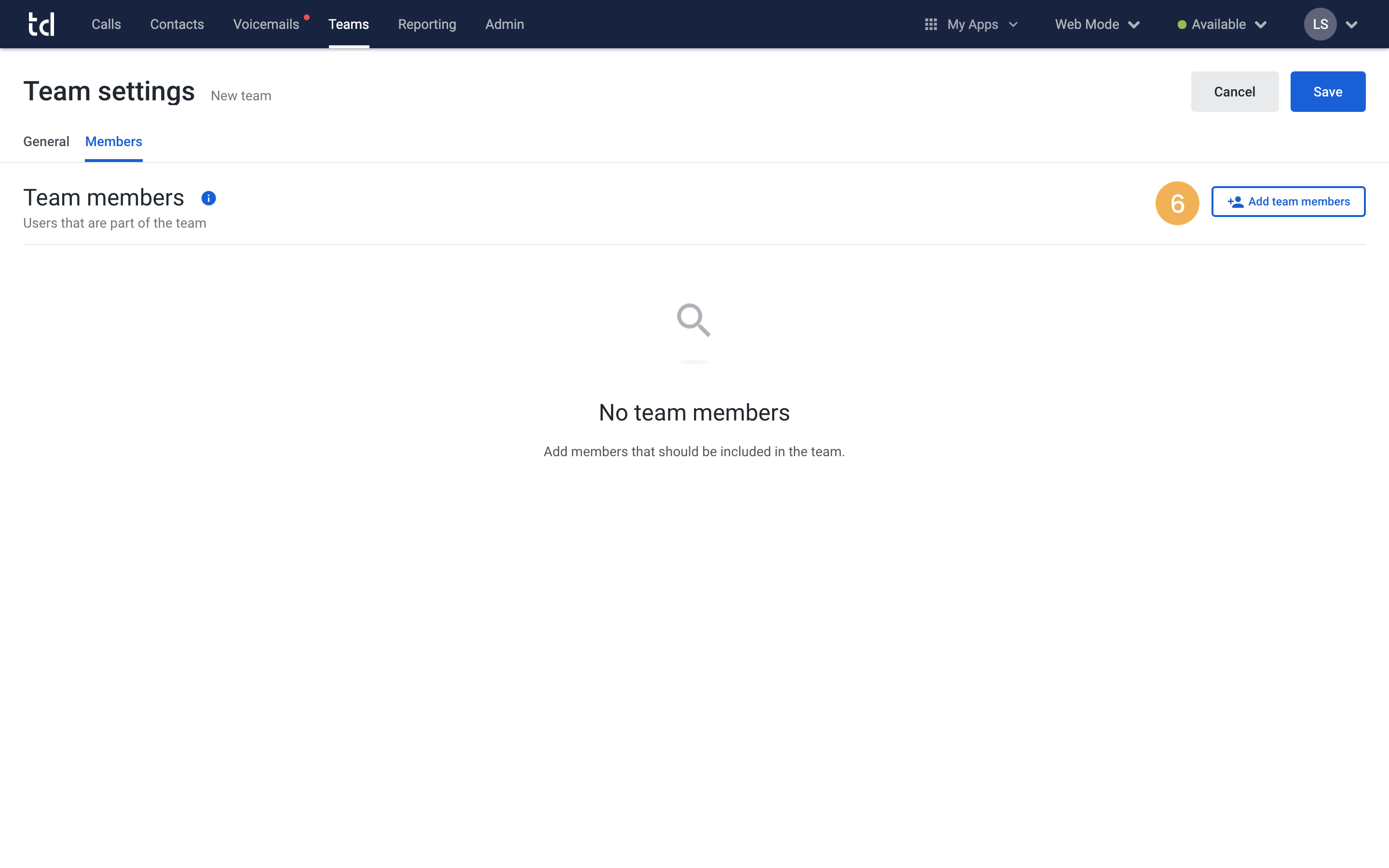 7. Click the Add team members button [6] to start adding your new team members.
Note: Members of a team will all count towards reporting metrics. A user can only belong to one team at a time so, in case you were using ring groups with the sole purpose of creating a team (and not for routing purposes), we have included a feature to search by ring group.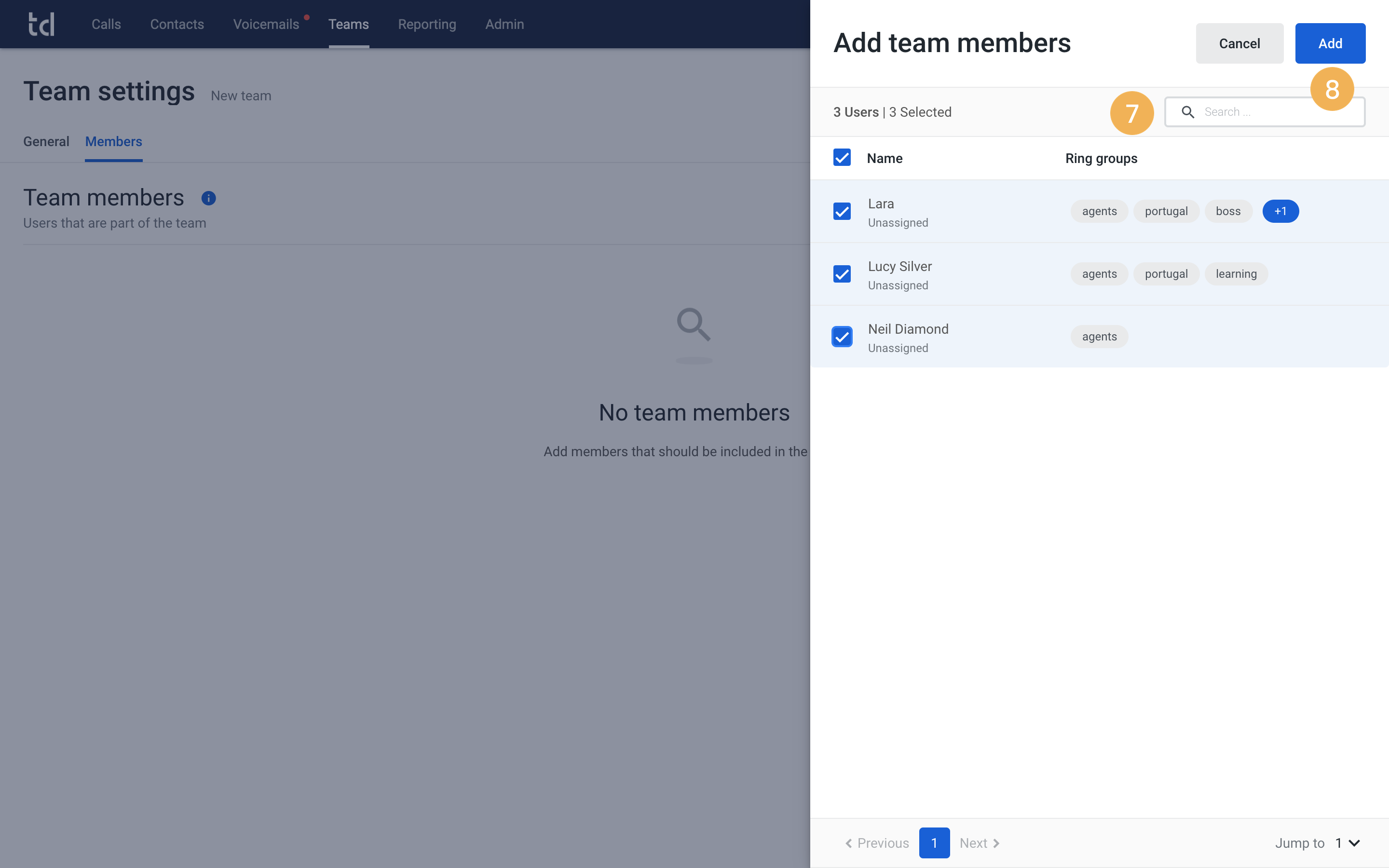 8. Search by "Name" and/or "Ring Group" [7]. Once you're happy with your selection, press Add [8].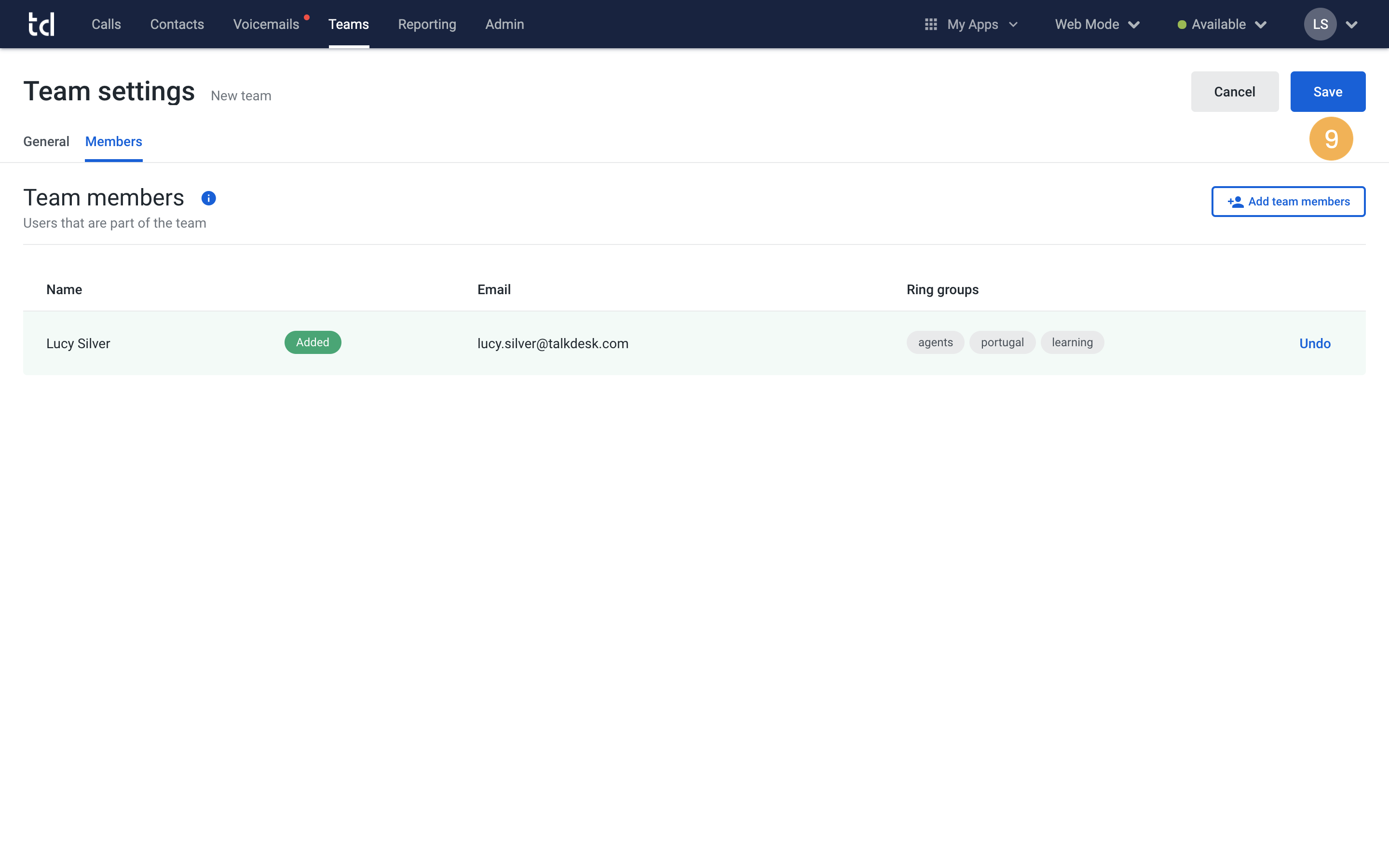 9. Hit Save [9] to create the team.