Customizing your business hours allows you to decide when, where and how you want to receive your calls.
Talkdesk allows you to define different and multiple business hours per day of the week, for individual phone numbers, or for all phone numbers in your account.
To configure business hours for all phone numbers associated with your account: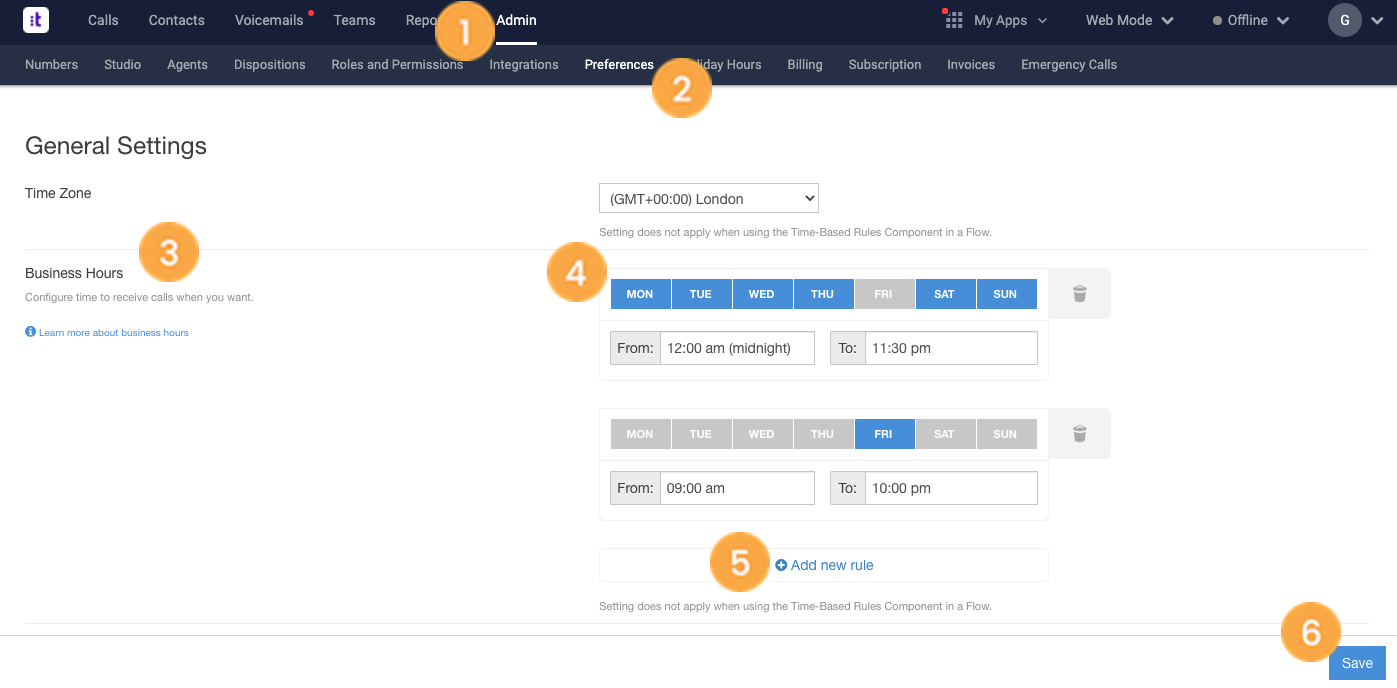 Log into your Talkdesk account as an Administrator.
Click the Admin section at the top of the page [1].
Select the Preferences tab [2]
In "Business Hours" [3], select the weekday(s) [4] for which you wish to define business hours.
Click the "From" field and select or type your business hours starting time. You should also select whether the hours are am or pm.
Click the "To" field and follow the same steps to set your business hours' end time.
Note: Business hours blocks cannot overlap. Also note that the 'From:' time starts counting from the start of your specified minute (eg. 03:30:00) and the 'To:' time stops at the end of the specified minute (eg. 08:00:59).
Click the Add new rule button [5] if you wish to add another set of business hours for the same day(s), or to add new business hours for another weekday(s).
You can add as many rules as necessary for each day.
If you want your IVR to be enabled and active also outside your Business Hours, make sure to tick 'Yes' next to the 'After Hours IVR Enabled' option.
If there is an IVR assigned to a phone number, Business Hours must have been set for the account (in Admin > Preferences) or for that number (in Admin > number, if you are overriding the account settings). Otherwise, calls will not be routed correctly.
Note: If you don't want your IVR to play also outside of business hours, you should set up your Outside Business Hours Message instead (what the callers will hear when they call your company or phone number outside of business hours and there are no agents available). Callers will hear this message and calls will then be sent to voicemail if voicemail is enabled. Otherwise, the call is dropped.
When you are finished configuring business hours, click "Save" [6].
Defining different business hours for a phone number
To define different business hours per phone number, follow these instructions: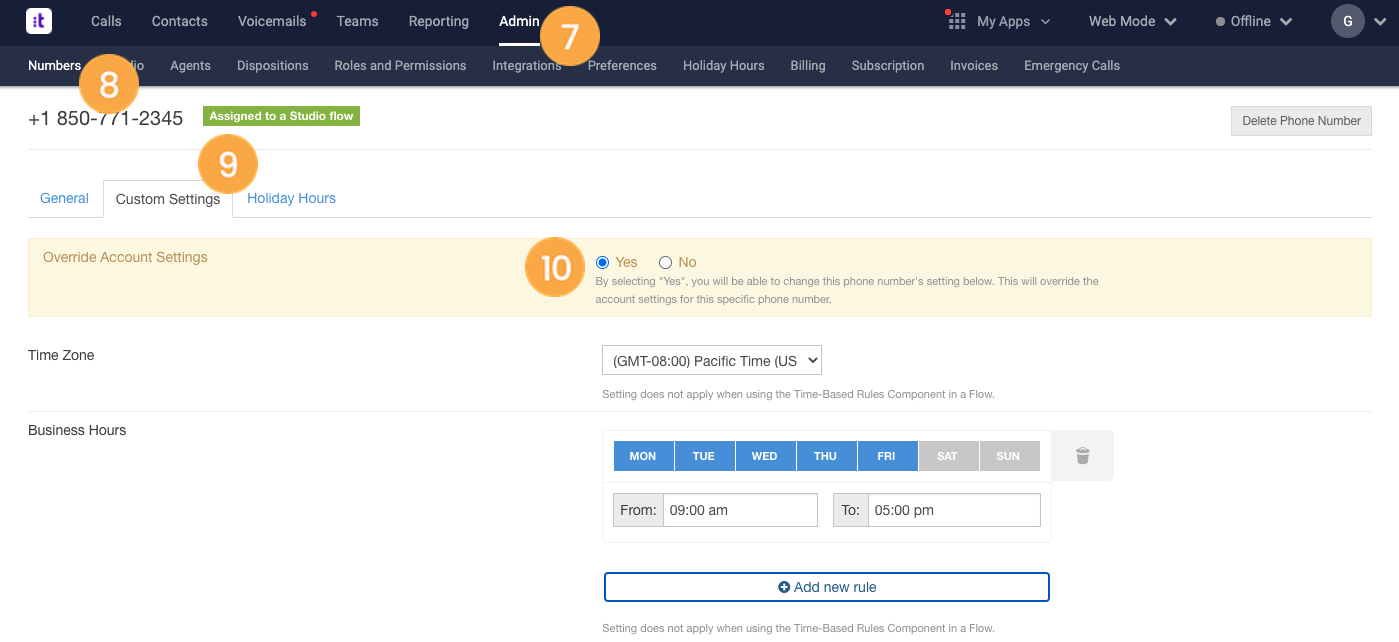 Log into your Talkdesk account as an Administrator.
Click the Admin section [7] at the top of the page.
Select the Numbers tab [8].
Click the phone number for which you would like to configure business hours.
Select the Custom Settings tab [9].
Click "Yes" next to "Override Account Settings" [10].
Configure business hours by following the same directions above (from step 4).
If no rule is set for business hours, numbers will inherit the main account business hours rules.