The ServiceNow integration for Talkdesk allows you to improve your CSM efforts with our premier call center software. With the integration, you can unify the agent experience with a two-way sync for contacts and agents and ensure the data between your call center and service desks remain consistent and up-to-date.
Follow the instructions below to set up the integration.
Installing the application from ServiceNow
First, ensure you have one of the compatible versions of ServiceNow:

Jakarta
Kingston
London
Madrid
New York
Orlando

Next, go to our listing in the ServiceNow Store. Note: You'll need credentials to your Service Now HI (Hosted IT Infrastructure Library) portal to proceed.
Follow the instructions to complete the installation of the Taskdesk app into your ServiceNow environment.
Enabling and configuring the integration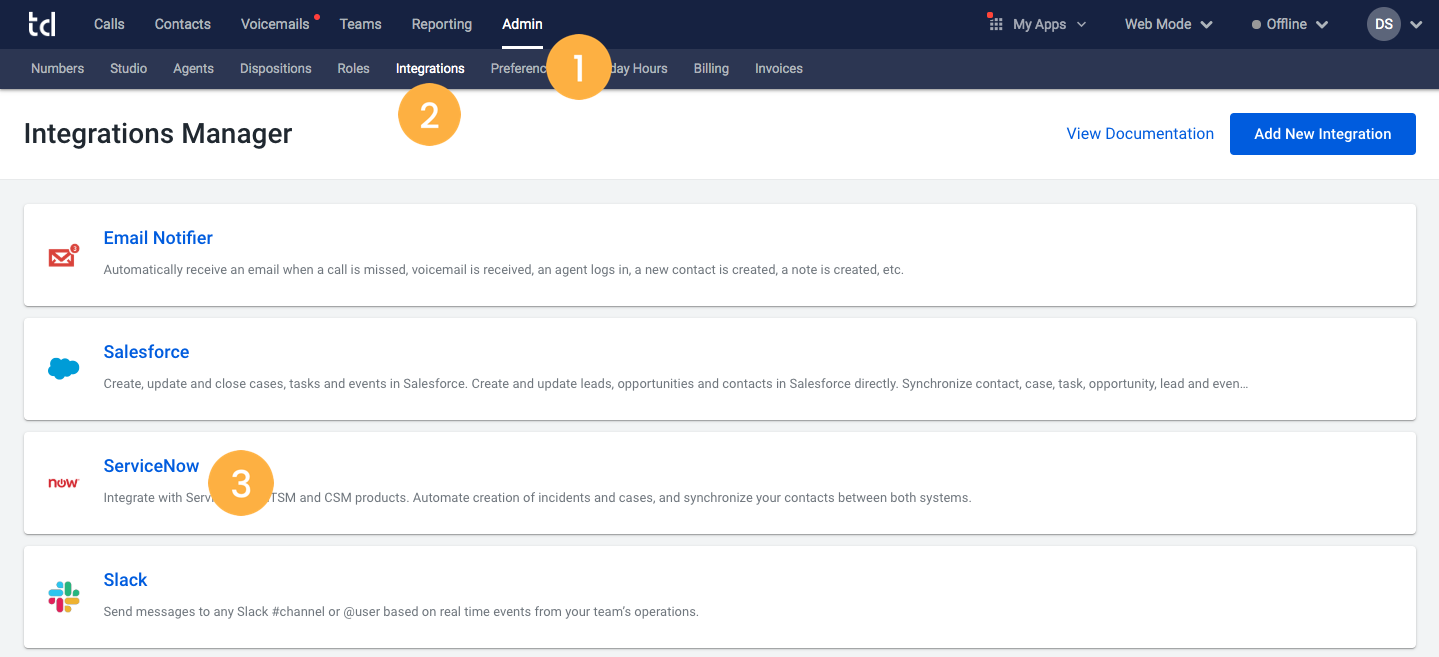 To begin setting up the integration on Talkdesk, submit a request to support@talkdesk.com to reveal it on the "Integrations Manager" page. Please include your account's domain in the request to expedite processing.
Once complete, ServiceNow will be visible under Admin [1] > Integrations [2].
Select ServiceNow [3].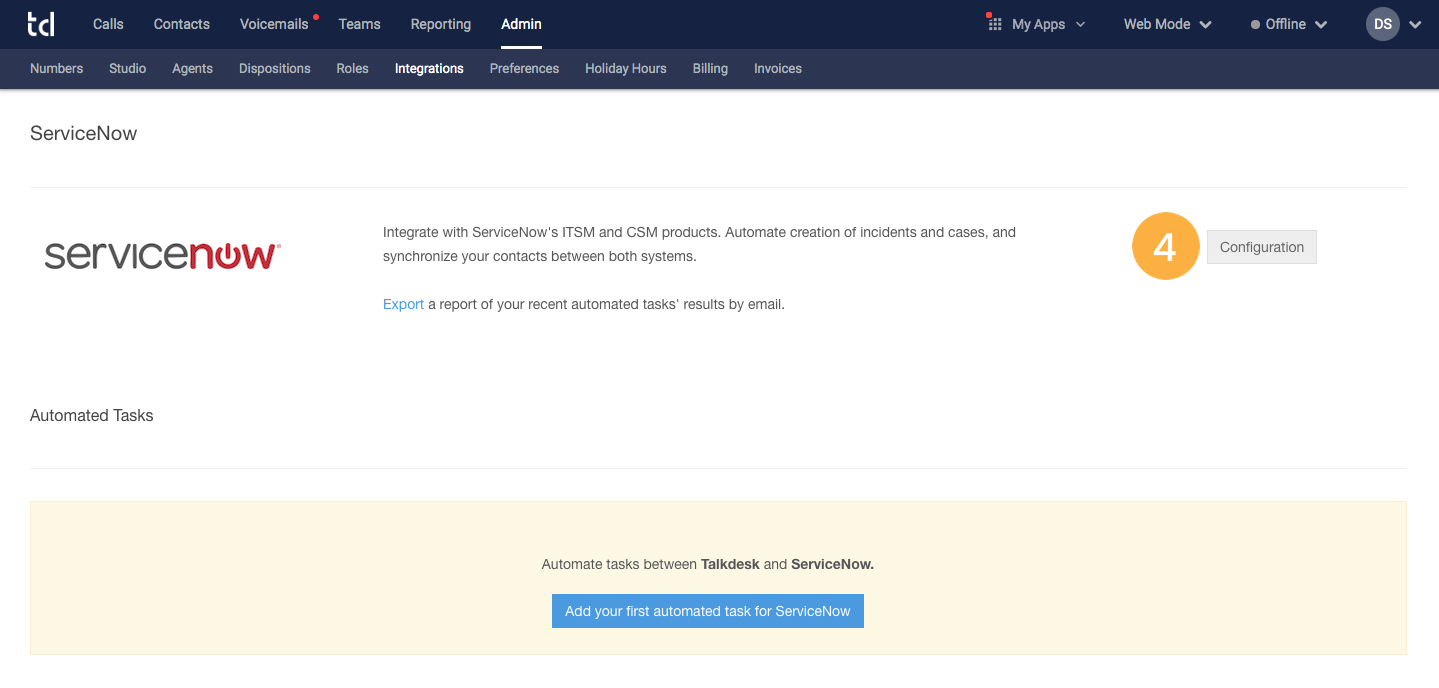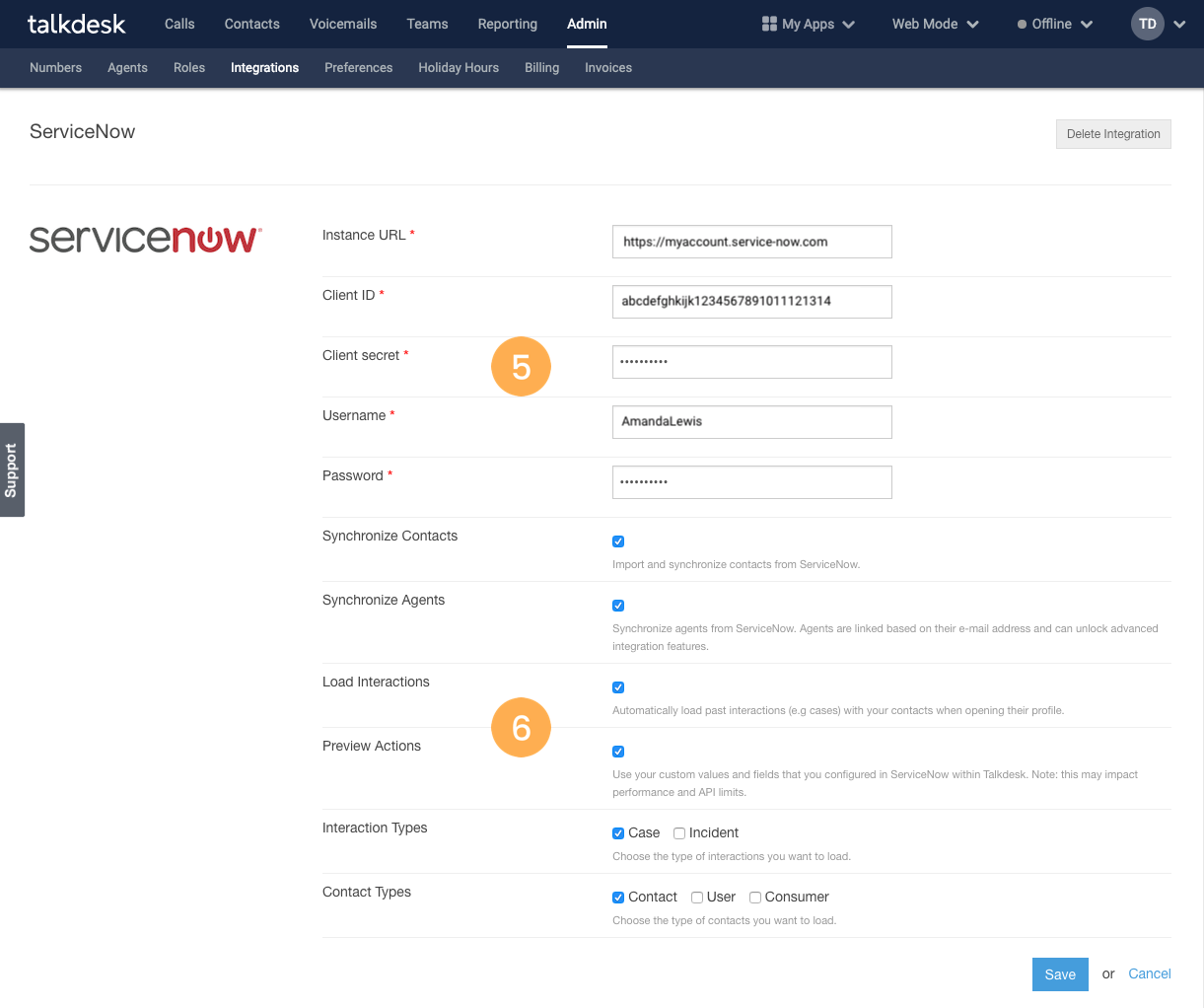 Fill out the required fields [5] and check the boxes [6] next to features you wish to enable.
See below for more information on how to populate required fields.
Instance URL
This is the full URL of your ServiceNow instance, including the trailing slack. It should look like https://your_subdomain.service-now.com/
Client ID and Client Secret

To obtain these go into your ServiceNow environment.
Navigate to System OAuth > Application Registry > Talkdesk.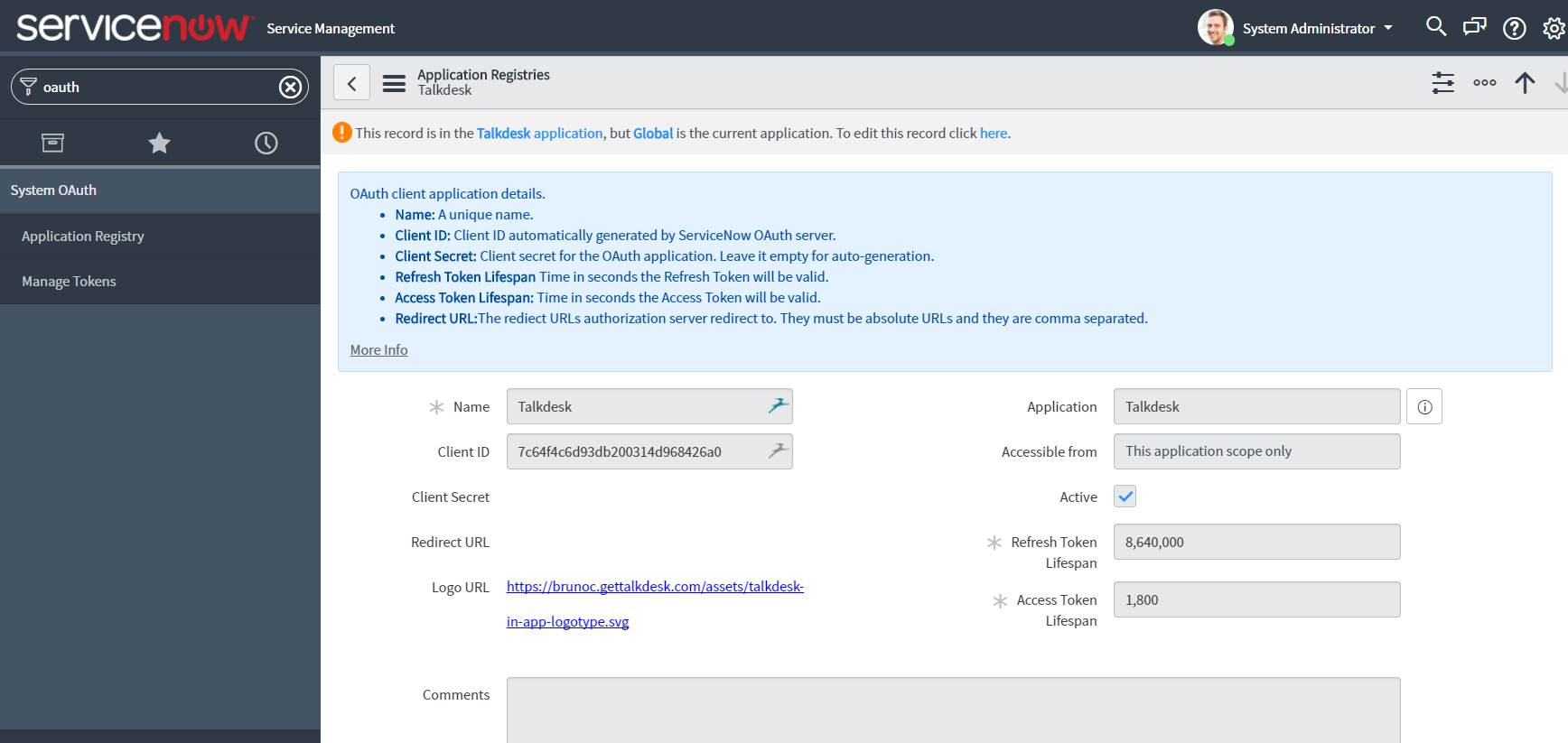 Your Client ID is displayed below the application's name.
Locate the message reading "This record is in the Talkdesk application, but Global is the current application. To edit this here." and click on the word "here" at the end of that sentence.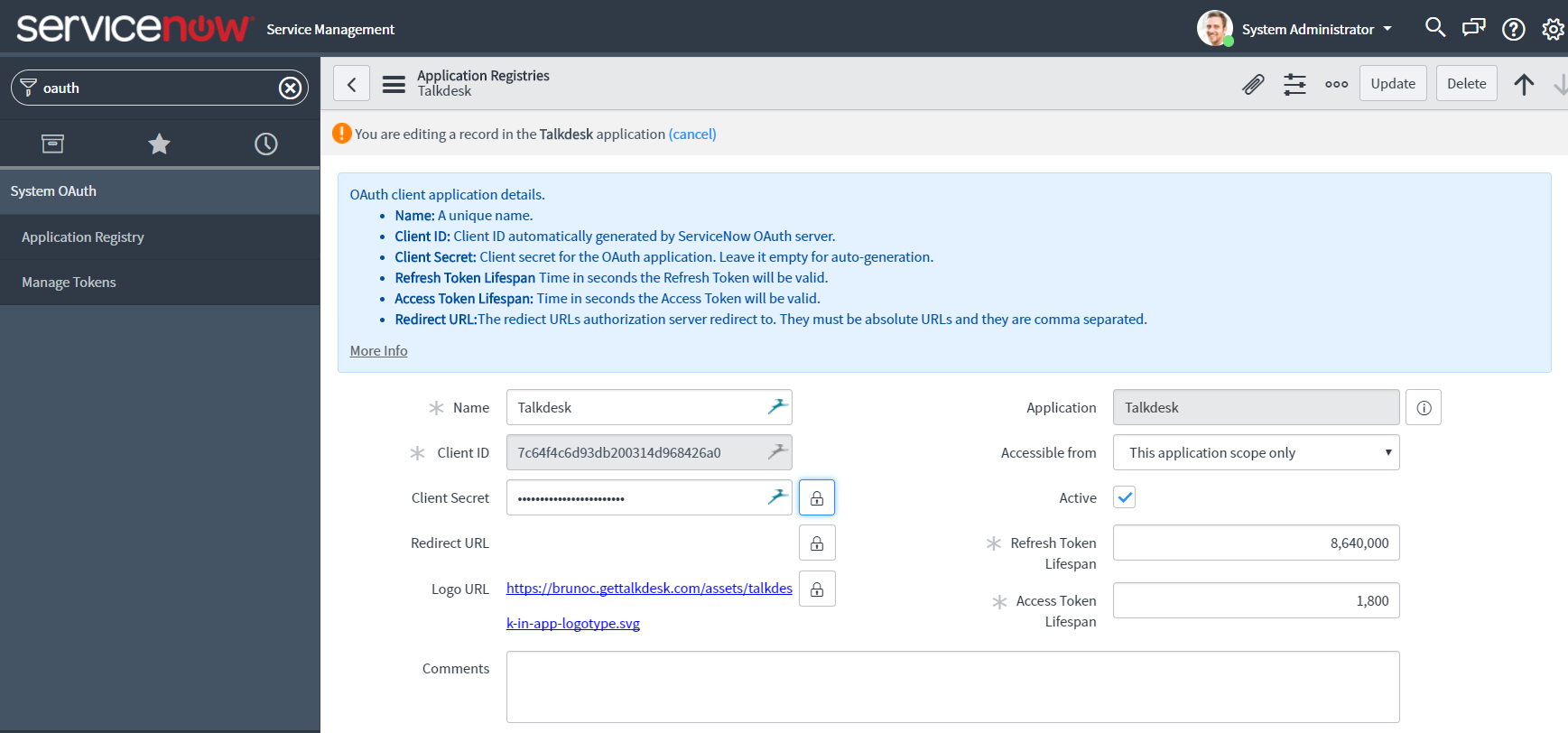 Click the lock icon next to the Client Secret field to copy that value.
Username and Password
These values correspond with the username and password of the ServiceNow user you wish you to use for authentication.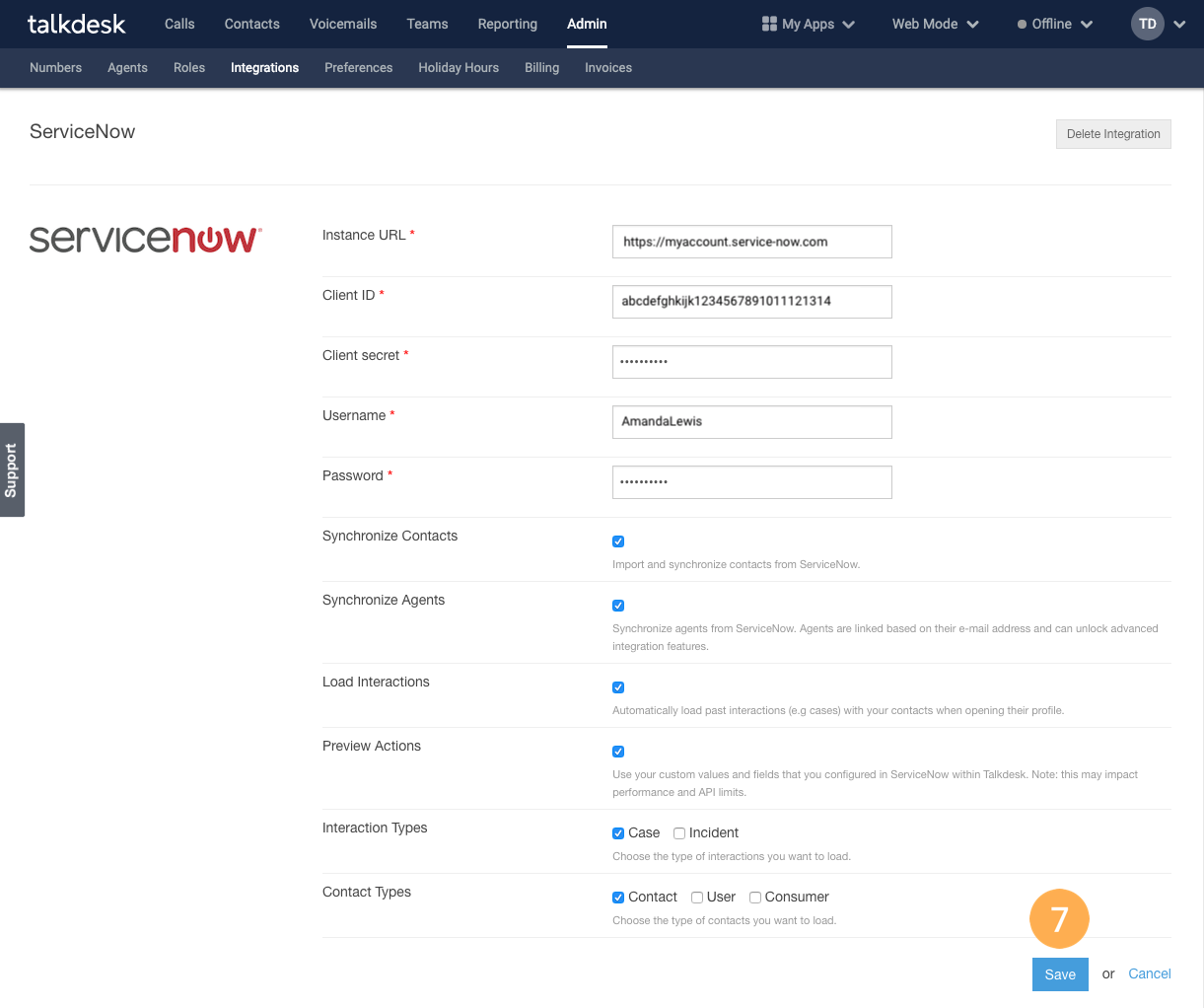 Once the form is complete, click Save [7].
Note: To use pop call module and other additional ServiceNow features, we recommend you also install the following ServiceNow plugin: Service Desk Call.