Talkdesk Cases™ is a simple, integrated app to help Agents and Administrators handle and manage cases for complex customer requests that require follow-ups.
Main Capabilities
Talkdesk Cases features a holistic array of practical capabilities to empower both Administrators and Agents.
Voice, Voicemail, and Email Integration
Voice Integration represents an important feature in Talkdesk Cases, as cases can be automatically created or updated for inbound and outbound calls. Similarly, Voicemail Integration ensures that cases can be automatically generated when contacts leave voicemail messages for unanswered calls. The same is true for e-mails.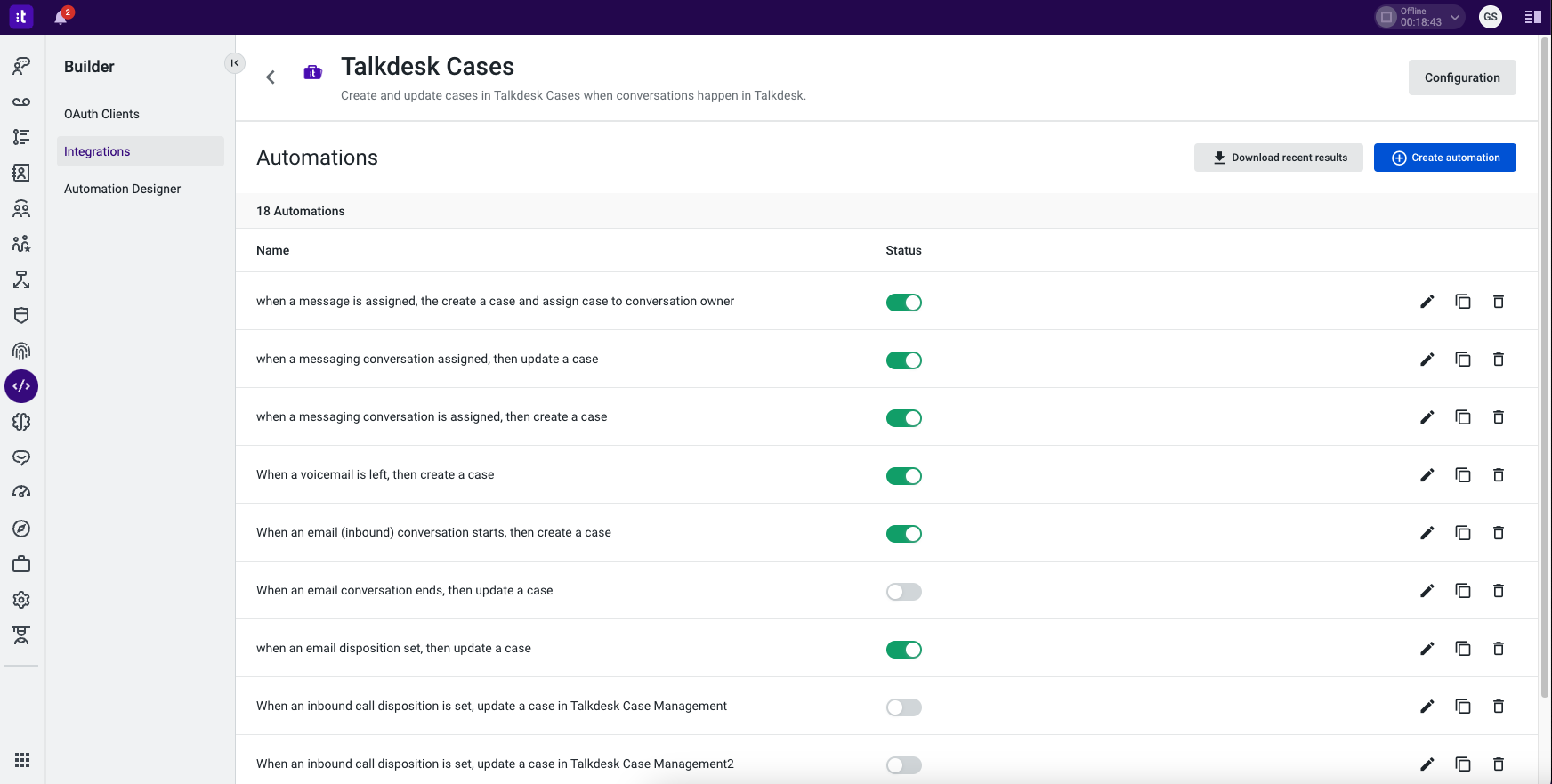 Voice Integration and Voicemail Integration control automatic case creation and update behaviors are based on automated tasks associated with them. Administrators can edit these automated tasks to set custom tasks, such as when cases are automatically created, and what case fields should be prepopulated with certain values.
Case Processing
Talkdesk Cases features a comprehensive toolkit that helps Agents handle and manage cases across their entire lifecycle. It ensures seamless coordination between frontline and back-office Agents as they are equipped with consistent, efficient tools. Specifically, Agents can perform the following main operations:
Create subcases for a root case.
Add notes and attachments to a case.
Edit case properties.
Download call and voicemail recordings.
View case events.
Add tags to cases.
Merge cases.
Switch between case tabs.
Resolve and reopen cases.
Delete and restore cases.
Note: Automatic case creation and updating is only supported on voice, voicemail, and email channels.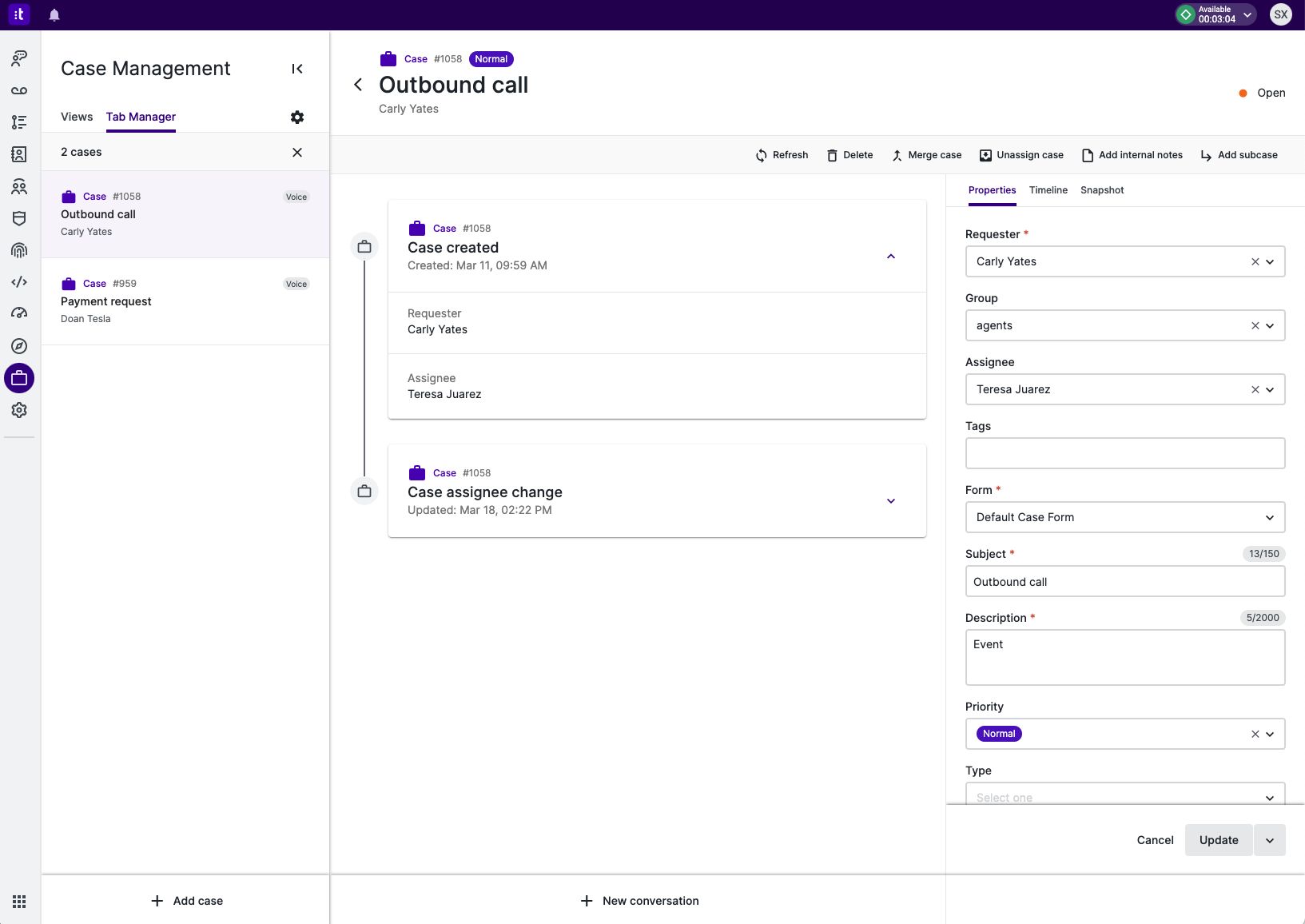 On the back of other features such as Service Level Agreements and Time-based Automations, the above-mentioned operations can be carried out in a more smooth manner.
Custom Fields
Created by Administrators, custom fields are properties in addition to standard fields to help Agents store additional information about a request. They serve as a flexible approach to collecting targeted information, as Agents can take action accordingly based on them, thus accelerating time to resolution.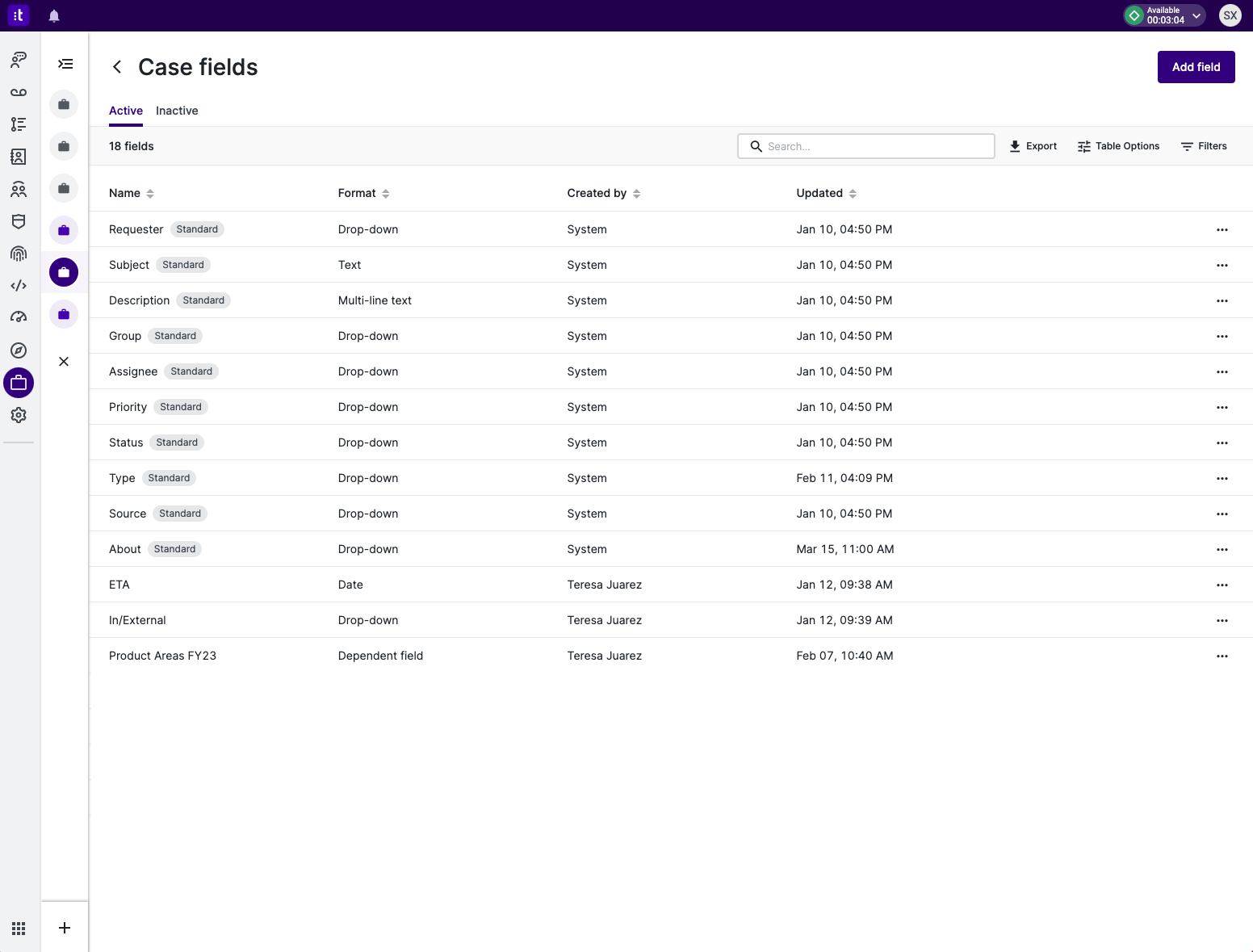 Similar to standard fields, custom fields can be used in other features of Talkdesk Cases as well, such as Case Processing, Service Level Agreements, and Time-based Automations.
Case Forms
Case forms in Talkdesk Cases enable Agents to collect and manage case information in a centralized way. Administrators are able to create case forms by configuring both standard fields and custom fields in them. When Agents work on cases, they can select the desired case form to collect information. As Administrators understand more how fields in case forms help Agents improve efficiency and deliver personalized services, they can further edit, deactivate, or delete case forms as needed.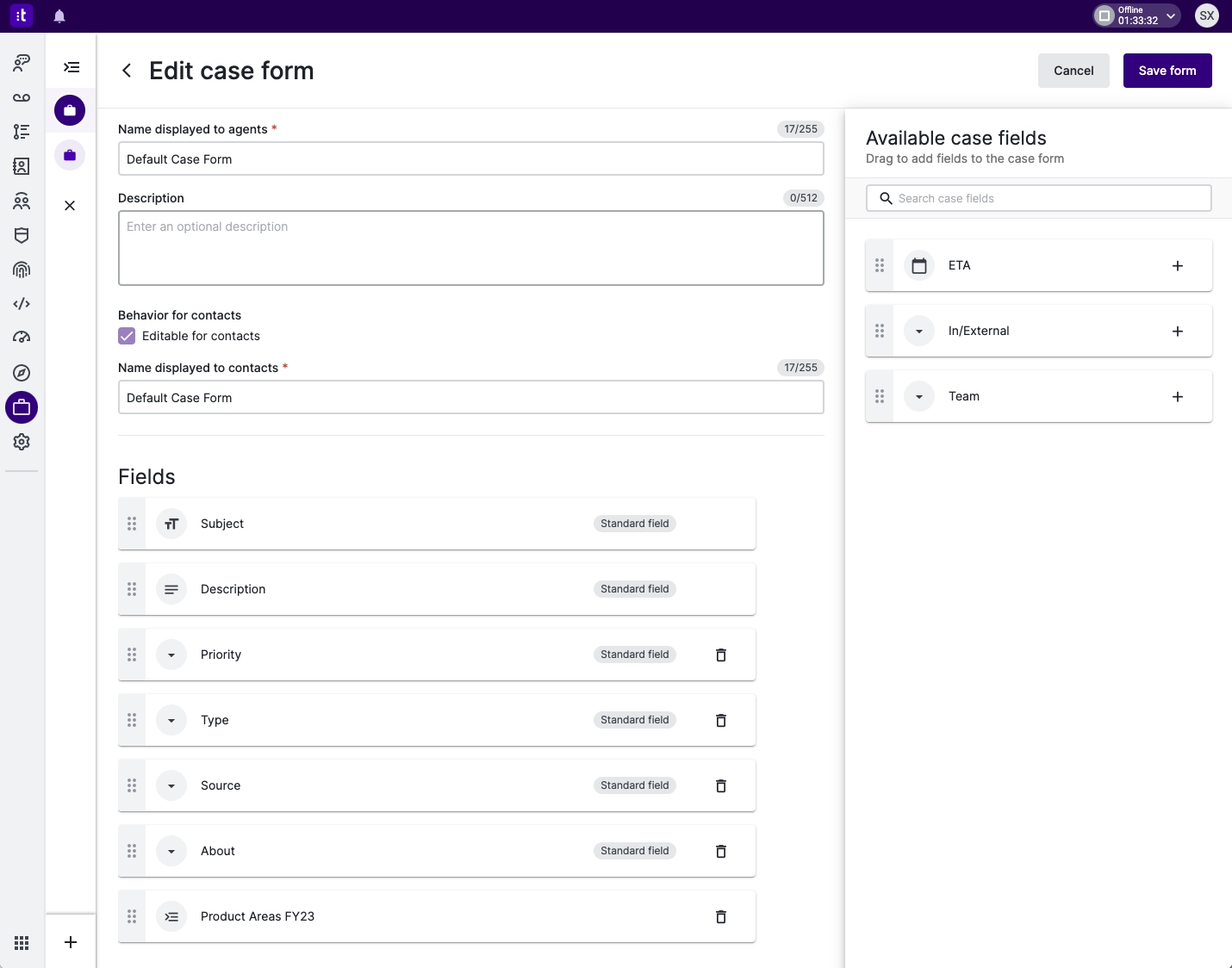 Views and Filters
Case views display different lists of cases that meet certain criteria. By default, Talkdesk Cases provides six case views that are available to all users. Besides, to quickly navigate to specific cases, all users can leverage filters, a property-based method for case searching, to create custom views depending on their roles:
Agents can apply filters to create custom case views for themselves.
Administrators can apply filters to create custom case views for themselves, for a group of Agents, or for all Agents.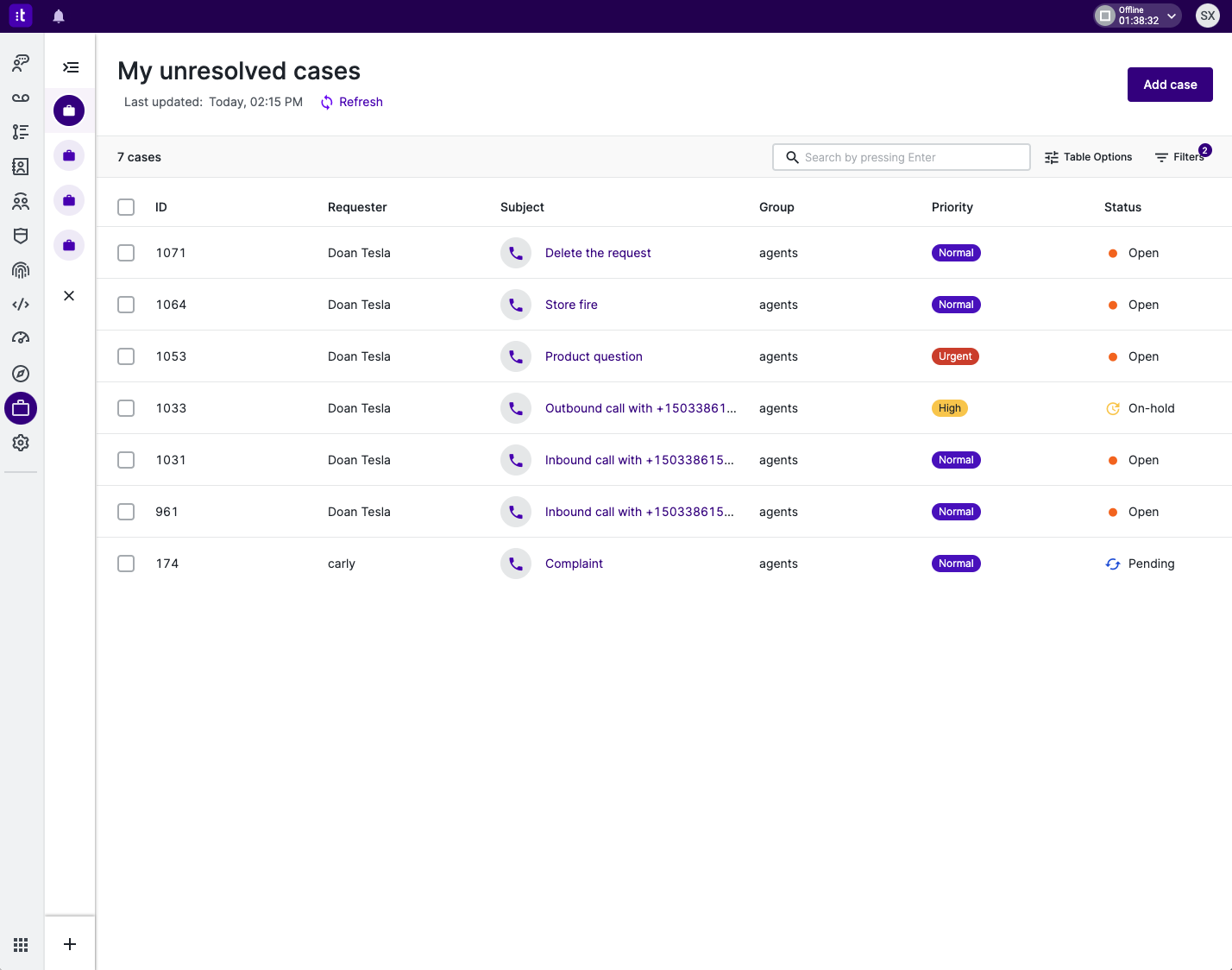 Service Level Agreements
A Service Level Agreement (SLA) is a commitment between you and your customer. In Talkdesk Cases, Administrators can create SLA policies by defining conditions and setting time targets for cases at different priority levels. SLA policies take effect on cases that meet the conditions defined.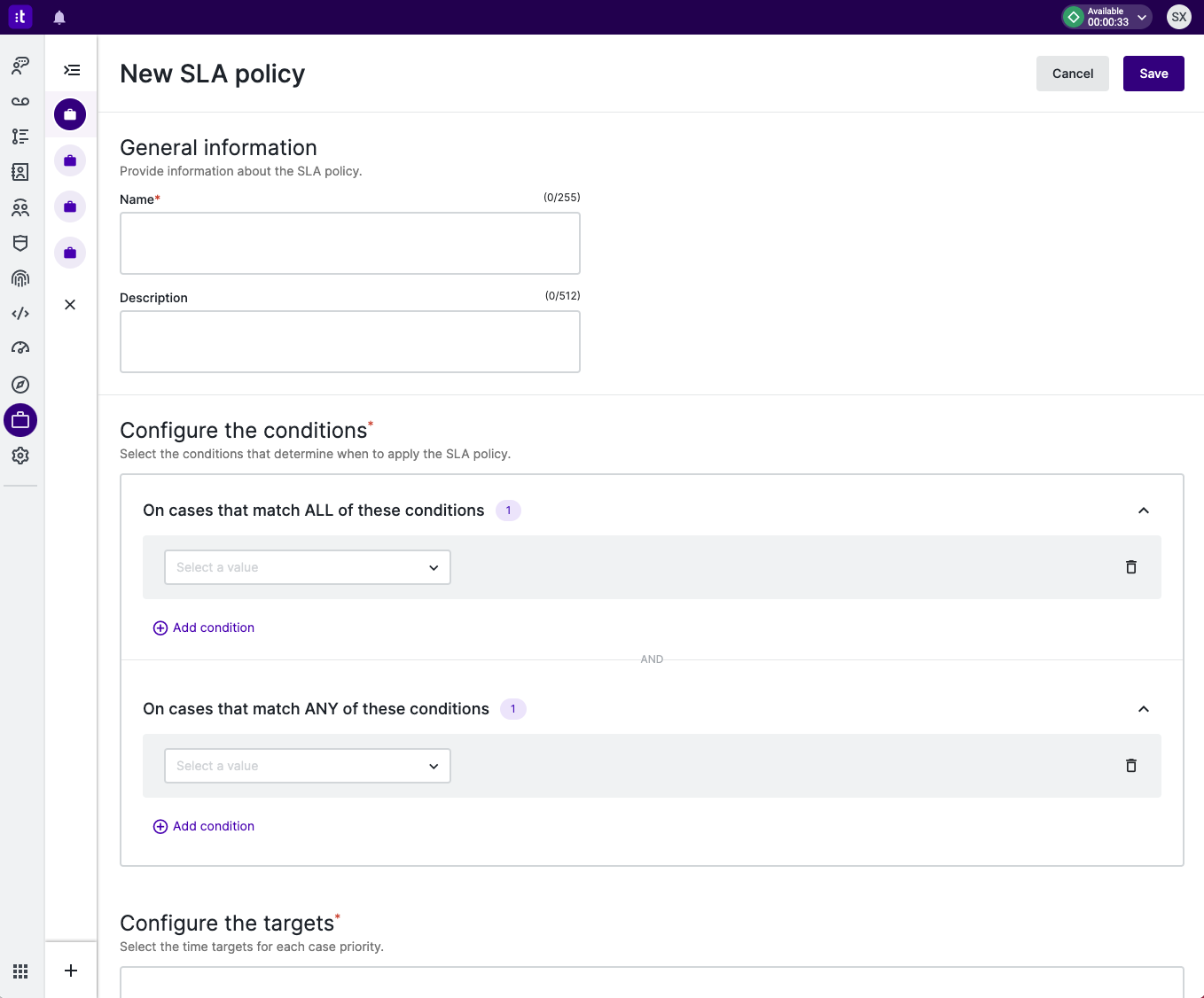 When an SLA policy is applied to cases, Agents can view the remaining time in case views and on the case processing page, thus prioritizing tasks and taking measures accordingly before any breach.
Automations
Automations in Talkdesk Cases are automatic tasks executed by Talkdesk to streamline workflows and minimize workloads for Agents. Administrators are responsible for creating automations by defining conditions and setting actions. They can preview cases that meet the conditions before an automation is created. When an automation runs, the predefined actions will be carried out on applicable cases. Automations can be time or event based. With automations, Talkdesk Cases can, for example:
Update case properties automatically.
Notify Agents when subcases are resolved.
Send automatic notifications to a specific Agent or a group of Agents when cases remain in a certain status for a predefined period of time.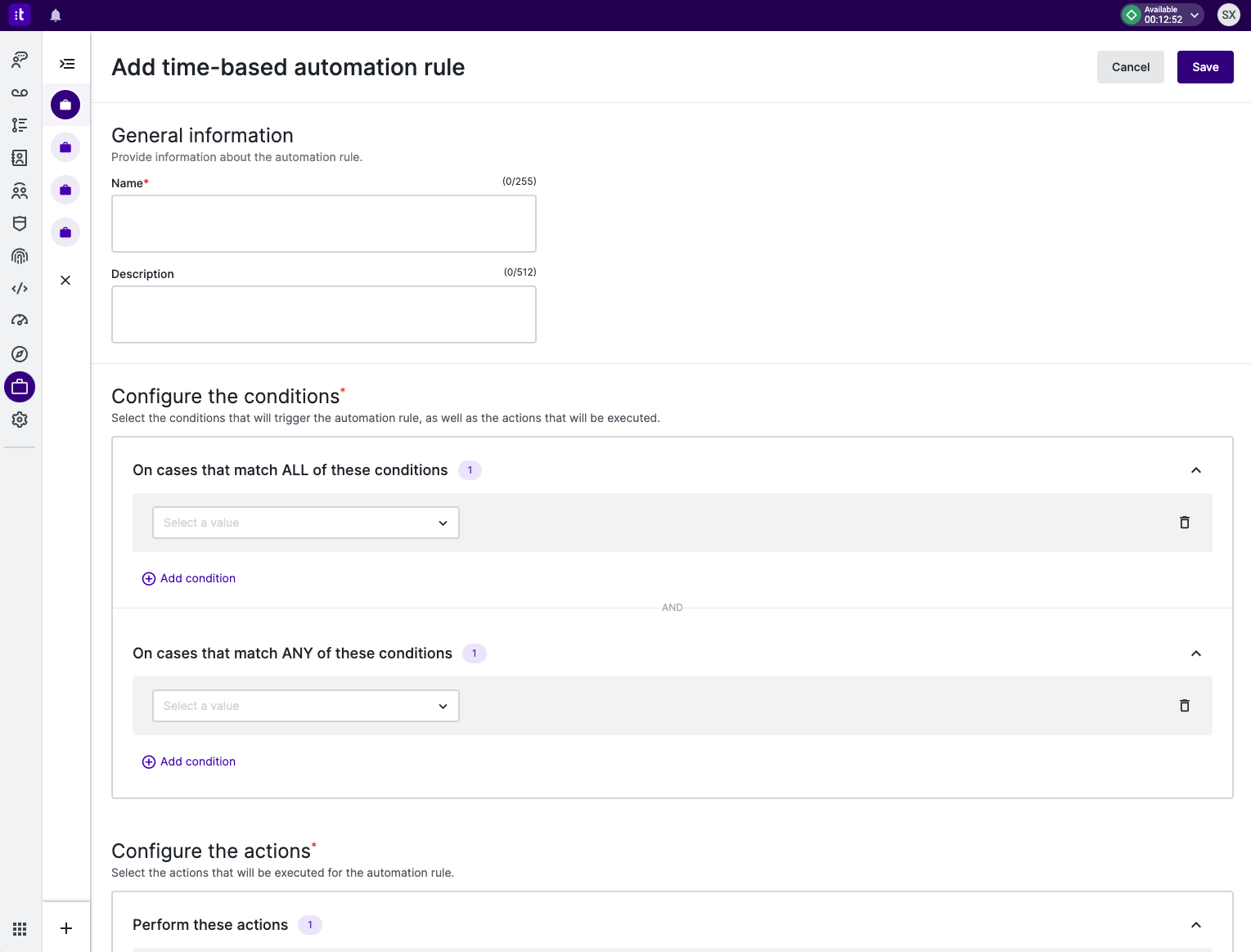 With time-based automations, Agents are freed from repetitive tasks so that they can stay focused on more urgent requests. You can learn more about Event-based Automations here, or go here to learn about Time-based Automations.
Reporting
Talkdesk Cases provides a centralized way to receive, route, and resolve issues raised by end users. With powerful observability features in Reporting, Administrators can view and keep track of important data related to these issues, helping them measure performance, identify problems, and gain insights. In this way, they are better positioned to make data-driven decisions.
Note: Currently, team performance and custom fields are not supported in Reporting.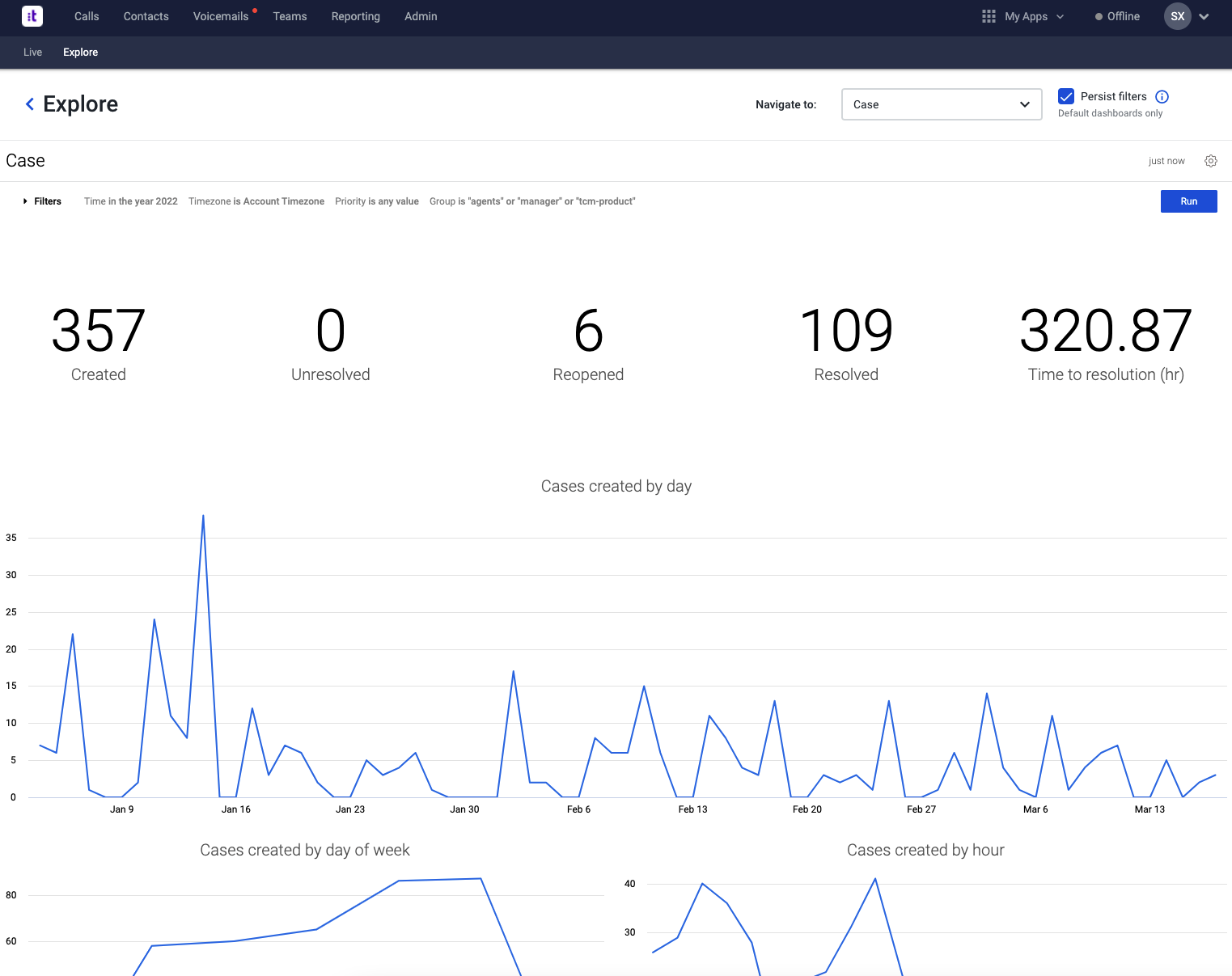 Currently, there are two dashboards about Talkdesk Cases that are available in Talkesk Explore™.
Case: Displays case volumes by different metrics such as time (week, day, and hour) and case fields.
Case SLA: Displays SLA achievements and breaches by time (week and day) and priority levels.