Apart from automatic creation through automated tasks set by Administrators, cases can also be created manually by Agents. This feature is particularly useful in the following two scenarios:
The same contact has more than one request within a single call, which means multiple cases may need to be created for each request.
A contact submits the request through a channel that does not support automatic case creation, so Agents need to manually create a case in Talkdesk Cases™.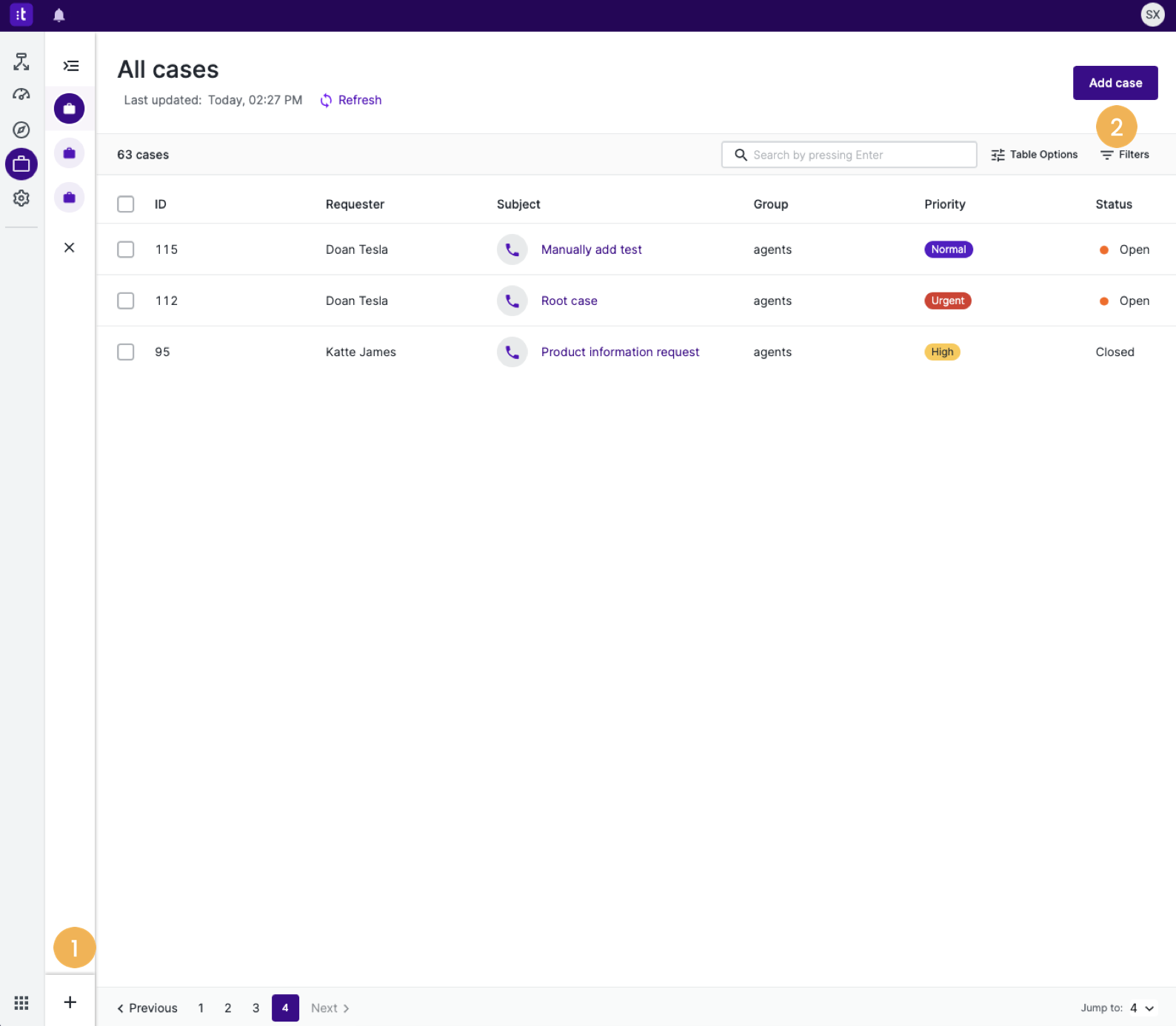 Go to a case view and click + Add Case [1] on the sidebar. Alternatively, click the Add Case button [2] in the upper-right corner.

On the "Add case" page, specify the desired fields for the case. Required fields are marked with an asterisk. The case fields available on this page depend on the case form to be used (namely, the value set for the "Form" field [3]). Besides, keep in mind that:

The "Requester" field

[4]

refers to the person (a contact or an Agent) who makes the support request. You can search for a requester by name, phone number, or email address.
You can specify the "Related interaction" field

[5]

to relate an interaction (for example, an inbound or bound call, and a voicemail message) to this manually created case. If it is specified, the "Source" field, when available, will be populated automatically. If it is not specified, you can still relate an inbound or outbound call to the case after it is created. For more information, see Relating a Call to an Existing Case.
If you manually create a case during a call, the values of "Requester", "Related interaction", "Group", "Assignee", and "Source" will be prepopulated based on the ongoing conversation.
The field "Status" is not displayed on the "Add case" page. The status of a case depends on whether there is an assignee set for the case. If there is an assignee, the status will be "Open" after the case is created. Otherwise, the status will be "New".

Note: For more information about each field, see Understanding Case Fields and Field Formats.

When you are done, click Save [6].
Note: If you manually create a case during a call and Administrators have set automated tasks in Integrations (for example, automatically create a case when an inbound call starts), ultimately there will be two created cases, one manually created by you and another one created by Talkdesk based on the automated task.