Talkdesk Virtual Agent Digital is a conversational assistant that delivers customers the answers they need quickly and easily, where and when they want it on digital channels.
It provides an effective alternative to support customers in offline or peak hours and delivers a near-human conversational experience to the customer.
A Web Messenger widget implemented on your website enables your customers to contact you at any time, over the web or mobile application.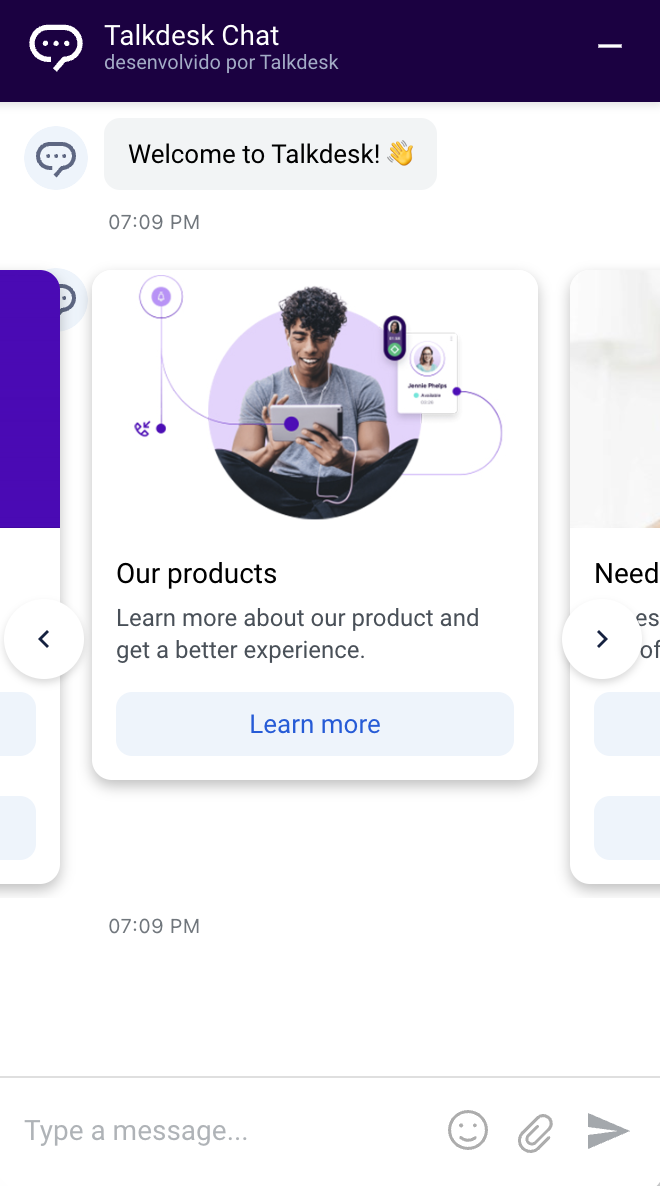 How does Virtual Agent Digital work?
Once a message from the customer is sent through the Web Messenger widget that has been implemented in your webpage and received in your contact center, it goes into a conversation flow that has been previously designed in the automated conversations' builder. As soon as the customer sends a message, the AI Natural Language Processing (NLP) technology is put in place to understand and provide the necessary answers to the customer. The system will be evaluating intents and entities and interpret the customer's needs to match them with the desired outcomes.
To do that, the system also draws on the connection to Customer Relationship Management (CRM) systems or external APIs to gather all the necessary information and provide the most natural, human-like replies to the customers' inquiries.
While the conversation flow happens in the conversation orchestrator, your contact center Supervisor can monitor the session in real time. By installing the Virtual Agent application in Workspace, it is possible to observe the messages being simultaneously handled by Virtual Agent, or the live visual identification of a sentence that Virtual Agent Digital was not trained to deal with. In this application, there is a "History" tab available, that allows your contact center Supervisor to access past interactions, in an attempt to identify possible gaps and opportunities for improvement.
Configuring Virtual Agent Digital
The configuration of Virtual Agent Digital consists of the following steps:
Installing Virtual Agent in Workspace: This installation aims at performing specific configurations and monitoring live and archived sessions.

Creation of a digital Virtual Agent: This is an internal configuration step, in which our teams create a specific digital Virtual Agent.

Configuring the Web Messenger integration: The Talkdesk Web Messenger integration can be configured by accessing the Virtual Agent "Channels" tab, selecting "web widget", copying the code snippet available on the page, and pasting it into an integrated development environment (IDE) of your choice to make Virtual Agent Digital available in your website.
For more information on this product, please contact your Customer Success Manager (CSM) and read through our Virtual Agent documentation.