The Talkdesk Mobile Agent is a native application for Smartphones and tablets, designed to be on the cutting edge of the Talkdesk Agent Experience, empowering your agents to engage with customers, anytime and anywhere. The application is available on Apple Store and Google Play.
If you have a Talkdesk Professional Plus or Enterprise subscription you can easily switch Mobile Agent on and off in Talkdesk Main, under Admin > Preferences.
If in the case you have a Talkdesk Professional subscription and would like to trial Mobile Agent, you can reach out to your Customer Success Manager or support@talkdesk.com.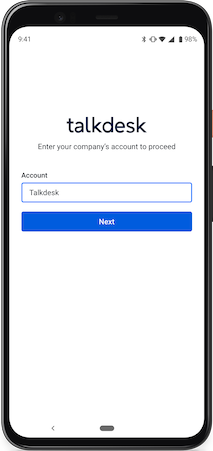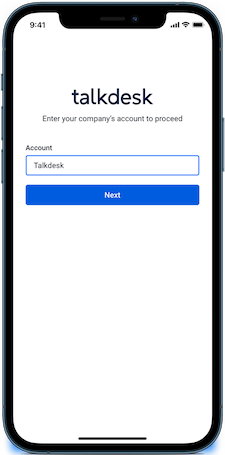 Using the Mobile Agent is simple, intuitive, and most of the features work in a similar way whether you're using Android or iOS. Agents are empowered with ultimate technology features such as Siri or Apple Watch and have a hands free experience to all resources including not missing calls wherever they are.
Logging in via a Talkdesk ID allows you to authenticate using the Talkdesk ID suite, including the ability to log in with Single Sign-On (SSO) tools.
The call history is the landing page that you see after logging in. Here you can track your activity and redial any previously handled contacts. It's also through the call history page that you can open the keypad and the agent settings page.
When using the Mobile Agent you can change your status as needed, relying on the real-time status management system that controls your availability and synchronizes it across all systems.
Make outbound calls from the keypad: simply type the number, copy/paste or click-to-dial. Regardless of the option that you choose, your business number will be used, ensuring all calls and reporting are centralized.
When you make and receive calls using the Talkdesk Mobile Agent you will be presented with a simple interface that includes all the necessary call controls: speaker mode, dialer, mute, hold and disconnect, along with the relevant contact information.
Whilst on an ongoing call, select existing contacts from Talkdesk's database or create new contacts, so that your calls are correctly assigned and categorized.
At the end of each call you'll be able to fill out the corresponding disposition and add call notes, triggering all the relevant automations.
The Mobile Agent is fully compatible with the newest Talkdesk products: Studio, Live, Explore, and Disposition Sets.
Check the Mobile Agent guides here.