Talkdesk allows agents to initiate and transfer calls to favorite external phone numbers with a few clicks.
To accomplish this, a Talkdesk administrator simply needs to compile a hotlist of External Favorite Phone Numbers.
Once the hotlist is compiled, agents can select the desired external phone number from the Favorites drop-down, after selecting the "Transfer" button while on a call.
Note: Currently, the hotlist of favorite external phone numbers is accessible in Callbar and the Keypad in the browser.
To compile a hotlist of external favorite phone numbers in Talkdesk, please follow these instructions: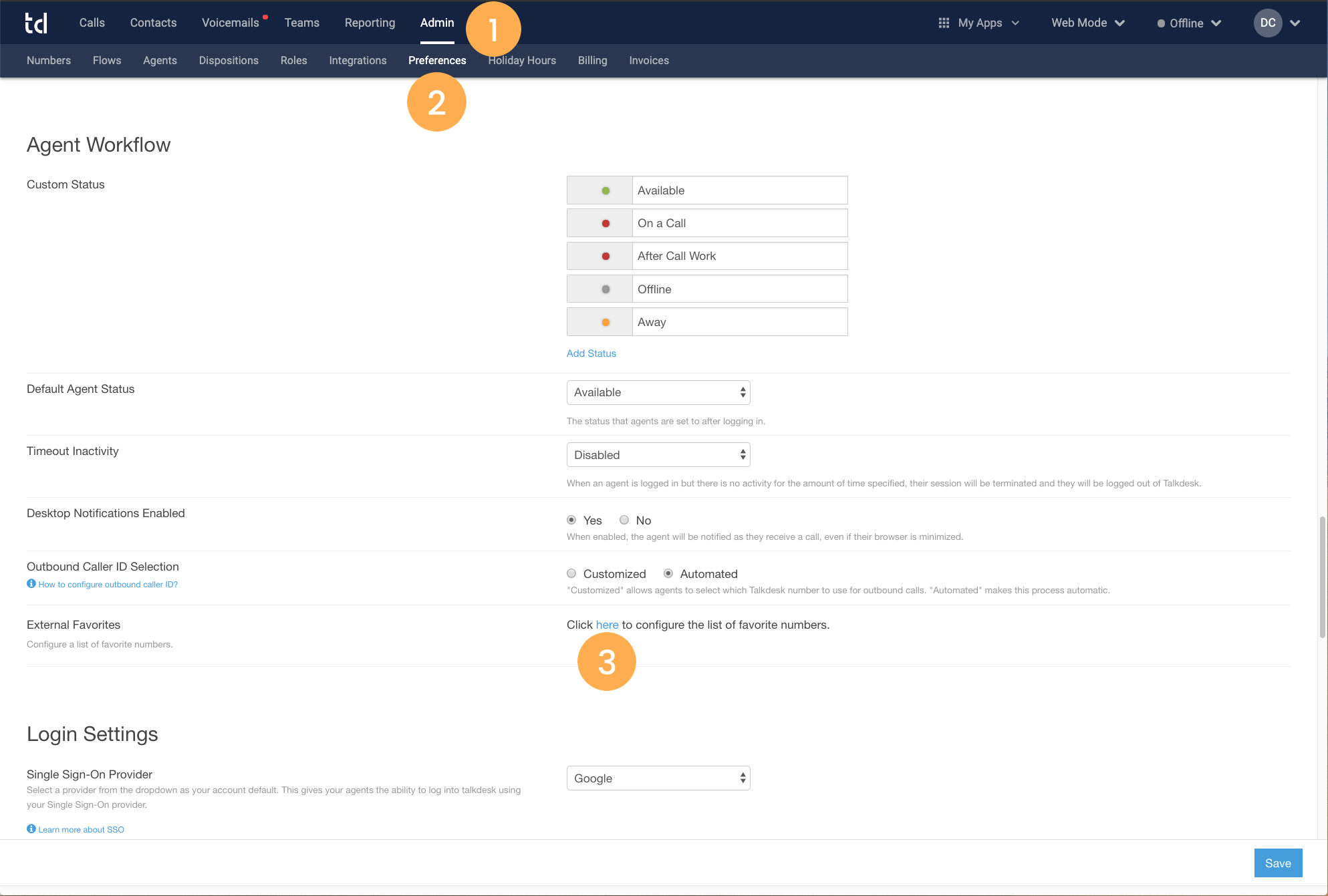 Log in to your Talkdesk account as an Administrator.
Click the Admin section [1].
Select the Preferences tab [2].
Scroll down to the "Agent Workflow" section.
In "External Favorites", click here [3].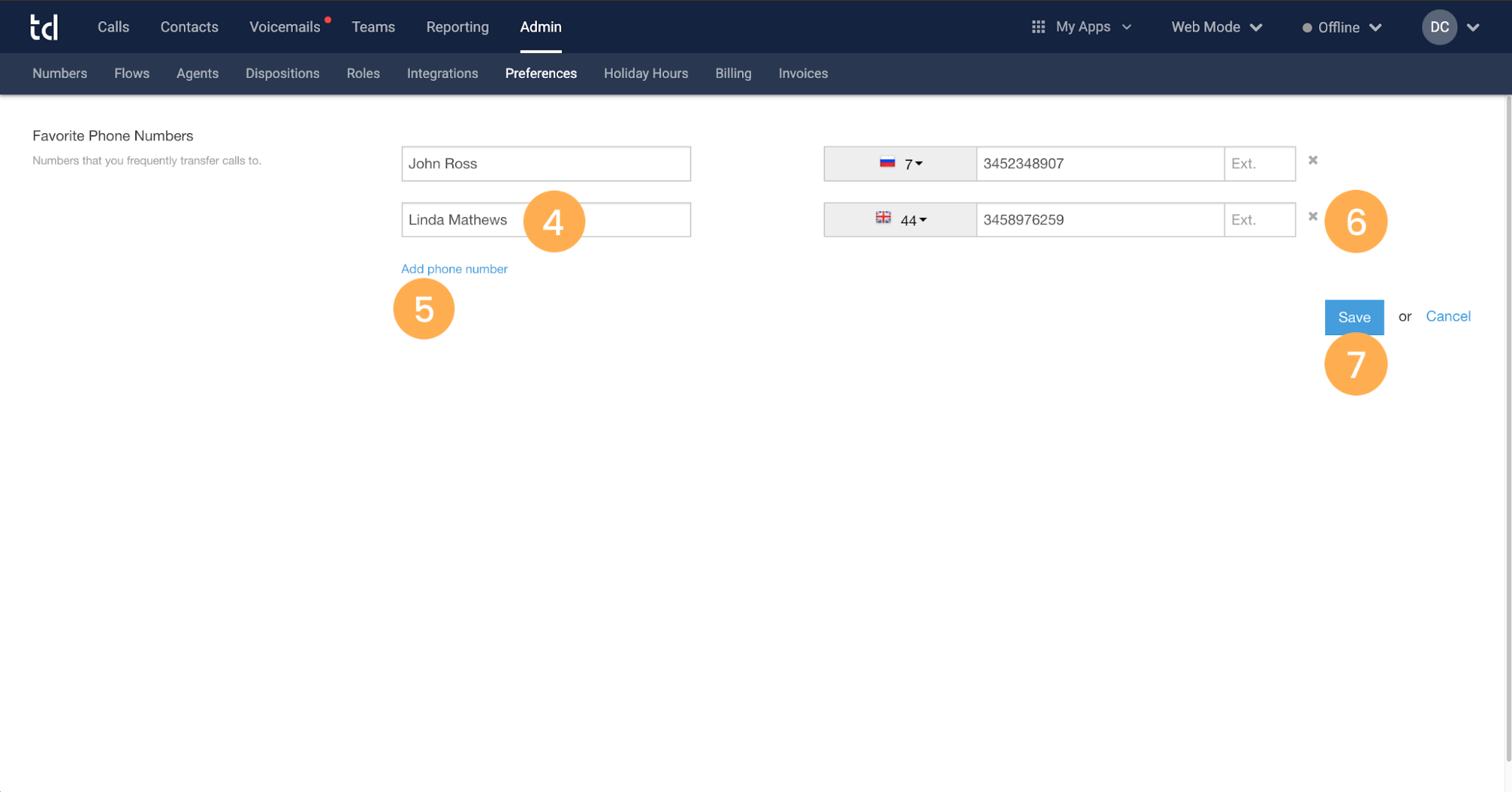 Type in the name and phone number of the contact you want to add to the hotlist [4].
You can add as many phone numbers as you wish by clicking Add phone number [5].
To remove a number from the list, simply click the "x" [6] next to it.
Once you have finished, click Save [7].
Note: If the device you're forwarding to has an extension, you can make use of the "Ext." field. For example, if 205-444-5555 has the extension #1212, you can type in 1212 on the "Ext." field so that this extension is automatically dialed when reaching out to the phone number. This feature will only work if you are calling using the Keypad in the browser, but will not work when using Callbar.
Also, during a warm transfer, if a machine answers the call, calls get routed back to Talkdesk instead of ending on the agent's mobile or external phones' voicemails.
By placing an asterisk (*) symbol instead into the extension field of the external number, you can disable AMD for that number and, as such, "force" calls onto that external number, regardless of any machine answering it.
Your favorite external phone numbers are now stored into a hotlist and your agents can access it by simply clicking the "Address Book" button in Callbar, and selecting the Favorites tab: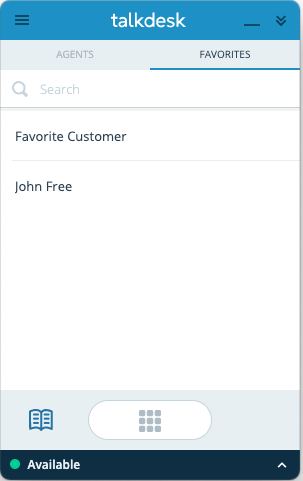 Also, when agents are on a call, these numbers are available for call transfers, after selecting the "Transfer" button: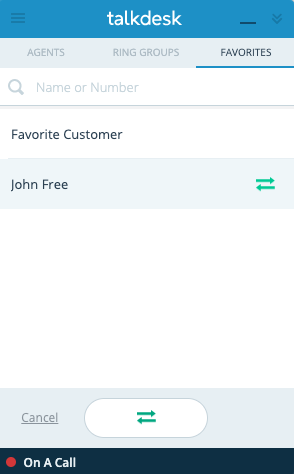 Agents can also access this hotlist of external favorite phone numbers using the Keypad in Talkdesk main web application, by clicking Call External Number and then selecting the "star" icon next to the contacts drop-down: