Talkdesk CX Sensors™ is an add-on product that allows you to stay on top of customer issues by defining a set of keywords to be monitored and fine-tuning them by setting parameters based on the number of hits, time range, and frequency. For more information, please visit our Talkdesk CX Sensors documentation.
November 27, 2023
On Monday, November 27th, 2023, we will release the following enhancements in CX Sensors:
New: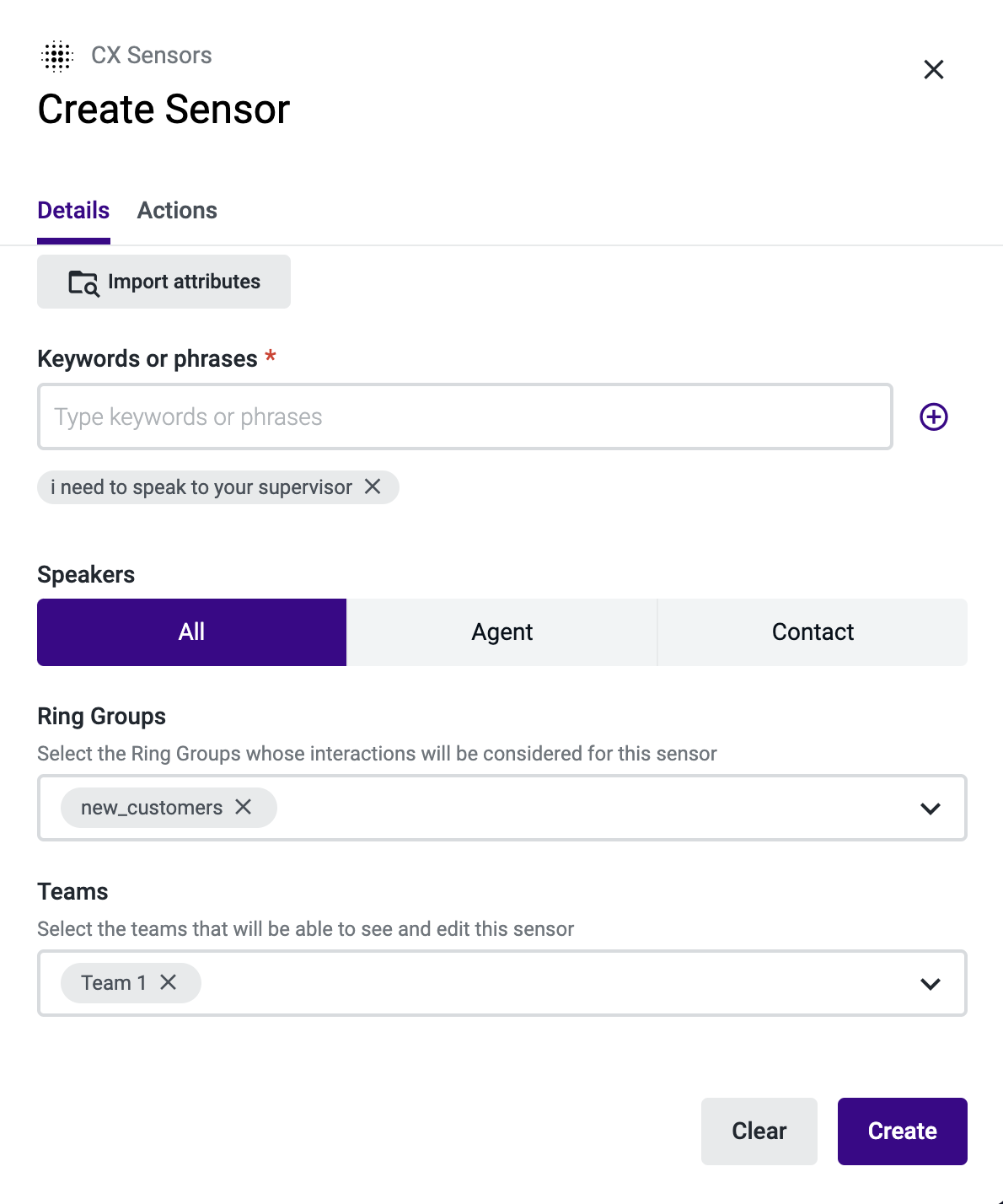 Setting CX Sensors for specific ring groups: When creating a CX Sensor, users will now be able to specify the ring groups whose calls should be considered to trigger alerts.

Team scope for Roles and Permissions

: Through Roles and Permissions, users can apply a "Team", "Child team" or "Team + Child" team scope to the CX Sensors add-on. When the scope is applied, users will only be able to view, create, edit and delete CX Sensors that belong to their team (or child teams, or both, depending on the selected scope). When creating a Sensor, users will be able to select which teams are associated with it. Please bear in mind that this will not restrict the users that can be selected to receive the Sensor alert (either in Workspace or in a third-party application, such as Email or Slack, using Talkdesk Connections).
September 6, 2023
On Wednesday, September 6th, Talkdesk is releasing a new version of CX Sensors.
New:
CX Sensors Roles

&

Permissions: A new CX Sensors tab was added to Roles & Permissions App, enabling users to use the CX Sensors features appropriate to their roles.
August 31st, 2023
On Thursday, August 31st, 2023, we will release the following new features in Talkdesk CX Sensors™.
New: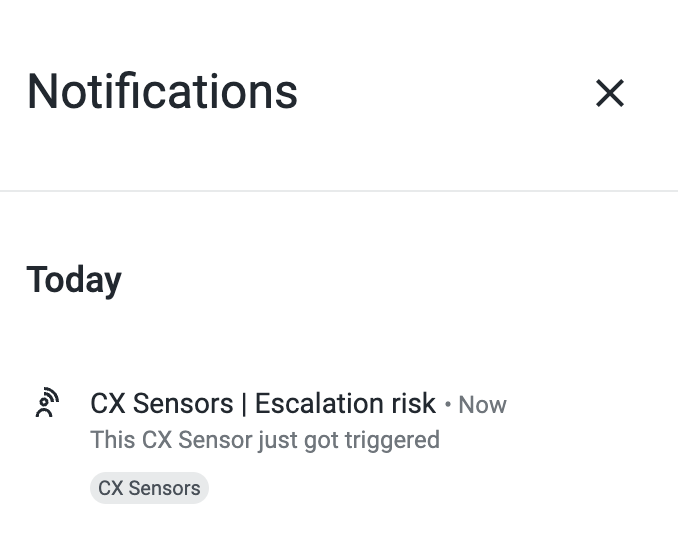 Direct access to Live Monitoring:

Now, Supervisors can access Live Monitoring directly from the CX Sensor notification in Workspace Notification Center. By clicking on the notification, the Live Monitoring window opens the call triggered by the sensor. Then, Supervisors can provide real-time assistance to agents handling calls that triggered sensors.

Live Monitor deep link, Agent name, and Agent ID

:

This data is now available in the CX Sensors notification event in Talkdesk Automations.
May 27, 2022
On Friday, May 27th, 2022, Talkdesk CX Sensors™ will be available to all users.
Initially designed as a feature within the Talkdesk Interaction Analytics™ application, the CX Sensors are now an independent add-on product. They are a real-time monitoring and alert system that provide the ability to create ruled-based alerts, enabling them to warn users whenever a predefined event is detected on a real-time call transcription.
What's included
The CX Sensors add-on product allows you to:
Set keywords to be monitored and the ability to fine-tune them.

Establish parameters based on the number of hits, time range, and frequency.

Create new sensors and/or edit existing ones.

Control how often you wish to receive the CX Sensor notifications and choose all the users that will receive them.

Send notifications through a multitude of channels (i.e. Slack and Microsoft Teams) and third-party platforms (i.e. Customer Relationship Management, Case Management, or Service Management systems).
How to Access or Install
If you wish to start using Talkdesk CX Sensors™, please reach out to your Customer Success Manager.