Note: This product has additional usage costs. For detailed information on these costs, please contact Support or your Customer Success Manager.
Talkdesk Virtual Agent™ Voice is an artificial intelligence-powered conversational assistant that autonomously solves customers' issues with a human-like experience.
It analyzes the customer's speech and intents and automatically answers requests without the need for a human agent.
Since it automates conversations, it is particularly useful in handling recurrent questions related to scheduling, billing, delivery tracking, or order management.
With Virtual Agent Voice, you can provide an around-the-clock service that will enhance customer satisfaction while reducing costs and releasing your agents from repetitive customer interactions to enable them to engage in more complex tasks.
How does Virtual Agent Voice work?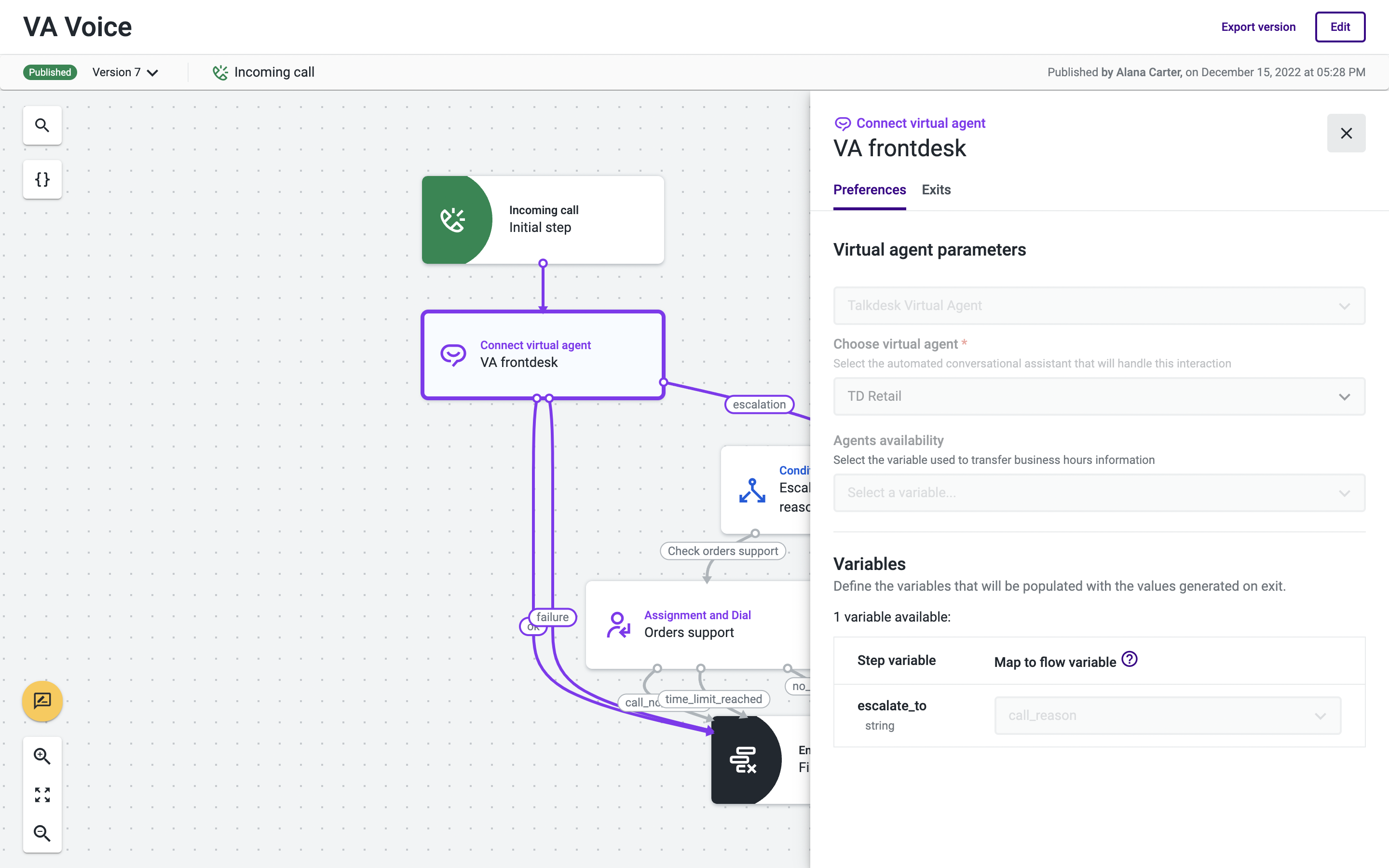 Once an incoming call from the customer is received in your contact center, it goes into a Studio flow, where the Virtual Agent Studio component is executed. As soon as the customer asks a question, technologies such as Speech-to-Text, Text-to-Speech, Natural Language Understanding (NLU), Natural Language Processing (NLP), and Natural Language Generation (NLG) are put in place to understand and provide the necessary answers to the customer. To do that, the system draws on the connection to Customer Relationship Management (CRM) systems such as Salesforce, or Zendesk, or even to external APIs to gather all the necessary information. At the same time, the system will be evaluating sentiment and interpret the customer's emotions to match them with the desired outcomes.
Note: This tool is available in different languages. For more information, please see the Virtual Agent column in the Speech-to-Text Supported Languages article.
Once all this data is collected, the system will provide an answer to the customer or escalate the call and hand off the data to a live agent, who can process a more complex request.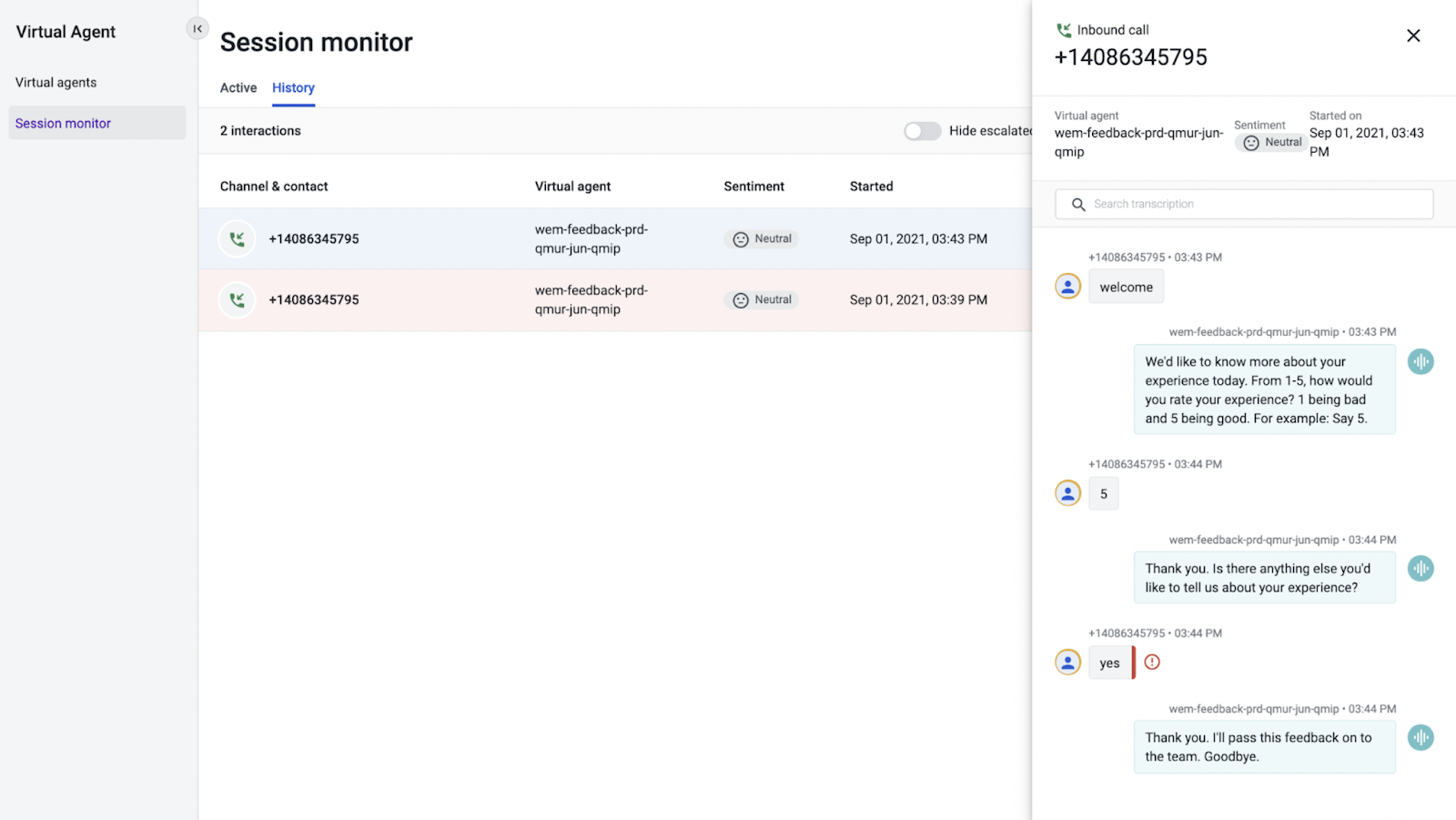 While the call handling process happens in Studio, your contact center Supervisor can monitor the session in real time. By installing the Virtual Agent application in Workspace, it is possible to observe the number of calls being simultaneously handled by Virtual Agent, the general sentiment expressed in each of these calls as well as on each of the uttered sentences, or the live visual identification of a sentence that Virtual Agent was not trained to deal with. In this application, there is a History tab available, that allows your contact center Supervisor to access recordings of past interactions in an attempt to identify possible gaps and opportunities for improvement.


Configuring Virtual Agent Voice
If you wish to start using Virtual Agent Voice, please contact your Customer Success Manager (CSM) or Account Executive since the first step to configure Virtual Agent needs to be done by our internal teams.
The configuration of Virtual Agent consists of the following steps:
Installing Virtual Agent in Workspace: This installation aims at performing specific configurations and monitoring live and archived sessions.

Creation of a Virtual Agent: This is an internal configuration step, in which our teams create a custom Virtual Agent.

Creation of a conversation flow through an automated conversation builder. This is also an internal configuration step, in which our teams create a conversation flow following your business needs.

Configuring Virtual Agent Component in Studio.
Virtual Agent Limits
To ensure the correct functioning of Virtual Agent and of each component, Talkdesk establishes default service limits, as described in the table below:
Feature
Limit
Execute action component
API calls cannot exceed 5 seconds.
Connected components
Connecting multiple components without an "Ask component" in the middle is not supported.

The maximum number of connected components depends on the combination of components. Virtual Agent will indicate when those limits are reached.
Digital components (buttons, carousels, quick-replies, and media)
These components are not shown in the Session Monitor.
Maximum characters per message
4,000 characters.
For more information on this product, please contact your CSM.