If you need help with Talkdesk Academy, browse our Frequently Asked Questions:
What is Talkdesk Academy?
Talkdesk Academy is a great resource for anyone using Talkdesk - whether you're a new agent looking to quickly get up and running, or an experienced user wanting to recap how to use a feature.
Managers can use Talkdesk Academy to train agents, by tailoring training playlists based on the needs and abilities of their teams.
Agents can even complete courses from the comfort of their homes and the videos can also be downloaded to be viewed offline.
The courses are organized by topic and consist of video lessons, followed by short quizzes that help to retain or recap the information. There is also a Certification Quiz at the end of each Certification Course.
Besides video courses, Talkdesk Academy offers soft skills courses as well. They consist of PDF guides covering best practice tips to exceed in customer service.
How much does it cost?
All courses are free.
How do I get started?
To get started, you first need to register as a student of Talkdesk Academy. This will only take a few minutes.
Simply click on Sign In | Sign Up at the top of the homepage: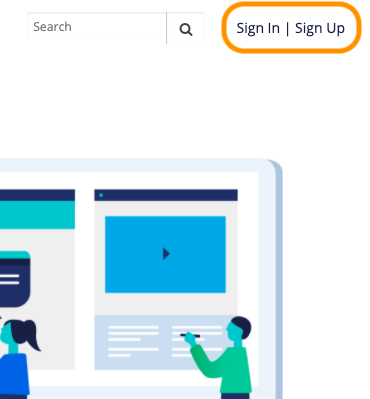 Fill out the form with your name and email and submit it.
You should enter your name as you wish it to appear on the certificates.
The remaining fields are not mandatory.
Once you sign up, you can start taking courses.
How does it work?
Select an individual course or a Certification and click on Begin Course: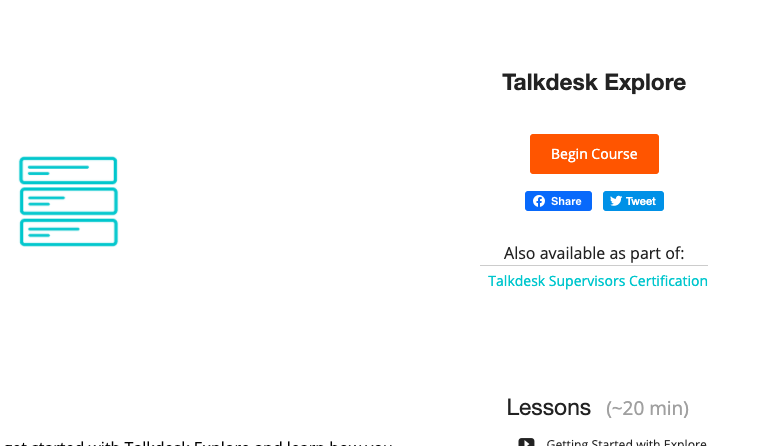 If you're already signed in, the registration is automatic. Otherwise, you just need to enter your credentials.
Currently, we offer the following Certifications: Talkdesk Agents Certification, Talkdesk Supervisors Certification and Talkdesk Admins Certification.
If you register on one of the Certifications, you become registered on all the courses that are part of it.
Earning a certificate demonstrates that you have the skills and experience to take full advantage of Talkdesk, thus contributing to an enhanced performance and, ultimately, to your individual and organization's success.
Structured training courses are usually more effective, so we recommend taking one of our certifications and following the suggested order, so that you can learn how to make the best use of Talkdesk, according to whether you're a call center agent making and receiving calls and updating CRMs (Talkdesk Agents Certification), a supervisor monitoring calls or analyzing data to improve the service (Talkdesk Supervisors Certification), or a Talkdesk account admin, managing phone numbers, licenses, or routing and queue settings (Talkdesk Admins Certification).
You will get a course certificate when you complete all courses inside a Certification and then pass its final Certification Quiz.
Certificates have a one year validity and can be downloaded and easily added to your LinkedIn profile.
What is the difference between the Certification Courses and the other courses?
The Certification Courses are a series of courses related to the same role (agent, supervisor or admin).
When you register on a Certification (Agents, Supervisors, or Admins), you will be automatically registered in the courses that are part of that certification, including the Certification Quiz
If you register on a course outside the Certification, you only become registered in that course.
We recommend following the same order of the courses as in the Certifications.
If you don't do that, and try to register on the Certification Quiz, you will see a message informing you about which courses you need to complete first before accessing the Certification Quiz: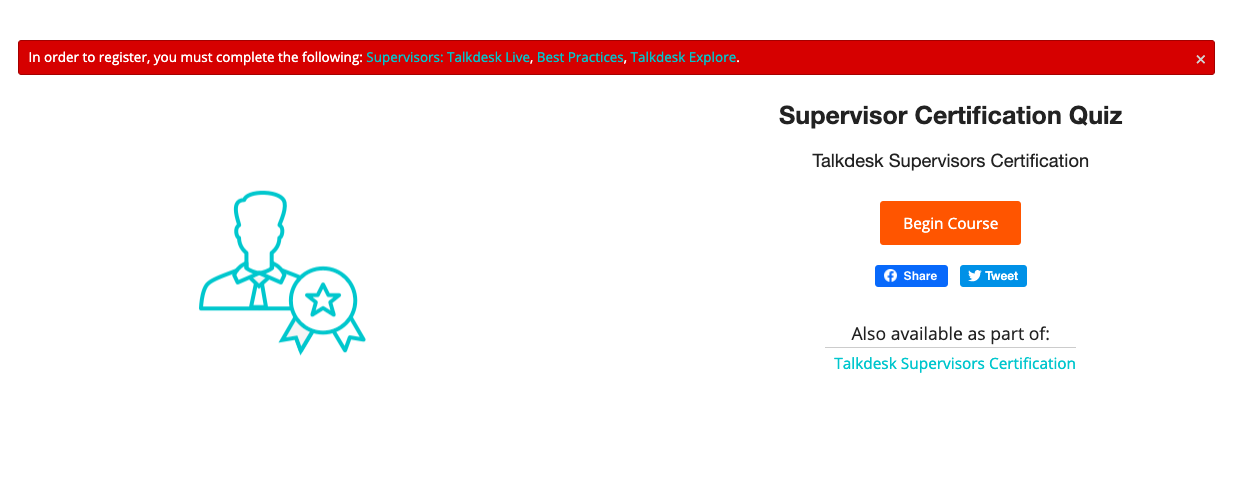 If you choose to take a course individually and then later decide to take a certification where this course is also included you won't need to do that course again, as it will already be listed as completed.
Also, the Best Practices course is included in all three certifications (Agents, Supervisors and Admins) but you only need to take it once.
How do I find a course?
Scroll down and click any course to read its description and see the list of lessons. You can also look for keywords using the search bar in the top-right corner. Results will list lessons and courses matching your keywords in the title, description or topic.
Once you register for any Certification course or access the "Recommended For You" section you can also filter by name of course, Talkdesk role, soft skill, or topic:

How long does it take to complete a course?
The estimated duration of each course and certification is specified on the course description and on the homepage cards: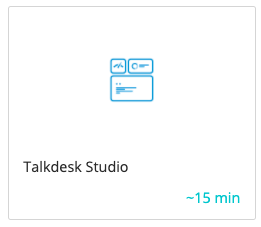 How long do I have to finish it?
There is no time limit to complete the courses and the lessons can be taken at any time, so you can finish them whenever your schedule allows.
How can I get a certificate?
After completing all the lessons in a particular Certification, you will receive an email with the certificate. This certificate can be downloaded and even added to your LinkedIn profile.
Can I do the courses on my phone or tablet?
Yes.
Can I watch videos offline?
Yes - You can download our videos lessons so you can watch them also when not connected to the internet on the device of your choice. To do this, go to the video lesson you want to download, open the video sharing menu at the bottom right and select the Download option: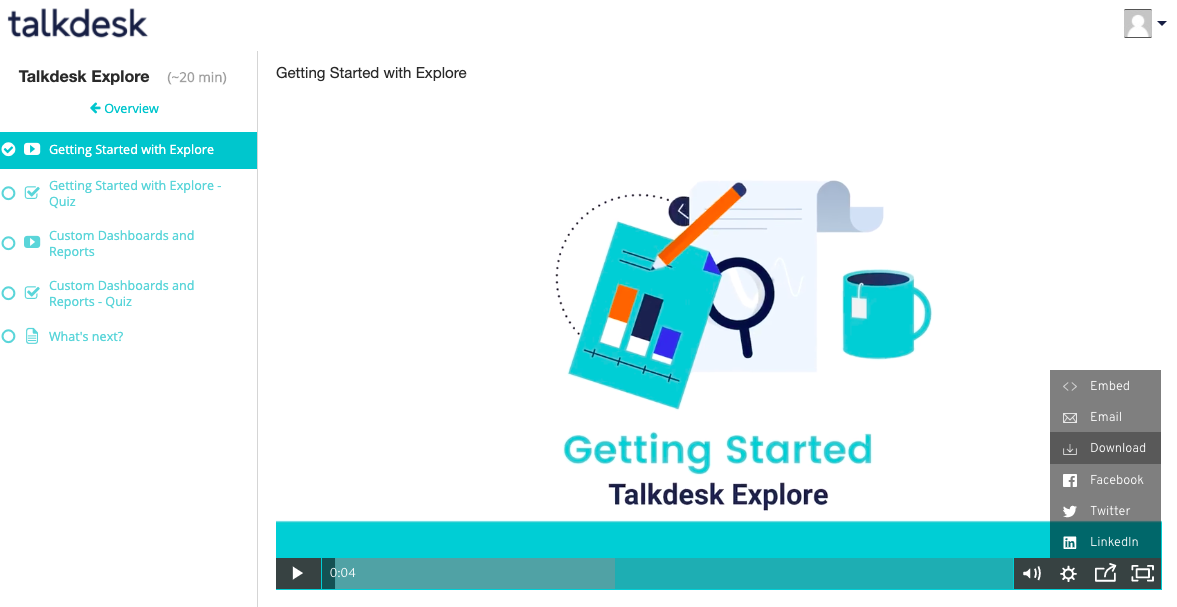 I accidentally used my personal email when signing up. How do I change it to my work email?
Sign in with the current credentials to academy.talkdesk.com; then click on My Profile in the top-right corner: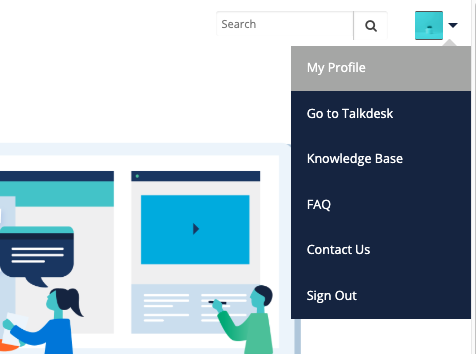 From here, you will be able to edit your email. Simply click the "pencil" icon.
You also need to set a new password.
When ready, click on Update, at the bottom of the page. Next, try logging in with the new email and password combination: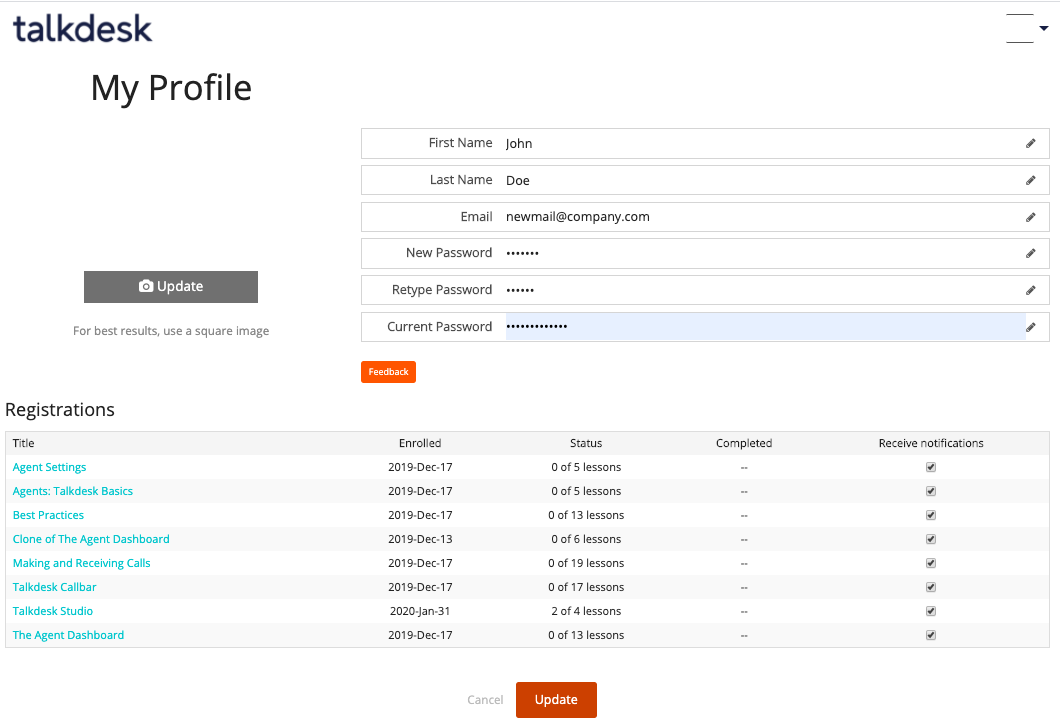 There's a topic I would like to learn about and I can't seem to find it here. What should I do?
We're constantly thinking of new topics and working on new courses and would love to hear your suggestions. Please send your suggestions and comments to academy@talkdesk.com
I am receiving too many notifications from Talkdesk Academy. How do I turn these off?
Sign in and click on My Profile in the top-right corner: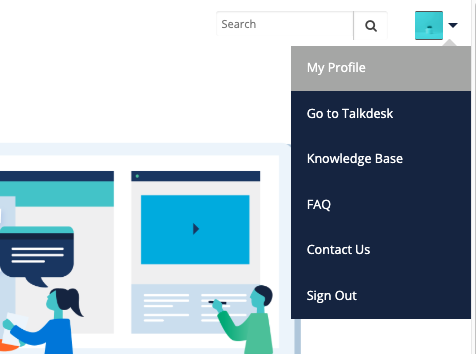 Click on the checkbox under "Receive notifications" to disable/enable email notifications related to the course:

I am experiencing difficulties while using the features mentioned in the courses. What should I do?
Please contact Talkdesk's Support Team: support@talkdesk.com
I am experiencing difficulties with the login in the Academy and/or while doing the courses. What should I do?
Please contact the Talkdesk Academy Team: academy@talkdesk.com