To enable Talkdesk Workspace embedded in Salesforce for your account, please reach out to Talkdesk Support or your Customer Success Manager (CSM). Once the feature is enabled, this guide will help you get it configured and ready to use.
To activate it, follow these steps:

Go to Salesforce Setup and search for App Manager [1].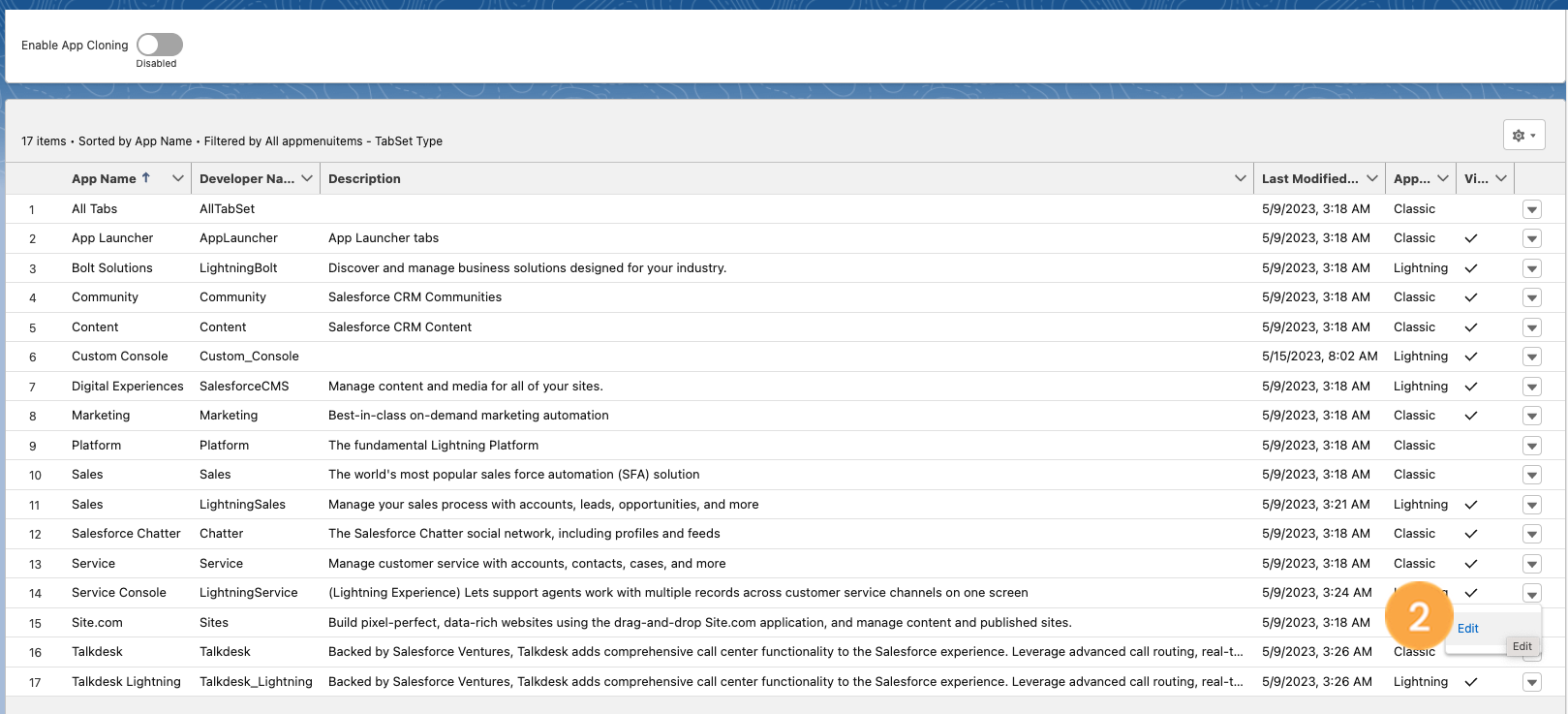 In App Manager, choose the app to which you want to add the Talkdesk Workspace widget and click Edit [2]. In this example, we are adding it to "Service Console", but you can add it to any standard or custom Salesforce app.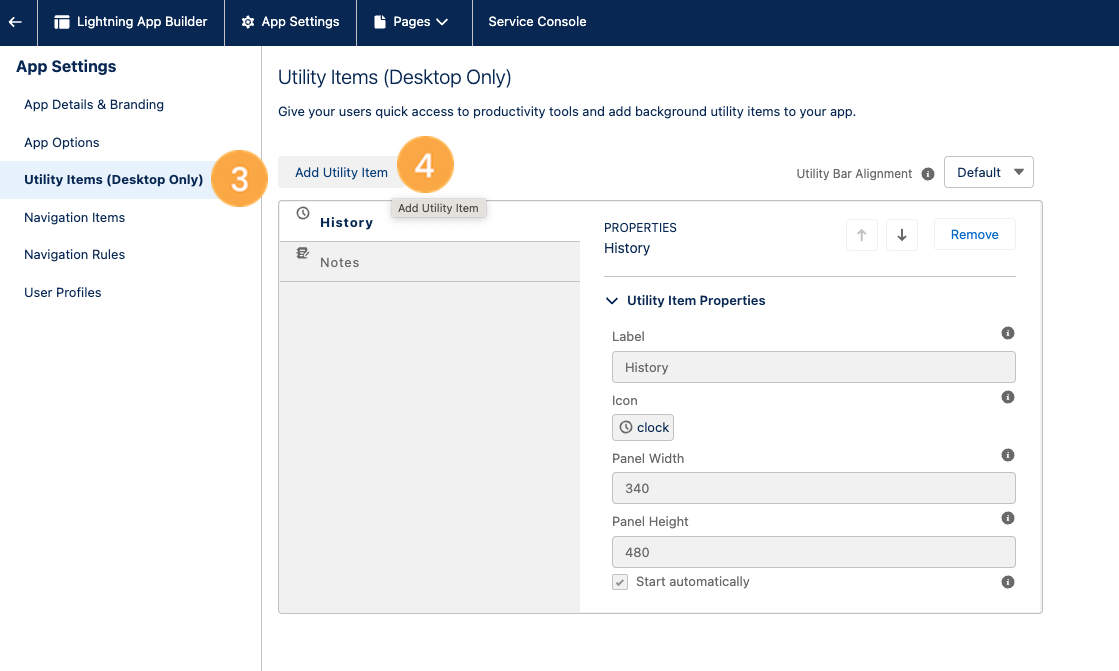 In the edit page, click on the Utility Items tab [3] and then click on Add Utility Item [4].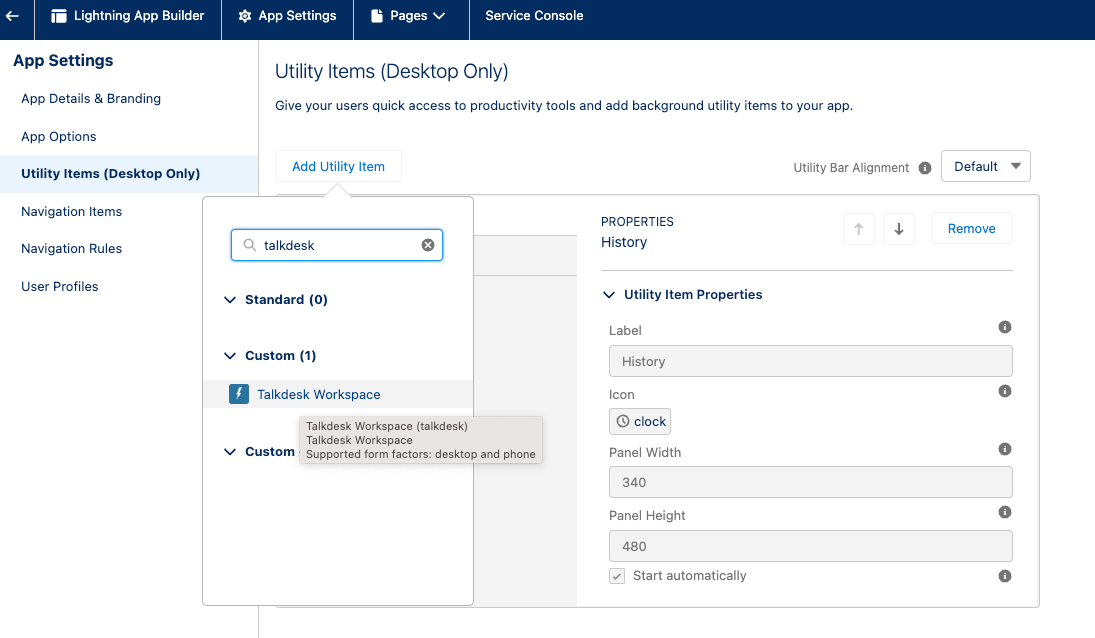 Search for Talkdesk Workspace and click on the custom component shown in the image to add it to the app.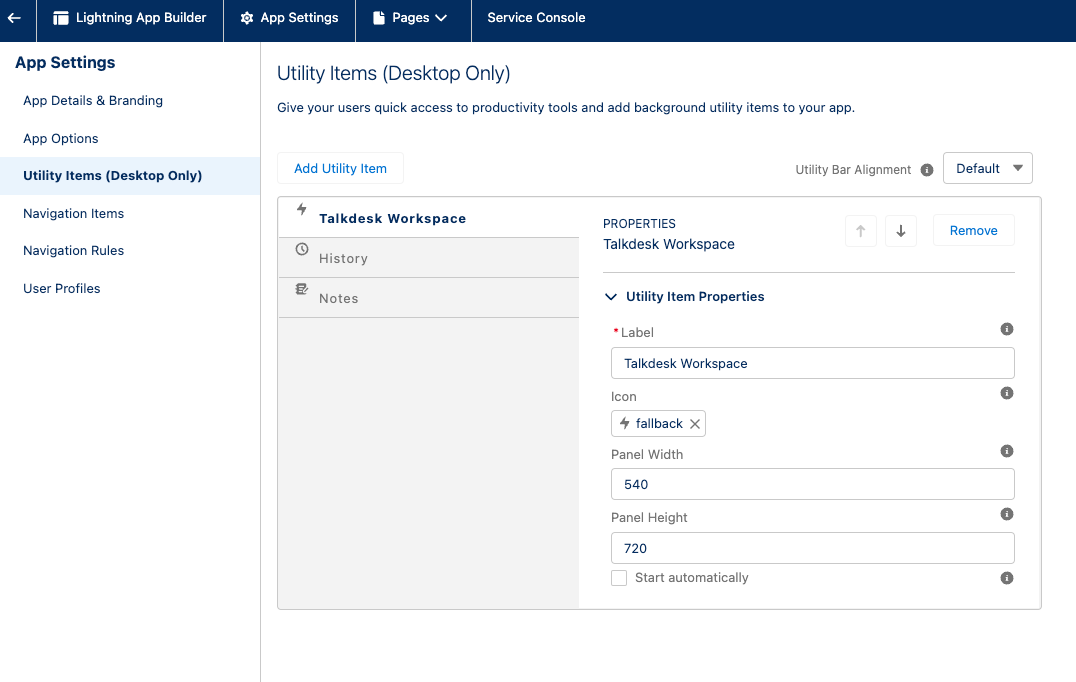 You can configure the size of the widget on this app. We recommend a minimum size of 500x425 if you will only be using the Conversations app for Voice, or a minimum size of 720x540 if you will be using any of Talkdesk Digital Channels.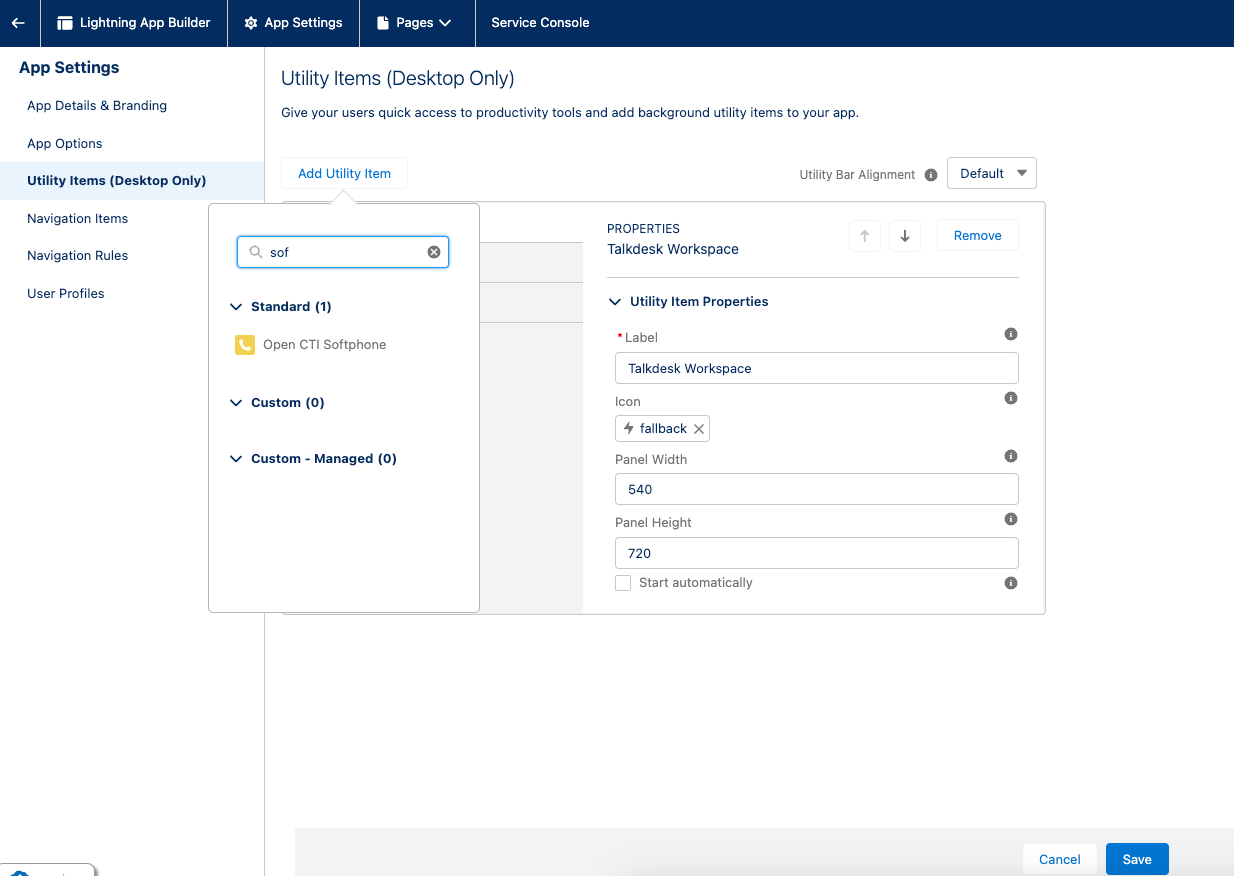 Make sure that the Softphone CTI widget is also added to this app. When you finish, click

Save

.
Now, the Talkdesk Workspace widget should appear in your apps.
To log in, follow these steps: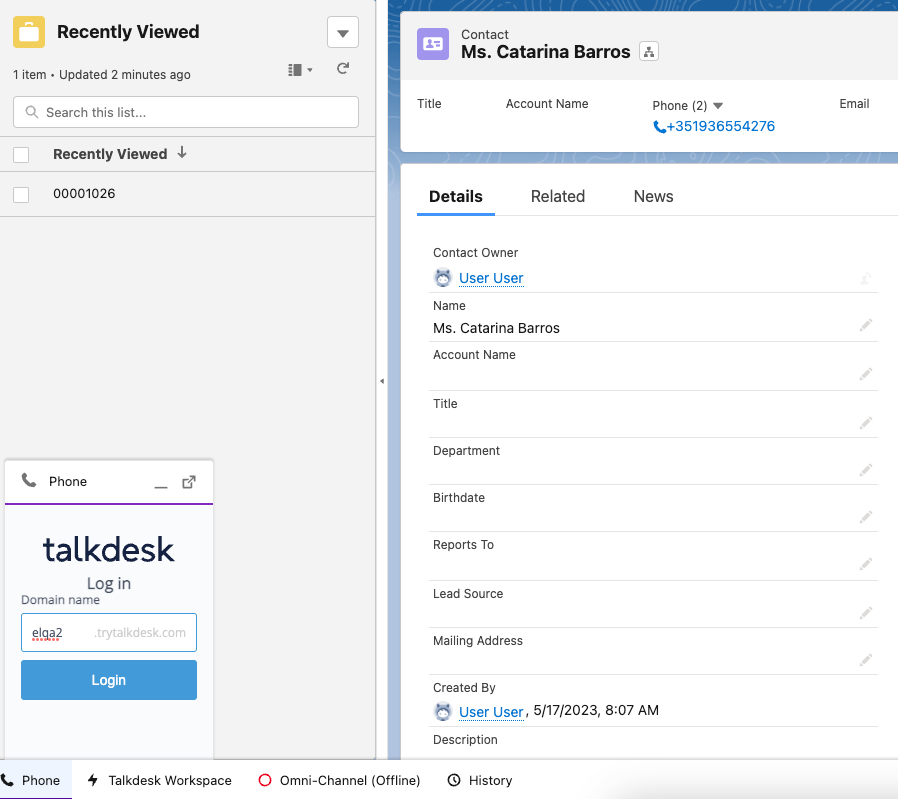 To ensure a smooth login into the Talkdesk Workspace component, make sure you always log in first on the Phone widget.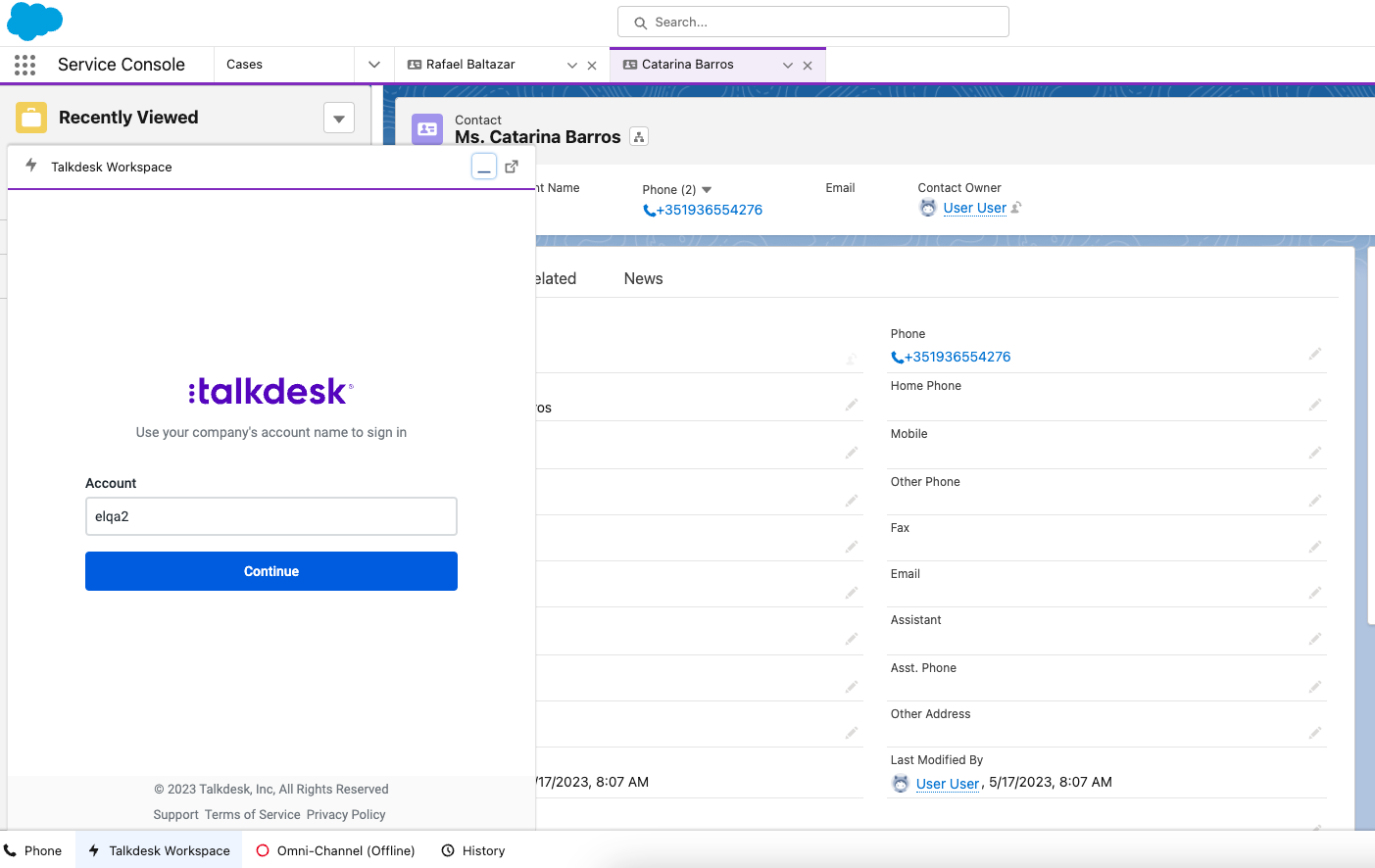 Once logged in CTI, you can open the Talkdesk Workspace widget and log into Workspace.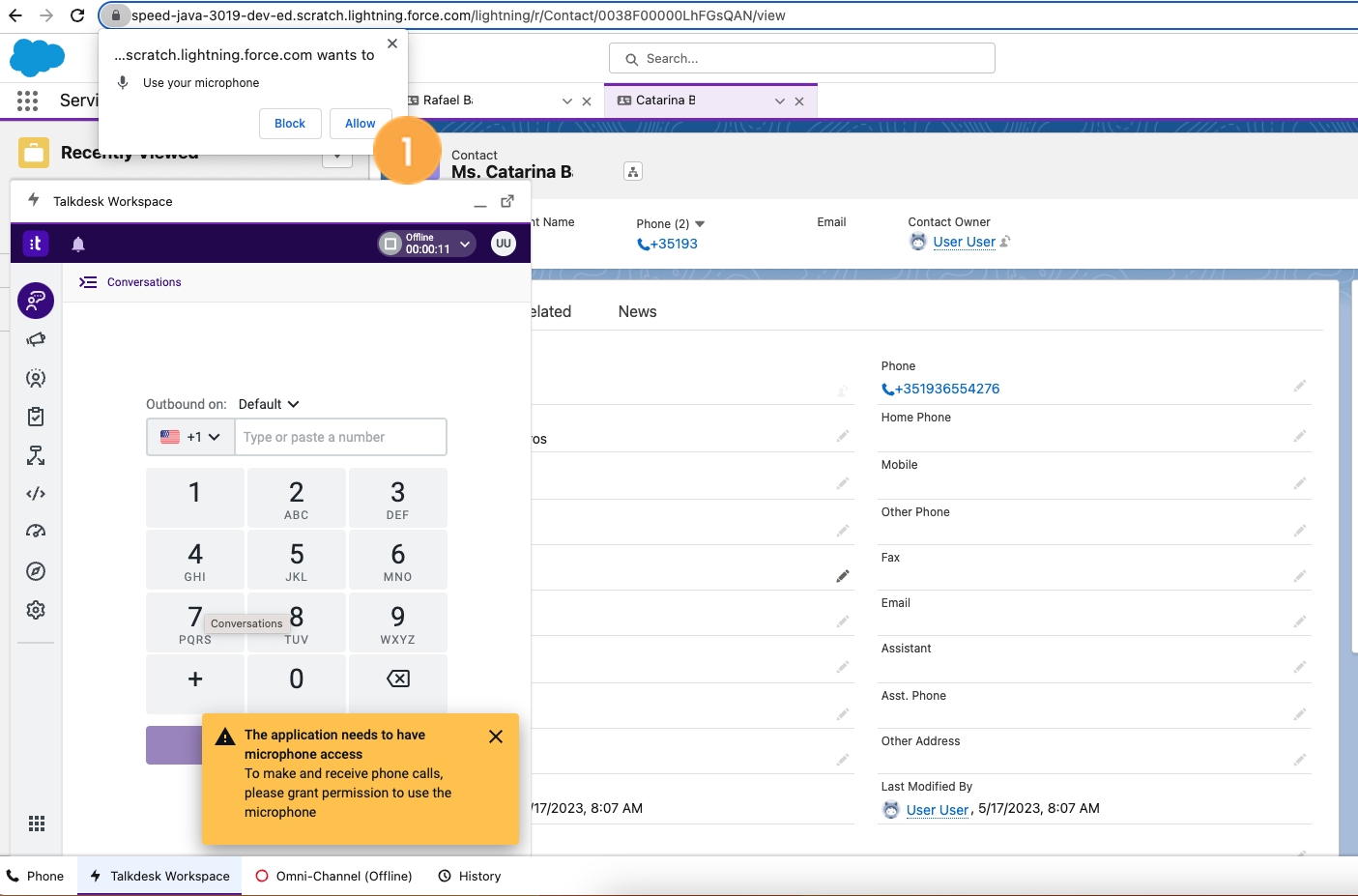 If you have never logged into the Talkdesk Workspace widget before, you will be prompted to give access to your microphone. Click

Allow [1]

. Talkdesk Workspace will now work as normal.
Notes:
The workspace widget will pop up automatically when the agent receives an inbound call, a transfer, or begins the call wrap-up. This behavior is valid only for voice calls, not digital interactions.
Agents can choose to use the embedded workspace or the workspace app without the need for changes in configuration. If they want to switch from the embedded workspace to the workspace app, they just need to log in into the workspace app and start a new session. The session on the embedded workspace will be ended.
This feature is not compatible with Talkdesk Dialer for Salesforce.
Agents leveraging this experience should not use the following apps in embedded Workspace: Agent Assist, Quality Management, Builder, Admin, Studio, Dialer, and Live.
When refreshing the Salesforce page, make sure to confirm that the CTI is connected before opening the Talkdesk Workspace widget. If the widget is not showing information, right click on it to reload just the widget.
Always login first to the CTI (phone widget) before opening the Talkdesk Workspace widget.