If you purchase a paid plan, your installed AppConnect application will be billed as a month-to-month subscription, with the same payment method and terms as your Talkdesk subscription.
Upon adding an app, the subscription billing day will also align with your Talkdesk subscription so that you can pay a single monthly invoice to Talkdesk and do not need to manage payment to each app provider separately. Each app will be listed as a separate line item on your invoice.
Note: If you were already using one of our AppConnect apps prior to joining Talkdesk, or if you would like to enter into a long-term contract with custom pricing with a listed partner (instead of month-to-month), please reach out to your Customer Success Manager.
For each app, you can purchase additional licenses or upgrade to a higher-level plan at any time by managing the app subscription settings.
You can also cancel an app at any time, which will go into effect at the end of your current billing cycle.
For more information, please see the AppConnect Terms of Service.
AppConnect Billing
All apps can be installed and tested in a 30-day trial. Trials expire once complete, after which we do not charge your account. Apps are automatically uninstalled from your account at the end of the trial period. Once uninstalled, features granted by the application will be inaccessible. To retain access to an application's features, you must subscribe to it by the end of the trial. Talkdesk will email you a reminder 15, 7, and 1 day(s) before expiration.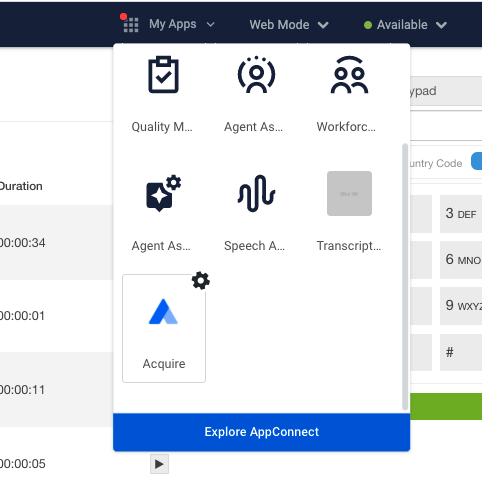 If you wish to continue using the app when the trial ends, simply open the settings by clicking the icon in the top-right corner.
You can then upgrade to a paid plan by making a selection from the Plans tab. When ready, click Save changes.
Note: To upgrade to a paid plan you need to have permissions to update installed apps. Your number of licenses and users is reset and will need to be selected again. This is done so that your billing plan can be properly established.
Apps installed from the marketplace are billed on a month-to-month basis and costs are consolidated to your Talkdesk bill. On a user/month type of plan, adding new users will increase the number of licenses you purchase, and will be reflected in the purchase summary. Seat/month plans imply that all your account's seats will be billed. Per month plans are independent of the number of seats. If you remove users, you will still maintain the same number of purchased licenses, and you will see the count of unassigned licenses in the purchase summary.