Talkdesk AI Launchpad is a cross-functional application that provides the core capabilities required to configure and manage your Talkdesk AI-powered products in a do-it-yourself approach.
With AI Launchpad, you can set up and operate your products without Talkdesk support. This application supports Talkdesk Agent Assist™ and the Customer Experience Analytics bundle (composed of Talkdesk Interaction Analytics™and Talkdesk QM Assist™), where you can enable AI models or voice transcriptions, among other options.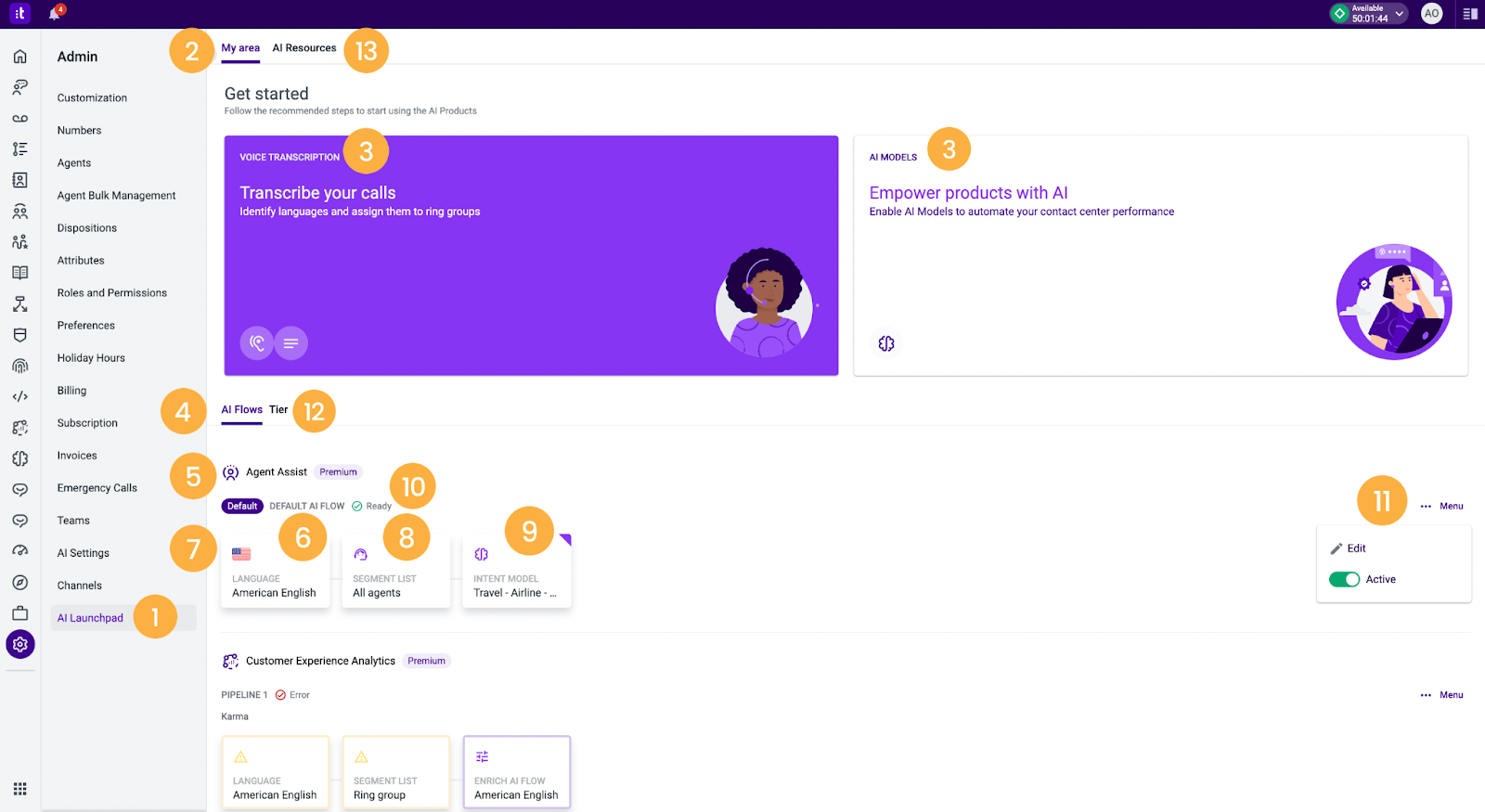 To access AI Launchpad, go to your Workspace, select "Admin" and click on AI Launchpad from the side panel [1]. The My area main page [2] is displayed when you access the AI Launchpad app.
In this area, you will see:
Onboarding cards [3]

: Two onboarding cards to help you configure different AI flows for each of the products.

The

Voice Transcription

card enables you to select multiple languages, including a default one, and add agents or ring groups for those languages.

The

AI Models

card allows you to add one or more AI Models to each language once the voice transcription is configured.
AI Flows

tab

[4]:

An AI Flow is a representation of your AI product configuration assets. Within this tab, you will be able to see:

Product [5]:

Agent Assist or Customer Analytics Experience.

AI Flow name [6]:

The name you have chosen for your AI Flow. In our example, the name is "Default AI flow".

Language [7]

: The language with which your flow is associated.

Ring group [8]

: The ring group(s) assigned to the language.

AI model [9]

: The AI model(s) enriching the AI Flow.
Flow status [10]:

The statuses of your flow.

"Progress" means that Talkdesk is currently provisioning your flow.

"Ready" means it was successfully configured.

"Error" means there was an error when provisioning the AI flow, and it is automatically set to "Deactivated".
"More options"

button

[11]

: Use it to edit or delete an AI flow.

Tier

tab

[12]:

Next to each product in AI Launchpad, you can see a label with its corresponding tier. This tier is a reference so that you understand which capabilities are enabled by your subscription plan. By selecting the

Tier

tab, you can have an overview of which products you have inside the 3 tiers: "Starter", "Standard", or "Premium".

AI Resources

tab

[13]:

In this tab, you can view and manage all the AI models available in your account, create new models, and edit or delete existing models.