This article provides information on:
Downloading Rate Cards
To download a rate card, please follow these steps: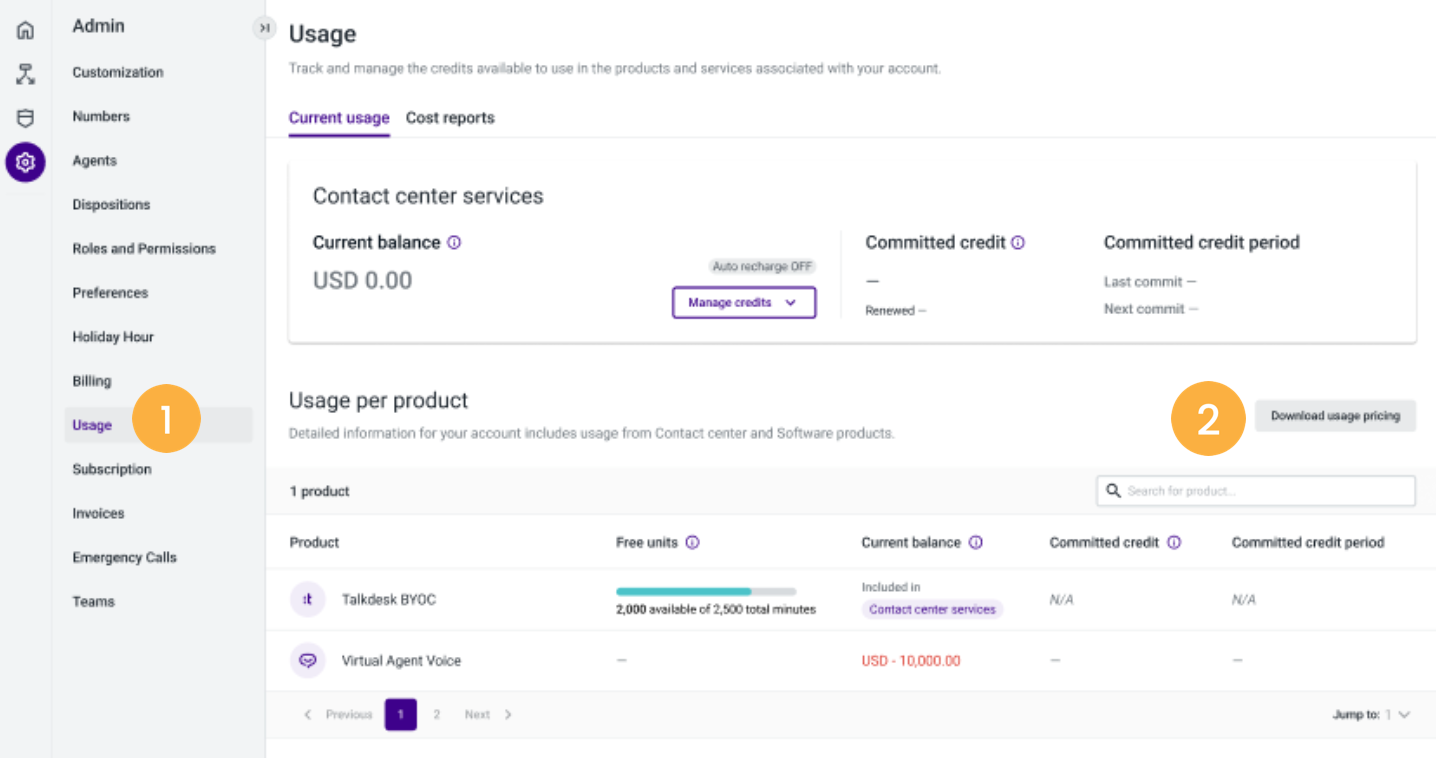 In the "Admin" app, select the

Usage

tab

[1]

. 

Click on

Download usage pricing [2]

.
 Interpreting Rate Card
In this section, you can find a description and the details of each field in the rate card. Fields will only be populated if they are relevant to that particular rate.
| | |
| --- | --- |
| Field | Description |
| Resource | The type of service. E.g. call |
| Description | Describes the rate |
| Direction | Direction of the call. E.g. Inbound |
| Type | Provides additional information regarding the Resource |
| Resolutions | Call resolution. E.g. Missed |
| Country code | Corresponds to the country's ISO 3166-1 alpha-2 standard country code. |
| Category | The category of the phone number through which the inbound call is received. E.g. Mobile |
| Prefixes | Phone number prefixes to which that rate applies. |
| Price per increment | Rate that is charged per increment of usage. |
| Increment | Number of units on which the price per increment is applied. |
| Unit of measure | Measurement unit for that usage. |
| Currency | Account's currency |
Additional Information on Rates
Call
The rates for inbound and outbound calls are applicable if you're using Talkdesk carriers to make and receive calls.
If you choose to Bring Your Own Carrier (BYOC) and did not purchase Talkdesk BYOC™ as an optional add-on product, the applicable rates are also included in this rate card. However, if you purchased Talkdesk BYOC, the listed rate under the "price" column will be zero, and you may be charged BYOC costs if the included minutes are exceeded.
Number
The rates for "Numbers" are applicable to numbers that are purchased through Talkdesk.
Message
The "Message" rate card is applicable when you're receiving or sending SMS/MMS messages, using Talkdesk SMS capabilities to engage with your customers, and/or using Talkdesk Feedback™ to receive CSAT responses through SMS. For more information about SMS features, please read our SMS FAQ.
Dialer
The "Dialer" rate will be applied when you're using the Proactive Outbound Engagement Package. The rate is charged per minute for answered calls, abandoned calls, and automatic machine detections. 
The rate is applied in 12-second increments in addition to the rate for Talkdesk standard minutes. Calls that are "busy", "not answered" or launched by the Talkdesk Preview and Power Dialer for Salesforce™ are not charged.
Voicemail Transcription
The "Voicemail Transcription" rate is applicable when a voicemail is transcribed so that agents can read the message, rather than listen to the entire voicemail.
Speech Transcription
The "Speech Transcription" rate card is applicable when you're taking advantage of Talkdesk Studio's speech-to-text features. For more information, please read Talkdesk Studio's documentation on Voice Transcription.
API Request
Talkdesk Identity

:

The "API Request" rate card is applicable when you're taking advantage of the different features offered by

Talkdesk Identity™

. Different fees are applied if a voice sample is analyzed or a phone validation is performed. In Talkdesk Identity, a voice sample is analyzed when the end customer enrolls or authenticates with voice biometrics. The phone validation occurs each time Identity validates the phone of the caller.

Healthcare Experience Cloud

: The "API Request" rate card is applicable when you're taking advantage of the

Electronic Health Records

(

EHRS) integrations offered by

Talkdesk Healthcare Experience Cloud™

.
Product Services
AI Products
Talkdesk Virtual Agent

is charged per minute/session:

Virtual Agent Voice

: Charged per minute. Charging per minute starts when a call between an end-user and a voice Talkdesk Virtual Agent is initiated, and ends when the call finishes. Each call duration time is rounded up to the nearest increment of 15 seconds.

Virtual Agent Digital:

Charged per session. A session is a conversation between an end-user and the digital Talkdesk Virtual Agent. For the purpose of calculating price, a session is limited to 15 requests (any call to the Talkdesk Virtual Agent service either via API, through the Virtual Agent web widget, or another user interface that makes a call to the Virtual Agent endpoint) or 30 minutes, whatever it reaches first. For example, if a session has 16 requests, it will be counted as 2 sessions. After 30 minutes from the start time, a session is considered complete.
To avoid unintentional charges, you need to disable the features that you don't need: E.g. remove the Virtual Agent (Digital and Voice) components from Talkdesk Studio™ flows.
For the following products, you are rated according to your product version: "Starter" (no cost), "Standard" (license cost only), "Premium" (license plus usage Pay-As-You-Go — PAYG — or commit). The product version is applied according to your contract with Talkdesk. You can use Talkdesk AI Launchpad to make changes to the configurations
AI Platform:

Each interaction processed by the AI platform is only charged once. If you are using products with both real-time and batch transcription, the real-time rate is applied. For example, if you are using both Agent Assist and Customer Experience Analytics, the "Real-time Standard" or "Real-time Premium" rate will be applied. 

Talkdesk Agent Assist

:

When using Talkdesk Agent Assist Standard

,

the rate per minute will only be applied once the included minutes have been used.

Customer Experience Analytics

Talkdesk CX Sensors

: When using Talkdesk CX Sensors Standard

,

the rate per minute will only be applied once the included minutes have been used.
Other Products
For information on the billing cadence, please refer to this article. To learn how to interpret your bill, see this article. 
If you have any questions about your rate cards, please refer to your Customer Success Manager or contact Talkdesk Support.