Talkdesk's new Live enables admins and supervisors to create and customize multiple dashboards for each one of their teams.
Note: To use the new Live, you need to have the relevant permissions. By default, permissions are carried over from the previous Talkdesk Live and are not currently editable in Talkdesk Live Dashboards.
Creating Your First Live Dashboard
If you have not yet created a dashboard in the new Live Dashboards, follow these steps: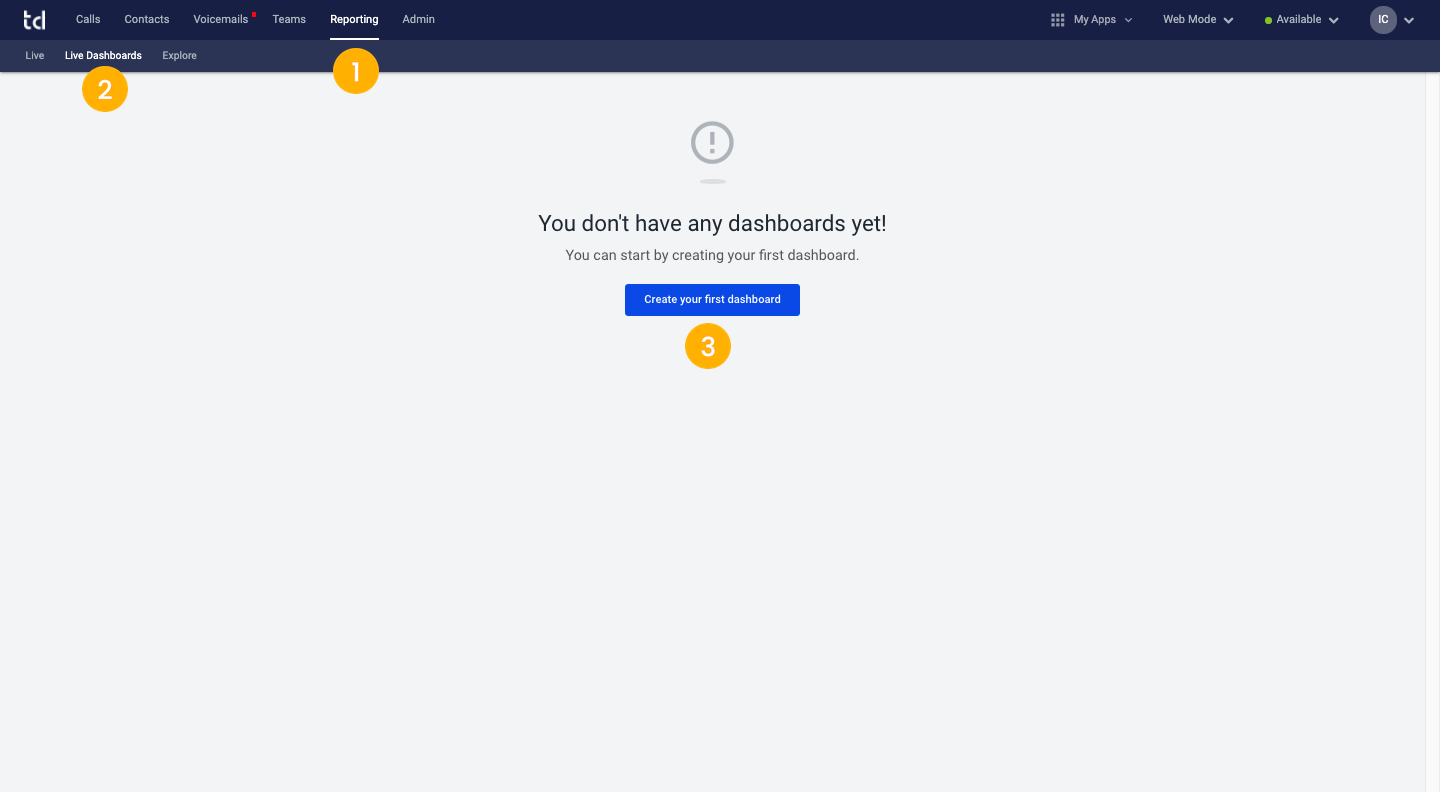 1. Ensure you are signed in with relevant permissions.
2. Access Live Dashboards by selecting Reporting [1] and clicking on Live Dashboards [2].
3. Click on Create your first dashboard [3].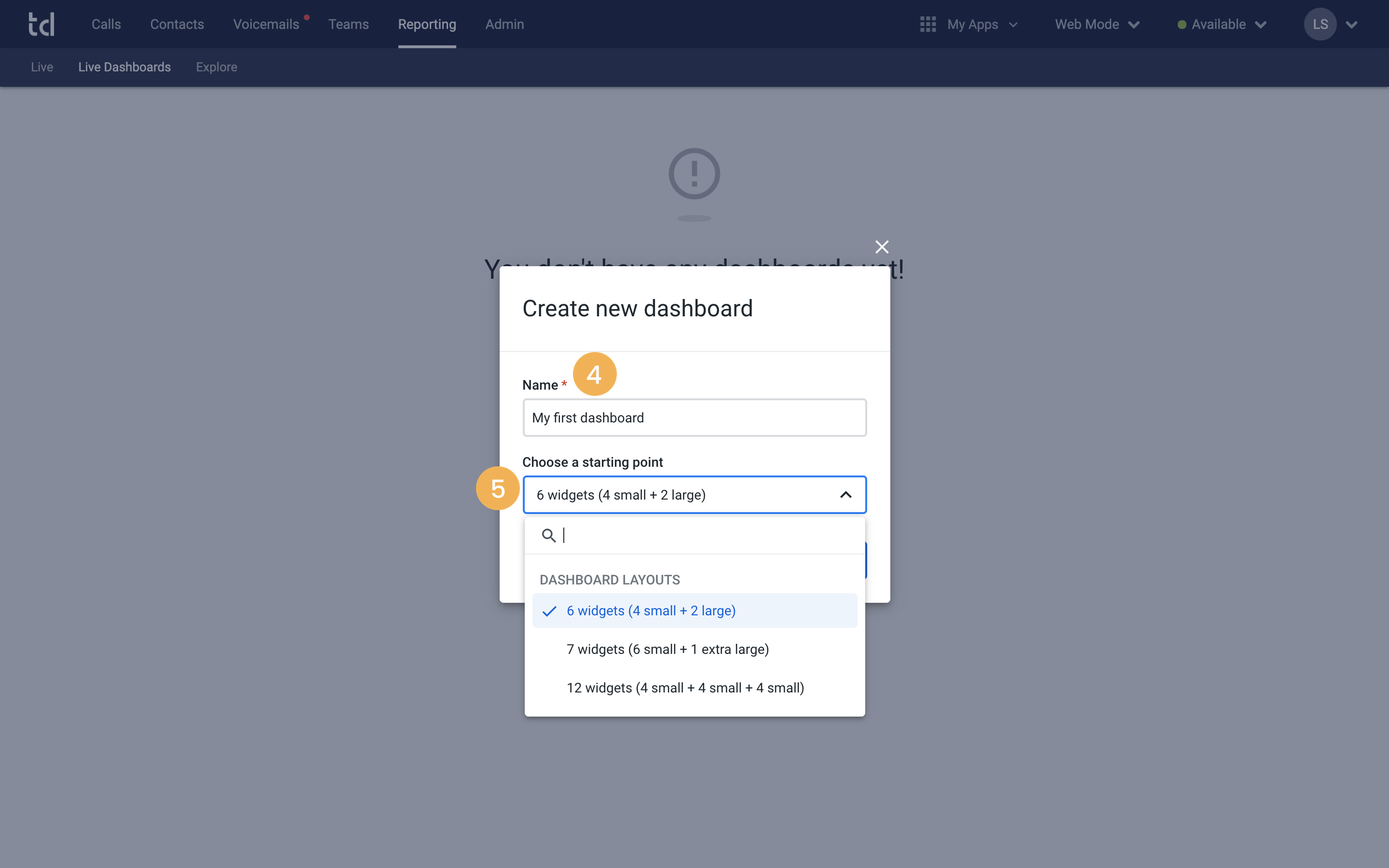 4. Name your dashboard [4].
5. Select one [5] of the three distinct layouts to configure your dashboard.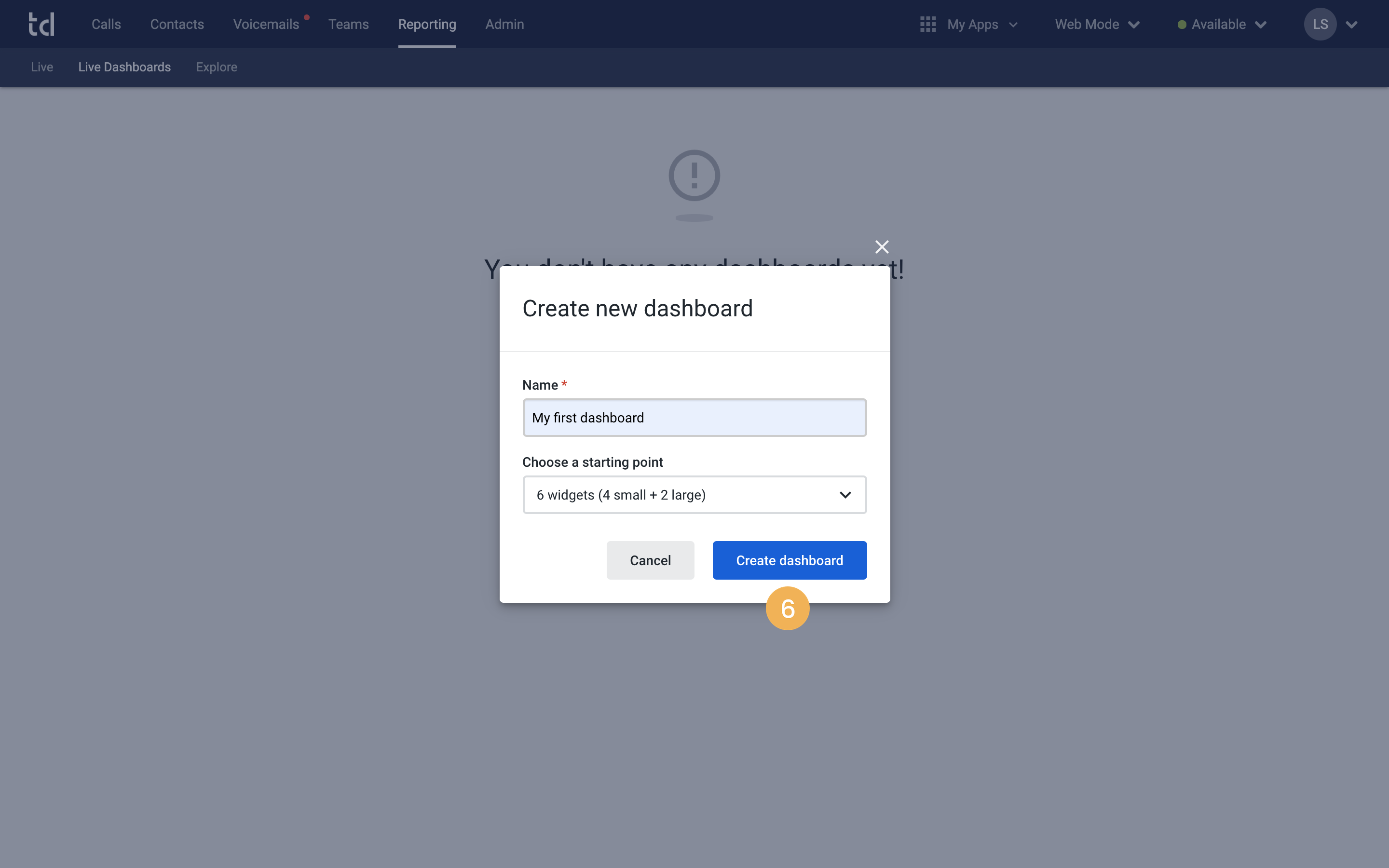 6. Click on Create dashboard [6].
Creating a Dashboard Based on a Previously Created Dashboard
Once you have created and customized a dashboard, you can use it as a starting point to create other dashboards.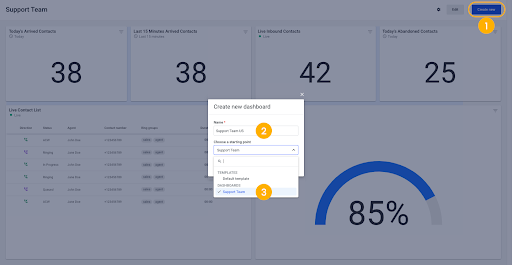 Click on Create new [1].
Name your dashboard [2].
Select one of your dashboards as a starting point [3].
When the drop-down collapses, click on Create Dashboard.
Selecting, renaming, and deleting dashboards
If you have more than one dashboard, you can toggle between them using the Dashboard drop-down. To rename a dashboard: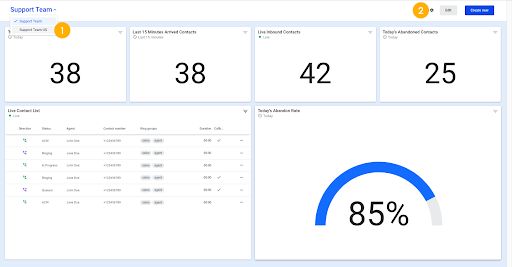 1. Toggle to the desired dashboard [1].
2. Click on Settings [2].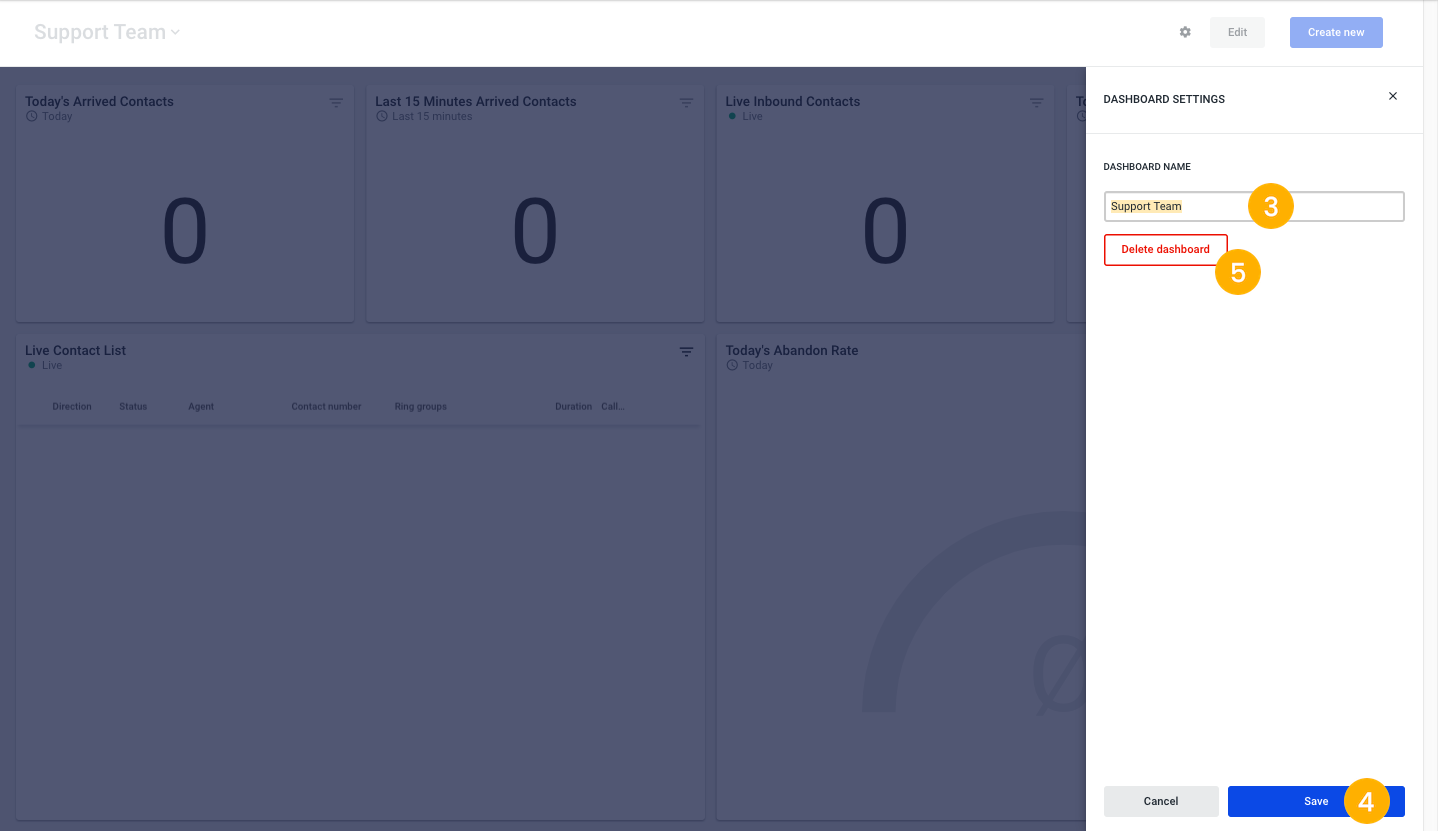 3. Edit the name [3].
4. Click Save [4].

To delete a dashboard, ensure you have the correct dashboard selected, click on Delete dashboard [5] and confirm it in the warning pop-up.
Selecting a Timezone for your Dashboard
You can set your dashboard to have a different timezone than the one set for your account.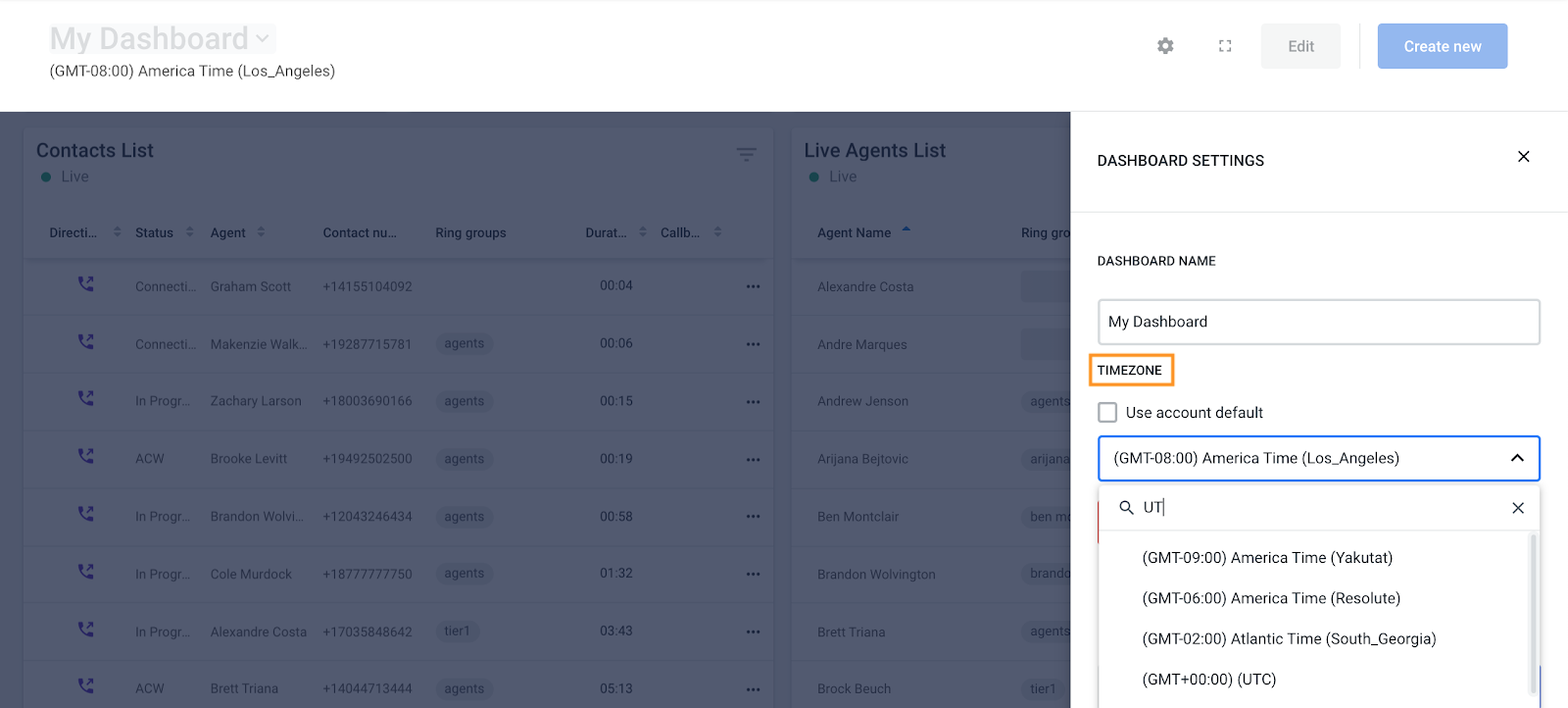 As the example shows, you can go to settings and change the timezone for the entire dashboard. Below the title of the dashboard, you'll see which timezone is being used. By default, it will be showing the account's timezone.
Once you have your Live Dashboard or Dashboards created, you can now start adding and editing the widgets to them. For full details, take a look at the Configuring Talkdesk Live Dashboards article.