Prerequisites
In order to use Talkdesk Mobile Agent, you'll need the following:
Smartphone running Android Marshmallow or a later version, or;
Apple iPhone 5S, or later running iOS 12 or later version.
Network connection with a minimum 3G data signal.
100 kbit/sec for voice calls.
Mobile Agent feature to be enabled in Talkdesk main web application, under Admin﹥Preferences.
Using the App
Getting Started
Go to Google PlayStore on your Android device, or to the App Store on your Apple device, and search for "Talkdesk".
Tap on "Install" and open the app.




Enter the account name and tap Next [1].
If using an Apple device, tap "Continue" to allow the app and website to share your information.
Enter the user credentials and tap Login [2].




If prompted, tap Allow [3] to enable audio recording.


You start with an empty Call History screen [4]. This will become populated with the date and duration of the calls you make, receive, and those you miss, using the Mobile Agent [5].
Status Control
To change your status, start by tapping on your avatar [6].
In the account screen, select your new status from the list [7].


Inbound Calls
To receive calls, ensure your status is set to Available.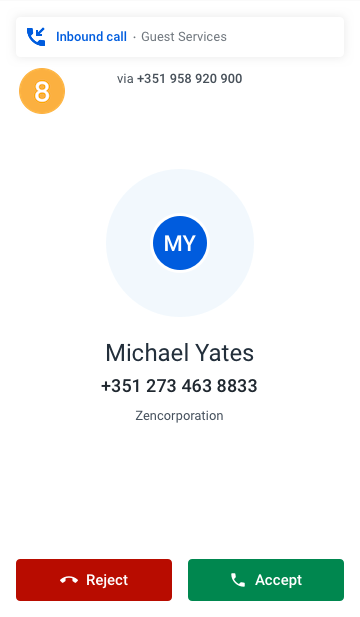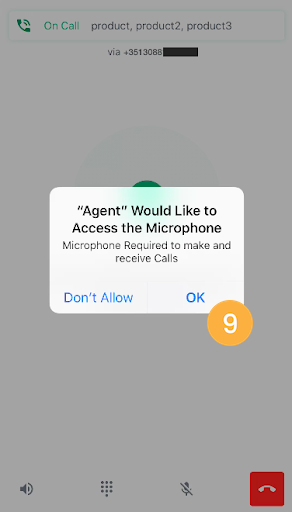 When you receive an Inbound call, you'll see different information depending on your device and current navigation in the operating system. In all cases you are given the option to Accept or Reject / Decline the call [8]. The first time you accept a call in iOS, you have to first allow the Mobile App to access the microphone [9].
Outbound Calls
Selecting the Outbound Number
If you have more than one number linked to your account, you can change the outbound number from where the call will be made easily by going to the call history screen [10] and tapping the keypad button [11]. From there, tap Team Number [12] and select the number you wish to call from.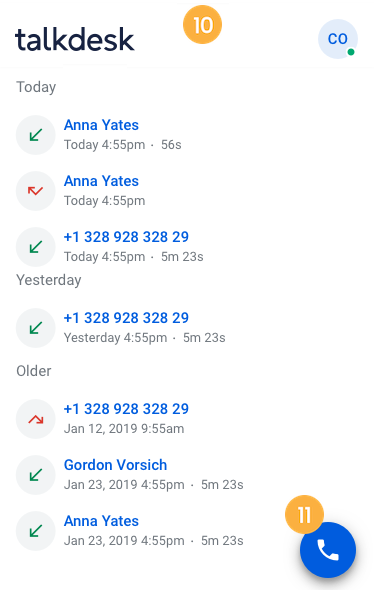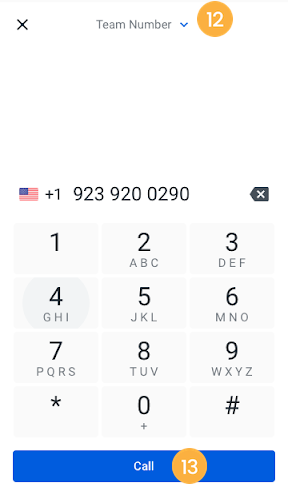 Note: The outbound numbers are synched from Callbar and Talkdesk Main.
Making an Outbound Call
There are 4 ways to input a number to make an outbound call. You can simply tap an entry in the call history screen [10]. Alternatively, tap the keypad button [11] and:
Long press the "0" digit and type the country code and number.
Paste the full number including the country code into the input field (E.164 format).
Choose the country code by pressing the flag icon and type or paste the number.
With the correct number in place, tap Call [13] to place the outbound call.
Call Controls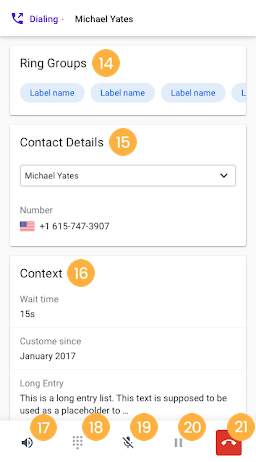 During a live call, you have the following information available.
Ring Groups

[14].

Contact Details

[14].
Context [16] (if the call is originated in a Stdio flow).
Additionally, you have the following call control options:
Speaker

[17]

Keypad/DTMF

[18]
Mute [19]

Hold

[20]

Disconnect

[21]
Note: When you finish a call, by default you will be placed into "After Call Work" (ACW) if your account settings determine so.
Logging Out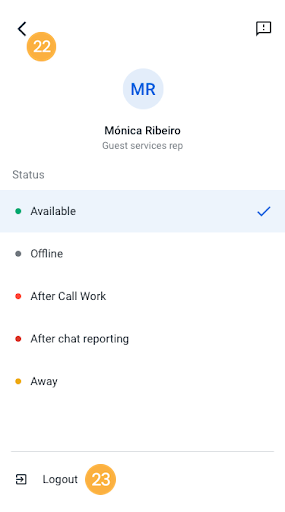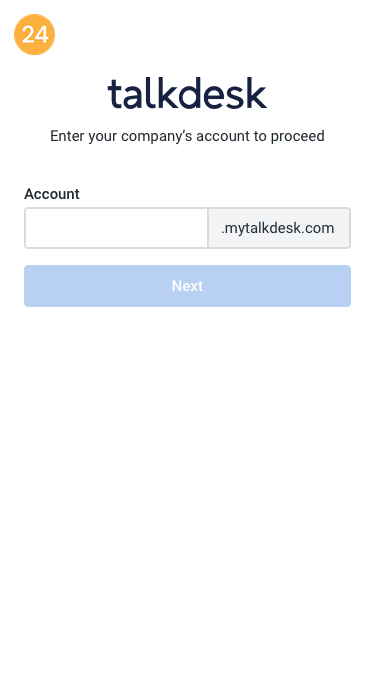 To logout:
Navigate to the Account screen [22].
Tap the "Logout" button [23].
You will be redirected to the login/account selection screen [24].