Prerequisites
In order to use Talkdesk Mobile App on Android, you'll need the following:
Smartphone running Android Marshmallow or a later version.

Google Play Store App.

Network connection with a minimum 3G data signal.

PCMU codec.

100 kBit/sec for voice calls.
Using the App
Getting Started
On your Android device, go to Google PlayStore and search for "Talkdesk".
Tap on "Install" and open the app.




Enter the account name and tap Next [1].
Enter the user credentials and tap Login [2].




To utilize the app, you have to allow it to record audio. Tap Allow [3] when prompted.


You start with an empty Call History screen [4]. This will become populated with the date and duration of the calls you make, receive, and those you miss, using the mobile app [5].
Status Control
To change your status, start by tapping on your avatar [6].
In the account screen, select you new status from the list [7].


Inbound Calls
To receive calls, ensure your status is set to Available.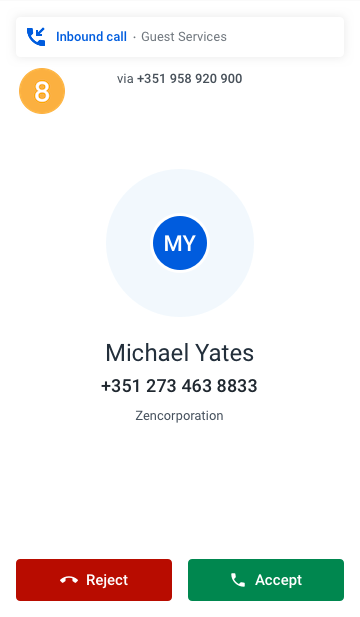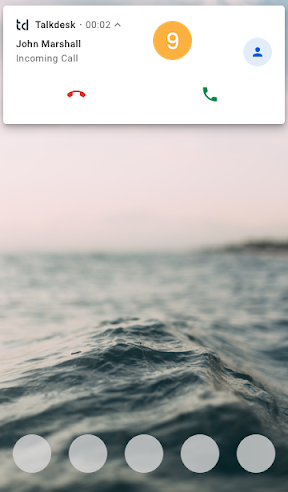 When you receive an Inbound call, you'll see different information depending on your current Android navigation:
The ringing screen along with Accept and Reject buttons [8].
The system notification containing Accept and Reject buttons [9].
Outbound Calls
There are 4 ways to input a number to make an outbound call.


You can simply tap an entry in the call history screen [10].
Alternatively, tap the keypad button [11] and:
Long press the "0" digit and type the country code and number.
Paste the full number including the country code into the input field (E.164 format).
Choose the country code by pressing the flag icon and type/paste the number.
With the correct number in place, tap Call [12] to place the outbound call.
Call Controls
Whilst on a live call, you have the options:
Contact handling
Create contact

[13]

Select contact

[14]
Call controls
Speaker

[15]

Keypad/DTMF

[16]
Mute [17]

Hold

[18]

Disconnect

[19]
Note: When you finish a call, by default you will be placed into "After Call Work" if your account settings determine so.
Logout
To logout:
Navigate to the Account screen [20].
Tap the "Logout" button [21].
You will be redirected to the login/account selection screen [22].