Note: If you are in Talkdesk Workspace, you can access the Admin section and all features described below by navigating to the Admin app. For more information, please refer to this article.
The Billing tab [1] is where Admins can check and manage several of the account's billing settings: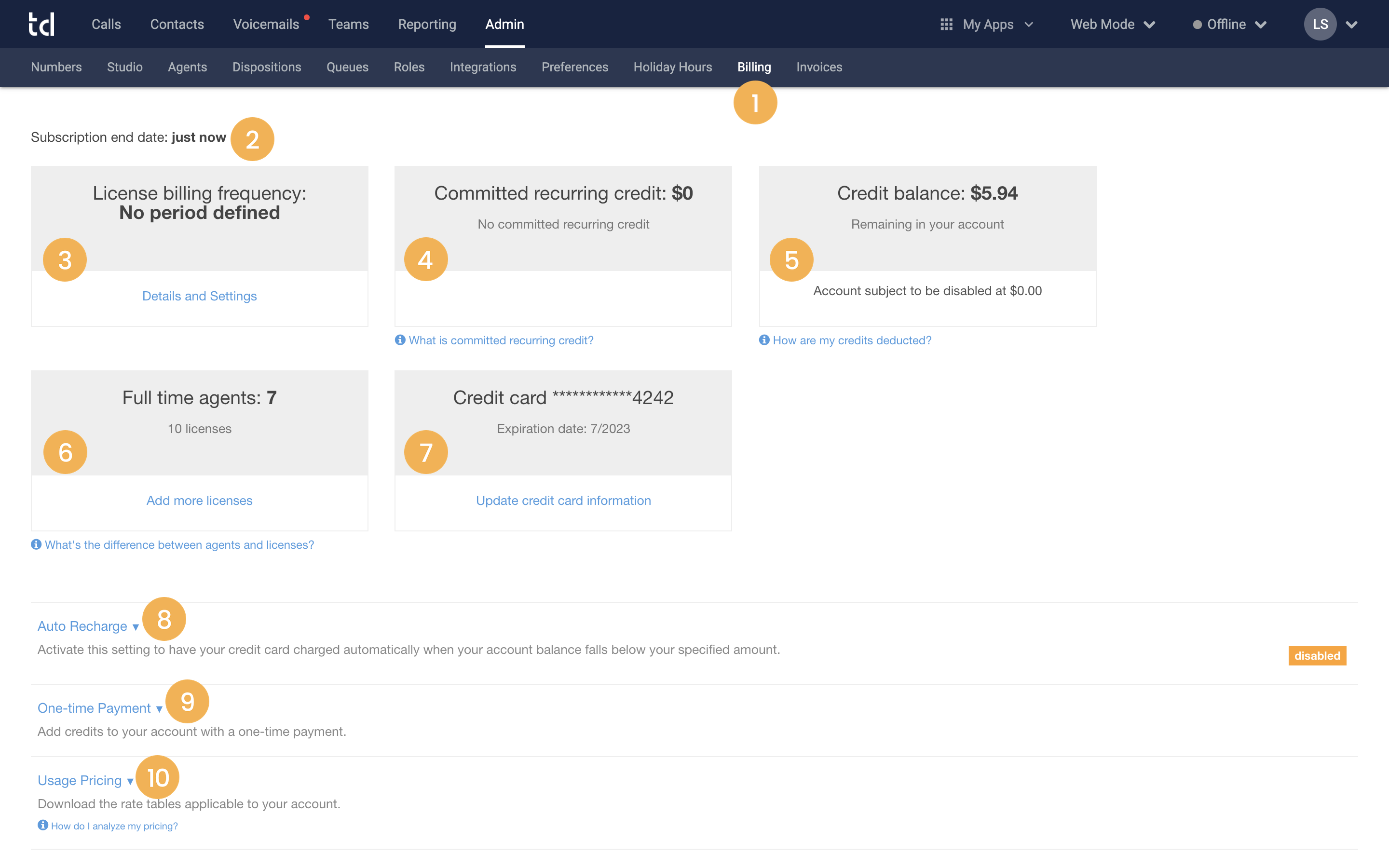 Subscription renewal/end date [2]: The contract auto-renewal date or end date depending on the terms of the contract. If no end date was specified in the contract, the date will be listed as "Month-to-Month".
License billing frequency [3]: The frequency of license billing along with the associated billing date, as per the terms of the contract.

Click on Details and Settings

to check the billing details for your phone numbers.
Committed recurring credit [4]: The amount of recurring credit deposited in the account on each bill date and associated frequency, as per the terms of the contract. To increase this amount, please reach out to your Customer Success Manager or use the Talkdesk Support Portal. For more information on committed recurring credit, see this article. Note that "Committed recurring credit" is different from "Auto-Recharges" and "One-time payments", which are considered as non-committed recurring credits and are usually not discounted.
Full time agents [6]: Signifies the number of agents and licenses available in the account. Admins can also add more licenses. Note: The agent count includes all active, full-time agents, including agents who have not yet confirmed their email invitation to Talkdesk. The agent count cannot be above the license count.
Auto Recharge [8]: If you are paying by credit card, here you can manage settings corresponding to automatically charging your credit card when your credit balance falls below a specific amount. In this way, you can avoid exhausting all of your account credits and becoming suspended from making/receiving calls in Talkdesk. Note: This option is not available for customers paying via invoice.
One-time Payment [9]: If you require additional credits to pay for calls or phone numbers, you are able to make a one-time payment at any point.
Usage Pricing [10]: Here you can download the rate cards applicable to your account.
Cancel Account:

If you decide to cancel your Talkdesk account,

you just need to use this option to initiate the process. The cancellation will take effect at the end of your contract term and we will get in touch to confirm. Please contact your Customer Success Manager or

Talkdesk Support

if you have any questions regarding the cancellation.