By default, the account preferences that you setup when you first configured your Talkdesk account are applied to all your phone numbers. However, you can configure different settings per phone number.  
How to enable customizable phone number settings
To override the account settings for a specific phone number:
Select the 'Admin' section [1].
From the 'Numbers' tab, select the phone number that you would like to customize [2].
Select the 'Custom Settings' tab [3].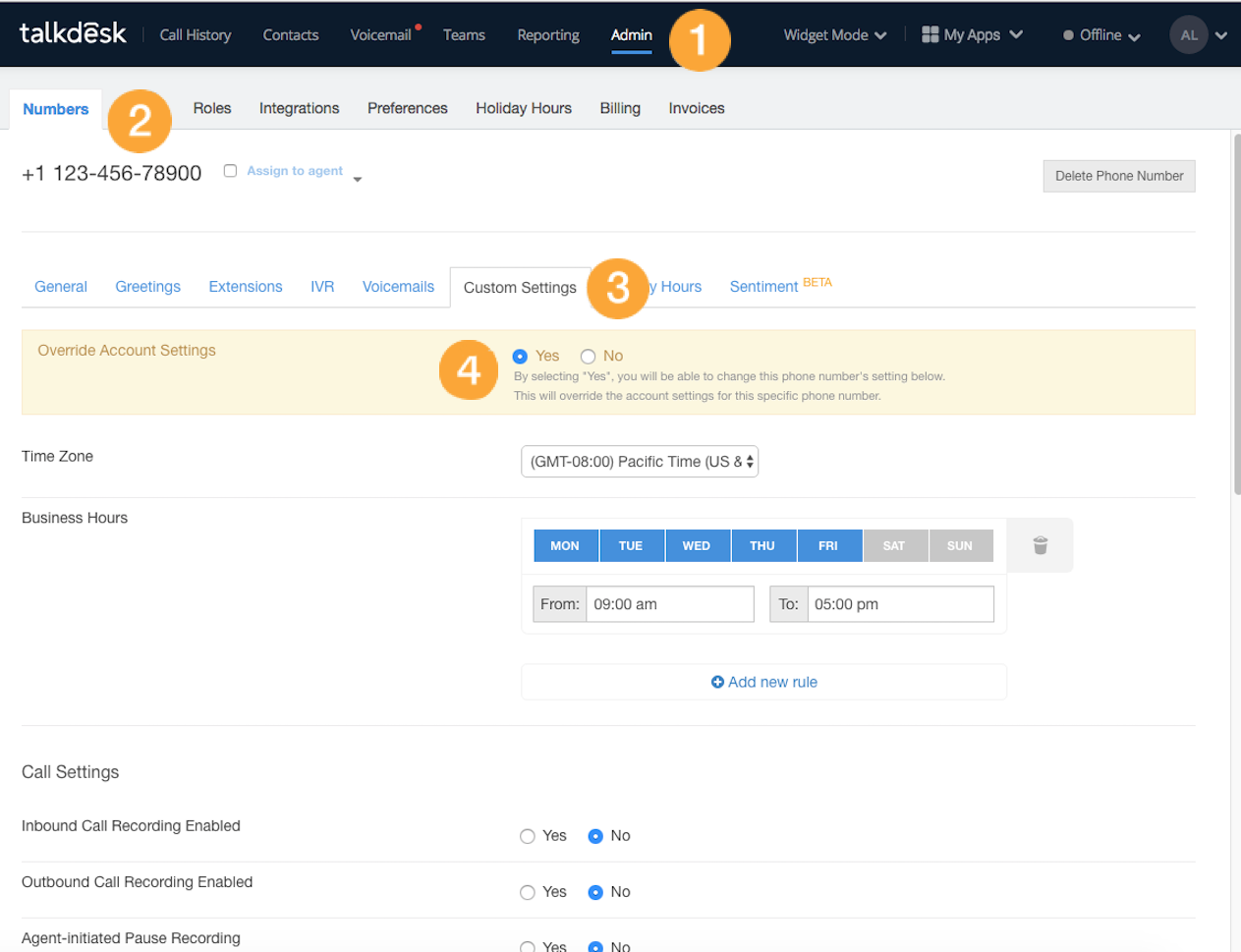 Set the 'Override Account Settings' option to 'Yes' [4].
Specify your desired settings for this phone number.
'Save' your changes. 
Time Zone

If your company has an international presence, you can select a unique time zone per phone number.
Business hours
You can specify working hours for each day per phone number. When a customer calls after business hours, calls can be directed to voicemail. This ensures that customers never slip through the cracks.
If no business hours rules are set for a number's custom settings, it inherits the main account's rules. 
Call Settings - Recording options
Under the 'Call Settings' options, admins can customize which phone numbers will have their calls recorded and whether to record inbound or outbound calls only or both. They can also select the greeting that customers hear when they call a phone number that has call recording enabled. This feature ensures that teams are maintaining regulatory compliance at all times.

Selecting 'yes' next to 'Agent-initiated Pause Recording' will allow agents to manually pause and resume call recordings directly from their Talkdesk interface. Once enabled, call center agents will see a small pause button next to the call duration on the call control window. To pause the recording, they simply need to click the pause button
Routing Settings
By default, Talkdesk rings all suitable agents at the same time. The first one to answer will handle the call. However, incoming calls can be routed to a single or multiple suitable agents at the same time, depending on your preferences. When routing an inbound call, the number's routing preferences will set the number of agents to dial simultaneously.
Queue Settings
You can customize the waiting queue preferences for callers on each specific phone number. To allow callers the option to opt out of the queue and leave a voicemail instead, click "Yes" next to "Queue to Voicemail".
To allow callers the option to opt out of the queue and request a callback, click "Yes" next to "Queue Callback". You can choose to enable both so your customers have the option to leave a voicemail or request a callback instead of waiting in the queue.
You can also set the "Maximum Queue Size" number. When the number of callers in your queues reaches this number, any additional callers will be directed straight to voicemail. Then, once this number drops below the designated threshold, the callers will be sent to the queue.
The Forced Queuing option allows you to force your callers to remain in the waiting queue during business hours. When this feature is enabled, callers will remain in the waiting queue during business hours, even if all agents are unavailable or offline. 
By Enabling the Intelligent Reconnect option you can allow callers to be intelligently routed to their previous agent (or the previous queue, if the agent is unavailable) if they call back within 5 minutes of being disconnected. 
Metrics Settings

As an admin, you can configure the Service Level threshold for your account as a whole or on a per number basis.
Deciding how to classify abandoned calls allows you to either include or filter out from your abandon call metrics those calls that did not stay in the system long enough to be considered events.